Daily Career & Business Horoscope for July 10: Astrological Prediction for Zodiac Signs
Daily Career and Business Horoscope for July 10 - Aquarius should start a new project today, and are you wondering what you should do? Check out the astrological prediction now!
Just because something is labeled "work" doesn't mean that it has to be tedious or boring. Leo needs to try to put some spark in your workday today with an extra positive attitude. Believe it or not, you can make this day fun whether you are working hard or not.

Daily-Career-and-Business-Horoscope-for-10th-July:-Astrological-Prediction-for-Zodiac-Signs
That is part of the career and business horoscope for Leo on July 10.
Check out yours now!
Aries
The first sign of the Zodiac, Aries are the trailblazers. Passionate and independent, Aries will never do something just because everyone else is doing it—a Ram needs to be 100 percent committed to the task at hand.
Today's career and business forecast: The day demands you to multitask. Your managerial skills will be put to test. Along with the usual work at the office, you are in for some brainstorming sessions. They will ensure smooth progress on the professional front. The majority of the work will go noticed by your superiors, says Ganesha.
Close the door on old projects so you can make way for new ones. You have many loose ends right now that are causing mental clutter whether you realize it or not. Delegate your work, tackle it yourself with fresh eyes, or toss it out completely.
Taurus
Smart, ambitious, and trustworthy, Taurus is the anchor of the Zodiac. Amazing friends, colleagues, and partners, Taureans value honesty above all else and are proud that their personal relationships tend to be drama free.
Today's career and business forecast: Progress on the career front grabs your attention today. You will not waste your energy on mundane activities. You will strive for excellence than unnecessary running behind success. You may have to keep patience, feels Ganesha. Teamwork will give you the best result.
Confusion will arise around mid-day and will most likely set you back if you are not prepared to deal with it. Set your plan during the beginning of the day and then use the afternoon to follow through. Plans initiated mid-day will most likely flop.
Gemini
Smart, passionate, and dynamic, Gemini is characterized by the Twins, Castor and Pollux, and is known for having two different sides they can display to the world. Expert communicators, Gemini is the chameleon of the Zodiac, adept at blending into different groups based on the vibe and energy they perceive.
Today's career and business forecast: The day will keep you very busy professionally. Meetings and interactions every now and then will keep you moving from one place to another. As you have so many things to do during the day, you will prefer being straightforward and to the point.
You are on the brink of something big, but yet you are still one step away. The good news is that this one step is just a small one. You are actually much closer than you think. Hang in there. A breakthrough will come as early as tonight.
Cancer
Emotional, intuitive, and practically psychic; ruled by the moon and characterized by the crab, Cancer has so much going on in its watery depths. Cancers may seem prickly and standoffish at the first meeting, once they make the decision to become friends with someone, that person has a friend for life.
Today's career and business forecast: It is a pleasing day and you must make the most out of it. Try to develop a contact with someone abroad. It may be useful to you in the long run. You should do your routine work with full concentration. You may feel insecure about your job at some point in the day but the feeling will disappear very soon.
It is not too late to capitalize on a fantastic opportunity for yesterday. Momentum from a previous couple of days has been building, setting you up to make a major move. Do it now before restrictions from other people descend upon you.
Leo
Bold, intelligent, warm, and courageous, fire sign Leo is a natural leader of the Zodiac, ready to blaze a trail, vanquish injustice, and make a name for themselves along the way. Blessed with high self-esteem, Lions know that they possess enviable traits—and they're proud of them.
Today's career and business forecast: Today you may realize that your spirit is willing but the body is weak. You are advised not to quarrel with anyone in the office. You should enhance your concentration power as you may indulge in gossips or people may need your help.
Virgo
Smart, sophisticated, and kind, Virgo gets the job done without complaining. Virgos are amazing friends, always there to lend a hand and also lend advice. Practical Virgos are incredibly adept at big picture thinking, and planning out their life, their vacations, and what they're going to do today isn't a drag it makes them feel in control and secure.
Today's career and business forecast: The day inspires you to take action. Research and development in the workplace will attract your attention. Ganesha shows you the green signal for important meetings. You no need to be in a hurry and should keep patience. An important decision will bring good results.
Your attitude at the beginning of the day will determine how others treat you throughout the rest of the day. Don't give other people a reason to dislike you or be disrespectful to you. You deserve to be treated like the best because you are the best.
Libra
Intelligent, kind, and always willing to put others before themselves, Libras value harmony in all forms. Ruled by Venus, the planet of beauty, Libra adores a life that looks good. As the master of compromise and diplomacy, Libra is adept at seeing all points of view and excels at crafting compromises and effecting mediation between others.
Today's career and business forecast: You may give equal importance to each and every task at the workplace. Your proficient performance will be appreciated and you may become the source of inspiration for a few. You will give a chance to everyone to speak from their hearts at the meeting.
Scorpio
Passionate, independent, and unafraid to blaze their own trail no matter what others think, Scorpios make a statement wherever they go. They love debates, aren't afraid of controversy, and won't back down from a debate.
Today's career and business forecast: You may be lacking the energy to shoulder responsibilities at the office. The research and development should be done properly to maintain the quality. You will be thinking deeply about issues related to your life. You should not let your thinking affect your work, says Ganesha.
Take the initiative to start a new routine for yourself in the workplace today. Don't be afraid to bite off more than you think you can chew. You will handle every new task just beautifully. Don't doubt yourself. Have faith in your abilities.
Sagittarius
Independent and strong-willed, Sagittarius personalities are all about going off the beaten path. Sagittarius isn't afraid to step away from the pack and is a natural-born leader who goes after what he or she wants, regardless of what other people think.
Today's career and business forecast: Creativity in your work seems to be blossoming today. You seem to be running high on the career front. You tend to gather maximum knowledge and will be especially dealing with the technical part of the work. You will ensure the smooth success and reliability of the project.
Aggression with other people in the workplace may become destructive today if you aren't careful. Remember that you are working as a team. There is no need to compete with your teammates. The idea is to work together. Aim for cooperation.
Capricorn
Smart, hardworking, and fully in control of their destiny, a Capricorn will always get what they set their mind to, in both personal and professional life—no excuses. Capricorns may get a reputation as stubborn, but they simply know what they want, and also know how they wish other people would behave.
Today's career and business forecast: Matters related to management will be your prime focus today. Your communication skills will be enough to convince others on any matter and thus meetings will be successful. You will ensure that your practical decisions will be sound and logical, feels Ganesha.
You are an important piece of the puzzle today. You will find that effectiveness in the workplace increases several-fold once you put your energy into the group. Put your two cents in when you know that something could be done in a better way.
Aquarius
Independent and enigmatical, Aquarians are unique. There is no one quite like an Aquarius, and because each is so incredibly individual, it can be tough to describe them as a group. Aquarians don't like labels, and may shy away from any adjective—even the good ones you might bestow upon them.
Today's career and business forecast: This is a good time to start new projects, foretells Ganesha. Your talent and skills will help you successfully handle managerial tasks. You will remain logical and interpersonal communication will be brilliant for the day. Decision-making will be easy for you.
Pisces
Smart, creative, and deeply intuitive, Pisces can be close to psychic. Pisces feel things deeply and have incredibly strong gut reactions. A Pisces "knows" things from deep within, and can often judge whether a person or situation is good or bad.
Today's career and business forecast: The unimportant matters may take up a lot of your valuable time. As there are chances that you commit mistakes in your work, try to concentrate as much as you can. This is the day to rectify your wrong deeds and ensure perfection.
Now is a good time to review your long-term career plan. A big change is coming up for you, so be prepared to make adjustments. There is no sense staying on the current track if you feel yourself being pulled in another direction. Follow your heart.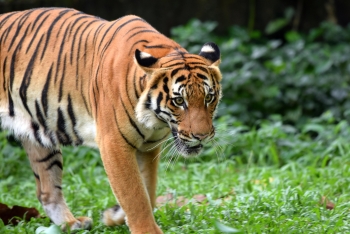 Economy
#ShopeeGivesBack, Shopee's long-term community initiative, has raised over RM48,000 from 1 May 2020 to 31 July 2022 for two Non-Governmental Organisations (NGOs) championing environmentally-conscious efforts in Malaysia.