Daily Planetary Overview
Jul 25, 2020 - This day is chock-full of valuable lessons as many planetary negotiations occur in the sky. The Leo sun is a magnificent presence, holding a spotlight on what still needs to take center stage in your social affairs.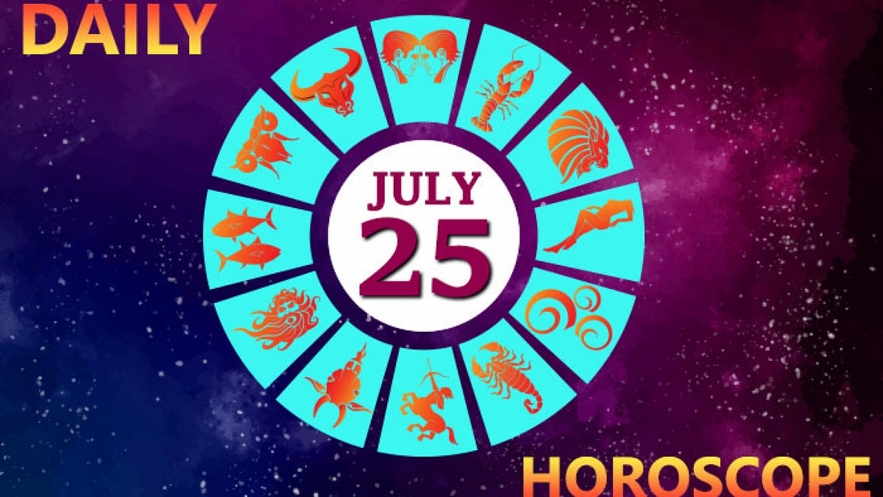 Daily-Horoscope-for-25th-July:-Astrological-Prediction-for-Zodiac-Signs
As the waxing Libra moon makes a friendly sextile to the sun, there is also a feeling of inclusion. Doors that were once closed now swing wide open with a welcoming embrace. The Libra moon encourages diplomacy and cooperation among peers. There are an overall good vibe and soothing tone to the day, but it's also important to keep your wits about you.
Some matters from the past could bring back old issues as Venus in Gemini squares Neptune in Pisces. You could revisit recent events, because Venus is still leaving her shadow from the retrograde that occurred between May 12 and June 24. Matters surrounding romantic situations could blast a few illusions and cause some unforeseen circumstances. There could be a time of reckoning. This can add to the confusion and the feeling of being caught between what the heart wants and what you once thought love should be.
Daily Zodiac Horoscope for July 25
Aries
The first sign of the Zodiac, Aries are the trailblazers. Passionate and independent, Aries will never do something just because everyone else is doing it—a Ram needs to be 100 percent committed to the task at hand.
Today's horoscope: Don't be so nosy about others' affairs today, Aries. If you were meant to be included in the conversation, you'd have been invited. Suspicion of other people's actions and motives will only cause them to lose their trust in you. Keep any abrasive and critical thoughts to yourself. Perfection is a hot topic in your mind. Realize that the only person you can control in that department is you.
Taurus
Smart, ambitious, and trustworthy, Taurus is the anchor of the Zodiac. Amazing friends, colleagues, and partners, Taureans value honesty above all else and are proud that their personal relationships tend to be drama free.
Today's horoscope: You're apt to come up with some new, radical thoughts today, Taurus, which you should feel free to share with others. There are opportunities around that you should grab hold of. Be aggressive about pushing ahead with your progressive thoughts. Communication with people who possess opposing viewpoints will prove quite valuable. Take a lesson from the bizarre and outlandish.
Gemini
Smart, passionate, and dynamic, Gemini is characterized by the Twins, Castor and Pollux, and is known for having two different sides they can display to the world. Expert communicators, Gemini is the chameleon of the Zodiac, adept at blending into different groups based on the vibe and energy they perceive.
Today's horoscope: Information is apt to come in erratic bursts today, Gemini. You'll find that a great deal of nonverbal communication is revealed and you should listen not only with your ears but also with your eyes and heart. Keep an open mind. Let others finish their thoughts before you make any judgments. You're probably better off not making any judgments at all. Let people say their peace.
Cancer
Emotional, intuitive, and practically psychic; ruled by the moon and characterized by the crab, Cancer has so much going on in its watery depths. Cancers may seem prickly and standoffish at the first meeting, once they make the decision to become friends with someone, that person has a friend for life.
Today's horoscope: An unexpected opportunity to take a short trip could present itself today, Cancer. Hop on that boat or train and see where it goes. If you have no real reason to travel, make one up. You don't need one anyway. The point is that it's time to get away from your current surroundings and explore other ways of living. If the time isn't right for you to get out and travel, at least make a plan now for a trip later.
Leo
Bold, intelligent, warm, and courageous, fire sign Leo is a natural leader of the Zodiac, ready to blaze a trail, vanquish injustice, and make a name for themselves along the way. Blessed with high self-esteem, Lions know that they possess enviable traits—and they're proud of them.
Today's horoscope: If you aren't paying close attention today, Leo, you might miss what's said. Important information is being relayed quickly, so don't miss out on the action. It may not be important for you to agree with everything you hear, but at least listen to it and seriously consider incorporating elements into your point of view. Don't dism
Virgo
You can reform yourself as the energy coincides with your self-realization, getting you in touch with your root chakra. Today's lunar transit includes a very sobering reflection courtesy of opposition to Saturn in mighty Capricorn emphasizing the value of finding balance through rebuilding your internal stability.
Smart, sophisticated, and kind, Virgo gets the job done without complaining. Virgos are amazing friends, always there to lend a hand and also lend advice. Practical Virgos are incredibly adept at big picture thinking, and planning out their life, their vacations, and what they're going to do today isn't a drag it makes them feel in control and secure.
Today's horoscope: Actively express your thoughts today, Virgo. You'll find that a great deal of information needs to be exchanged. You have the power to deliver a strong, thoughtful message to others, so don't give up this opportunity to exercise your acute mind. You may also find people to be rather argumentative, but don't let this keep you from expressing your true thoughts on the matter at hand.
Libra
Intelligent, kind, and always willing to put others before themselves, Libras value harmony in all forms. Ruled by Venus, the planet of beauty, Libra adores a life that looks good. As the master of compromise and diplomacy, Libra is adept at seeing all points of view and excels at crafting compromises and effecting mediation between others.
Today's horoscope: You may be feeling a little bit lost in the dust today, Libra. Somehow what you're thinking and feeling isn't exactly coordinating with the current conversation. Don't think you need to agree with the group just to feel like you fit in. Maintaining your own point of view is critical. You're better off rolling with the punches rather than trying to put up a fight.
Scorpio
Passionate, independent, and unafraid to blaze their own trail no matter what others think, Scorpios make a statement wherever they go. They love debates, aren't afraid of controversy, and won't back down from a debate.
Today's horoscope: Your thinking is clear and sharp, Scorpio, and your mental awareness keen. You should use it to head toward new, forward-thinking projects. Don't waste your time beating around the bush. Cut right to the heart of the issue. You'll easily outwit your opponents in a game of Scrabble or chess. Engage in activities that exercise your brain. There's no reason for you to doubt yourself today.
Sagittarius
Independent and strong-willed, Sagittarius personalities are all about going off the beaten path. Sagittarius isn't afraid to step away from the pack and is a natural-born leader who goes after what he or she wants, regardless of what other people think.
Today's horoscope: You're apt to come up with some new, radical thoughts today, Sagittarius, which you should feel free to share with others. There are opportunities around that you should grab hold of. Be aggressive about pushing ahead with your progressive thoughts. Communication with people who possess opposing viewpoints will prove quite valuable. Take a lesson from the bizarre and outlandish.
Capricorn
Smart, hardworking, and fully in control of their destiny, a Capricorn will always get what they set their mind to, in both personal and professional life—no excuses. Capricorns may get a reputation as stubborn, but they simply know what they want, and also know how they wish other people would behave.
Today's horoscope: Today is a terrific day to express your thoughts, Capricorn. You'll find your mind especially clear and ready to tackle any mental issue that comes your way. Your tendency is toward free and unconventional ways of problem-solving. Express the importance of being able to think for yourself. Write letters, make calls, and surprise someone with a personal visit. Connect with friends you haven't spoken with in a long time.
Aquarius
Independent and enigmatical, Aquarians are unique. There is no one quite like an Aquarius, and because each is so incredibly individual, it can be tough to describe them as a group. Aquarians don't like labels, and may shy away from any adjective—even the good ones you might bestow upon them.
Today's horoscope: Someone may challenge your mental capabilities today, Aquarius. Your natural tendency might be to take the information, mull it over for a while, and come back with your decision or opinion at some later date. The truth of the matter is that things are moving quickly and decisions must be made quickly and efficiently. Stay on your toes and have confidence in your mental processes.
Pisces
Smart, creative, and deeply intuitive, Pisces can be close to psychic. Pisces feel things deeply and have incredibly strong gut reactions. A Pisces "knows" things from deep within, and can often judge whether a person or situation is good or bad.
Today's horoscope: Unexpected information may be coming at you today from out of the blue, Pisces. You'll find that this information is extremely important, so make sure to keep all lines of communication open. You're apt to learn some important lessons regarding working harmoniously with groups to fulfill not just your own needs but also those of others. Let other people's viewpoints be heard.
Lonicera Vu