Danang to shutdown COVID-19 hotspots
Barriers and guards were deployed to lock down four sections of streets surrounding three hospitals - the general hospital, C Hospital, and Rehabilitation and Orthopaedics hospital - which are quarantine and treatment centres for the COVID-19 patients in the central city on Tuesday, July 28, according to mass media in Vietnam.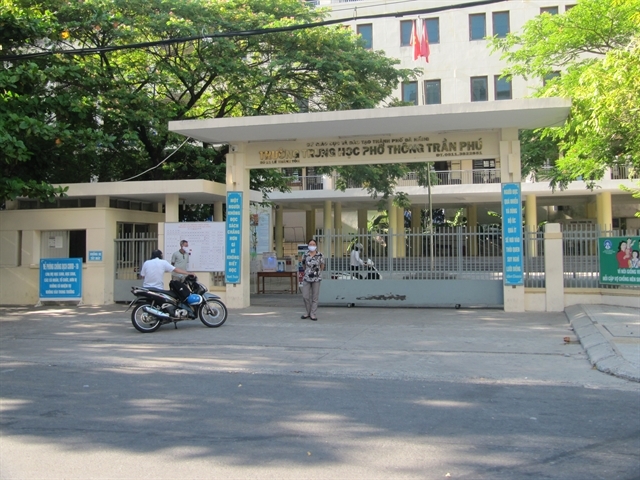 A school in downtown Danang closes as part of the lockdown. The city will limit public transport and travel to local people for two weeks. Photo: VNS/Cong Thanh
All citizens living in the isolated quarters were warned to stay at home, and only travel to buy food, daily necessities and medicine, reported VNS on July 28.
Accordingly, public transport in six major districts of Danang city was stopped early on July 28 as the city began social distancing measures.
The general hospital will send COVID-19 patients to Danang Lung Diseases Hospital for further treatment, while 100 in-patients with serious illness will be transported to the Public Security Hospital No 199.
VNS cited an announcement from Health department of Danang city stating that, nearly 800 people have been quarantined at hospitals and health centres, of which 410 medical samples had been taken for SARS-CoV-2 testing.
Checkpoints have been set up in neighbouring provinces, including Thua Thien-Hue, Quang Nam, and Quang Ngai to check travellers from Danang. All people coming from Danang must declare their health and itinerary.
Vietnam to evacuate 80,000 people from Danang after virus outbreak. Video: VTV1/Reuters/Star