Danish Crown Prince Joins Groundbreaking Ceremony of LEGO's Factory in Binh Duong
Danish toy maker LEGO on November 3 began construction of an over-USD1.3-billion factory, the biggest foreign-invested plant in the southern province of Binh Duong.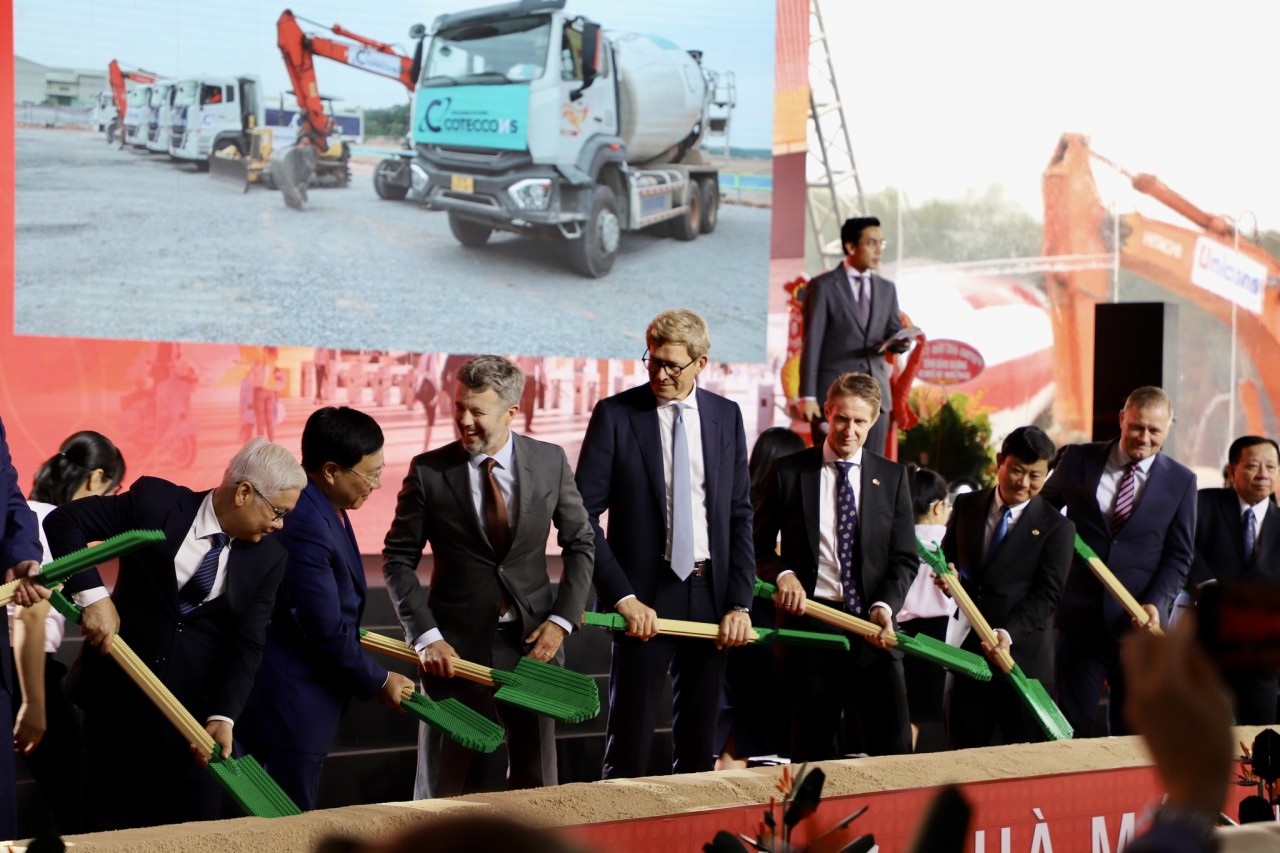 The groundbreaking ceremony sees the presence of Permanent Deputy Prime Minister Pham Binh Minh and Danish Prince Crown Frederik. Photo: Danish embassy
Together with LEGO CEO Niels B. Christiansen and Permanent Deputy Prime Minister Pham Binh Minh, the Danish Crown Prince Frederik on November 3 took part in the groundbreaking ceremony of LEGO's first carbon neutral factory in the world – located in Binh Duong province.
With an investment of more than USD 1.3 billion, the factory expects to employ 4,000 people by 2040.
LEGO CEO Niels B. Christiansen said it is the first factory designed as a neutral carbon facility. Apart from solar panels on the roof, the factory will also have a nearby solar power farm to meet annual energy demand and use energy-saving equipment to meet the minimum standards of LEED Gold, a green building certification programme used worldwide.
Once completed in 2024, the factory is expected to generate thousands of jobs for skilled workers, contributing to Binh Duong's economic development in the coming years.
Chairman of the provincial People's Committee Vo Van Minh praised the group for its biggest hi-tech and green project in the province since the Covid-19 pandemic was put under control, as well as its programmes to nurture children's creativity and offer intensive training to local educators. He expressed wish to cooperate with the group for better young generations in the future.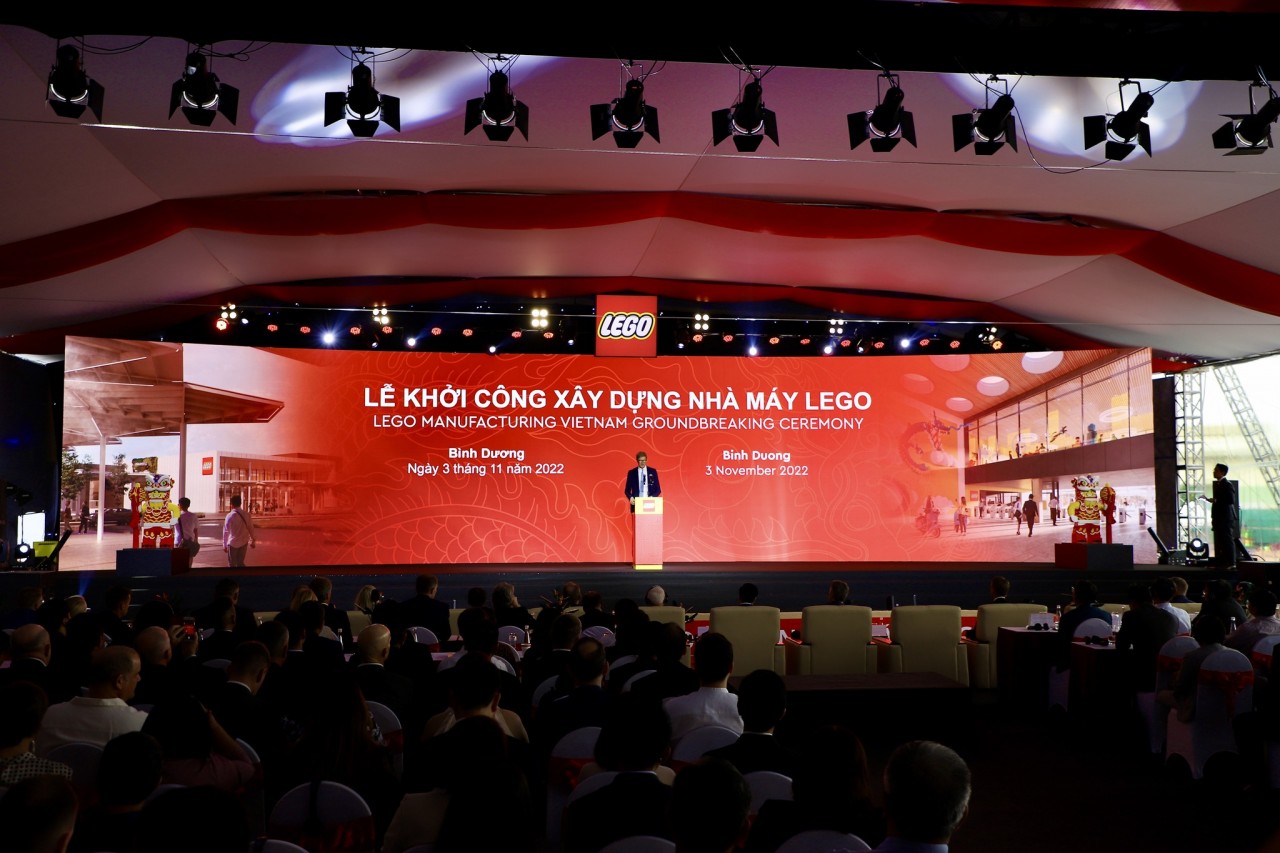 At the groundbreaking ceremony of LEGO's biggest foreign-invested factory in Binh Duong. Photo: Danish embassy
During this trip, the Crown Prince couple paid visits to a number of Danish companies who have established strong base and long term business cooperation with Vietnam. In Hanoi, the Crown Prince visited the factory of Julie Sandlau, a famous Danish jewellery brand. This factory was founded in 2006 and is now among the world's leading sustainable jewellery manufacturers, which put high focus on Environment, Social and Governance (ESG).
The Danish Crown Prince had attended the opening of the new office of Copenhagen Offshore Partners (COP) in Vietnamese capital. COP is a sister company of Copenhagen Infrastructure Partners (CIP) and they are leading global investors/developers in the offshore wind industry. CIP and COP are now developing a pipeline of early-stage offshore wind projects in Vietnam, starting with the 3.5 GW La Gan offshore wind project in Binh Thuan province and multi-GW projects in other provinces.
He also visited Scancom, a leading global manufacturer of outdoor furniture with more than 3,500 employees in Vietnam.
The Crown Prince also attended the opening of the new office of Vestas, a world leading Danish company in renewable energy. The opening of Vestas' new office in Ho Chi Minh City showed Vietnam as an attractive and increasing market for sustainable energy solutions.
Finally, he attended Carlsberg's 175th Jubilee. Being the oldest Danish brewery brand, Carlsberg came to Vietnam in 1993 and became one of the earliest major Danish investors in Vietnam. Carlsberg has a long-term plan to double the size of its operation in the next five years while reducing its carbon prints through environmentally friendly production process.
There are 135 Danish companies with a legal setup in Vietnam. Due to their strong competencies, many Danish companies are well placed to meet Vietnam's high demand in industries such as clean energy, agriculture, food safety, water, waste management, maritime transport and logistics.
Denmark is also one of the biggest European investors in Vietnam. In addition to LEGO's investment project in Vietnam, Pandora, one of the world's largest jewellery brand, last February announced their investment of USD 100 million to build a crafting facility, which will use 100% renewable energy and create more than 6,000 jobs in Binh Duong province.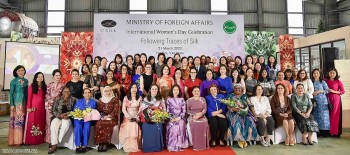 Friendship
Female ambassadors, representatives from diplomatic corps and international organizations, along with spouses of diplomats in Vietnam gathered together to find about more about silk weaving and silk products in Vietnam.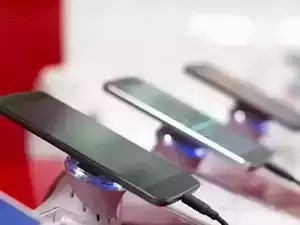 Economy
In the first two months of 2023, India's mobile phone exports exceeded $2 billion, equivalent to over Rs16,500 crore, due to increased production and shipments from manufacturers, particularly Apple and Samsung. This surge in exports brings the total export value to over $9 billion since April 2022.
March 22, 2023 | 15:00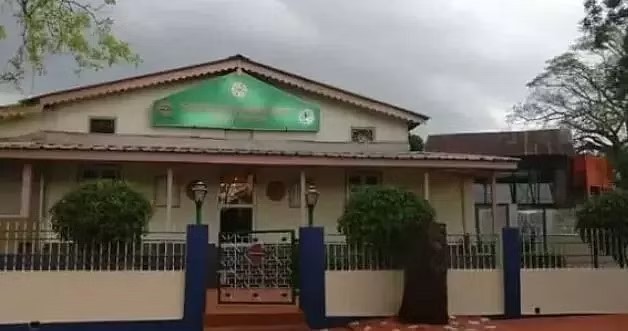 Economy
Guwahati Refinery (GR) on Tuesday declared its entire three townships Zero Waste Townships.
March 22, 2023 | 09:00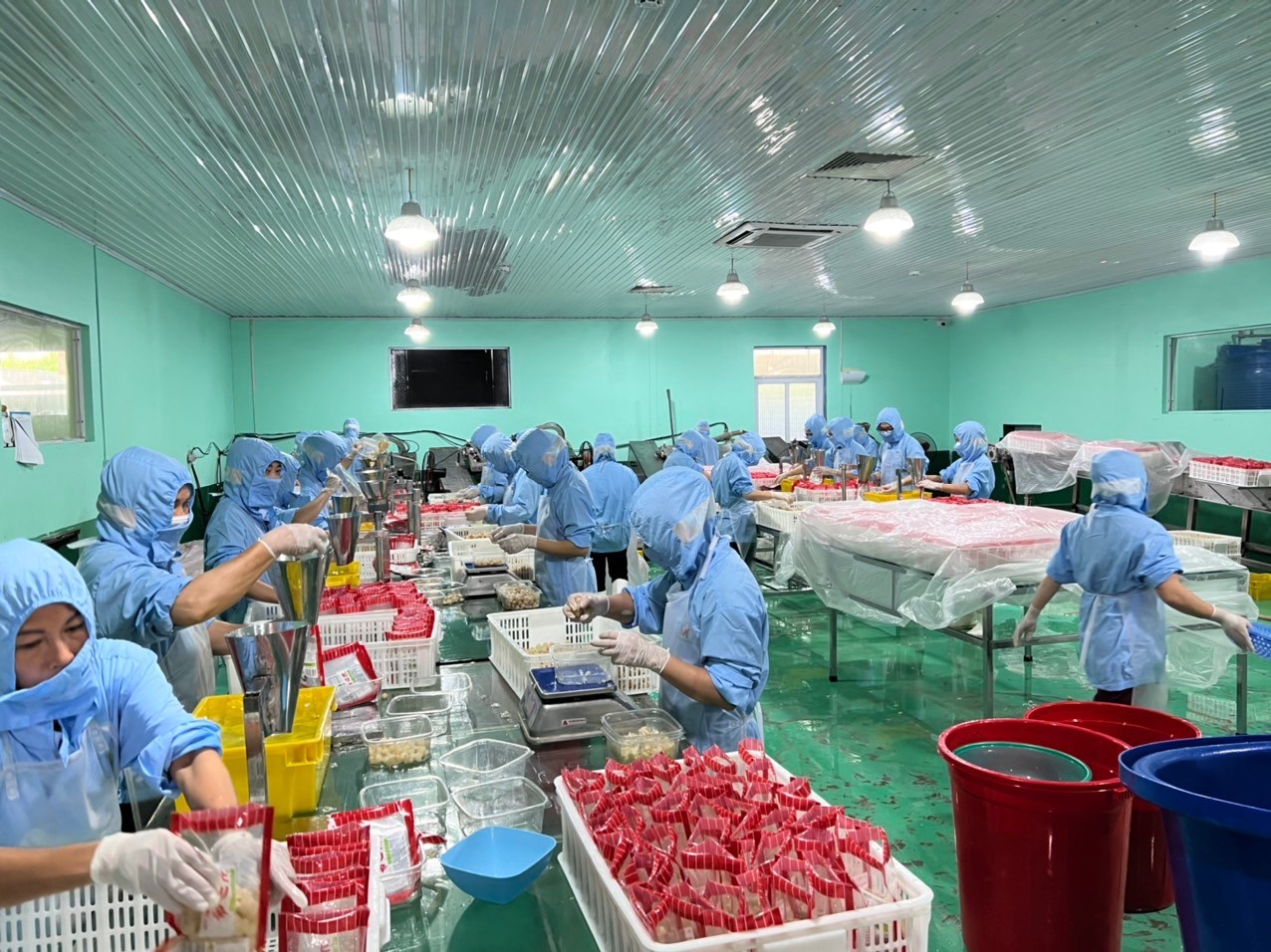 Focus
Not only agricultural products, traditional dishes of Vietnam also penetrate into difficult markets, bringing great revenue to businesses and people.
March 21, 2023 | 20:42