Deadly winter storm leaves Texas struggle to find supplies and fight the freezing cold
Winter Storm Uri hit huge swaths of the country, causing damaging ice in the Northwest and dumping snow across the Midwest and Northeast, with Texas being affected the most. Millions of people are living without electricity, water and hit, and others search for food and shelter from record cold.
Over President's Day weekend, Winter Storm Uri hit huge swaths of the country, causing damaging ice in the Northwest and dumping snow across the Midwest and Northeast.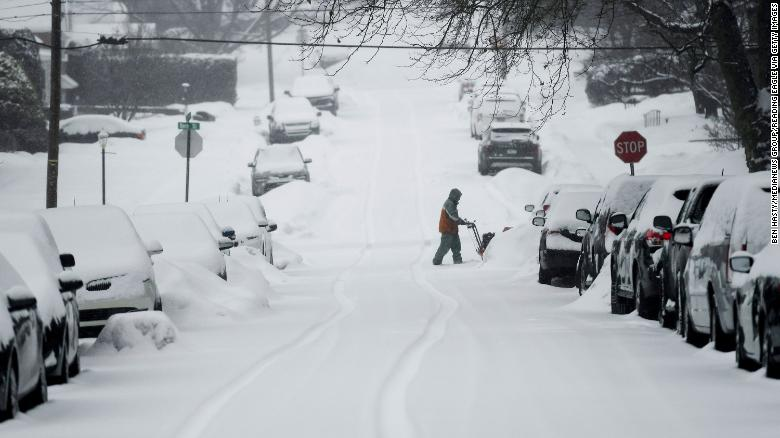 A man uses a snowblower Thursday morning at an intersection in Reading, Pennsylvania (Photo: CNN)
Most affected by the storm is Texas, where millions of people are living without electricity, water and heat after the winter storm tore through the state.
The resulting power outages have left families in the dark for days, battling freezing temperatures without access to electricity, heat and in some cases, clean water, as the Electric Reliability Council of Texas works to restore power back to at least 668,332 affected customers, according to Oncor, the largest energy delivery company in Texas.
The storm system that took shape this week in the South will "continue to bring significant impacts from the Mid-Atlantic to Northeast US (Thursday)," according to the National Weather Service. "Significant ice accumulations and heavy snowfall are expected."
About 78 million Americans are under a winter weather alert and more than 27 million are going to bed under a hard-freeze warning, CNN reported.
At least 38 people have died nationwide from winter storms or frigid conditions since last week, a time in which more than 2,500 records for the lowest maximum temperature for the date have been set. Eight other deaths are suspected to be weather-related but authorities are waiting on autopsy results.
US President Joe Biden has approved a state of emergency in Texas, which has seen some of its coldest temperatures in more than 30 years - some areas hit 0F (-18C) on Sunday.
The high demand for electricity in the state has caused the power grid to fail. Rolling blackouts have been imposed in some areas to conserve power for hospitals, police and fire stations, leaving over 4.3 million people without electricity, according to BBC.
The crisis was worsened when nearly half the state's wind power generation was knocked out by the storm on Sunday. Wind power is the state's second-largest source of electricity.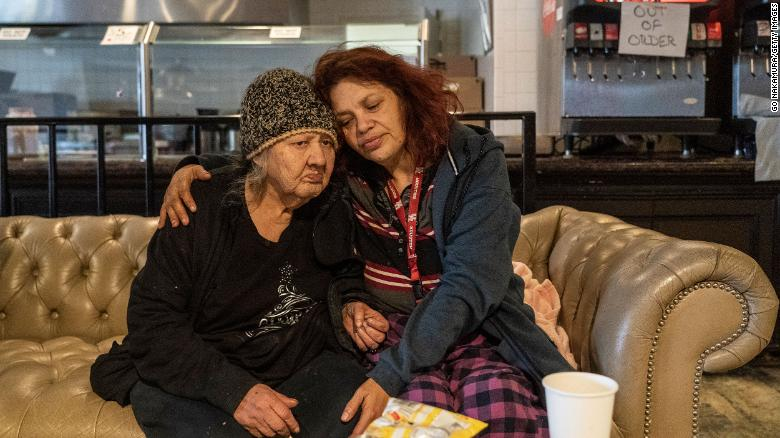 Shelter at a Gallery Furniture Store that was serving as a warming station in Houston (Photo: CNN)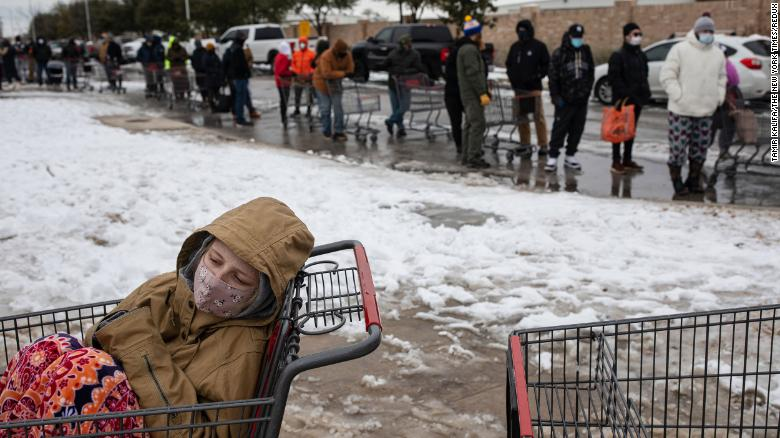 A long line of people waiting to enter a grocery store in Austin, Texas (Photo: CNN)
Icy roads have also led to a spate of traffic accidents and people have been advised to avoid travel where possible.
In Houston, nearly 120 road crashes were reported on Sunday alone. A pile-up on a major highway near Oklahoma City during a snowstorm on Sunday left several lorries on fire.
The George Bush Intercontinental Airport in Houston and the city's Hobby Airport were both closed until at least Tuesday afternoon.
The Texas state legislature closed down on Tuesday due to the storm. House Speaker Dade Phelan told lawmakers to stay away from the Austin statehouse because the "extreme winter weather Texans experienced this week caused the lights to go off across the Lone Star State".
Texas Governor Gregg Abbott has urged "all Texans to remain vigilant against the extremely harsh weather".
Almost 300,000 Texas homes and businesses still were without power Thursday, down from around 4.5 million earlier in the week, according to utility tracker PowerOutage.us.
Bad weather has helped knock out power to a further 480,000 customers in many other states, including Oregon, Louisiana, Mississippi, Illinois, Kentucky, Ohio, West Virginia, Virginia and North Carolina, according to PowerOutage.us.
Texas officials say a deep freeze starting Sunday crippled utilities' power generation, causing rolling blackouts or continuous outages. The issues affect a Texas-only grid that covers 90% of the state and is isolated from the rest of the country, so the grid cannot import power from elsewhere to make up for the shortage.
Days without power in freezing conditions have sent Texans scrambling for alternative heating, through generators, fireplaces, living in running cars, or sheltering in powered warming centers or businesses.
About 13 million people are facing water disruptions, with boil-water notices, broken pipes and failing systems, state officials said. Austin and San Antonio issued boil-water notices to their residents on Wednesday evening.
Firefighters at a large apartment blaze in San Antonio were having supply issues Thursday night. Hydrants were frozen and crews were having to go down the street to where they could get water for their trucks.
"That's our problem. Once we make a little bit of advance on the fire, we run out of water," Bexar-Bulverde Volunteer Fire Department Chief Jerry Bialick said.
Difficult weather conditions across the country, meanwhile, have had serious implications for the coronavirus pandemic: Some shipments of Covid-19 vaccines have been delayed, and some clinics have had to cancel vaccine appointments.
The Houston Health Department said it will resume vaccinations this weekend with about 4,800 appointments.
Even when Texans have been able to turn to heating alternatives, some have been struggling to find firewood, food, water and other needed supplies.
Buying bottled water in Austin, Texas, on Thursday. As power has begun to return in the state, many people still lack drinking water.Credit...Tamir Kalifa for The New York Times
Sylvia Cerda Salinas, a Texas mother, told CNN's Don Lemon on Wednesday night she was considering driving to Mexico to keep her family safe in a hotel. With another freeze expected, she said she was running out of options for three of her children whose insulin supplies were spoiling.
"You either go to the shelter to get warm, or you stay home, stay cold, and stay away from the pandemic," Salinas said.
Texas' major grid operator, the Electric Reliability Council of Texas, said Thursday that although utilities have made progress in restoring power, more rolling outages might be needed in coming days to keep the grid stable.
Millions of Americans still remain under some form of winter storm warning, with record low temperatures still to come.
"Hundreds of daily low maximum and minimum temperatures have been/will be broken during this prolonged 'polar plunge'," the agency said.
In Louisiana, some local authorities have imposed curfews to keep people off the icy roads. The state is also suffering power cuts and traffic disruption.
Oregon, which was hit by an ice storm, saw nearly 250,000 people and businesses without power on Tuesday.
The governor of Illinois issued a state of emergency on Tuesday after snow blanketed the state.
More snow, coupled with freezing rain, is forecast for the southern US on Tuesday. Weather officials say that as the storm departs, frigid low temperatures will be seen across the central and eastern US.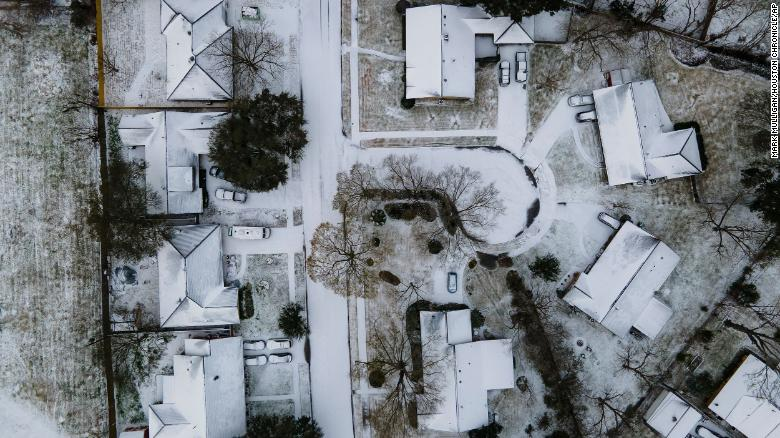 Home in the Westbury of Houston, Texas are covered in snow on Monday, February 15 (Photo: CNN)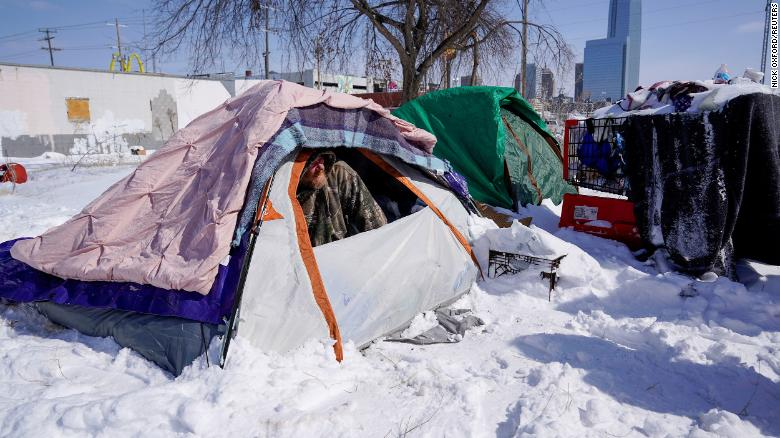 James Derrik, a homeless person, peeks out of his tent in Oklahoma City (Photo: CNN)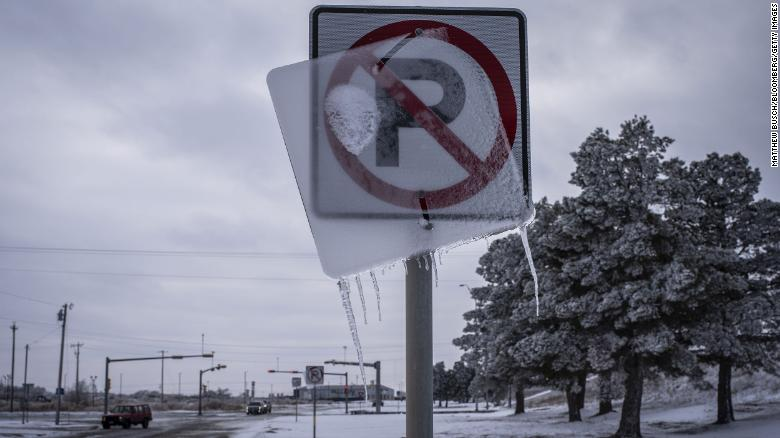 Ice coats a road sign in Midland, Texas (Photo: CNN)