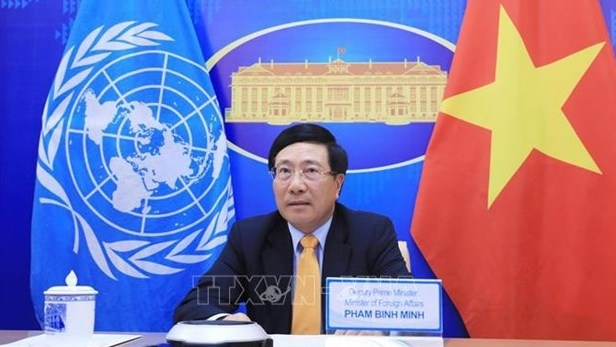 Deputy Prime Minister and Foreign Minister Pham Binh Minh (Photo: VNA)
COVID-19 vaccines should be considered a shared asset of the international community, and delivered to countries at affordable prices, prioritising vulnerable groups and frontline workers in combatting the pandemic, Deputy Prime Minister and Foreign Minister Pham Binh Minh said on February 17.
Vaccines should be considered a common property of the international community, therefore it is a must to ensure all countries have an access to vaccines at a affordable price, with priority given to group of people at high risk of infection and on the frontline against COVID-19, Minh stressed.
He urged countries to increase their contribution to the COVAX programme so that the COVID-19 vaccines can be widely distributed to developing countries and people in conflict zones, according to the VOV.
At the same time, Minh said it is necessary to ensure a peaceful, stable environment and protect essential infrastructure to facilitate the delivery of vaccines. To this end, he called for a global ceasefire, considering this the prerequisite for the United Nations and stakeholders to distribute vaccines for humanitarian purpose.
The international community needs to address the root cause of conflicts, instability, inequality and injustice, while participating in United Nations-led global multilateral efforts to build a strong and resilient health system, and promote post-pandemic global economic, trade and development cooperation, said the Vietnamese diplomat.
Minh affirmed that Vietnam, an active and responsible member of the ASEAN and UN, will do its utmost to contribute to the international community's joint efforts to overcome the pandemic.
Vietnam is one of the countries benefitting from the COVAX programme – a vaccine initiative co-led by Gavi, the Coalition for Epidemic Preparedness Innovations (CEPI) and WHO. Its aim is to accelerate the development and manufacture of COVID-19 vaccines, and to guarantee fair and equitable access for every country in the world.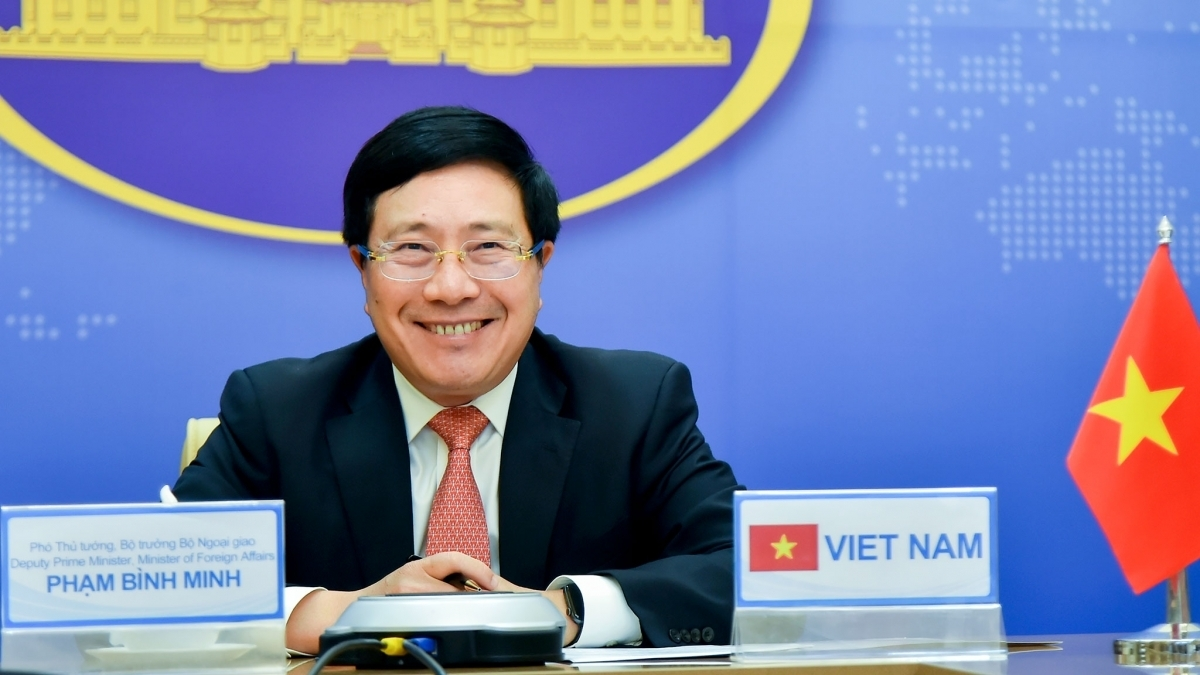 Vietnamese Deputy Prime Minister and Foreign Minister Pham Binh Minh has called for closer international cooperation to effectively deal with the ongoing COVID-19 pandemic and vaccinate global citizens. Photo: VOV
The official made the statement during an open debate of the United Nations Security Council (UNSC) on ensuring equitable access to COVID-19 vaccines in contexts affected by conflict and insecurity, which was held virtually.
Ensuring an environment of peace and stability, and protecting essential infrastructure are key factors to vaccine universalisation, he continued.
He proposed the UNSC step up the implementation of Resolution 2532, especially the call for a global ceasefire, considering this a prerequisite for the UN and relevant sides to directly deliver vaccines for humanitarian purposes.
The international community needs to deal with the root cause of conflicts, uncertainties and inequalities, while engaging in global multi-lateral efforts led by the UN in order to build a strong and self-reliant medical system, and boost development cooperation along with global trade and economy post COVID-19, he stressed.
The official said the enhanced solidarity and multi-lateral cooperation, both regionally and globally, would help to effectively cope with the epidemic.
As an active member of ASEAN and the UN, Vietnam will make more contributions to joint efforts in the pandemic fight, he pledged.
Delegates at the debate shared the view that the safe and effective universalisation of COVID-19 vaccines plays an important role in containing the pandemic's spread, and minimising economy, health and education losses.
Resolution 2532, adopted on July 1, 2020, supports a global ceasefire and calls for an immediate 'humanitarian pause for at least 90 consecutive days' to allow humanitarian assistance to be delivered.
COVAX is one of three pillars of the Access to COVID-19 Tools (ACT) Accelerator, which was launched in April by the World Health Organization (WHO), the European Commission and France in response to this pandemic, reported Nhandan.
It is the only truly global solution to this pandemic because it is the only effort to ensure that people in all corners of the world will get access to COVID-19 vaccines once they are available, regardless of their wealth.
Tarah Nguyen