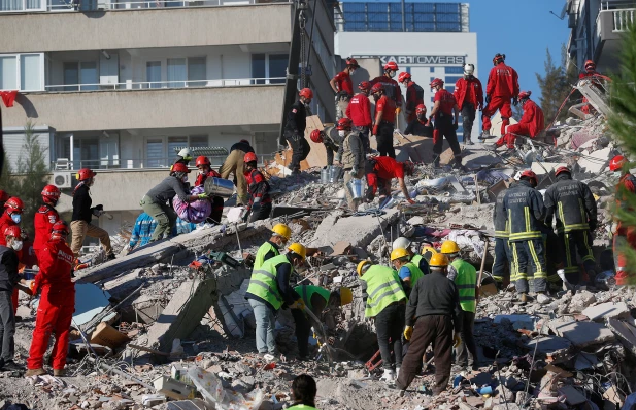 Members of rescue services search for survivors in the debris of a collapsed building in Izmir, Turkey. Photo: AP
The death toll from a powerful earthquake in the Aegean Sea rose to at least 39 on October 31 as rescue workers in the Turkish city of Izmir raced to save dozens of more people thought to be trapped under the rubble of at least eight collapsed buildings, Turkish officials said.
The earthquake, which struck on October 30 afternoon just north of the Greek island of Samos, caused deaths in both Turkey and Greece, flooded coastal areas and flattened residential buildings. At least 37 people were killed in Turkey, officials said, and 800 were reported injured.
In Greece, two teenagers were killed on Samos after they were crushed by a collapsing wall.
Nine boats sank and more than 20 ran aground, Turkish authorities said.
The earthquake was the second large tremor to strike Turkey this year and came as the government was struggling to contain multiple crises, including a rise in coronavirus cases and a sharp economic downturn, according to the Washington Post.
The US Geological Survey said it was a 7.0 magnitude earthquake, while Turkey's disaster management agency recorded its magnitude as 6.6.
Tremors were felt hundreds of miles from the epicenter, in Athens and Istanbul. More than 500 aftershocks followed, the disaster agency said.
Izmir Mayor Tunc Soyer told Fox News that rescue teams were still trying to reach 180 people trapped under the rubble. Turkish media showed footage of orange and red-clad rescue workers slowly removing debris from a completely collapsed structure in Bornova, in the northwest corner of Izmir and one of the city's hardest-hit neighborhoods.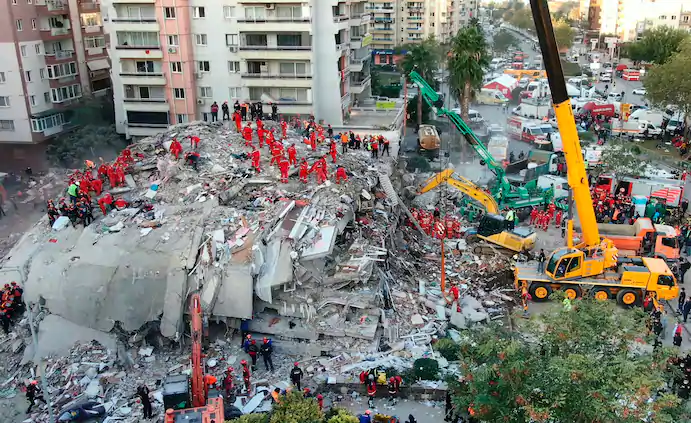 In this photo taken with a drone, members of rescue services search for survivors in the debris of collapsed buildings in Izmir, Turkey. Photo: AP
More than 5,000 rescue personnel and 20 sniffer dogs were deployed to find survivors, the disaster management agency said. The state-run Anadolu news agency said 100 people had already been pulled alive from buildings, including an elderly woman who was freed from a pancaked structure on Saturday morning.
Another rescue involved a woman and her four children. The mother and three of the children were pulled from a building after being trapped for almost 18 hours, Reuters reported. One of the children later died of his injuries at a hospital. Rescue workers were still trying to get to the fourth child.
In Greece, there was extensive damage as well to the aging, one-story houses on Samos, where many residents spent October 30 night sleeping outdoors or in cars, local media reported. Nine people were injured, including a teenager who was airlifted to Athens in serious condition, the authorities said.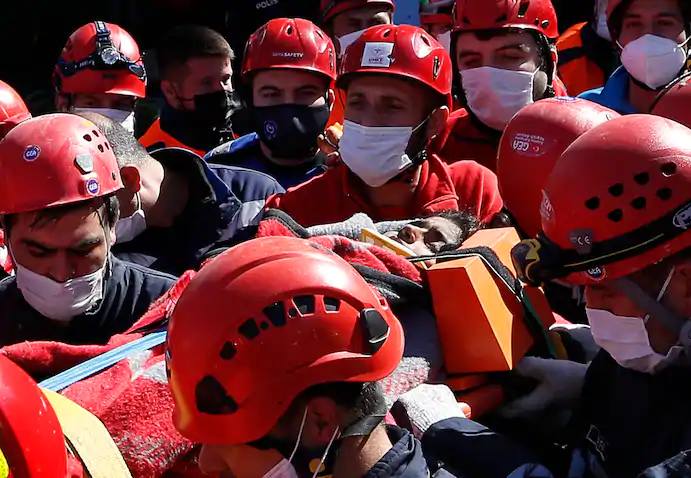 Medics and rescue personnel carry an injured person from the debris of a collapsed building in Izmir. Photo: AP
Turkey is crossed by fault lines and is prone to earthquakes. In 1999, two powerful quakes killed some 18,000 people in northwestern Turkey. Earthquakes are frequent in Greece as well.
Authorities warned residents in Izmir not to return to damaged buildings, saying they could collapse in strong aftershocks. Many people spent the night out in the streets, too frightened to return to their homes, even if they sustained no damage, AP said.
The country has suffered from lightly regulated and shoddy construction which can lead to serious damage and deaths from earthquakes. Referring to the structure where the teenager and her dog were rescued, architect Nihat Sen told Turkish broadcaster NTV: "All material used on the eight-story building was faulty. The ground was bad, the material was bad."
Turkey's president said the government would aid victims who lost their homes with temporary housing and rent, while starting construction of new buildings.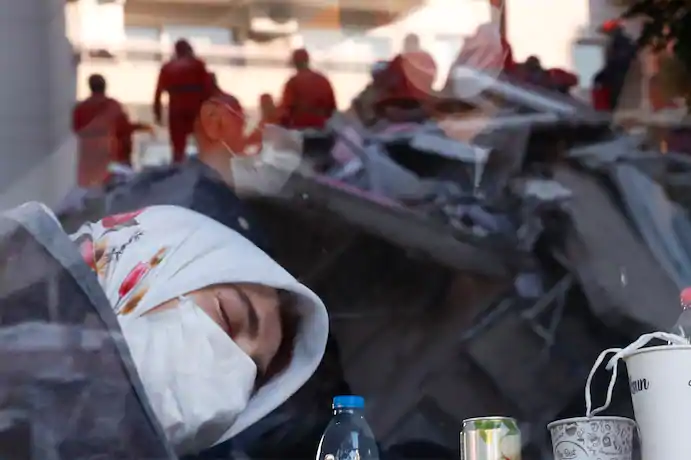 A local resident, staying outdoors for fear of aftershocks, takes a moment to relax inside a coffee shop, as members of rescue services searching for survivors in the debris of a collapsed building are reflected in the window, in Izmir, Turkey. Photo: AP
In a show of solidarity rare in recent months of tense bilateral relations, Greek and Turkish government officials issued mutual messages of solidarity, and the leaders of Greece and Turkey held a telephone conversation.
"I thank President Erdogan for his positive response to my call," the Greek Prime Minister Kyriakos Mitsotakis said on October 31 before traveling to Samos, where he visited the families of the teenagers who were killed.
Relations between Turkey and Greece have been particularly tense, with warships from both facing off in the eastern Mediterranean in a dispute over maritime boundaries and energy exploration rights. The ongoing tension has led to fears of open conflict between the two neighbors and nominal NATO allies./.
Earthquakes to consecutively hit the US

An earthquake with a revised magnitude of 6.5 hit a remote area of Nevada on Friday morning, another earthquake on the Alabama-Tennessee state line was ...
Rosy Huong