Delectable dishes in Quang Nam you shouldn't miss
Mi Quang (Quang noodle), Hoi An chicken rice, Cau Mong barbequed veal, etc are among delectable dishes in Quang Nam that you should not miss.
Mi Quang (Quang noodle)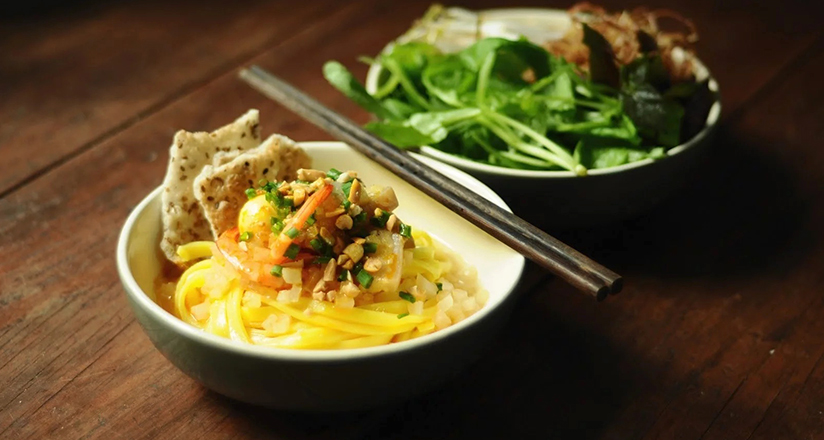 Photo: Insidevietnamtravel
Knowing Vietnamese noodles can be extremely helpful, as "pho" is to Hanoi and beef rice noodles is to Hue, Quang noodles are very popular in Quang Nam and Da Nang, and also one of the worth-trying Vietnamese foods.
Quang noodle soups differ from most normal noodle soups in that the soups have just enough broth to barely cover the noodles.
Unlike other Vietnamese noodle soup bowls whose broth will cover the noodles almost completely, Quang noodle broth is barely enough to slurp during the meal. If you do not eat a Quang noodle bowl fast enough, the broth will generally quickly be soaked up by the noodles. Quang noodle soups are generally pork and dried shrimp broth-based, although some regional and family recipes will use chicken and even duck. What makes Quang noodle soups unique is the richness of the broth, the lack of it, and the crushed peanut toppings on the noodles.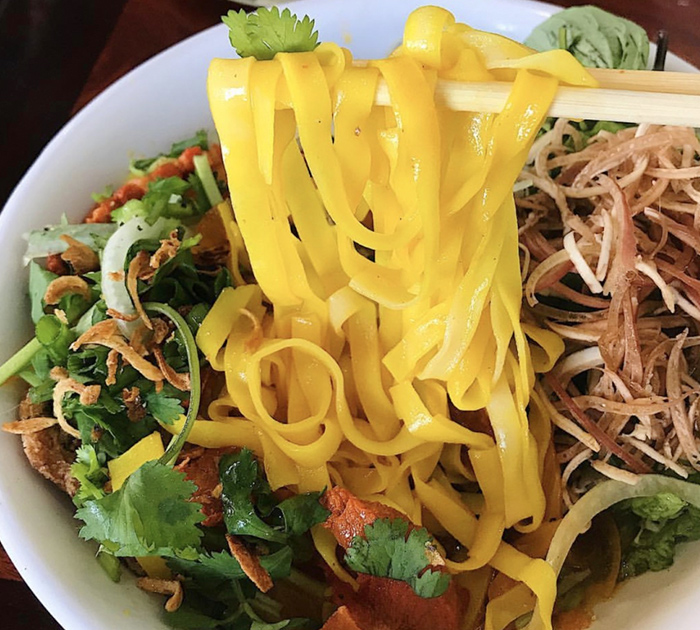 Photo: Insidevietnamtravel
The mystery of Quang noodle is in that pot above. This is 'nuoc sot mi Quang' or Quang noodle sauce. This makes the stock slightly sweet and a smidgen spicy. This dish's ingredients include rice, vegetables, and meat. After being soaked in water, the rice is ground to a fine powder and made into attractive smooth white noodles. Accompanying vegetables are water morning-glory, cress, young banana flowers, and herbs. Especially, the famous Tra Que savory of Quang Nam Province will give the dish more flavor. You can use pork, chicken, fish, crab, or shrimp to make the broth. If chicken is chosen, the meat is separated, seasoned, and stir-fried while the bones are stewed. Finish the stock by adding cooked chicken meat, according to Vietnamdiscovery.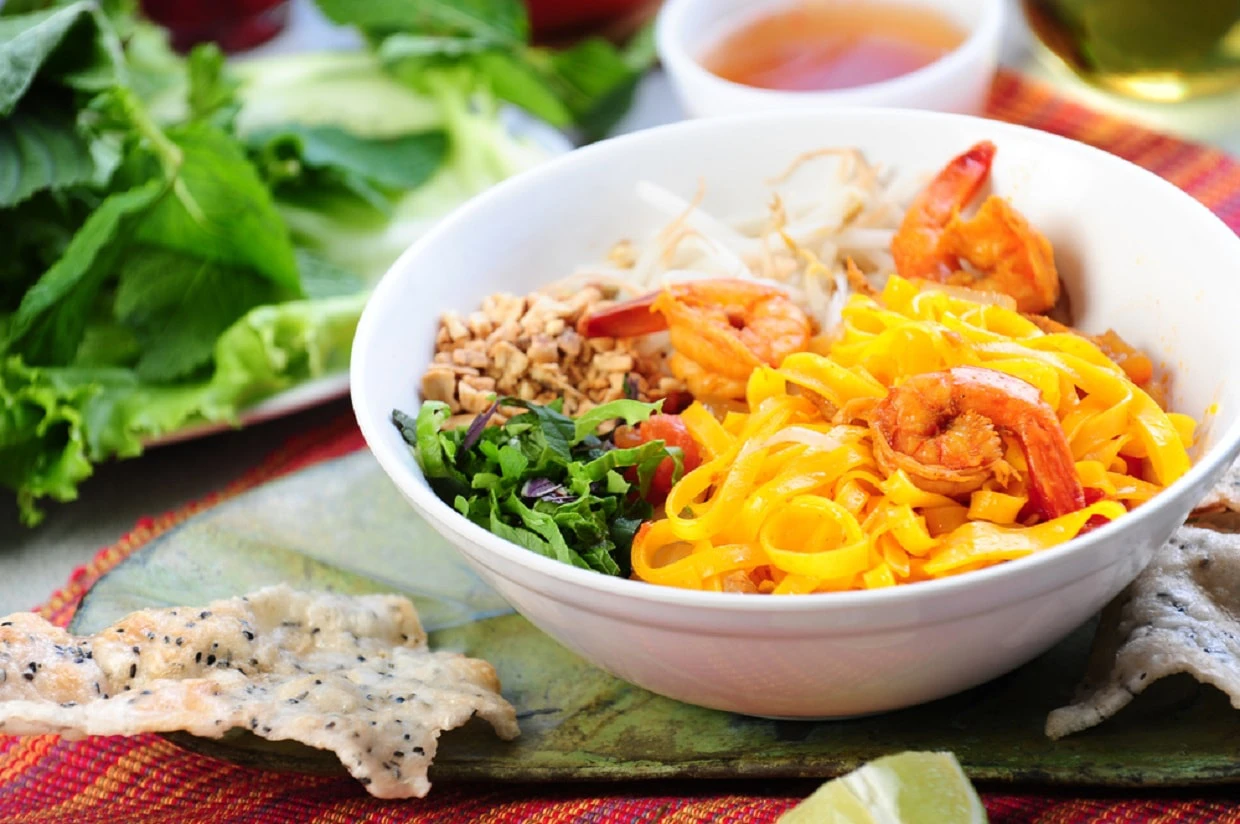 Photo: Theculturetrip
There are many Quang noodle restaurants in Quang Nam and Da Nang. Each area is famous for one certain recipe. For example, Thanh Chiem Village in Dien Ban District, Quang Nam Province is known for shrimp noodle, while chicken noodle is at its best in Tuy Loan, Hoa Vang District, Da Nang City.
A traditional version says: "I make for you, darling, green tea, and Quang noodles to express my feelings". Thus, you can visit a Quang noodle kiosk in Danang City to enjoy the typical flavor of the soups, for instance: Ngan Quang Noodle at 108 Dong Da Street, Lu Quang Noodle at Ham Nghi Street, Vi Quang Noodle at 155 Trung Nu Vuong Street, and so on.
Best restaurants to enjoy Quang Noodles - Where to go?
Visitors can sample Mi Quang in most regions of Vietnam today, but the best taste will be found in Hoi An - Quang Nam, the hometown of Mi Quang. The following restaurants are the highly recommended places in Hoi An to enjoy Mi Quang at its best.
Mi Quang Ong Hai - Mr. Hai Noodles
This is one of the best places in Hoi An to enjoy Mi Quang. In the past, Mr. Hai sold noodles on the sidewalk but now opened a spacious shop. His noodles are appreciated by diners as well, with yellow noodles from turmeric, sweet and rich soup, which makes his shop a familiar spot of many gourmets.
Address: No. 6A Truong Minh Luong, Hoi An, Quang Nam
Open time: 6.00 - 22.00
Mi Quang Di Hat - Mrs. Hat Noodles
Mrs. Hat Noodles is a popular noodle shop on the sidewalk that offers diners the very delicious and famous Mi Quang. Many Hoi An people and tourists appreciate the noodles here with the right taste of Mi Quang Hoi An.
Address: No. 4 Phan Chau Trinh, Hoi An, Quang Nam
Open time: 17.00 - 22.00
Hoi An chicken rice
On the night of the old town, across the block, under the roof of the ancient roof moss, under shimmering lantern, you cannot ignore the chicken boiled silk show up on a disk, first fragrance attractive flight from the chicken rice restaurants. Want to make delicious rice and chicken also choose to have that experience.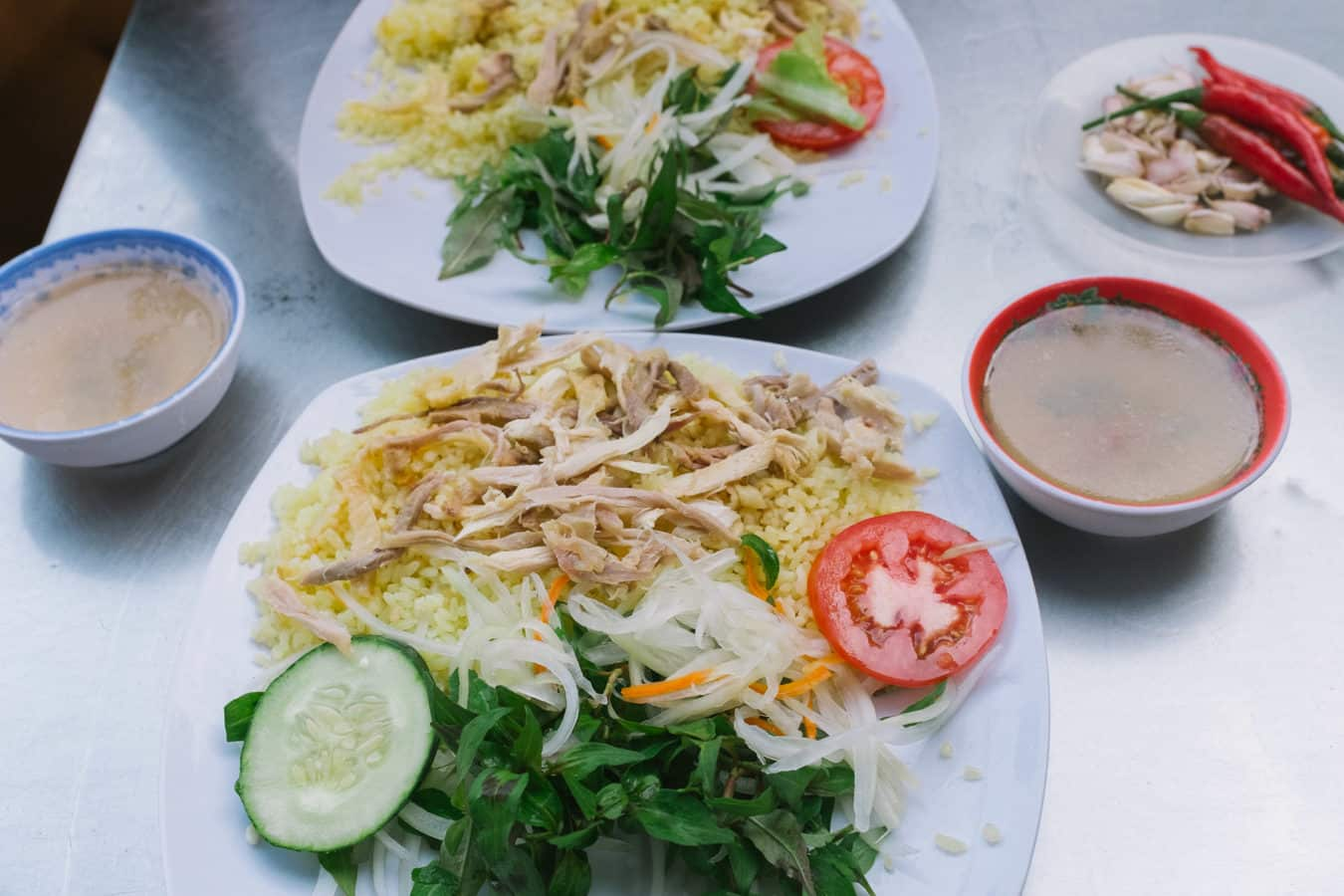 Photo: Hiddenhoian
Hoi An chicken rice is very simple: in its most bare form, the recipe includes only rice, chicken, sauce, and pickled carrots. But it is not easy to cook an exemplary chicken rice plate. You've got to visit the master chefs in Hoi An's street-side eateries. Hoi An chicken rice houses tear their chicken meat into small pieces and then mash the pieces with crushed onions, Vietnamese coriander, and the other spices to best absorb their flavors. The dish is then served up with very spicy chili sauce, pepper to slow the heart various coating mix chicken liver hard, extremely attractive. The springy chicken pieces and fragrant rice is decorated with peppermint, papaya, and salted onions.
The spicy dish might burn your tongue a little bit, but it's an essential part of the cultural experience in central Vietnam. The culinary style in this region is different than the sweeter tastes in the south and saltier dishes in the north.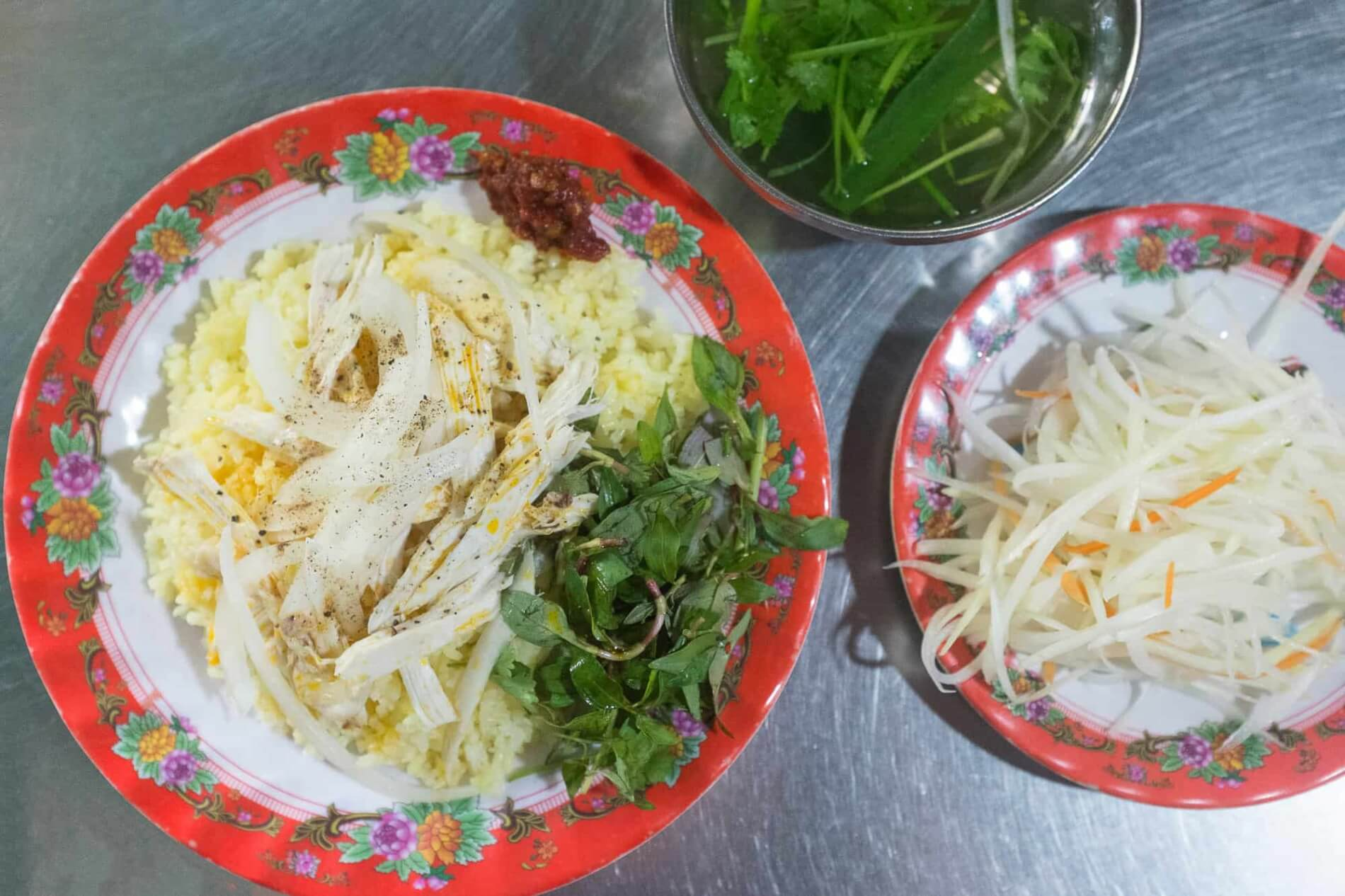 Photo: Hiddenhoian
The best cooks use free-range chickens raised in countryside gardens, not the industrial factory-style birds. Poultry raised in the gardens is stronger and more springy, with a far richer flavor than the soggy stuff produced in "industrial agriculture" facilities. While westerners often prefer fattier, more tender chicken meat, Vietnamese birds considered the best for eating are often smaller with dense, muscular meat. The trick of the recipe is to skilfully make the chicken pieces smell fragrant and spicy without loosening the meat.
Where to Find the Best Com Ga in Hoi An?
You can get chicken rice in restaurants and manicured establishments. But some of the best locations exist roadside and down alleys. Without further ado, here are Hidden's favorite spots to grab a plate of chicken rice.
Com Ga TY
Address: 27 Phan Chu Trinh – Opening Hours: Evenings only until sold out –Cost: 30,000 VND ($1.25 USD)
Positioned at the top of the alley is TY's food cart that advertises the stall's concealed location. Head down the alley a short distance to the large illuminated "Com Ga TY" sign. There you'll find metal tables and plastic stools inside the family's home and seats also outside, lining the alley. With the seating situated just out of earshot from the bustling road and the relaxing music coming from the neighboring restaurant, it makes this spot a rare and peaceful gem within the city.
The plate served here offers a healthy mix of all of the components, along with a small soup that is rich and deep in flavor. It's worth mentioning that the soup here is local style and includes chicken giblets. Ask for the soup without it if it's not your cup of tea.
Long Com Ga Chicken Rice
Address: 53/16 Phan Chu Trinh – Opening Hours: 11 a.m. to 10 p.m. Monday – Sunday – Cost: 35,000 VND ($1.50 USD)
Located in the midst of a winding alley, this restaurant-style com ga stand is easy to miss if you don't notice the signs. To find this buzzing spot, navigate yourself away from the busy street and past the many parked scooters. Decorated with colorful lanterns, tinsel, and a canopy of vines, Long Com Ga provides proper wooden tables and chairs, as well as three seating areas to choose from. There is a front section that is quiet, an air-conditioned mid, and a larger slightly more crowded rear section containing the bulk of the seating. It makes Long Com Ga a great choice for people looking to sit down for a casual restaurant-style meal with streetside-style flavor. It's also a good choice if traveling with a family, as they have high chairs available.
The dish here is quite clean and light—it hides behind less than other places. Their sauce with quail eggs is to die for and can bump up the flavor if needed! Also provided is an English menu that includes other chicken options, a vegetarian salad, and a variety of beverages.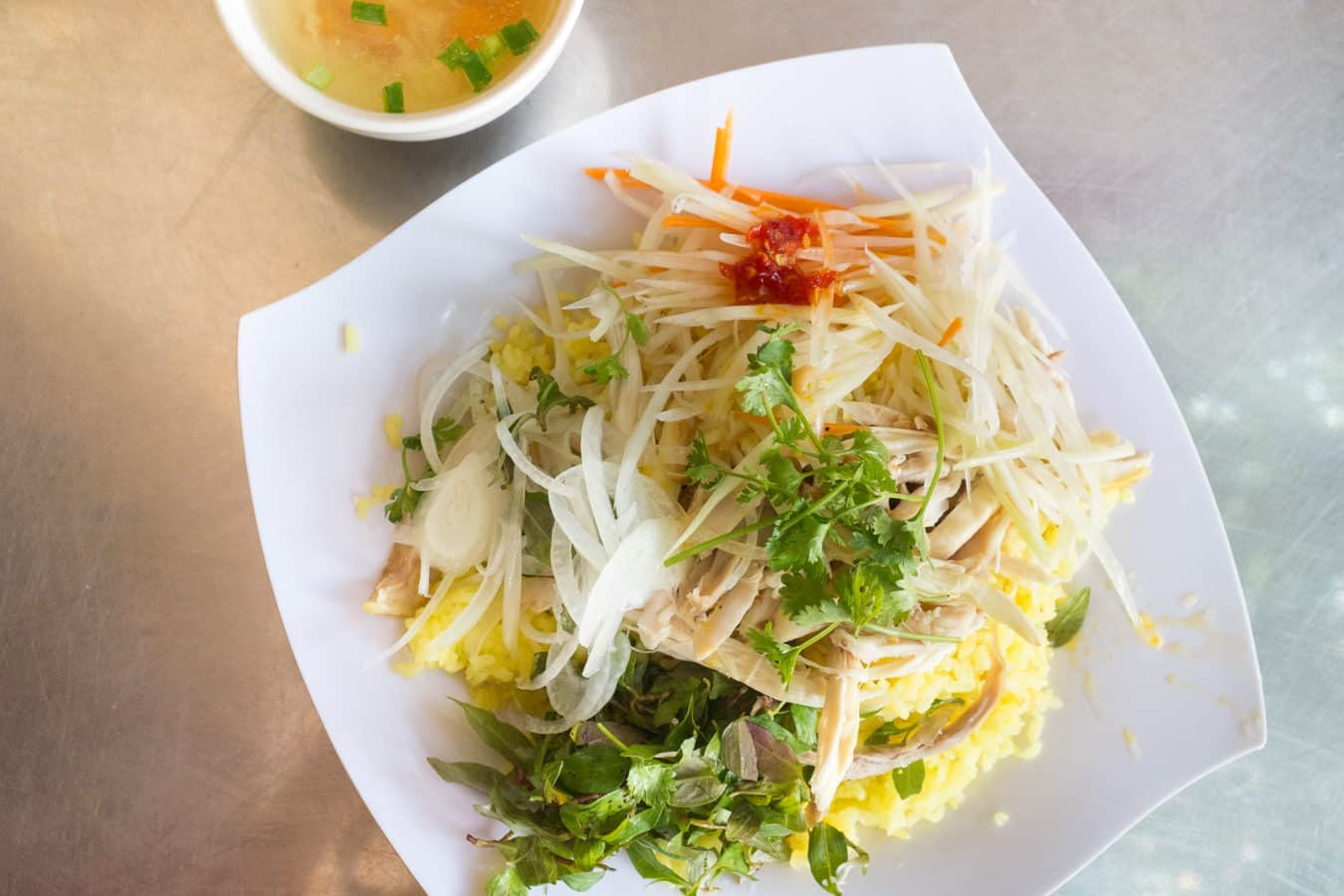 Photo: Hiddenhoian
Com Ga Ba Buoi
Address: 22 Phan Chu Trinh – Opening Hours: 11 a.m. to 9 p.m. Monday – Sunday – Cost: 35,000 VND ($1.50 USD)
One of the longest-standing eateries in Hoi An, in operation since the 1950s. Their com ga a perfect example of doing one thing really well and not wavering from it. The interior of the restaurant painted bright teal with fairly limited space. One-third of the area dedicated to the kitchen, and the rest for patrons. Forget personal space, as it's not unusual to find yourself elbow to elbow, sharing a table with fellow com ga enthusiasts. During the busiest of times, they set up temporary tables in front of this popular place.
The portion size here is small for the price point. Potentially detrimental in the long run as other establishments build their reputation. Having said that, it is a great example of good com ga. For instance, the small touch of the salt and pepper mix provided on the table not found at most other sellers.
Com Ga Phuc
Address: 136 Tran Cao Van – Opening Hours: 4:30 p.m. to 11:00 p.m. Monday – Sunday – Cost: 35,000 VND ($1.50 USD)
The husband and wife team at Com Ga Phuc take over what is a barren patch of concrete by day and fill the space with short ruby red plastic stools and metal tables by evening. Eating here under the tarp canopy embodies a very local feel, with motorbikes cruising by and locals pulling up for their takeaway dinner. There is an English menu that also offers chicken porridge, chicken salad, as well as a pork rib and rice dish. They don't sell drinks here, but 20-meters away is a drink stand to fill the gap.
The chicken rice at Phuc is a bit different, with tomato, lettuce, and cucumber garnishing the plate. The soup you receive also contains a stronger presence of ginger compared to other stalls.
Cau Mong barbequed veal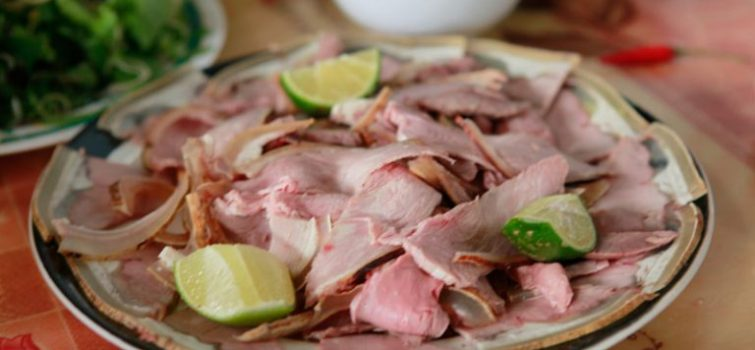 Photo: Danangscenery
Be thui Cau Mong – Cau Mong barbequed veal is as famous as Quang noodle in Danang and Quang Nam. It is also called with the familiar name "Cau Mong rare veal".
The art to sing a veal is almost an esoteric secret. Therefore, there are not many people who know to do it because of its special requirements. Veal pieces when taken out of the oven must attain two rare veal levels, well singed; skin must be cooked to transparency, and moderately soft and crunchy. When laid out, barbequed veal is skillfully sliced, each slice includes skin and flesh.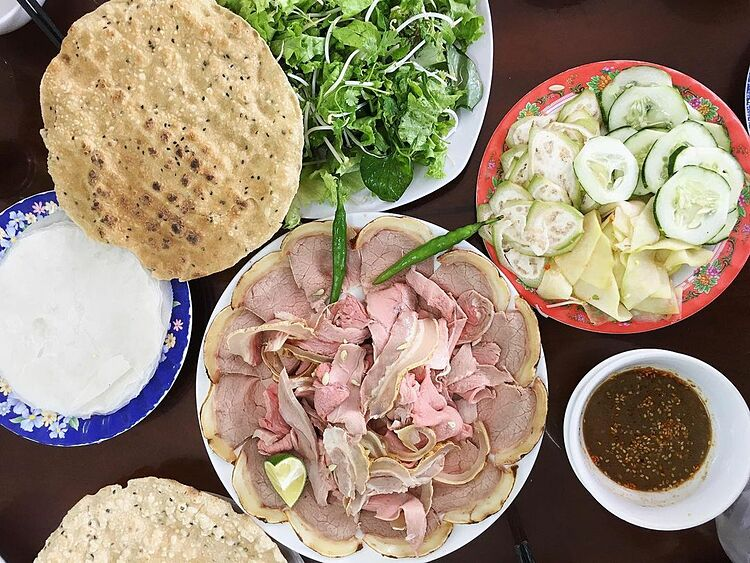 Photo: Vnexpress
The sauce must be made from whole anchovies which are decanted then added sugar, crushed chili, and garlic with a little bit of ginger, and golden roasted sesames. Vegetables served are diverse which are taken from Tra Que vegetable village such as perilla, lettuce, young mustard green, star fruit, sliced young banana, cilantro, basil, cinnamon, bean sprouts,…
Put some slices of barbequed veal on the rice paper, wrap with vegetables then dip into fish sauce and chew carefully. The sweetness of barbequed veal mingled with the moreish taste of fish sauce will make you forget all the sadness.
The best-barbequed veal is in Cau Mong village, Dien Ban district, Quang Nam province, 15 km away from Danang.
Cao Lau
Cao Lau is the foremost traditional Hoi An food. Visitors to Hoi An always remember Cao Lau, which was considered by the Quang Nam people as a special symbol for Hoi An.
Cao Lau noodles are carefully made from local new sticky rice. Water used to soak rice must be taken from wells in the Ba Le Village; noodles thus will be soft, enduring, and flavored with special sweet-smelling. On the Cao Lau noodles were some meat slices mixed with fat made from fried noodles served with vegetables and bean sprouts. Sharp-witted eaters would find out the specific flavor of the dish.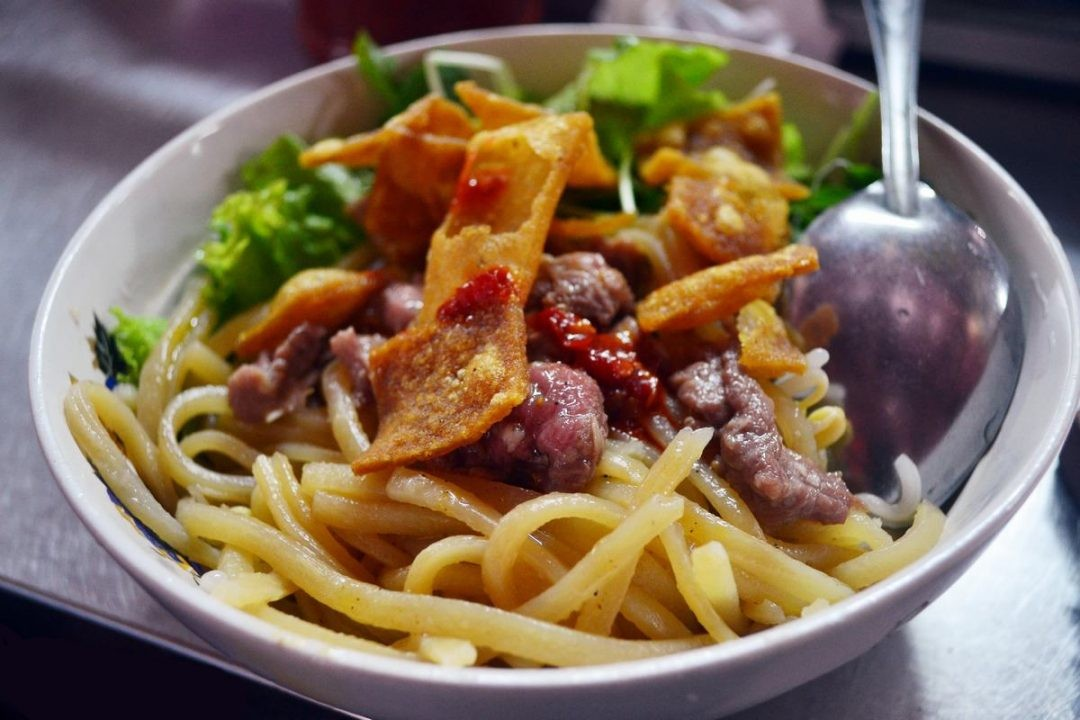 Photo: achau.net
Dry pancakes used as ingredients must be thick with much sesame on the surface. Greasy coconut quintessence and bitter green cabbage are also indispensable. The so-called genuine Cao Lau Hoi An must satisfy all the above requirements.
It was said that only some wells in Hoi An were used to make Cao Lau noodles. What is more, only some Hoi An families were able to produce Cao Lau in their own traditional way, but the quality was not as good as it was before. Cao Lau did not have Vietnamese flavor. Despite its Chinese-like appearance, no Chinese accepted it as Chinese food. Until now, the origin of Cao Lau still remains in mystery.
Best places to eat Cao Lau
Quan Cao Thanh / Thanh Cao Lầu
What tourists love about Thanh Cao Lau is the singular focus on Cao Lau. There is no menu and all you'll get is one perfect dish of Cao Lau.
Be aware that this is a very local joint and not fancy at all. Simply grab a stool and enjoy the perfection of crunchy and savory flavors.
Address: 26 Thai Phien, Hoi An
Hours: Open Tuesday – Friday from 7:00 am – 8:00 pm; closed Saturday – Monday
Price: 30,000 VND ($1.30)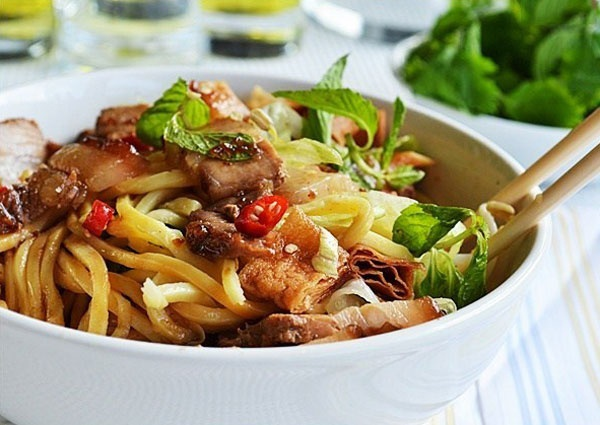 Photo: Zingnews
Cafe Cao Lầu or Cao Lầu Không Gian Xanh
This hidden gem is easy to miss. It's not far from Old Town's yellow walls. The service is friendly and the Cao lầu is divine. The portions are generous with lots of flavors and textures.
Address: 687 Hai Ba Trung
Hours: Open every day from 9:30 am to 9:00 pm
Price: 30,000 VND ($1.30)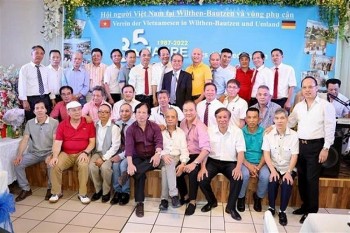 Economy
The Overseas Vietnamese Association in Wilthen - Bautzen and surrounding areas in Germany held a get-together on the occasion of the 35th anniversary of Vietnam - Germany labour cooperation.