Denmark Assists Vietnam to Improve Quality of Official Statistic
Denmark will support Vietnam with about US$1 million to carry out a project on improving the quality of official statistics
The General Statistics Office (GSO) of Vietnam and Statistics Denmark signed the project agreement via videoconference on November 26.
The 30-month project will focus on using administrative data for producing population, migration, and education statistics; and optimising chances for using big data to produce statistics and build the first economic - environmental accounting system for Vietnam.
GSO General Director Nguyen Thi Huong pledged close cooperation with Vietnamese ministries, sectors, and Statistics Denmark to carry out the project successfully.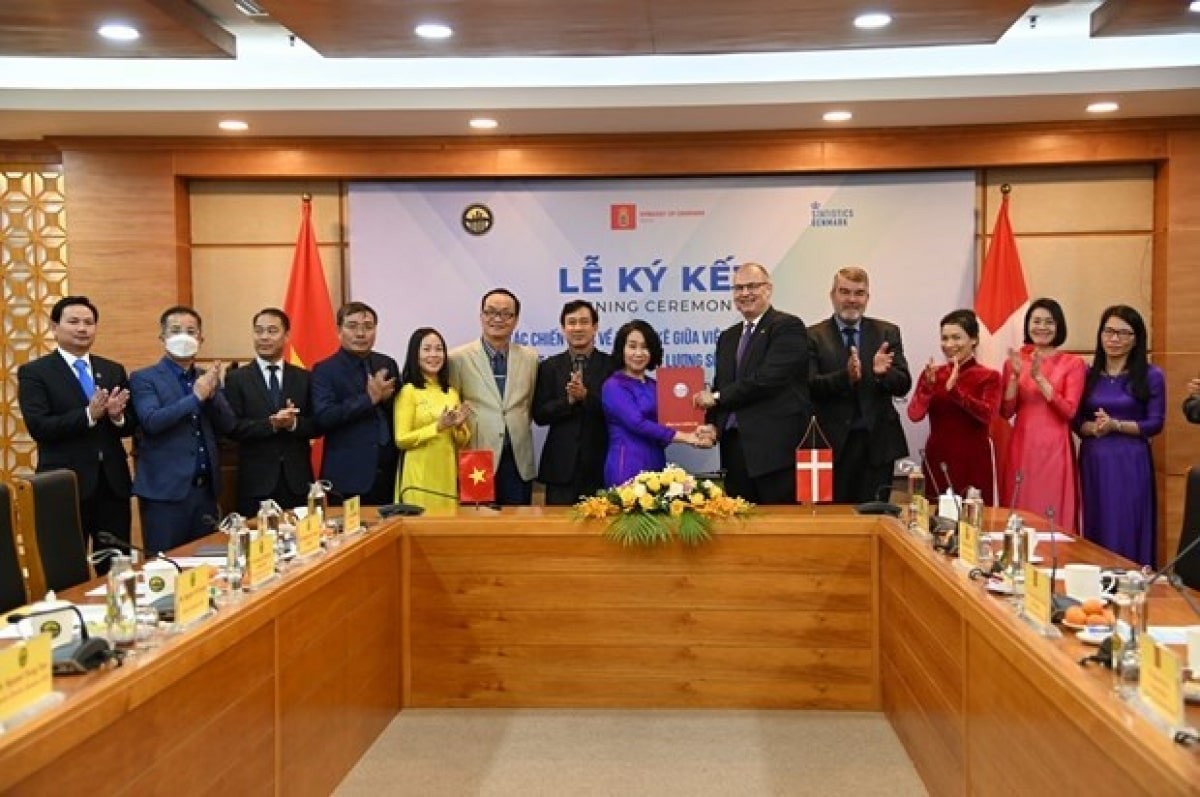 Danish Ambassador to Vietnam Kim Højlund Christensen said Statistics Denmark will work closely with the GSO and relevant ministries and sectors in Vietnam to share knowledge and experience.
Meanwhile, Director General of Statistics Denmark Birgitte Anker expressed her hope for effective cooperation with the GSO, and that this partnership will provide more information about the Vietnamese society, serving as a basis for making evidence-based decisions and monitoring international agenda like the Sustainable Development Goals (SDGs).
Denmark is a close and faithful friend and a trusted partner to Vietnam that plays an increasingly important role in the foreign policy characterised by openness, diversification and multi-lateralisation of international relations and pro-active integration of Vietnam.
It was one of the first Western countries to establish diplomatic relations with Vietnam on November 25, 1971 – a time when the resistance war against America was entering a fierce period.
Since then, relations between the two countries have been consistently expanded and have achieved comprehensive developments in all fields of political and diplomatic ties, economics, trade, investment, and education and training. This is the basic condition for lifting Vietnam-Denmark bilateral relations to a new height.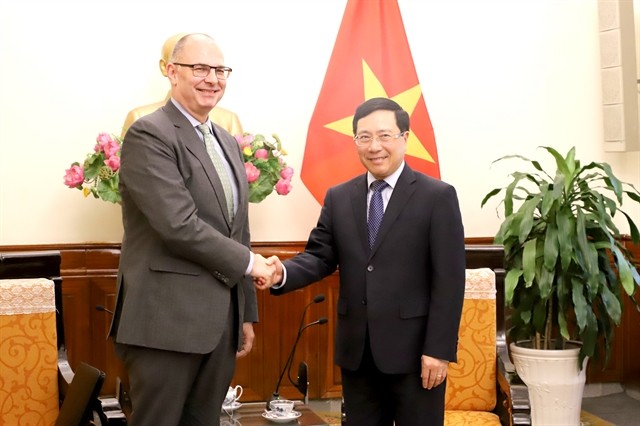 Danish Ambassador Kim Højlund Christensen in a meeting with Deputy Prime Minister Pham Binh Minh in May 2019. Photos via Vietnam News
In September, during President Truong Tan Sang's three-day visit to Denmark, Danish Prime Minister H. Thorning-Schmidt said that 40 years after establishing diplomatic ties, the bilateral relations have developed positively in many areas. She underscored her country's determination to successfully implement its market development strategy, with Vietnam as one of the 10 targeted economies around the world. She added that Vietnam has an important position in the region and the world and that Denmark wished to penetrate into ASEAN and Asian markets through Vietnam, NDO reported.
Vietnamese President Truong Tan Sang noted that both sides believed the signing of a joint statement on the comprehensive partnership helped to establish a more comprehensive co-operation framework and lift bilateral ties to a new height, commensurate with the strength and potential of the two countries.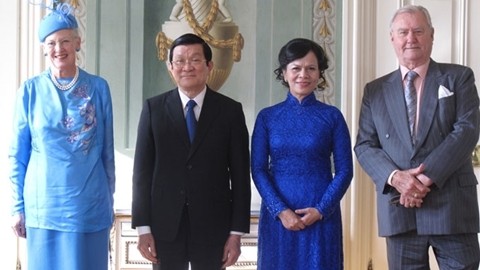 Danish Queen Margrethe II and her husband receive President Truong Tan Sang and his wife at Fredensborg Palace. Photo: NDO
The Vietnamese President proposed that Danish Government continue prioritising ODA for Vietnam in the fields of climate change, new and renewable energy and green growth.
He affirmed that Denmark is fast becoming a leading economic partner of Vietnam in northern Europe and in the EU. He went on to say that green and sustainable growth is the inevitable trend for economies after the financial-economic crisis. Thus, there exists a big opportunity for Danish businesses to invest in Vietnam, particularly in the fields of Denmark's strengths, such as seaports, pharmaceuticals, and wind and other renewable energies.
In Vietnam, Danish businesses gain access not only to a market of 90 million consumers, but also to the ASEAN market of 620 million people, which is serves as a bridge to other markets in Asia through a network of free trade agreements to which Vietnam is a signatory. President Sang expressed his hope that there would be more contracts signed and implemented between businesses from the two countries in the future.
The two leaders also participated in the signing of a joint statement on the comprehensive partnership; documents on the co-operation in wind power, losses and inefficient budget collection reduction; education and training co-operation; sustainable aquaculture and others.
Top 8 Most Beautiful Castles In Denmark

Europe is the land of the most stunning and gorgeous castles in the world, and Denmark's castles have their own distinctive and unique architecture and ...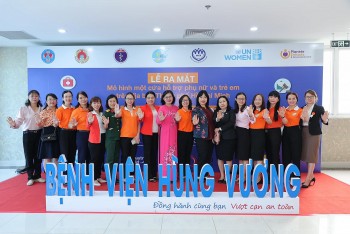 Viet's Home
What is the one-stop centre for women and children experiencing violence?