Deputy PM Le Minh Khai meets COP26 President, WEF leader
Deputy Prime Minister Le Minh Khai on May 22 held several bilateral meetings with leaders of international organisations and businesses during his trip to Geneva to attend the 52nd World Economic Forum (WEF) annual meeting.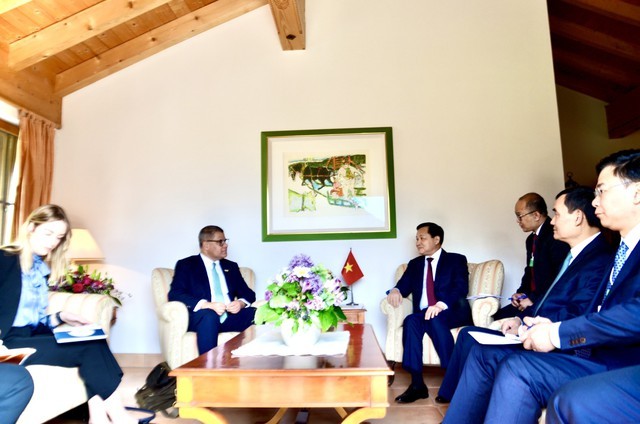 Deputy Prime Minister Le Minh Khai (third to left) meets President for COP 26 - the 26th United Nations Climate Change Conference Alok Sharma, Davos, Switzerland, May 22, 2022 - Photo: VGP/Tran Manh
Meeting with British Minister and President of the 26th UN Climate Change Conference Alok Sharma, Deputy PM Khai said that Vietnam has implemented a range of comprehensive measures in the fields of energy transition and green growth model transformation in order to meet its commitment at COP26.
As ensuring energy security and reducing greenhouse gas emissions require international support in terms of resources, technology, and governance capacity, Vietnam hopes that the UK, the EU, and G7 countries will offer specific commitments to assisting the country in this field, he said.
The official underlined that ensuring energy security for growth and reducing emissions at the same time is a very complicated problem that requires the support of the international community in terms of resources, technology, and governance capacity.
For his part, Sharma held that Vietnam has made a proper decision to announce the net-zero emission commitment at the COP26, lauding Vietnam's efforts to realize the commitments with a national-wide strategy led by the Prime Minister.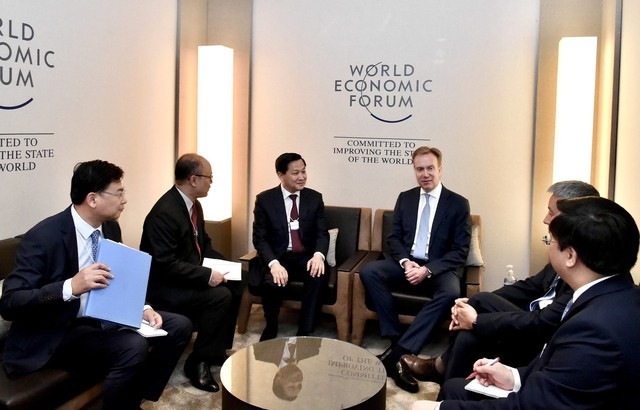 Deputy Prime Minister Le Minh Khai (third to left) meets President of the World Economic Forum (WEF) Borge Brande, Davos, Switzerland, May 22, 2022 - Photo: VGP/Tran Manh
At a meeting with WEF President Borge Brende, Khai conveyed PM Pham Minh Chinh's best regards to WEF Founder and Executive Chairman Professor Klaus Schwab. The Vietnamese Deputy PM suggested that the WEF continue to promote its role as a bridge between the Government and businesses in the process of shaping development trends and promoting new growth engines.
The two sides were pleased to see that the partnership between Vietnam and the WEF is developing positively and substantively. Khai emphasized that Vietnam is focused on building an independent, self-reliant economy, whilst simultaneously accelerating international integration comprehensively and improving the country's position amid the global supply chain.
The WEF President spoke highly of Vietnam's development orientations and expressed his wish the WEF would continue to foster its partnership with the country in the fields of digital transformation, sustainable agricultural development, energy transition, and training of the labour force to meet market needs in the Industry 4.0 era.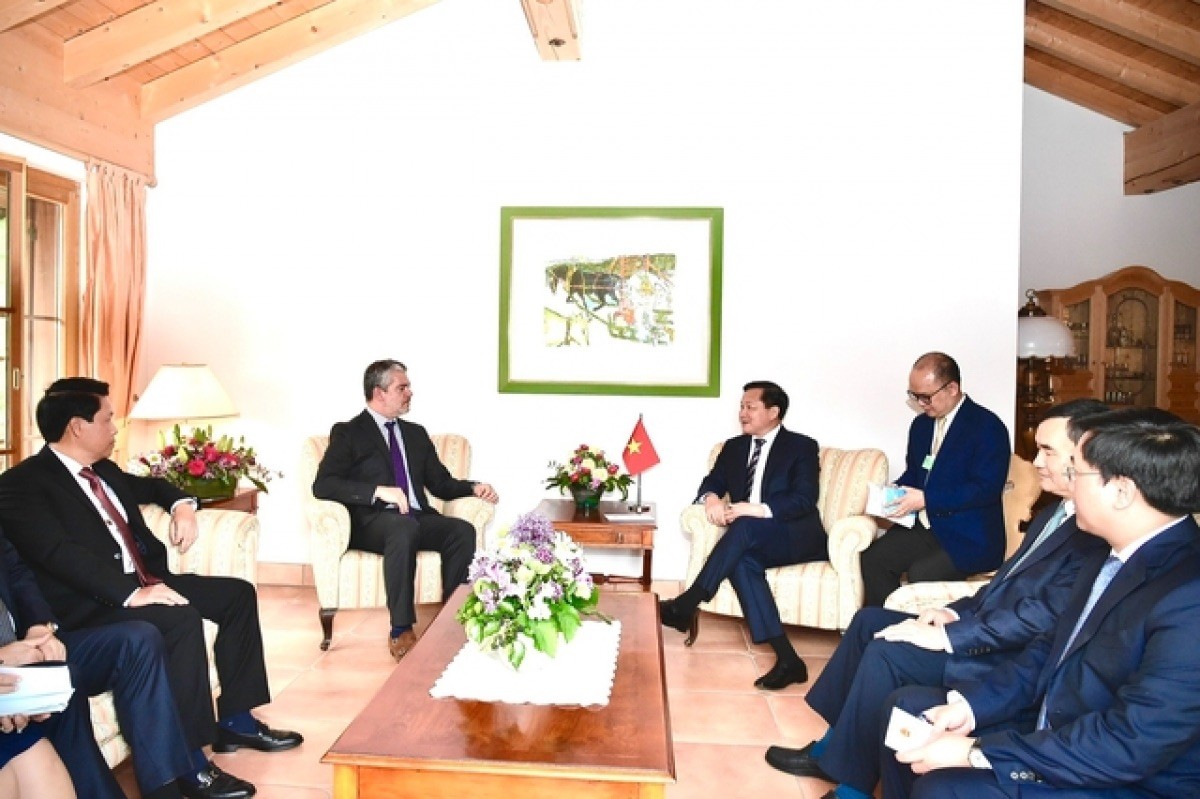 At the same day, Deputy PM Le Minh Khai (third to left) receives New Development Bank President Marcos Troyjo on the sidelines of the 52 WEF in Davos. Photo: VGP
Receiving Marcos Troyjo, president of New Development Bank (NDB), Deputy PM Khai said Vietnam is keen on expanding co-operation with the bank to gain greater financial assistance for its development projects.
Meanwhile, Troyjo told Khai that NDB, a multilateral development bank, wishes to co-operate and provide financial support for Vietnamese economic recovery and development, with a primary focus on the fields of clean energy, transport infrastructure, irrigation, water resource management and sanitation, sustainable urban development, and economic co-operation and integration.
The 52nd World Economic Forum Annual Meeting will convene on the theme "Working Together, Restoring Trust," with the aim to address economic, environmental, political and social fault-lines exacerbated by the COVID-19 pandemic.
The meeting will bring together the foremost business, government and civil society leaders and focus on: progressing cooperation on tackling climate change; building a better future for work; accelerating stakeholder capitalism; harnessing the technologies of the Fourth Industrial Revolution; and ensuring a more inclusive future of work.
The 52nd WEF is taking place in Davos, Switzerland, on May 23 - 24.