Vietnam to Introduce Development Strategy at Davos WEF
Vietnam will introduce its socio-economic development strategy in the new period at the 52nd World Economic Forum (WEF) annual in Davos.
The 52nd World Economic Forum (WEF) annual meeting will take place from May 23-24 in Davos, Switzerland. Photo: The World & Vietnam Report
Deputy Prime Minister Le Minh Khai will attend the 52nd World Economic Forum (WEF) annual meeting from May 23-24 in Davos, Switzerland, at the invitation of WEF Founder and Executive Chairman Professor Klaus Schwab.
This will be one of the major multilateral foreign relations activities of Vietnam in 2022, especially in the context that the annual meeting of this major global economic forum has been postponed over the past two years due to COVID-19, Ambassador Le Thi Tuyet Mai, Permanent Representative of Vietnam to the United Nations, the World Trade Organisation (WTO) and other international organisations in Geneva, told the Vietnam News Agency (VNA).
She said that since Vietnam and the WEF set up their relationship in 1989, leaders of both sides have paid great attention to the promotion of bilateral ties in many fields.
Vietnam attended four WEF annual meetings at prime ministerial level in 2007, 2010, 2017 and 2019, and joined the WEF on ASEAN at prime ministerial level four times in 2012, 2013, 2014 and 2017. The country hosted the WEF on ASEAN in 2018, the WEF on Mekong in 2016 and the WEF on East Asia in 2010.
The first WEF's Country Strategic Dialogue on Vietnam was held on October 29, 2021 in the in-person format, which was evaluated by the WEF as the most successful dialogue that it had held in coordination with a country in all aspects, said the diplomat.
She stressed that the WEF annual meeting in 2022 is taking place at an important time when the world is facing many challenges. With the participation of nearly 2,500 state leaders, representatives from international organisations, businesses, international non-governmental organizations (NGOs) and scholars, the event aims to seek solutions to the challenges of the world.
Deputy Prime Minister Le Minh Khai. Photo: thanhtra.com
Urgent issues to be discussed include global pandemics, the armed conflict in Ukraine as well as geo-economic shocks and climate change. The central theme as well as the solutions to be discussed and proposed at the meeting reflect the common concerns and aspirations of mankind towards prosperity, stability and development after two years of COVID-19 pandemic that has affected the whole world, as well as in the context of increasing geopolitical tensions today, she said.
The diplomat said that the meeting will mark a new era of global responsibility and cooperation, aiming to formulate strategies and seek solutions to the world's greatest problems as well as to advance long-term economic, environmental and social priorities, towards reinforcing the foundation of a stable global system in an increasingly complicated multipolar world.
For Vietnam, the event will be a chance for the country to introduce its socio-economic development strategy in the new period, policies on reopening tourism, promoting trade, investment and inclusive economic recovery towards the transformation to a green growth model, digitisation and sustainability, as well as Vietnam's strong commitments to upholding and promoting multilateral cooperation and realising sustainable development goals.
The diplomat cited Professor Klaus Schwab as saying that Vietnam's participation in the 2022 WEF meeting along with leaders of other countries and international organisations and global corporations, provides an opportunity for the country to promote its role as an active partner of the international community and contribute to efforts to orient ideas and strategic policy mindset for the current turning-point period.
Davos 2022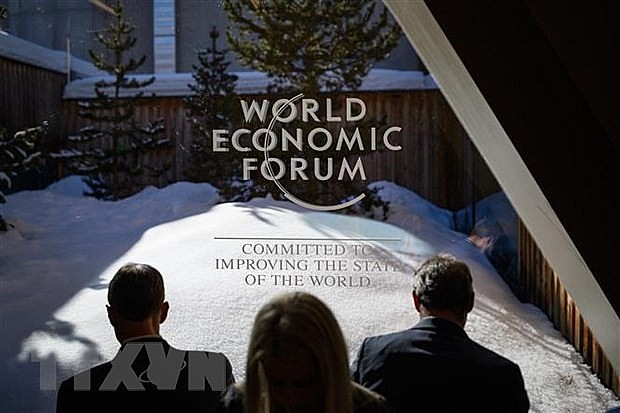 WWF is one of a number of organizations calling on world leaders to commit to securing a nature-positive world this decade. Photo: VNA
The World Economic Forum Annual Meeting is the only yearly gathering that brings together leaders of global society.
The heads and members of more than 100 governments, top executives of the 1,000 foremost global companies, leaders of international organizations and relevant non-governmental organizations, the most prominent cultural, societal and thought leaders, and the disruptive voices of the Forum's Young Global Leaders, Global Shapers and Technology Pioneers come together each year to define priorities and shape global, industry and regional agendas.
In 2022, world leaders have a momentous opportunity to course correct for the sake of people and the planet. Later this year, at COP15 in Kunming, China, they are scheduled to adopt a new global biodiversity agreement. At Davos, WWF will be calling on government and business leaders to show they are committed to delivering an ambitious agreement that reverses biodiversity loss this decade./.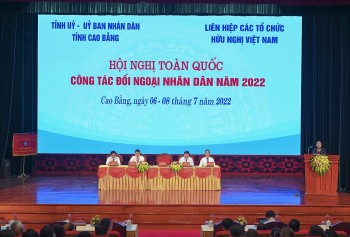 Friendship
During the event, many important issues will be discussed, and constructive suggestions and solutions will be provided to promote more effective people-to-people diplomacy operations.