'Difficult tasks make for interesting challenges': Vietnam's richest man
For the first time after two years, chairman of Vingroup Pham Nhat Vuong spoke to VnExpress about helping people overcome the pandemic and realizing the global electric car dream.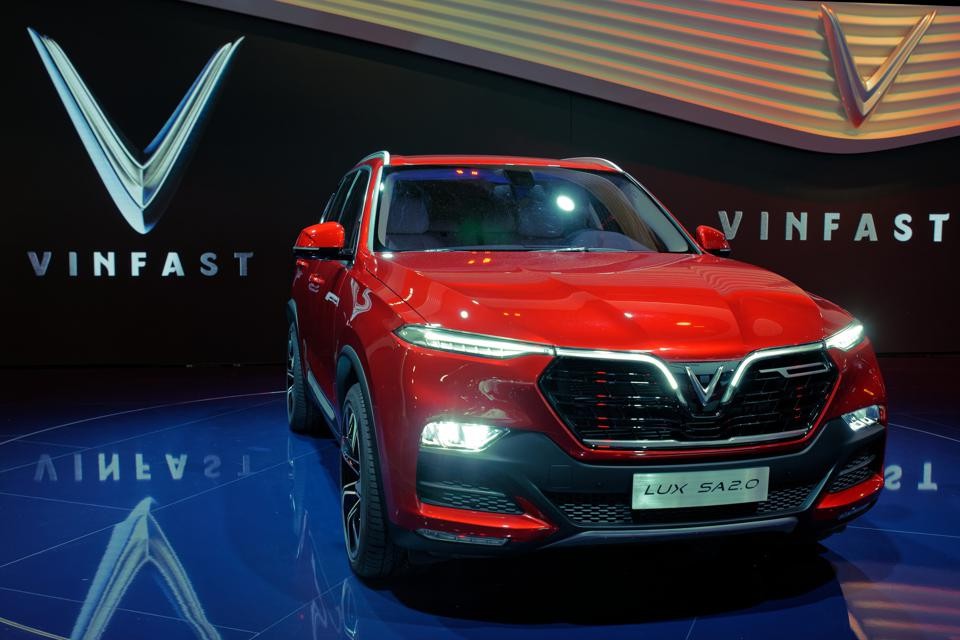 Photo: Forbes
'We just did what we could'
What are the three biggest impacts of Covid-19 that Vietnam's biggest private conglomerate Vingroup has had to deal with since the pandemic began?
Vingroup has suffered major damage. But the pandemic created in us the motivation to change and strengthen our management. It also created a great opportunity for us to develop electric cars. There were many severe impacts, but we just had to fight.
How did the giant conglomerate fight?
First we tried to figure out how to survive the many difficulties. We immediately cut expenses to increase contingency funds. The whole company had to cut down spending. We were not too concerned about spending on charity as it helped people, but within the company we imposed extremely tight budgetary constraints and every employee was on board with this policy.
Besides trying to survive we also had to figure out how to take advantage of the opportunities to grow. While many of our competitors seemed to be slowed down by the pandemic, our crew spent six months in Hon Tre, Nha Trang, in central Vietnam to develop electric cars. The decision was both costly and crucial as it allowed us to design five electric cars which were well received by Vietnamese and global observers. The pre-booking numbers for our electric cars, VF e34, VF8, and VF9, proved that we made the right decision.

Photo: VnExpress
What were your lessons from the pandemic?
There are so many. Let me give a few bullet points:
- Do not panic when difficulties arise. Be calm and try to figure out a way to untie the knots.
- More challenges, more opportunities.
- Whatever the difficulties you face, never lower the quality of your products and services; never lose consumers' trust.
- Always train and perfect yourself and your business. Obstacles come fast and the consequences are devastating as the pandemic has shown, and the weak won't survive.
- If you are facing challenges, chances are someone else is facing even bigger challenges. Helping them overcome the difficulties will help you feel more at peace which motivates you to work harder. It is like getting an energy boost.
The last bullet point explains why Vingroup was usually the first company to support people during the pandemic. The company has spent around VND9.4 trillion (US$413.8 million) so far on this. What is your principle in giving?
"Principle" sounds too big, we just saw people die and so we jumped in to help. We did not pinch pennies, and we did our best whether it was for Vingroup employees or others. And of course, we worked fast.
Somebody said "Life is short and there is much work to do. People's dreams are big but they can't do much". That is true, life is short if you have big dreams. At Vingroup we always do things very quickly because we want to take advantage of opportunities and do as much as we can for the world.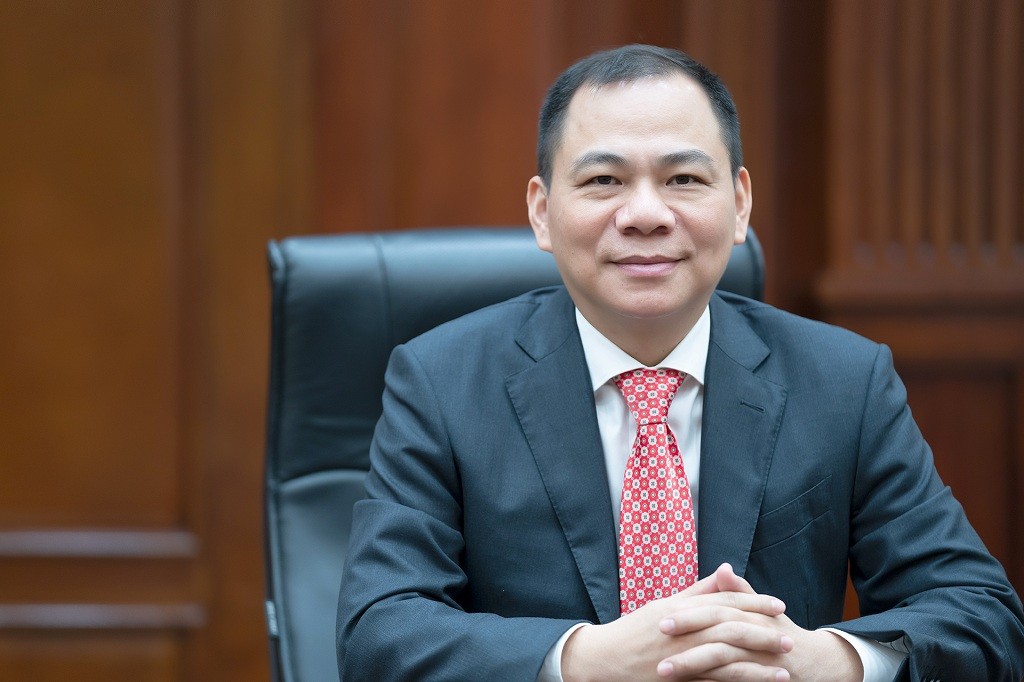 Photo: Batdongsanonline
How does that view of charity affect your business direction?
We made some tweaks to our business strategy. We prioritized the three pillars of technology – industry, service – commerce and charity.
We group technology and industry together because we only focus on developing technology to serve manufacturing.
We also group Vinmec [healthcare], Vinschool and VinUni [education] and the Kind Heart Foundation together in our charity division to increase our number of charitable activities.
We also reduced Vingroup's contribution to the Kind Heart Foundation from 90 percent to 10 percent and made up the rest through contributions from myself, my family and senior leaders of the company. One reason was that we did not want Vingroup investors to be concerned about the rising spending on charity and another was we wanted to contribute more personally. During the difficult times we saw many heartbreaking stories and felt we should take part more actively in social activities.
How should people understand Vingroup's 'non-profit' approach to healthcare and education when it often charges much higher than average?
Non-profit means not taking profits for investors but using them to develop, expand and upgrade service quality. Non-profit does not mean free or low-cost services but that all the profit we make will be returned to benefit society. More rich people using Vinmec services means more opportunity for doctors and facilities at public hospitals to serve the low-income faster and better. The same principle goes for Vinschool.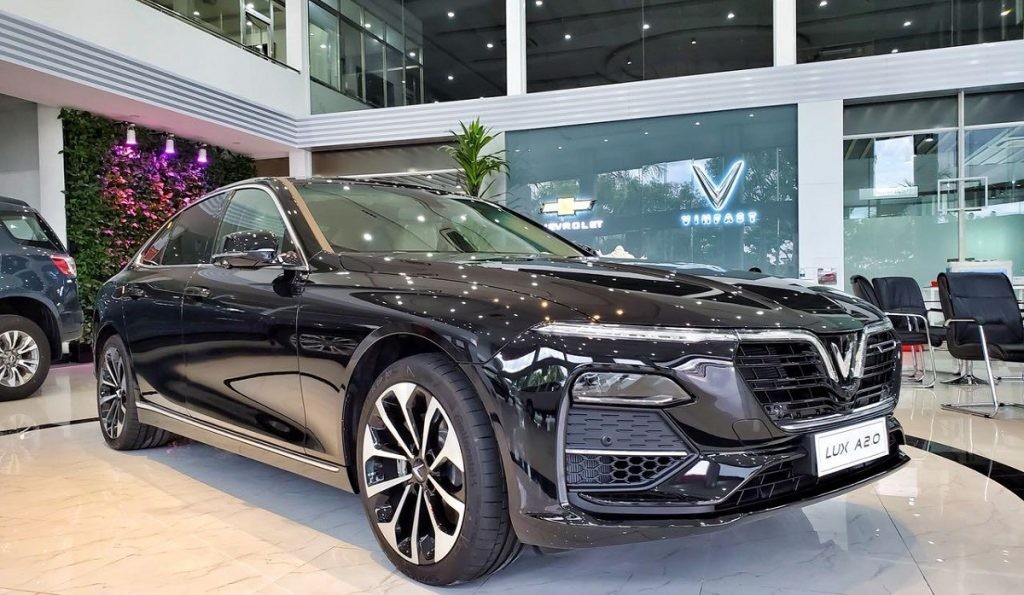 Photo: Vinfast Vietnam
'Don't stop half-way'
You have recently made a colossal decision to stop making gas-fueled cars and instead focus on electric cars. You sold VinMart and wound up VinSmart. Are you concerned that customers who buy your gas cars might feel uncertain about what else you might ditch in future?
We knew right from the start that electric cars are the future. Now is the decision-making moment to choose electric cars over gas-fueled vehicles. Of course, we had to ensure that our customers will not be hurt by the decision. They even received more benefits. If our product quality does not fall, our services continue as usual and prices of the vehicles do not plunge over time, will that cause uncertainty to our customers?
What made you believe that customers won't turn their back on VinFast and gas-fueled vehicles' prices won't fall after you announced the transition?
The main reasons for car prices to fall are the manufacturer not fulfilling previous commitments on maintenance and dumping products just to get rid of inventories. But in the case of VinFast gas-fueled cars, we not only honor our initial commitments but have also increased warranty period to 10 years (two or three times longer than average) and added mobile services [fixing cars at customers' desired locations]. We also maintain 150 percent of normal stocks in the case of parts to ensure maintenance is smooth. I believe that VinFast gas-fueled car prices will even rise.
How long can VinFast sustain its losses?
I initially prepared for losses for the first five years. We are now half-way through and if things go according to plan we will be profitable after two years. I am talking about profits in the global markets since in Vietnam we will still make losses because we need to invest in charging infrastructure for electric cars. We now have 40,000 charging docks nationwide and the figure will increase to 150,000 by the end of this year. This is a huge investment but we are determined to make it happen.
How can you be confident that the quality of VinFast electric cars will match Tesla's since Vingroup started out as a commerce and service company and is a rookie in the electric vehicle industry?
When we started out designing VinFast electric cars, we had carefully studied our competitors' products and used their standards to make our products. That is why we are confident in the quality and class of our cars.
'Work faster' is one of Vingroup's principles. We are ready to recruit top experts and partner with global tech companies to increase the speed of our development. Globally, it takes 27-54 months for a company to make a car but we only needed 18 months. We did not skip or leave out any step; we just did everything in a rapid and focused manner.
What pushed you to go all out into electric vehicles?
Vietnam needs to have at least one brand that is globally recognized. We have tried in a few sectors and realized that only VinFast and electric cars can make that happen. But it won't be easy.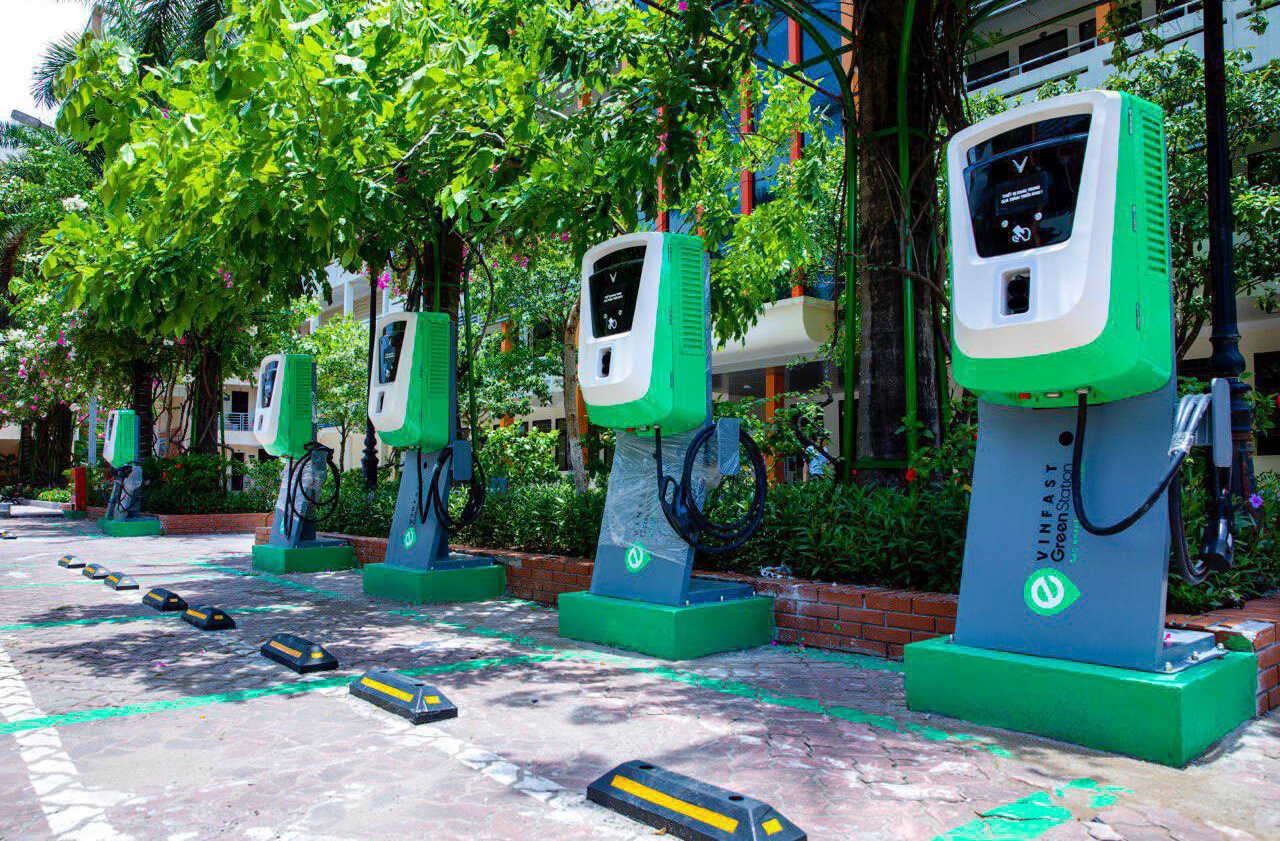 Charging docks for VinFast electric cars. Photo: VnExpress
Planting a flag
You once said that Vingroup's goal in going overseas is not for profit but to plant a flag. As that goal has been achieved with VinFast, what are your thoughts about creating a global name versus making a profit?
I lived and worked overseas for over 22 years. Even though I achieved great success and gained respect, I could see Vietnamese were not well respected in the world. Many Vietnamese who live abroad identify themselves as Japanese or Korean. I want to do my best to change that.
There are a lot of worries and pressures with VinFast, but our fighting spirit is high. We will do our best to make this flag go higher and further.
The first VinFuture Award for scientific research is set to be announced within the next few days. Two years ago you said you wanted to put Vietnam in the scientific research world map. What is the significance of the VinFuture Award?
The global scientific community now knows about VinFuture and we have received nearly 600 nominations from almost all over the world. Many research labs and scientists, who did not know about Vietnamese science before, now know that Vietnamese people care about science and are making contributions to advancing scientific research. I believe this award will bring together Vietnamese scientists and their global counterparts.
Some people say that the large cash award of $3 million is what attracted the scientific community's interest in the VinFuture Grand Prize. Do you agree?
The grand prize is indeed large, but I believe the motto 'Science in the service of mankind', the long commitment of VinFuture and Vingroup's reputation are what attracted top scientists.
If Forbes is correct, you are the richest man in Vietnam. But your wealth cannot be enough for you to do whatever you want. Many businesspeople have talked about making Vietnam known globally, but what is the key that helped Vingroup do things that were thought to be unachievable?
We simply want to leave something behind. Earlier that something was beautiful and modern urban areas that are worth living in to change Vietnam's cities. That something was delivering services that improve the standard of living. Now that something is creating a Vietnamese brand that is of global standard. It is that simple.
For us there is no "impossible project". If it were impossible we would not have started it. But there is no easy project either, because either someone else has already done the easy projects before us or they would not be interesting enough for us to work on.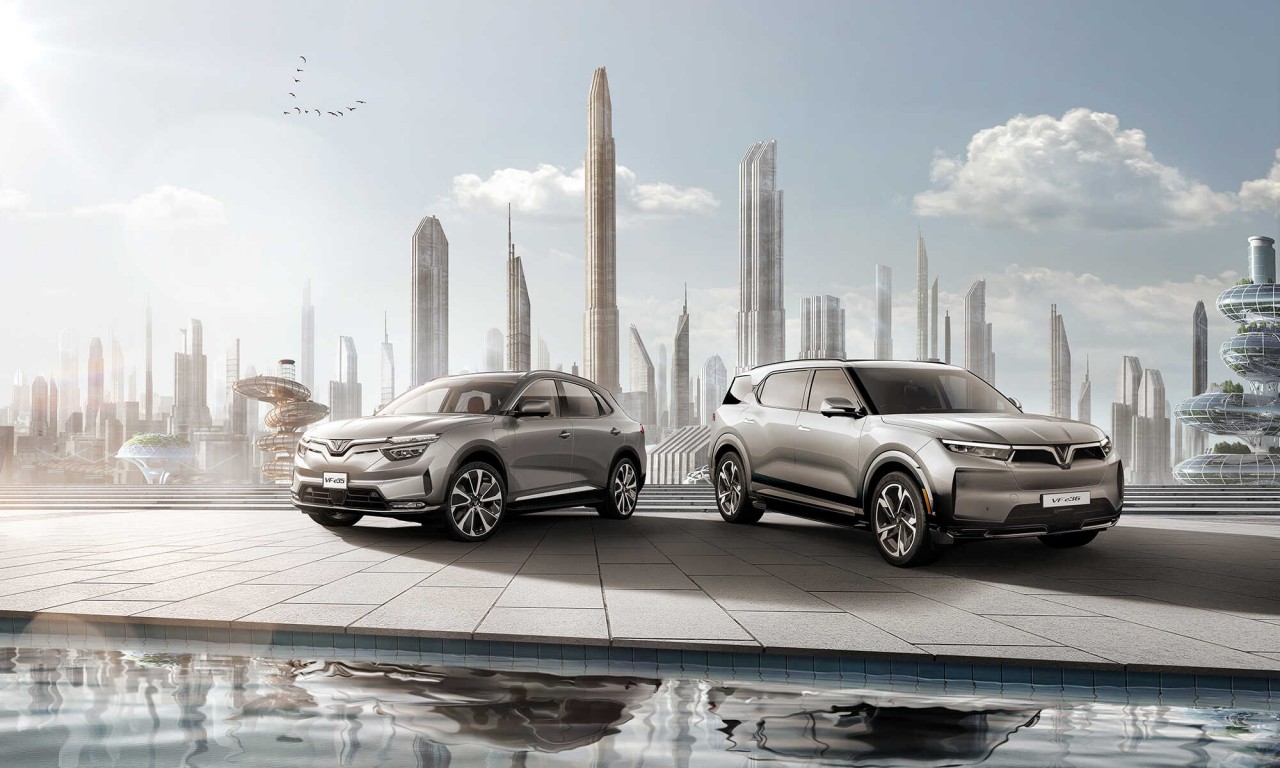 Photo: Vingroup
Not 'too big to fall'
In your favorite book, 'Good to Great', author Jim Collins talks about the hedgehog concept: what a company should do is something it is most passionate about, something it is best in the world at and something that drives its economic engine. What is that 'something' for Vingroup?
I love books but I don't usually follow them. If I could find that something meeting all those three criteria then there would be nothing else to talk about. At Vingroup we always have a passion for what we do and we strive to do it the best we can and to create sustainability. But we have to accept that we need to give up what we cannot do best.
How did you decide when to give up a project?
All I want to do is to ensure Vingroup fulfills its mission if 'To create a better life for people'. We do what is in line with that goal.
My way of thinking is simple: if we cannot do something, we accept the failure fair and square, and we stop doing it. We accept that we have to sell some projects to raise money for other projects. We do not strive to work on projects that are no longer suitable after having worked on it. Deciding when to stop a project is more difficult than starting it because we have workers and customers involved. We need to figure out how to have satisfactory closure for all.
Often Vingroup makes major changes very quickly, like that time when you changed the design of the Vinhomes Smart City residential area in Hanoi at the last minute before construction began. How do you make such quick decisions?
They are not quick to me. I always think about my products, and if I can find a better solution I am determined to do it however much it costs. For example, when we were developing the electric cars, there were times when we paid 48 times the average price for parts that were in short supply to test our products. We are willing to suffer losses to gain market share and achieve higher standards. People often raise an issue and come back to it after months. We do that in one or two days. We always come back to issues within a few days to decide whether to resolve it or give up.
Will Vingroup become "too big to fail" given its current pace of expansion?
If a business does not change and strive with determination it will not survive. Some companies have even climbed to top or second place globally and still failed. That is why we have the slogan, 'Forever a startup spirit'.
How do you maintain the 'startup spirit' in a huge company like Vingroup?
We regularly 'exercise' our whole system: we set more and more difficult goals to strive together and achieve. We regularly evaluate the efficiency of each department and let go employees and groups that are weak.
I have been pushing our managers to control the final outcome. I also work relentlessly to achieve the five '-izes': essentialize, standardize, 'simplifize', automatize, and 'efficientize'.
Essentialize, which is most important, means ensuring that each leader needs to be completely responsible for his or her group.
Several months ago I also asked my employees to cut the number of meetings by half, the number of meeting participants by half and meeting duration by half to 'efficientize'.
Where do you see Vingroup in the next five or 10 years?
I think by that time Vingroup will be a reputed global manufacturing and technological company. By then the commerce and service and charity divisions of the company will be highly appreciated by the Vietnamese people.
I hope that when people think of Vingroup they think of a company with a strong startup spirit and a willingness to do what it dreams. I also hope it will always inspire and serve the community. I hope we can serve every customer segment.
Photo: CafeF
'My biggest temptation is work'
As an entrepreneur and a billionaire, do you have any temptations?
I am usually consumed by work. There are many things that I am not interested in. Some people enjoy golfing, I find it challenging. My golf instructors have all told me 'You never focus'. That is true because maybe my biggest temptation is work.
But with that said, it is good to have a hobby. I love speed. When I was in Ukraine I used to drive a BMW car at 240 kilometers an hour at the age of 40. In Vietnam, the quality of the roads prevents me from doing it.
How do you teach your children?
I have two sons and a daughter. I love my sons but strictly discipline them and give them challenges. My second son is a sophomore at an overseas university, but since he has one year off due to Covid I let him work for the company. At work, it does not matter whether your employee is a family member. If he does things well I will give him the best opportunities, but if he does not I will ask him to step off and let someone else take over.
My first son has been promoted and demoted a few times based on his performance.
What do you want to leave behind for your children?
As a father I want to leave them unconditional love, but most importantly I want them to be kind. I do not require them to do this or that, and I don't think it is necessary that children must continue in their father's footsteps since they will feel miserable if it is something they are not good at or don't have the passion for.
Interview by Thanh Thanh Lan
Not even a week after making its CES debut, VinFast announces its first fleet customer to buy electric cars. Artemis DNA, a biotech company dealing in genetics, has reserved 100 EVs from the Vietnamese company and expects delivery in late 2022 when VinFast will turn into an all-electric car manufacturer.
VinFast had announced it would cease to include internal combustion engines in the line-up before the year's end when showing the complete line-up of electric cars in Las Vegas.The Artemis DNA order at hand will include the VF 6, VF 7, VF 8 and VF 9 models, but VinFast has not said how many of each will comprise the fleet. This means Artemis opted for all but the smallest EV, the V5.
The model logic is quite simple: the VF 5 is the smallest model in the A-segment, the VF 6 in the B segment, etc. The VF 9 is, therefore, the largest model in the E segment. The VF 8 and VF 9 were already introduced LA Auto Show in November '21.
Artemis DNA expects to take delivery of the VinFast EVs starting in the fourth quarter of this year and operates a target to replace its entire fleet with zero-emission vehicles eventually. The company is VinFast's first corporate customer in the US with the reservation placed.
"It is with the help of innovative companies like VinFast that we can continue our work transforming healthcare around the world while still being a good corporate citizen," said Ms Emylee Thai, Founder and CEO of Artemis DNA.
Her counterpart Madam Le Thi Thu Thuy, Vingroup Vice-Chair and VinFast Global CEO, shared the sentiment and said, the order showed "the trust of US customers with VinFast's brand and the quality of our electric vehicles."
While further details of the deal were not spelt out, VinFast confirmed that Artemis DNA would buy at a price announced at CES, that is, for the VF 8 and VF 9. The smaller models have yet to be listed.
The VinFast VF 8, however, can be reserved globally, and pricing starts at $41,000 in the US and €36,133 in Europe. For the VinFast VF 9, buyers in the US can expect to pay $56,000 or €49,280 in Europe.
At CES, Le Thi Thu Thuy pointed out that battery leasing was helping to keep the price comparably low. The VF 8 in the D segment is supposed to compete with the Tesla Model Y, for example, and the VF 9 in the E segment with the Model X. Note, however, that the basic tariff only includes 500 kilometres and incurs additional charges from the 501st kilometre onwards. Only the 'Fixed' package has no monthly limit, but VinFast has yet to disclose pricing for the tariff.
The VF 8 measures 4.75 metres and has an electric all-wheel drive with 300 kW power. There is no information on the size of the battery yet, but the range is supposed to be 504 kilometres. The VF 9 is 5.12 metres long and uses the same 300 kW all-wheel drive with two electric motors. Its battery of 106 kWh claims a range of 550 kilometres. VinFast offers a ten-year warranty or 200,000 kilometres on all five models.
Reservations require a $200 deposit to receive a $3,000 e-voucher toward the potential purchase of VF 8 or a $5,000 e-voucher to purchase a VF 9 in the US. Customers in Europe can make a reservation by paying €150 to receive a €2,500 voucher for the VF 8 or a €4,200 voucher toward buying a VF 9. In addition, the company promises a free mobile charger and a luxury holiday in Vietnam.
VinFast is a LLC private automotive startup manufacturer headquartered in Vietnam which opened in 2017, a member of the conglomerate organization Vingroup founded by Pham Nhat Vuong. It is the first Vietnamese car brand to expand into global markets as well as the first Vietnamese car brand to expand into producing EVs such as electric cars and electric scooters.
VnExpress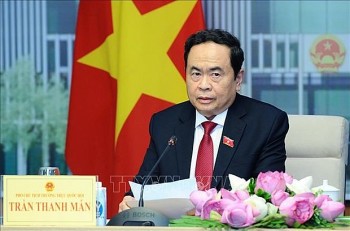 National
China's National People's Congress stands ready to work with Vietnam's National Assembly to play a positive role in carrying forward traditional friendship, enhancing political mutual trust, deepening practical cooperation, properly managing differences, and enhancing people-to-people ties