Vietnam-US Trade Hits US$111.56 billion in 2021
Trade between Vietnam and the US set a new milestone, hitting US$111.56 billion in 2021, up nearly $21 billion over the previous year.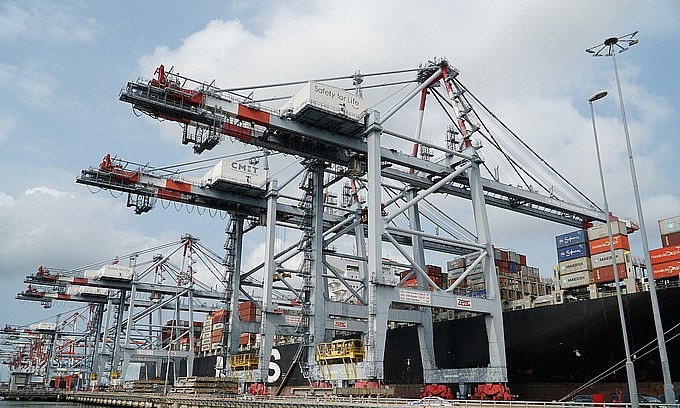 Containers being loaded and unloaded at the Cai Mep-Thi Vai Port in the southern province of Ba Ria Vung Tau, March 30, 2021. Photo: VnExpress
According to the General Department of Customs, the impressive figure made the US the second trade partner having import-export turnover with Vietnam reaching the $100 billion mark after China.
Last year Vietnam's exports to the US rose 25% to nearly $96.3 billion, accounting for 28.6 US$111.56 billion in 2021 of the country's total exports, Viet Nam News said.
Among Vietnam's major export items to the US were machinery, equipment and parts with $17.82 billion, up 46%; textiles and garments ($16,1 billion, up 15%); computers, electronics, and components ($12.76 billion; up 23%); handsets and parts ($9.69 billion, up 10.3%); footwear ($7.42 billion, up 18%); and wood and wooden products ($8.8 billion, up 23%).
Last year, the country imported nearly $15.27 billion worth of goods from the US, mainly computers, electronics and components as well as machinery, equipment and parts.
Bui Huy Son, Counselor of the Vietnam Trade Office in the US, said that the two-way turnover, which exceeded $100 billion for the first time in 2021, was a very important achievement, especially given the pandemic, as well as the disruptions and disturbances in the supply chain and logistics activities.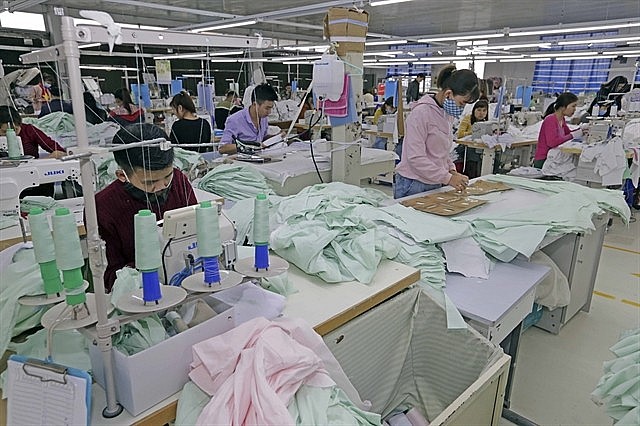 Workers of Hung Viet Co in Hung Yen province make garment products for export. Photo: VNA
Along with that, the active and flexible activities of two business communities continued to expand trade and investment activities, such as the resumption of direct flights between Vietnam and the US, and the fact that Vietnamese businesses were increasing investment in the US to continue to expand their presence sustainably in the market.
Looking at import and export activities, not only had the total two-way turnover reached a record level, but it was also worth mentioning that export activities from both directions had good growth rates, Son said, adding that the import and export goods between the two sides were very complimentary.
To accelerate bilateral trade, Son called for continuous efforts from both sides, first of all in terms of the policy. The two sides should continue to maintain a dialogue channel, sharing information, and further enhancing mutual understanding so that they could detect and coordinate on problems favorably.
At the same time, businesses also needed to seize opportunities, especially opportunities from the strong recovery of the US economy, since different forecasts assessed a relatively high growth rate for the US economy in 2022.
He also suggested businesses closely observe market developments, ensure the requirements of legal traceability, storage, information about documents, and invoices for the origin of goods, so that they could coordinate and provide information when there were requests for investigation and verification by US agencies.
Vietnam-US Trade Hits US$111.56 billion in 2021. Photo: Vietnamnet
VnExpress cited Marie Damour, Chargé d'Affaires at the US embassy in Hanoi, as saying that the two countries have cooperated in various areas like healthcare, education, energy, and technology.
The US is now the 11th biggest foreign investor in Vietnam with nearly $10 billion.
Vietnamese automaker VinFast recently announced plans to invest over $200 million in the U.S.'s California state to manufacture electric vehicles, potentially creating over 1,000 jobs there.
Deputy Minister of Industry and Trade Do Thang Hai said the impact of Covid has opened up new business opportunities for both Vietnamese and American firms to develop new supply chains, establish standby supply systems in various locations to ensure sustainability and continuity./.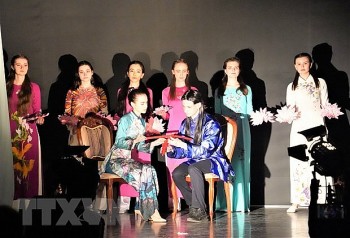 Overseas Vietnamese
Two exchange programmes were held in Russia, attracting manyemany and students of Vietnamese studies from leading universities in Russia.