Global Headlines Hail VinFast as Extraordinary Move From Vietnam
VinFast has gone from latecomer to pioneer in the electric car adventure, according to international media.
VinFast is trusted by worldwide experts to compete fairly with the top companies in the most challenging markets, such as the United States, with a variety of products.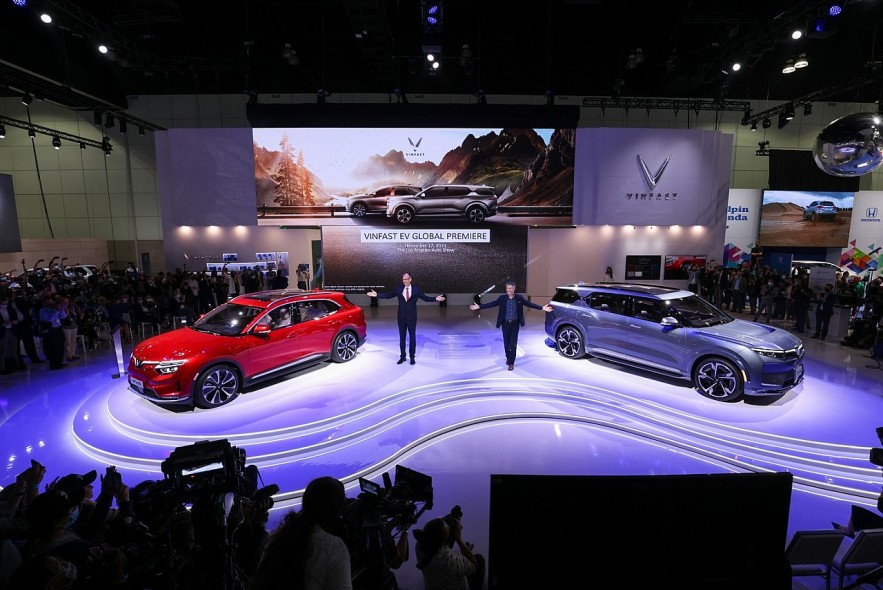 VinFast debuted exhibit at Los Angeles Auto Show 2021. Photo: VinFast live stream
By attending the Los Angeles Auto Show 2021 and launching electric cars in the foreign market, VinFast is projected to become a "global hit."
An extraordinary move from the Vietnamese
On Asia's technology and innovation site - The Ken defines the Vietnamese automaker by a combination of words: 'Vietnam. Style. Safety. Innovative. Pioneer.'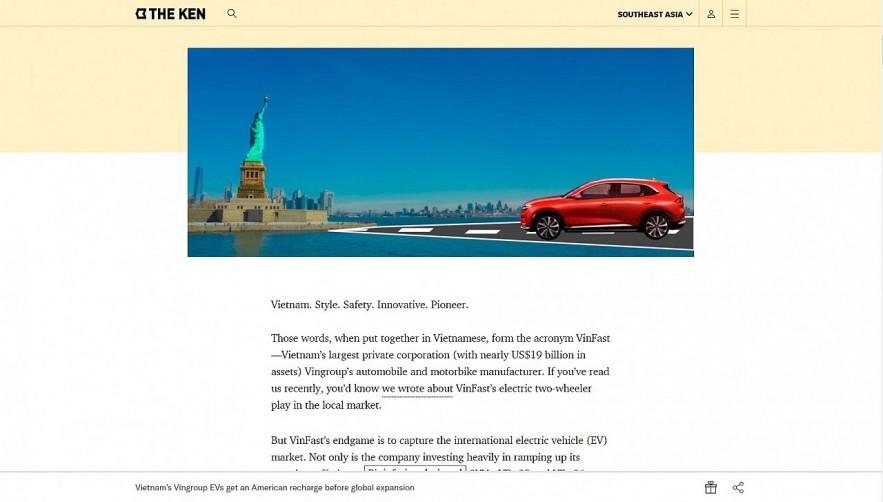 'Vietnam. Style. Safety. Innovative. Pioneer' - the Ken
According to the article, VinFast's travel to the United States will be a significant step forward for a Vietnamese company, particularly with a product that requires a high level of intelligence, creativity and planning such as an automobile. Vietnam has never done something like this before.
"Vietnam exports billions of dollars worth of textiles, apparel, electronics and agricultural goods every year, but largely produced for foreign corporations. Nothing approaching the sophistication of a car has ever been built by a domestic company and sold in developed markets. And Vingroup is putting all its eggs in this EV basket," writer Michael Tatarski said in The Ken newspaper.
The Ken also cited Sandy Fitzpatrick, a senior analyst at Canalys, "The US is a huge market, and the Biden administration is really supporting EVs and investing a lot of money in EV infrastructure, so it could be absolutely huge for the right players entering at the right time. But the window of opportunity is from now to the next 24 months or so."
The enormous market is highlighted by the expert, who points out that electric vehicles only account for 3% of car sales in the United States in the first half of 2021, while they account for 15% in Europe and 12% in China.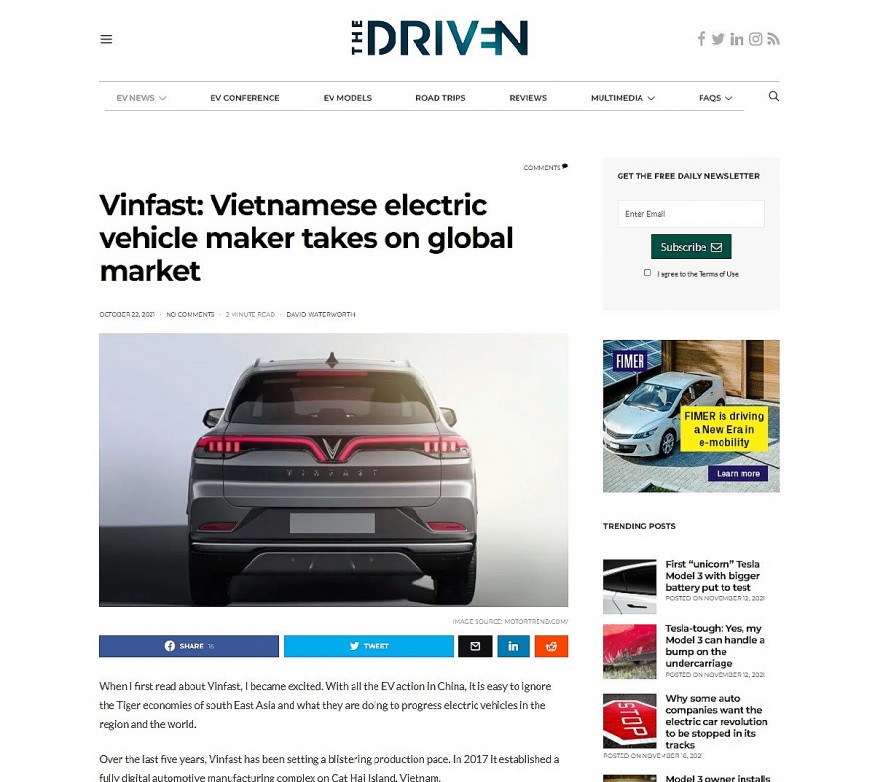 David Waterworth opinion on the Driven, a well-known Australian motor site
David Waterworth of The Driven, a well-known Australian motor site, discusses VinFast's "exciting" four-year adventure. In 2017, VinFast hit the trigger to begin building on Cat Hai island, Cat Hai district, Hai Phong city, the region's largest-scale car manufacturing plant.
When three of VinFast's automobile models were debuted in 2019 and rapidly became the best-selling cars on the market, David Waterworth voiced his enthusiasm for the company's fast speed. In particular, the year 2021 will be remembered as the year VinFast officially introduces a set of three electric automobiles, the VF e34, VF e35, and VF e36, two of which are aimed at the worldwide market.
The big American dream
In an interview on the big day of VinFast with CNN, Micheal Lohscheller says 'what is right in the past is not right for the future' when introducing the VFs, basically stating VinFast is the future of mobility in the US market.
CNN could not give out the right ballpark figure for the price, but Micheal shares that there are 2 ranges of price.
When being asked why the US and not China, Micheal Lohscheller told CNN that the US is a very important market, "it's a perfect time to compete and make EV global brand," then go to Europe. Micheal added that VinFast wants people to know that 'we come from VN at only 4 years old as an Automotive brand.'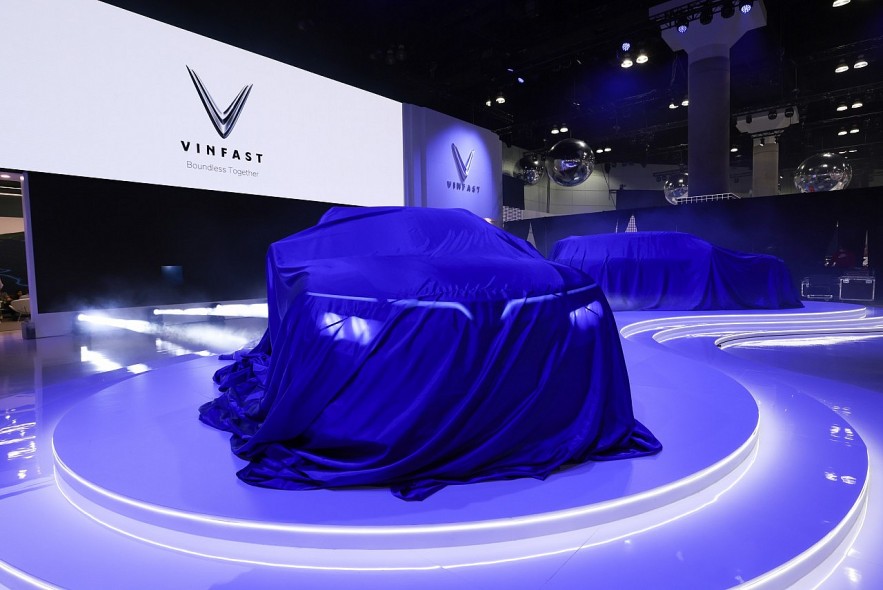 the VF e35 and VF e36 before Premiere.
Vinfast has hired a number of executives, engineers and designers from around the world and that should help them understand consumers in markets like the United States and Europe, said Stephanie Brinley, an auto industry analyst with IHS Markit, quoted CNN.
"They're bringing them in full time, not just as consultants," she said. "I think that's going to help them when they try to enter this market."
VinFast Succes Mantra
"What could VinFast's success mantra for the US be?", The Ken magazine asked a question about the car company from Vietnam in its journey across the globe to the US market.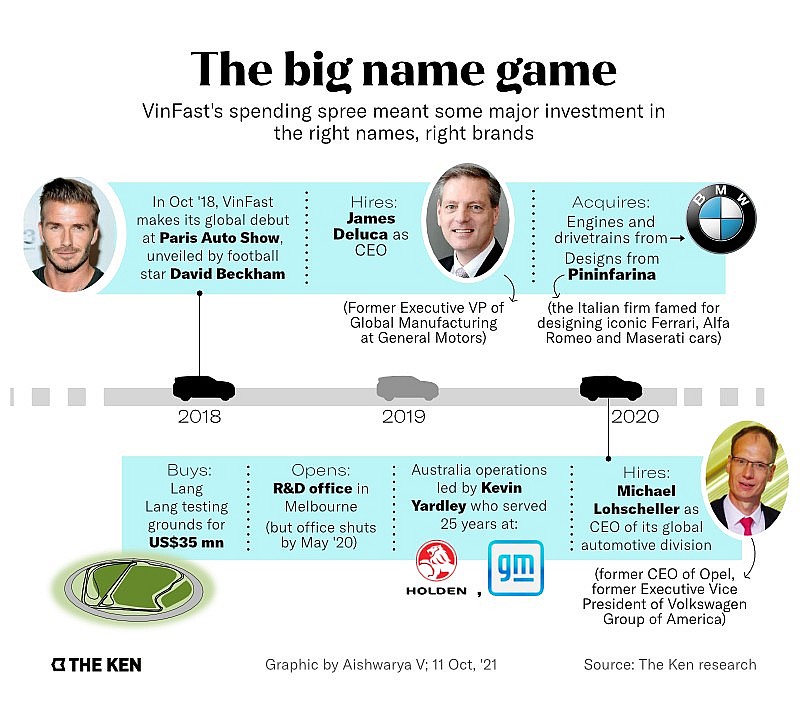 The Ken maps out VinGroup's strategic move to enter the big market. Photo: The Ken
To win in a market like the US, according to senior analyst Sandy Fitzpatrick, VinFast must differentiate itself from significant competitors like Tesla or GM.
"A lot of people, frankly, don't buy a Tesla because they're electric, they buy them because Tesla is a luxury brand," noted Trucks Venture Capital's Brennan.
"VinFast has to figure out the thing that they're really good at. What are the qualities that are going to make them stand out? If they have a good answer to that, then great," written on The Ken.
The VF e35 at LA Auto show
The Ken also mentions VinFast's distinction. The proof is that the Vietnamese automaker is collaborating with companies all over the world, including Israel's StoreDot on super-fast charging technology and ProLogium on solid-state batteries, which have numerous advantages over traditional lithium-ion batteries.
As for the aspect of smart and advanced technology, the UK's international automotive portal AutoFutures mentions VinFast's customer-centric philosophy in its most advanced technological equipment.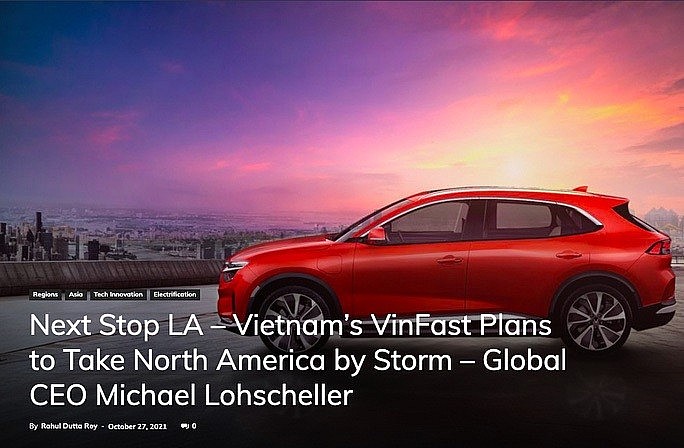 AutoFuture headline on Vinfast Plans
AutoFutures uses the example of VinFast's own virtual assistant, which can understand multiple languages at the same time, including English, French, German, Spanish, Dutch, and Vietnamese. This virtual assistant not only can communicate in two-way, assisting users in finding information, it can also customize the experience depending on the car owner's interests and behaviors, according to AutoFutures.
However, according to AutoFutures is much more than that. VinFast electric cars are equipped with driver assistance systems (ADAS) with many of the most advanced features such as lane-keeping assist, collision avoidance and driver monitoring, etc.
This is the result of cooperation with leading partners in the industry, combined with large technology institutes in Vingroup's ecosystem such as VinBigdata, VinAI, VinSmart and others to accelerate the R&D process.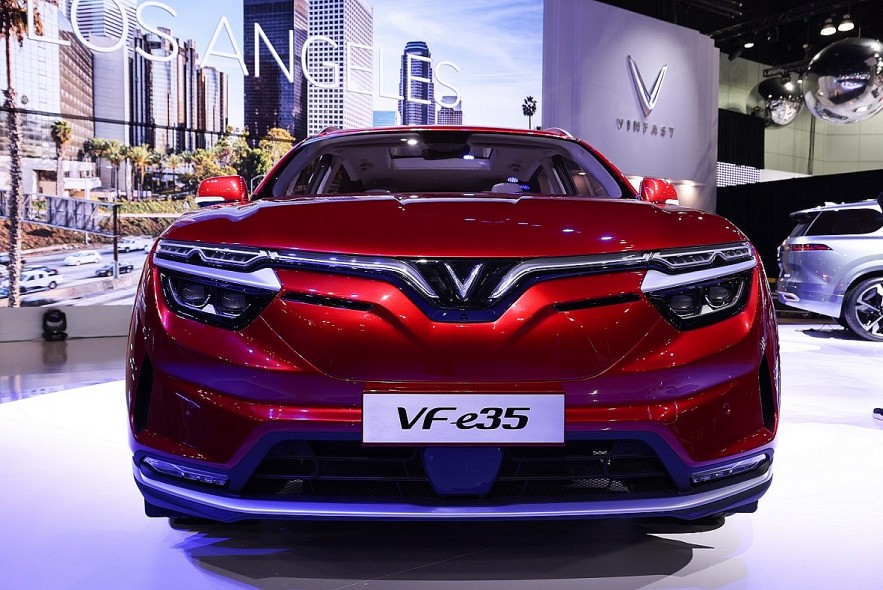 VF e35 at the LA Autoshow.
The Ken explains the uniqueness of VinFast in its unique battery leasing program, which allows customers to avoid paying for the most expensive portion of electric vehicles. The publication also praises VinFast for its extensive resources from the Vingroup Group, something that not every automobile business can boast in the "expensive" electric vehicle market.
This big automobile news - The Ken reported that Fadil, a VinFast A-class car, has become the best-selling car model in Vietnam for 5 straight months after only a short time of launch, with sales of this "monarch" being twice as high as the model in second place in September alone.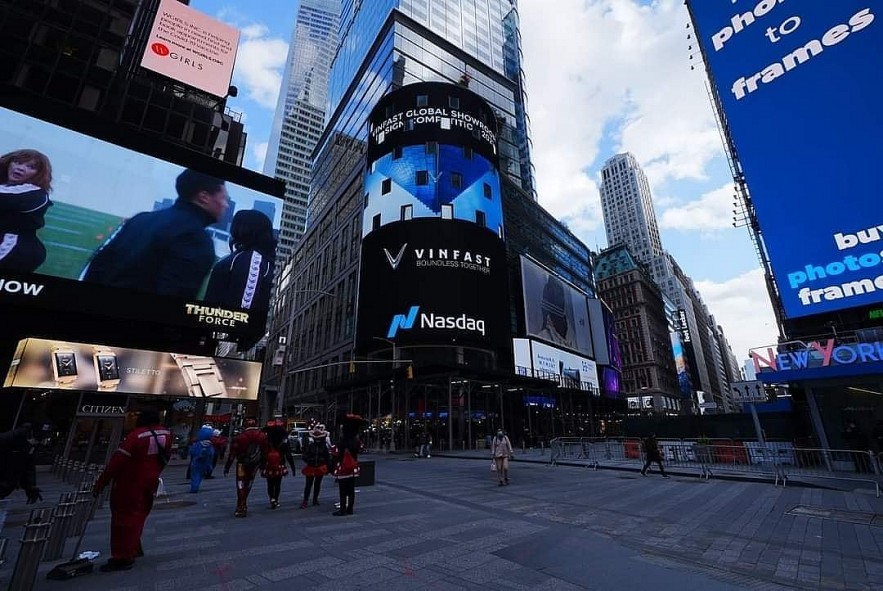 VinFast on a billboard in Los Angeles.
AutoFutures also expressed confidence in the Vietnamese automaker. This newspaper said that VinFast is the only Vietnamese electric car brand participating in this year's Los Angeles Auto Show in the US. The world is waiting to see VinFast's latest electric cars.
Meanwhile, VinFast with its own strengths, as AutoFutures said, "is now ready to compete in the world market with experienced rivals in the North American and European markets".
International experts claim that with the decision of launching the EVs and traveling to the United States, this can entirely be an essential and innovative launchpad for VinFast to establish itself.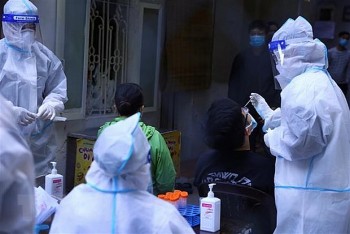 Focus
Vietnam's Covid-19 death toll is now 26,483, or 2 percent of total cases. More than 7,000 coronavirus patients nationwide are in serious condition, with 741 requiring invasive ventilation and 20 on life support.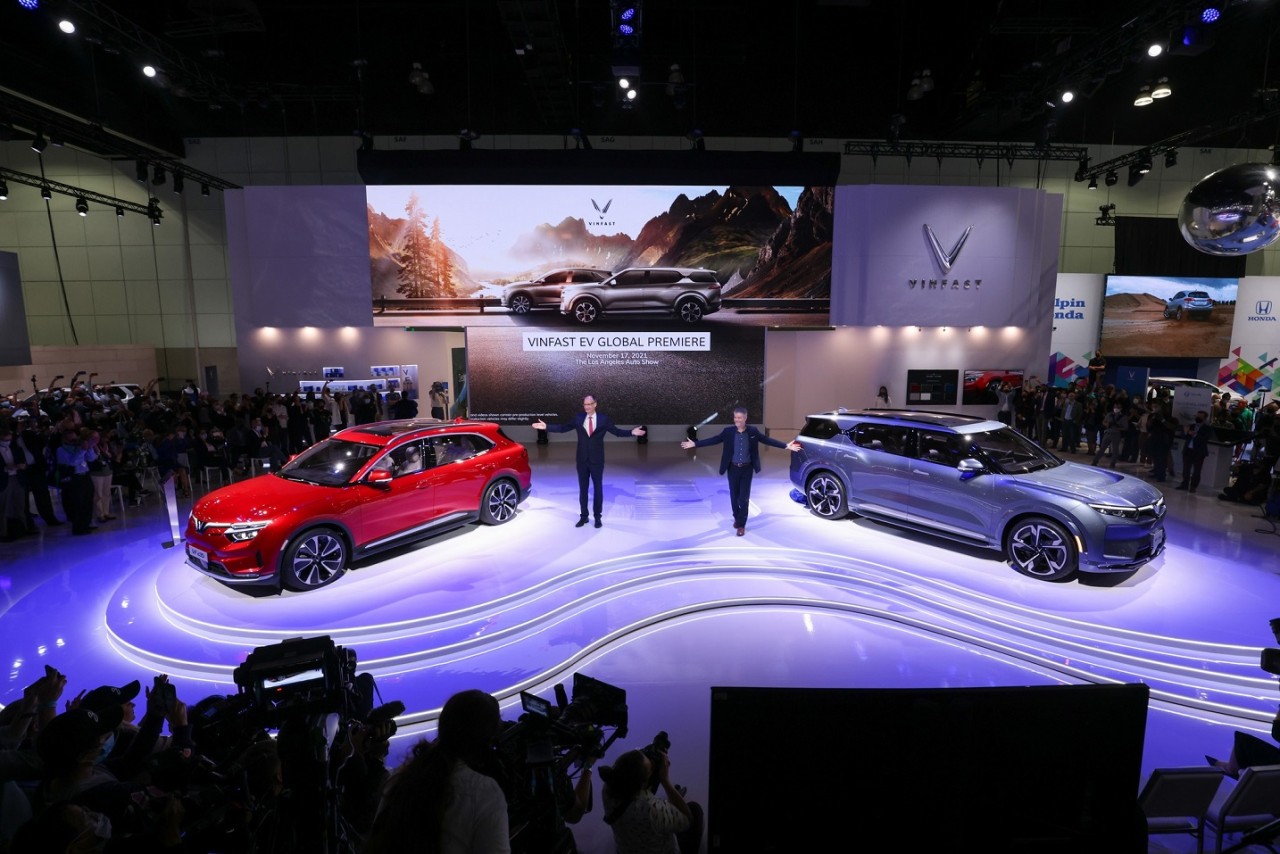 Make in Vietnam
VinFast has gone from latecomer to pioneer in the electric car adventure, according to international media.
November 18, 2021 | 15:54