Diplomat, Experts Hail Indonesia-Vietnam Cooperation Potential
Former diplomat and foreign experts have high hope for the state visit to Indonesia by President Nguyen Xuan Phuc from December 21-23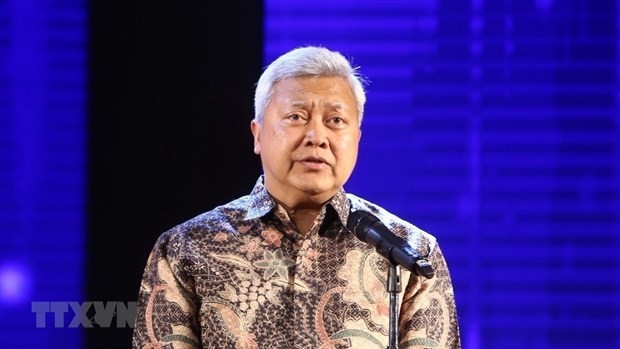 Former Indonesian Ambassador to Vietnam Ibnu Hadi. Photo: VNA
Former Indonesian Ambassador to Vietnam Ibnu Hadi has shared that he is "very impressed that Vietnamese people are very humble and hard-working" that are formed and nurtured during the process of national construction and development.
Speaking with the Vietnam News Agency (VNA)'s resident reporters in Jakarta, Ibnu, who worked in Vietnam in the 2016-2020 tenure, said that since the "Doi moi" (renewal) process was launched in Vietnam over 35 years ago, the Vietnamese Party, leaders, and people have been determined to develop and modernize the country.
"When I was there, I can see the determination, especially by the young people, to strive, to be more knowledgeable. They don't want to be left behind by other countries. So it is the determination by the Vietnamese people that I really admire," he said.
According to the former ambassador, Vietnam has had really impressive economic growth, especially since Doi moi.
"When I was there from 2016 until 2020, I could see the significant growth in Vietnam-Indonesia relations, especially in terms of economic and trade, from only USD 5.5 billion to USD 10 billion," he said, adding that the two countries have set a target to increase their two-way trade revenue to USD 15 billion in 2028 – quite impressive figures.
Vietnam is considered one of the strong economic partners for Indonesia, in ASEAN countries.
He expressed his hope that besides economic and political cooperation, the two countries will continue boosting people-to-people contact, and socio-culture ties, not only at the government level but also at the people level from students to businessmen.
Ibnu also expected that the link between Vietnam and Indonesia, especially by air, should be intensified.
He said that at the beginning of his term of duty, there was only one flight from Jakarta to Ho Chi Minh City by Vietnam Airlines. But when he finished his term, flights from HCM City to Bali and from Hanoi to Bali were added.
Indonesia and Vietnam planned to open a direct flight route from Jakarta to Hanoi but it was canceled due to the Covid-19 pandemic, he said.
Ibnu said that he was happy to hear that Vietnamese President Nguyen Xuan Phuc is going to visit Indonesia and that the visit will solidify the strong foundation that has been established between Indonesia and Vietnam – the two ASEAN countries have very long relations in terms of the struggle for the independence, and up to now their relationship has got stronger.
He said that the visit will only strengthen the relationship between the two countries in all dimensions, not only in economy but also in terms of politics, investment, business, as well as in terms of people-to-people exchange.
Meanwhile, Indonesia's well-known scholar Prof. Aleksius Jemadu has said that Indonesia and Vietnam have a lot of potentials to strengthen relations in economy, trade, and investment, and jointly promote and maintain regional stability thanks to their traditional relationship and shared view on issues.
Indonesia's scholar Prof. Aleksius Jemadu talks with the Vietnam News Agency's resident reporters in Jakarta ahead of President Nguyen Xuan Phuc's state visit to Indonesia. Photo: VNA
Talking with the VNA's resident reporters, Prof. Aleksius said that it is "a very important visit", considering the fact that Vietnam and Indonesia need to work together in order to ensure regional stability in Southeast Asia when countries try to recover from the current crisis of the pandemic.
He said that Indonesia and Vietnam had more or less the same history of colonial rule in the past during national construction and defense and that he really appreciated the Vietnamese people who have a strong sense of nationalism.
It's very important in this competitive world, to have people with a strong sense of nationalism, and to stick to the principles in the relations with other countries, the scholar stressed.
"I think Vietnam has inspired Southeast Asia, how to work hard, how to use your own principles in dealing with great powers. And the dynamic of Vietnam's economy is also very impressive. And I think it is a source of inspiration for the rest of the region," he said.
The two countries can boost cooperation to step up the transformation of the digital economy, digitalized economy for small and medium enterprises, green and renewable energy development, and climate change adaptation.
The two countries also need to increase people-to-people interactions through tourism activities and the exchange of students and lecturers, the scholar suggested.
Prof. Aleksius affirmed that as two close neighbors and strategic partners, Indonesia and Vietnam have many areas where they can cooperate. He also highly appreciated that Vietnam wants to build a good relationship with Indonesia because this relationship can promote trust and bring benefits to both sides.
Veeramalla Anjaiah, senior researcher at the Centre for Southeast Asian Studies (CSEAS) in Indonesia. Photo: VNA
For his part, Veeramalla Anjaiah, a senior researcher at the Centre for Southeast Asian Studies (CSEAS) in Indonesia, believes the two leaders will review the strategic partnership between the countries, which will be 10 years old next year, adding that he expected after the visit of President Phuc, the strategic relations between the two countries will reach new heights.
Veeramalla, who is also a senior journalist for the Jakarta Post and author of prestigious studies on regional issues emphasized: "The friendship between both countries is solid and very old. They are not only very good old friends, and maritime neighbors but also strategic partners. Vietnam is a trusted friend of Indonesia."
Both countries are eyeing partnerships in areas like agriculture, fisheries, energy, aviation, culture, education-training, tourism, and electric vehicle ecosystem.
They are planning to strengthen defense cooperation in joint production and capacity building between the defense industries of the two countries.
The two countries are currently negotiating an MoU on Combating Illicit Narcotic Trafficking and an MoU on Counter-terrorism.
Both countries have huge potential to cooperate with each other in various areas such as agriculture, fisheries, energy, tourism, education, culture and defence.
As both Indonesia and Vietnam are key players in the ASEAN region, they have similar perceptions about achieving a common goal of the ASEAN community and maintaining peace and security in the region, especially in the South China Sea.
Can Tho City Celebrates Indonesia Day

The two-day event aimed to introduce the diverse culture of the thousand islands country, contributing to strengthen the solidarity, friendship and knowledge between the people ...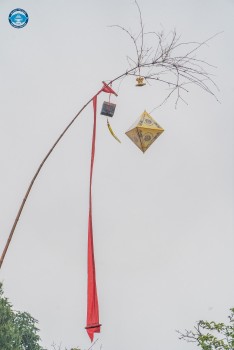 Viet's Home
In the past, the Neu pole (a tall bamboo pole with red garment strips used to ward off evil spirits during the lunar New Year) lowering ceremony at the royal palace of the Nguyen Dynasty was performed to mark the end of the New Year holiday and prepare to enter a new working year.