Discover Hue's Mysterious Abandoned Water Park
Hue's abandoned water park, Ho Thuy Tien, has become a famous tourist destination that attracts many adventurous tourists to discover this mysterious place. In recent years, Thuy Tien Lake water park has been a favorite spot for the Instagram check-in background of young travelers and photographers.
After being mentioned in several newspapers and tourism websites, this water park has been on the list of the world-famous mysterious abandoned places in the world. This is also one of the interesting destinations of Hue and can be used in many cool concepts for its creepy atmosphere.
Where is Ho Thuy Tien water park?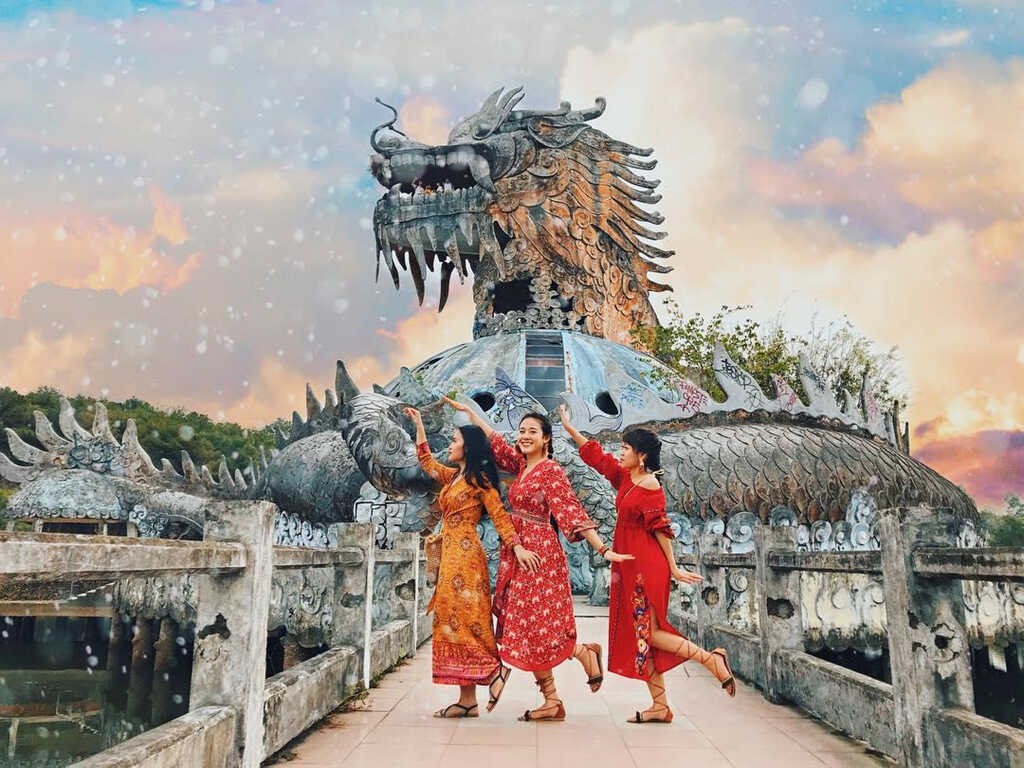 Photo: iViVu
Ho Thuy Tien is located on Thien An Hill, Thuy Bang commune, Huong Thuy town, which is about 10km southwest of Hue.
In 2001, residents of the Vietnamese city of Hue learned they were about to have a large water park called Ho Thuy Tien (Thuy Tien Lake) right on their doorstep. The company Hue Tourism decided that a water park would assist its aims of promoting Hue and attracting tourists to the city.
The company allocated 3 million US dollars (70 billion Vietnamese dongs) for the construction of the park. In the design phase of the project, it was envisaged that the water park would be suitable for everyone: families, children, and adults.
In June 2004, the water park opened its doors and greeted the first visitors.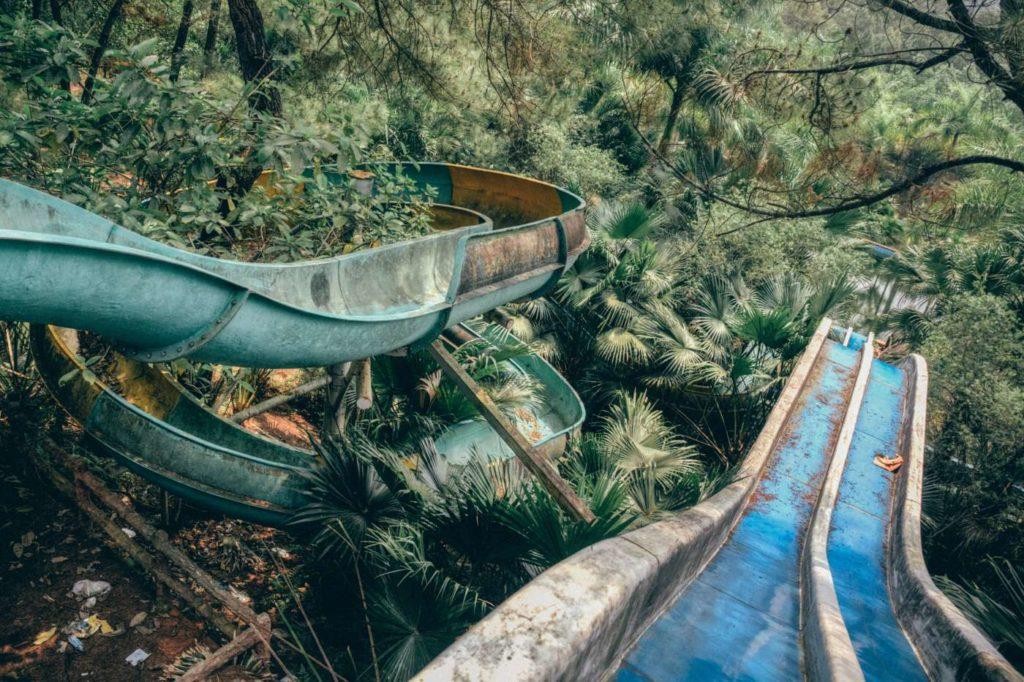 Photo: Les Gros Sacs
However, the water park did not attract too many guests and failed to live up to its fame, which forced the place to close. After being transferred investment and management rights, the Ho Thuy Tien tourist area in Hue became an abandoned park for a long time.
Until 2016, Huffingtonpost.com (USA) had an article providing desolate and ghostly images of this tourist area. Since then, this abandoned old water park has become a mysterious, chilling, and creepy land that welcomes the bravest hearts to explore every corner.
How to get to Ho Thuy Tien water park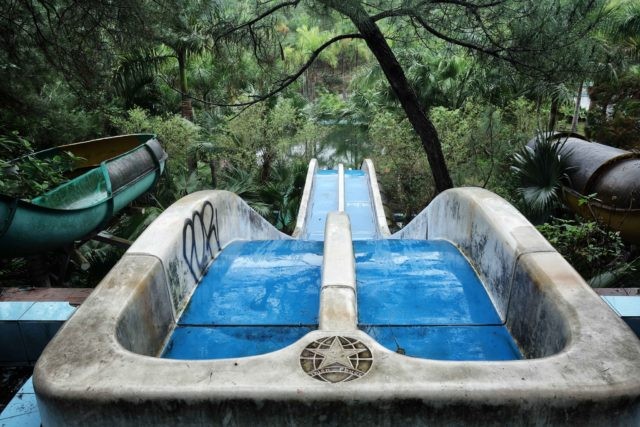 Photo: Les Gros Sacs
The park is not far from Khai Dinh pagoda and can be reached easily by taxi or motorbike.
From the center of Hue city, visitors move along the Le Duan route towards the Da Vien bridge. When they reach Phan Chu Trinh, turn right to Dien Bien Phu street. When going all the way to Dien Bien Phu, you continue to turn right to Le Ngo Cat and then turn left to Minh Mang - Khai Dinh. Next, turn right to Thuy Tien, and go about 1km to Thien An hill. Here, visitors can park their motorbikes and walk to Thuy Tien Lake.
Entry to the water park is generally prohibited, although this does not stop determined researchers and urban explorers. Websites suggest that there are several guards in the park who will allow people inside after paying an entry fee.
However, to some visitors, it can appear that the giant, three-story dragon is the guardian of this abandoned place as the aquarium towers over its surroundings. Its derelict state makes it even more intimidating than originally intended.
What to do in Ho Thuy Tien water park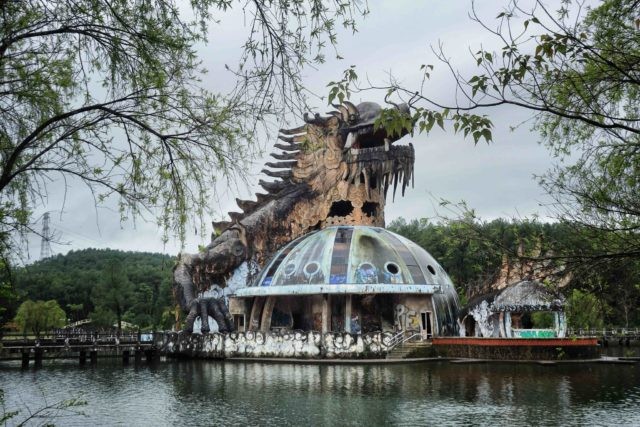 Photo: Les Gros Sacs
1. Check in with the rusty dragon statue at the water park
The rusty dragon is located above an artificial reservoir, the fullness of which now depends on precipitation. The dragon's paint has begun to peel off, but graffiti still adds some color.
The stomach of the dragon was home to tanks of live fish and crocodiles. There was still water inside the aquarium for some time (before the tanks were smashed), but there were no live fish or crocodiles.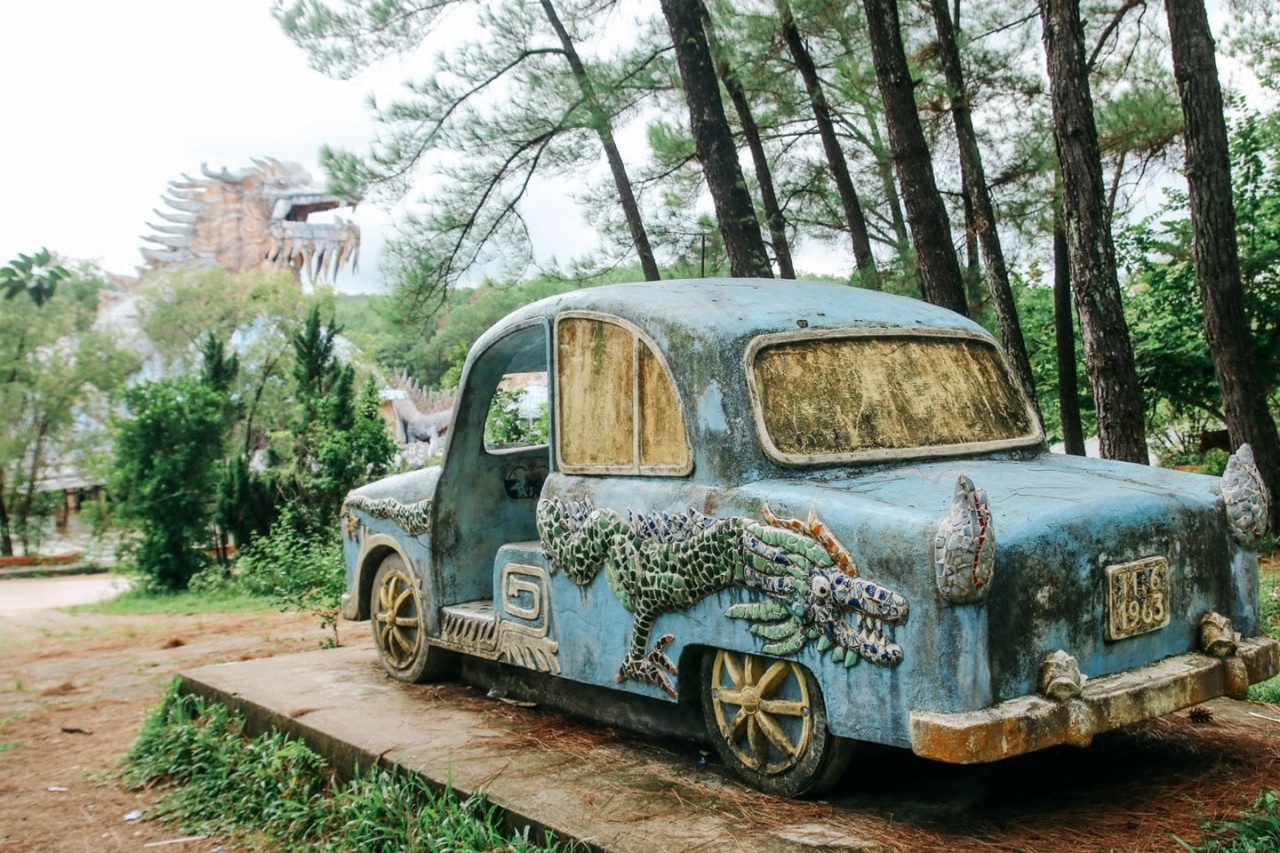 Photo: Vu Pham/ Culture Trip
Visitors could ascend a spiral staircase to reach an observation deck situated inside the dragon's open mouth. The observation deck is now decorated with graffiti, but this doesn't detract from the incredible view that opens up to those who can get up there.
2. Explore the Aquarium of Ho Thuy Tien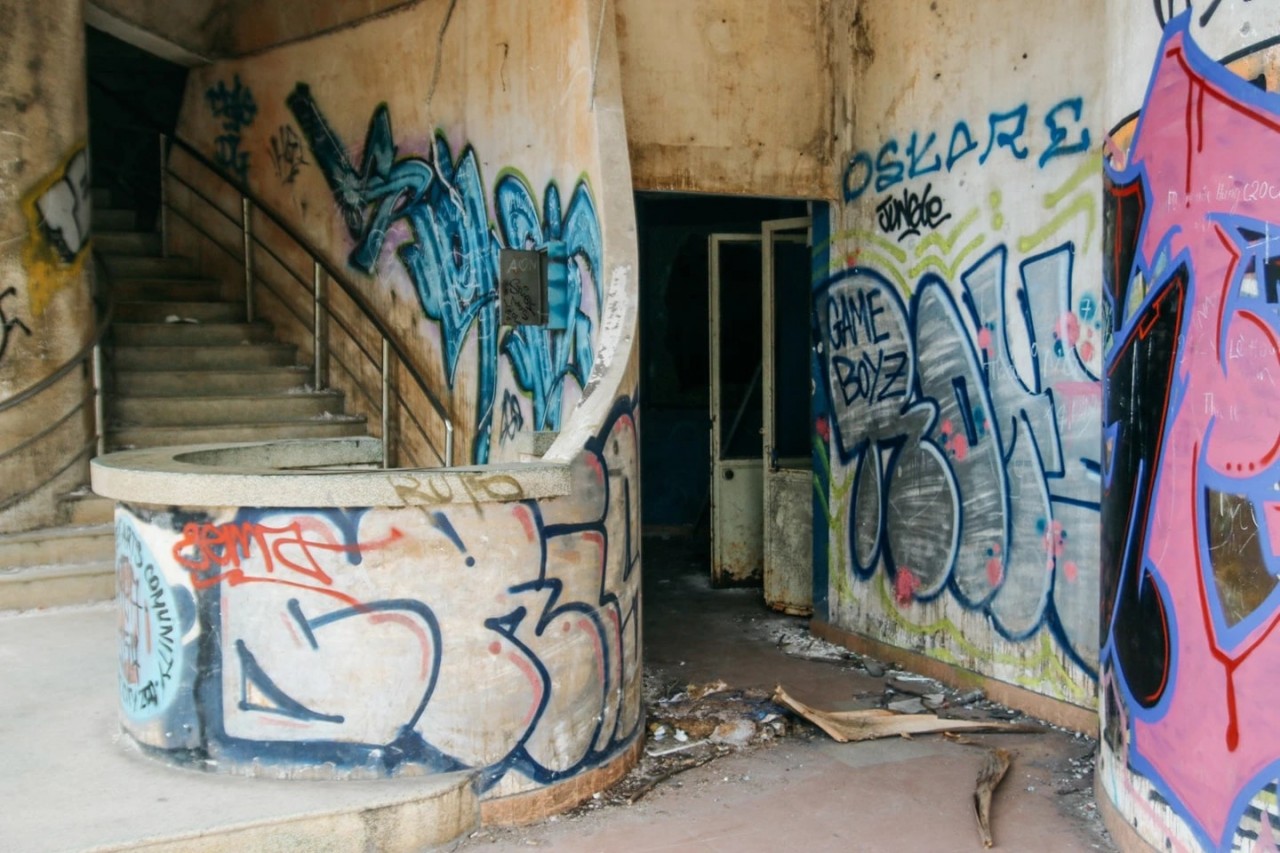 Photo: Vu Pham/ Culture Trip
The Aquarium section used to be the highlight of the water park, with beautiful architecture and largely promoted. However, this part has worn down over time, and the walls are covered in green moss. Tourists can enter the interior of the Aquarium, and see the inside for themselves. There are several fish tanks that have been smashed, and the walls are "decorated" with random graffiti and paints, which makes the place look more rusted and creepy.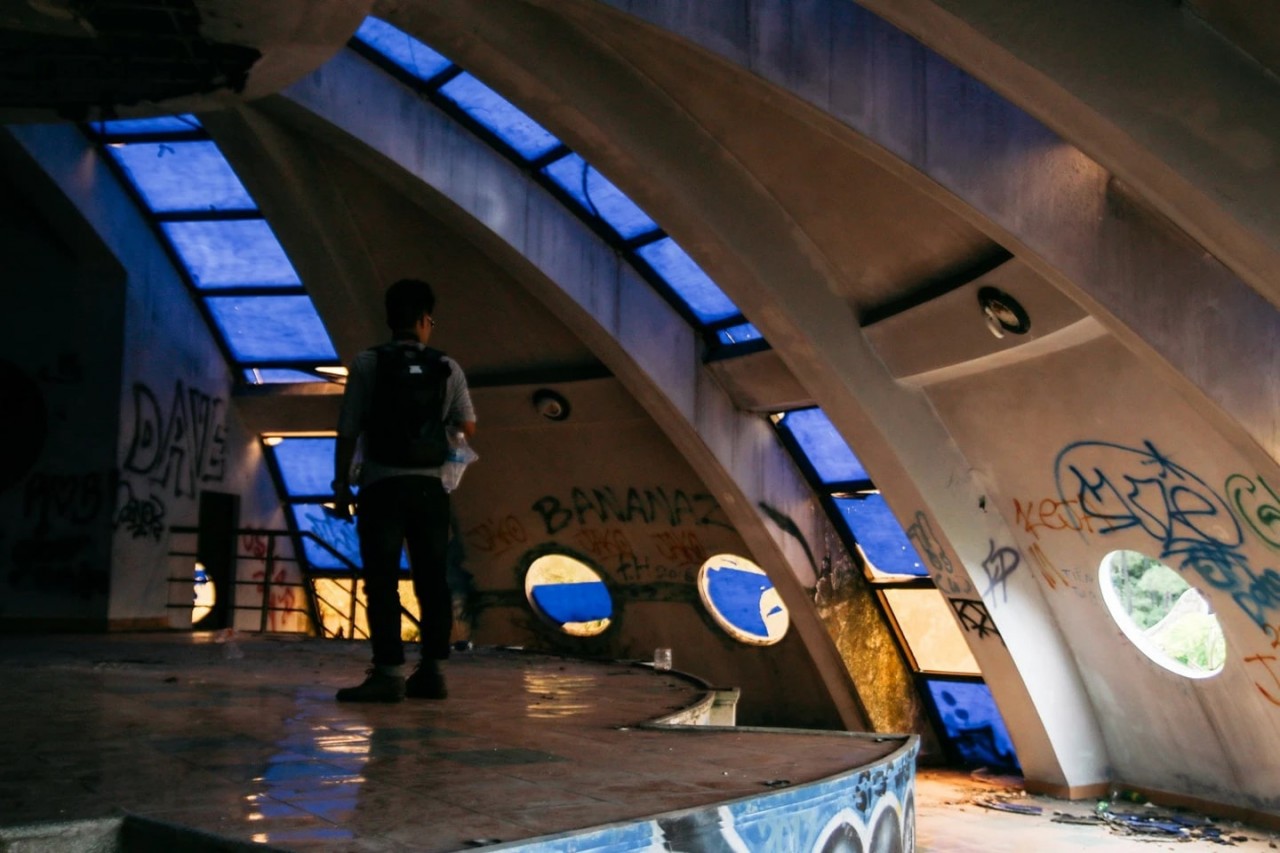 Photo: Vu Pham/ Culture Trip
Go up the spiral staircase, you will head to the dragon's head. Here, you can fully admire the eerily and mysterious scenery of Thuy Tien Lake and Thien An Hill from a distance.
3. Visit the lake and water music stage
Tourists can try going through the forest to reach the water park not far from the aquarium. There is a system of water slides that are covered in moss, and a turbid lake that makes the scene more scary and mysterious.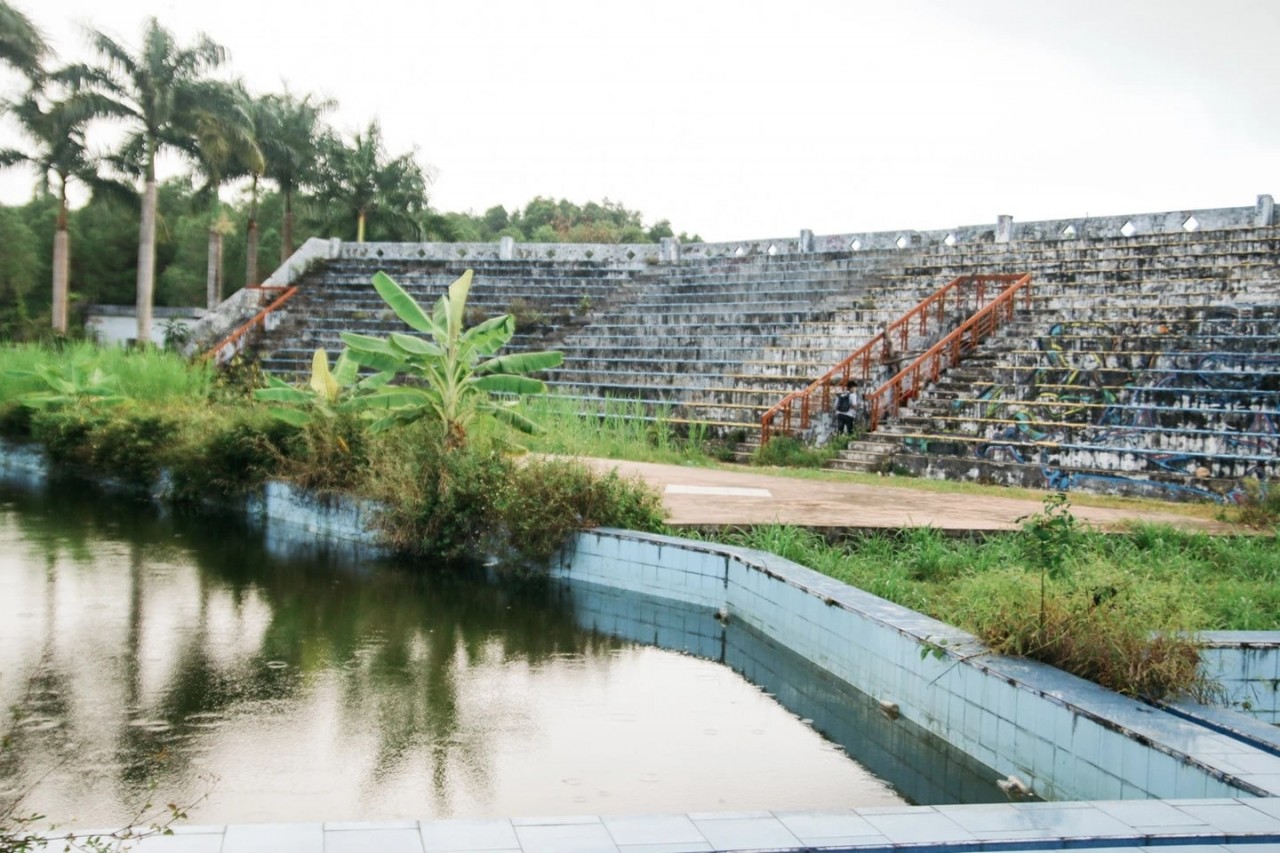 Photo: Vu Pham/ Culture Trip
An equally interesting and mysterious destination is the water music stage. The rows of seats with a capacity of more than 2,500 seats so far have been covered with grass and moss. Looking at it, it is hard to imagine that this place used to hold big music events with thousands of people enjoying the performances.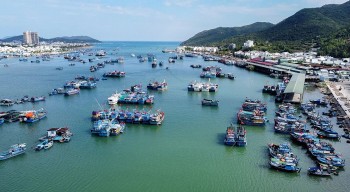 Economy
GDP growth quickened to 7.72% in the quarter ended June, beating the government's 6%-6.5% target.