Discover Impressive Ky Co Beach – The Most Beautiful Beach In Vietnam
Quy Nhon is famous for many beautiful beaches, but Ky Co has its own charm leaves an impression one one's heart. If you are a beach lover, do not miss this precious gem.
Located about 25 km northeast of Quy Nhon's center, Ky Co in Nhon Ly island commune harbors a stunning beauty thanks to the rocky mountains, stretches of white sand, and deep clear emerald seawater.
Even though the place was explored and used for tourism, it still retains the traits of wilderness. Only about 20 kilometers driving from the city center, it is easy for newcomers to find this destination. Eo Gio carries in it the beauty of majestic and wild nature. The jagged and rocky mountains facing the sea embrace the sea strait, creating majestic and beautiful natural scenery. This is also a famous Instagram check-in place for young people.
Photo: Vuong Loc
The beach's name comes from misspelling the one in the Cham language as Kaico, meaning "small beach". Many locals living nearby also explain it in a different way. They think that name originates from its image like a salamander crouching when seen from above. This little paradise with mesmerizing sandy coast as well as water and underwater activities is one of the top-rated city attractions.
This place has the beauty of a pearl island, with crystal clear blue seawater. Visitors can participate in several fun activities and other mesmerizing spots around Ky Co beach. A couple of restaurants, water sports facilities, and other conveniences are set along the shoreline.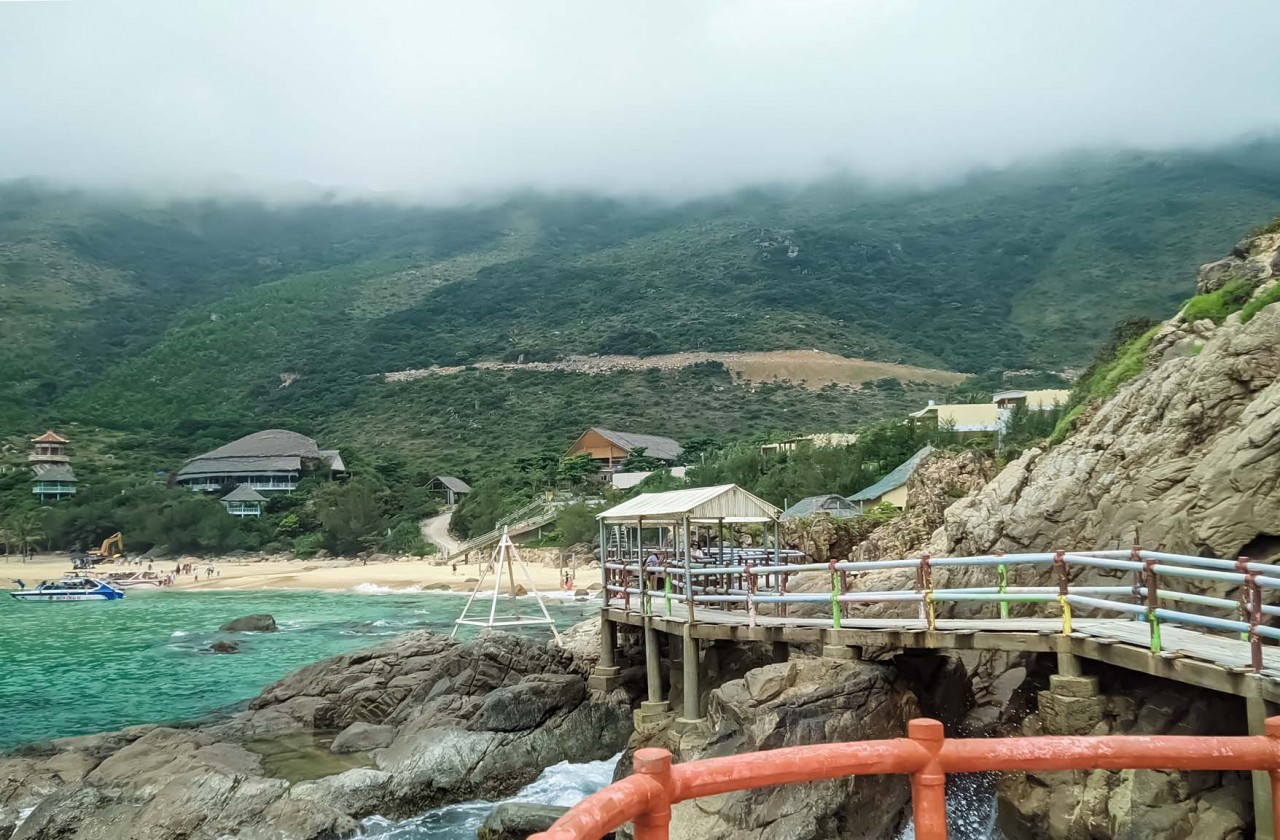 Photo: Vuong Loc
How to get to Ky Co beach
Coming to Ky Co, you can arrive by a tramcar in about 10 minutes within Nhon Ly Commune to get to the dock. After that, you can take a canoe to Ky Co beach. Driving on a canoe is the best experience that you will have, as you can feel the fresh air blowing on your skin and face.
Air flight is the best choice for tourists. It only costs about 1 to 1,5 hours to get to Phu Cat airport in Binh Dinh, which helps save a lot of time and strength. From the airport, tourists can take a taxi back to the city.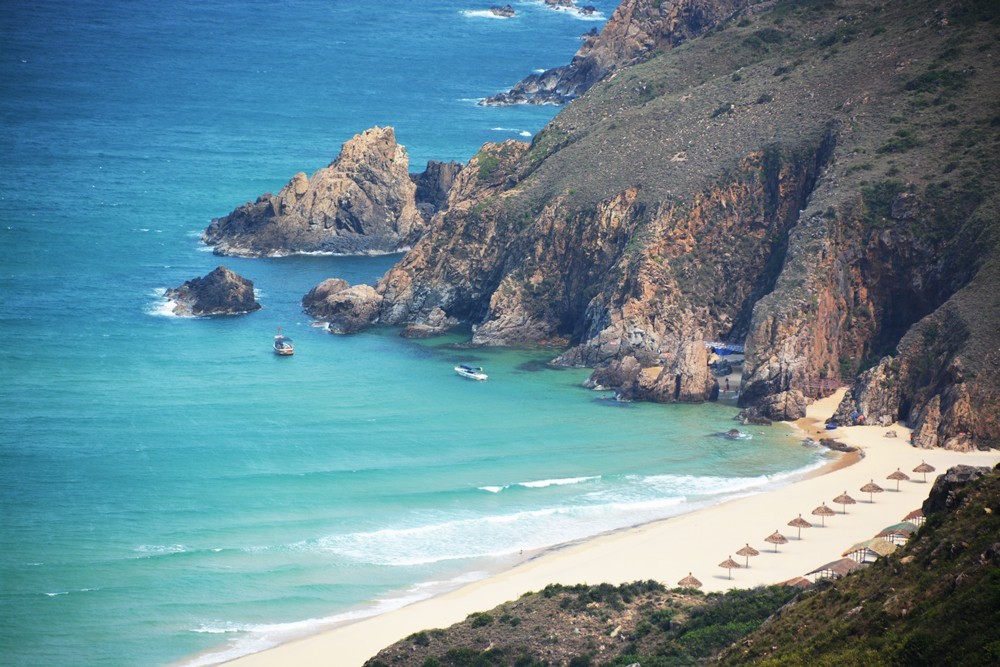 Photo: Lotussia Travel
The train is also suitable transportation. Even though it takes longer to travel by train, it will cost you less money. Traveling by train can be a bit tiring, but this is also an experience that visitors should try.
For visitors who live within Quy Nhon, a car is the main vehicle chosen to travel to Ky Co beach. The ticket for one trip is much cheaper than going by train or plane, but the travel time will take longer.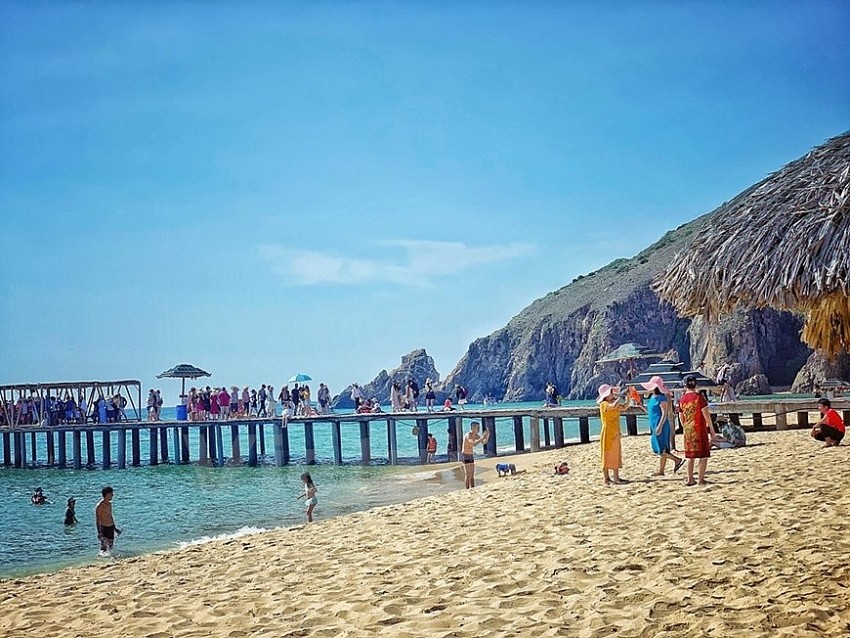 Photo: VIR
Motorcycles bring a more adventurous feeling to tourists. However, when traveling to Eo Gio Ky Co Beach Binh Dinh Vietnam, you should consider the distance. For tourists in remote provinces, it is not recommended to go by motorbike as it will be very dangerous.
The best times to visit Ky Co beach are from the beginning of April to September, correspondingly summertime in Quy Nhon. Sunseekers can expect lengthy sunshine hours during the day and crystal-like water to take a dip. During these months, a sunbath is perfect to have, especially in the morning and after mid-afternoon. Due to intense temperatures accompanied by high concentrations of ultraviolet rays, others are not actually great to do. Exciting underwater and water activities here are often available. But do not forget to check the weather forecast in advance.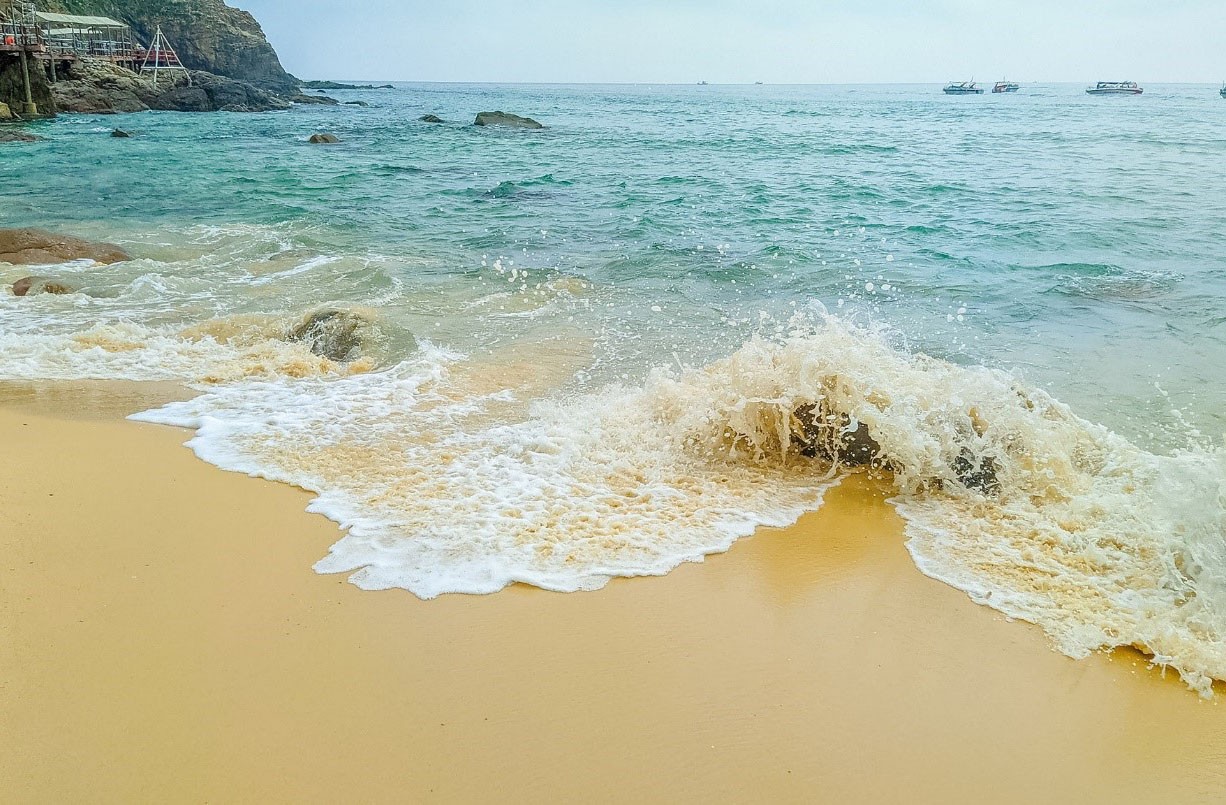 Photo: Vuong Loc
Moreover, Ky Co beach also has many beautiful spots for photography and check-ins for young travelers, including Eo Gio, one of the most attractive places in Quy Nhon.
Beachside restaurants
Two restaurants sit along the shore of Ky Co beach and await you to come to enjoy their delicious dishes. Being nearest to the main pier, Nha hang Bien ("Sea restaurant") features an open design with a capacity of 300 guests. Here, foods are served according to either a-la-carte or set menu styles. Up to the right corner, Nha hang Nui ("Mountain restaurant") is another choice for travelers to fill up energy after a fun time with water, sand, and sun. It owns many structures made of bamboo and open-air seatings with a pleasant view over the strand. Organized tour visitors usually have lunch in these couple of eateries.
Photo: Booking Quy Nhon
Alongside popular Vietnamese foods, both places offer specialties such as Banh hoi chao long, Banh xeo tom nhay (fresh prawn pancakes), and Cha ram tom dat (fried mud-prawn spring rolls) to help diners get insights into the local culinary culture. Additionally, Ky Co Beach Resort has its own restaurants for its guests namely Nha Hang Tre ("Bamboo restaurant). It is a proper location to eat out away from crowds from mass tourism. Get some from the menu and savor tasty bites.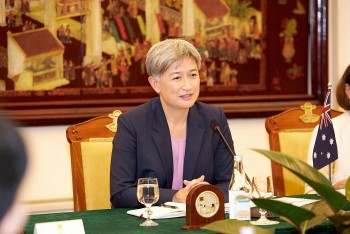 National
"The partnership between Australia and Vietnam is grounded in trust...It's exciting to see the many areas where we can partner together to forge even deeper ties," said Australia's foreign minister Penny Wong.