Discover the Treasured Islands Near Phu Quoc
Outside Phu Quoc are small islands with big, beautiful views.
Phu Quoc's gleaming white sand beaches have earned it the nickname "Pearl Island", but the island's environmental conservation efforts and cultural heritage deserve as much attention as its picturesque sand and surf. Fishing and agriculture remain primary industries, and more than half the laid-back island has been protected by a UNESCO Biosphere Reserve since 2006.
Being a familiar destination for many tourists in Vietnam, Phu Quoc never fails to amaze us with a lot of stunning Instagram check-in spots and beautiful places that make you want to come back over and over again.
Home to fish sauce, pepper, and pearls, Phu Quoc offers both luxury and local life, with clean water by day and clear skies at night.
The South of Phu Quoc has many small islands, which are mostly pristine and unspoiled by tourists that can be the perfect destinations for adventurous travelers, explorers, and thrill seekers. Tourists should visit Thom island, Mong Tay island, May Rut Trong island, and Gam Ghi island to enjoy the fresh air, peacefulness, and beautiful scenery of the places in the autumn.
1. Hon Thom Island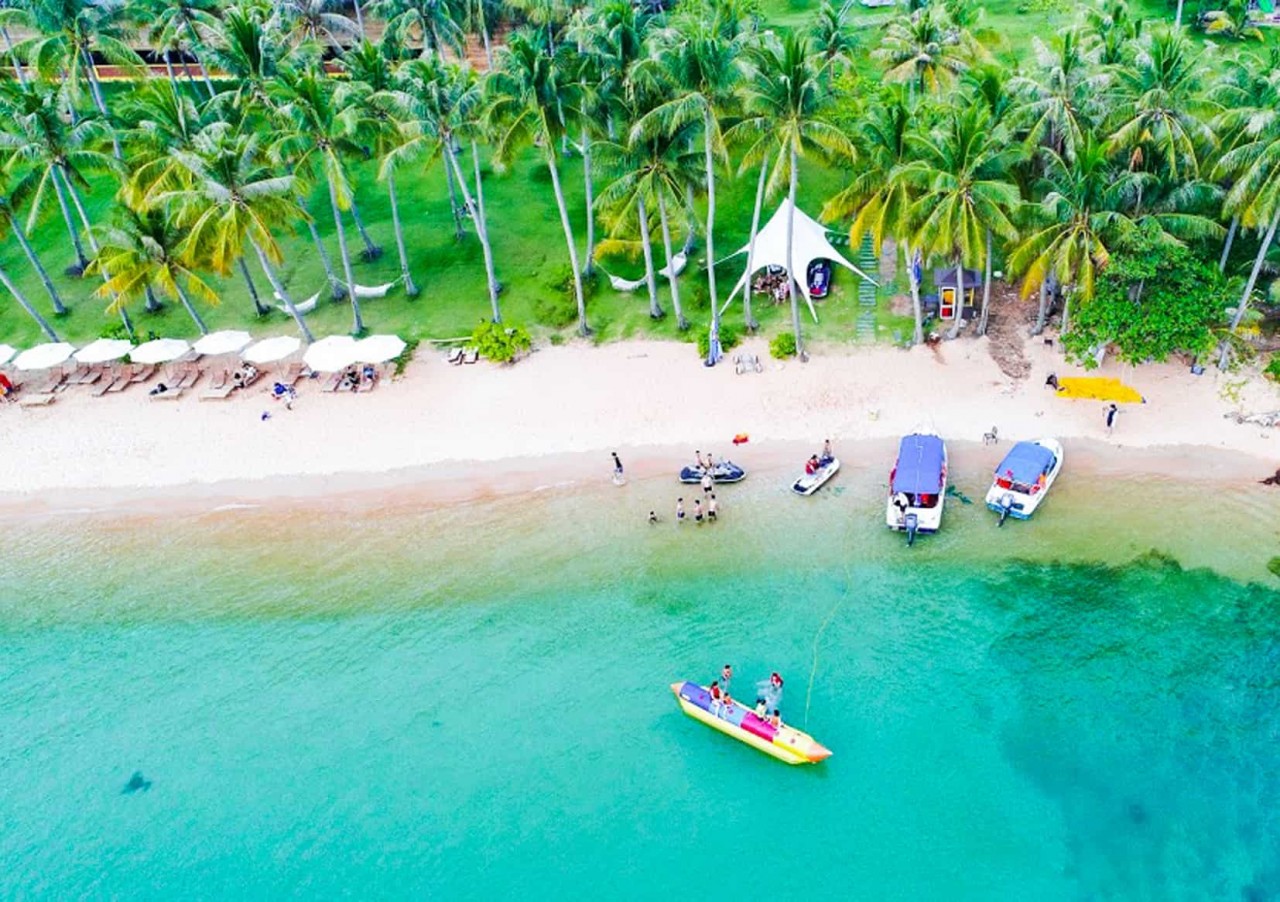 Photo: Gonatour
Hon Thom Island attracts tourists for its golden sandy beach, warm weather, blue sky, and the rows of tall coconut trees reflecting their shadows on the crystal blue water surface of the sea.
Not only being peaceful secluded heaven, Hon Thom island also contains a vibrant, bustling life and entertaining activities such as Aquatopia water park, Sun World Hon Thom Nature Park, Mediterranean town, etc.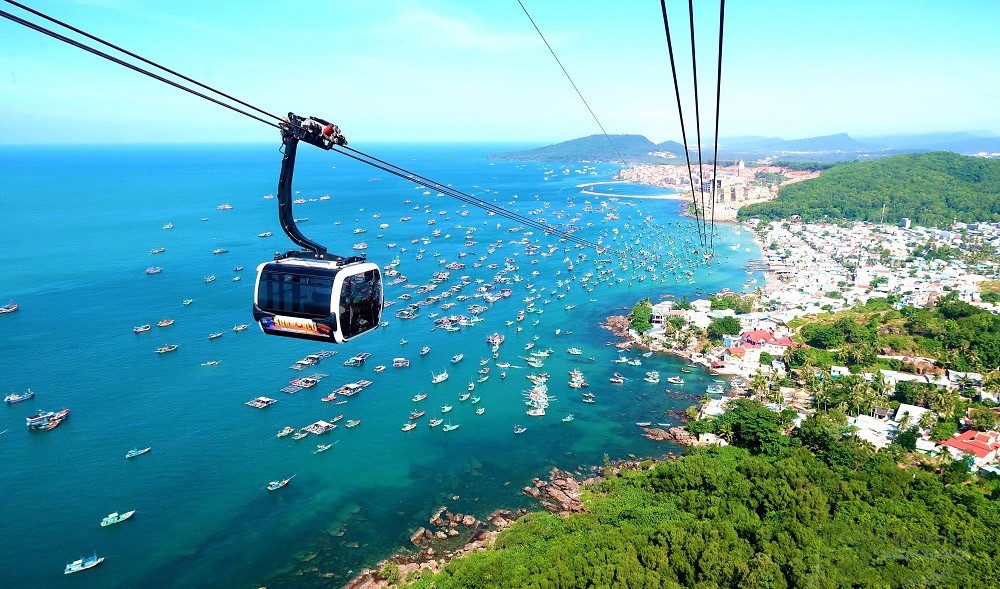 Photo: iVIVU
It is a place to enjoy wild nature even though its infrastructure has been developing rapidly. If you want to take great pictures, the coconut fields and the rock cliffs can provide decent backgrounds.
Tourists can also experience the new cable car system, with the impressive length of over 8 km that connects Phu Quoc and Hon Thom, and get a lovely panoramic view from the above.
You can buy seafood from the locals at a cheaper price. The food tastes so much better than seafood in other areas of Vietnam. Around Hon Thom, there are pearl farms and fish farms that you can visit to learn more about what it is like to live on the water.
2. May Rut island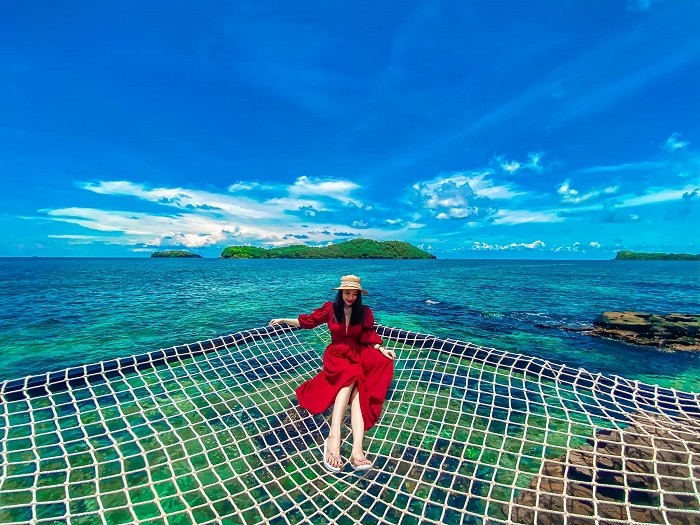 Photo: Instagram
May Rut island is located in the south of An Thoi archipelago, Hon Thom commune, Phu Quoc Island. This place impresses new tourists with the dreamy, alluring, and pristine nature, quiet atmosphere, white sandy beach, and deep blue sea water that soothes your soul.
There are two islands with the same name: May Rut - May Rut Ngoai and May Rut Trong. "Ngoai" means outside, and "Trong" means inside. May Rut Ngoai is further from An Thoi harbor than May Rut Trong.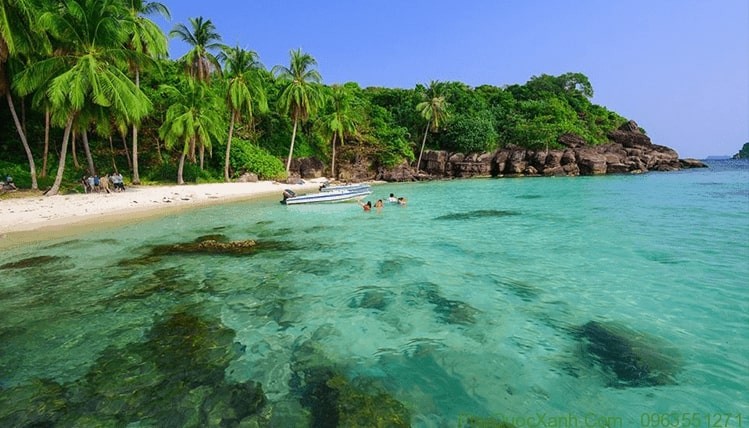 Photo: Phu Quoc Xanh
May Rut Ngoai beach has a small, mainly rocky shore, while May Rut Trong island impresses tourists with its long, smooth sand, and crystal clear blue seawater.
Coming to May Rut island, visitors will experience a lot of interesting activities such as coral diving, squid fishing, sailing small boats, and visiting floating houses.
3. Mong Tay island
Mong Tay island is only about 14 km from Phu Quoc to the South. It will take nearly 30 minutes for tourists to travel by canoe from An Thoi Port.
The origin of name Mong Tay comes from numerous henna trees on the island, which literally means Mong Tay (nail) in Vietnamese. Nonetheless, today, there are not many left in this place.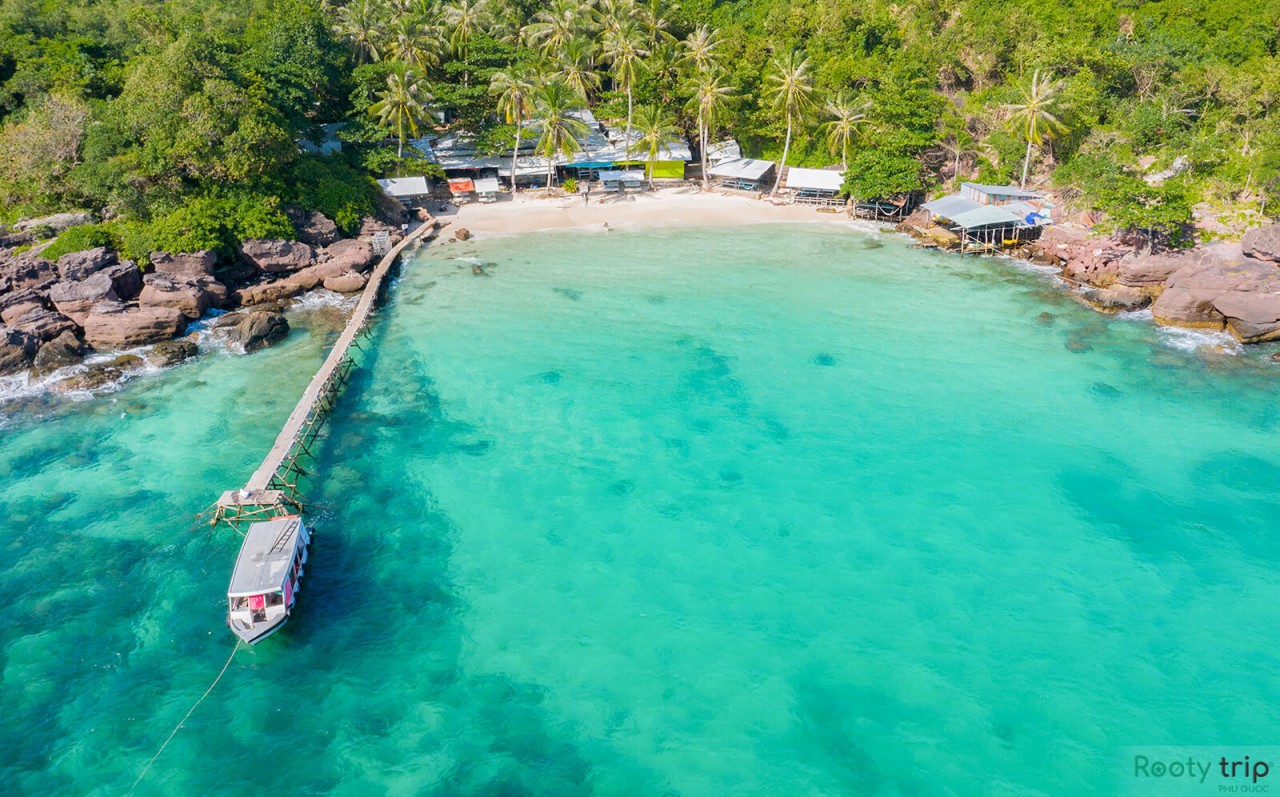 Photo: Rooty Trip
The summer months, from early May to late July, are the best time to travel to Mong Tay island. It is time to run away from the scorching hot weather and to catch the best scenes on the island.
Besides, you can visit the island in October and April when the rainy season begins and finishes, since there is less rain and only a few tourists, bring you a pleasant and tranquil journey.
Mong Tay island captivates many people's hearts for its cool, clear blue water, sparkling white sand under the sun, and tall, majestic coconut trees. Some of the best experiences that you can enjoy are swimming, camping on the beach, and eating the most delicious seafood dishes that you can not find anywhere else.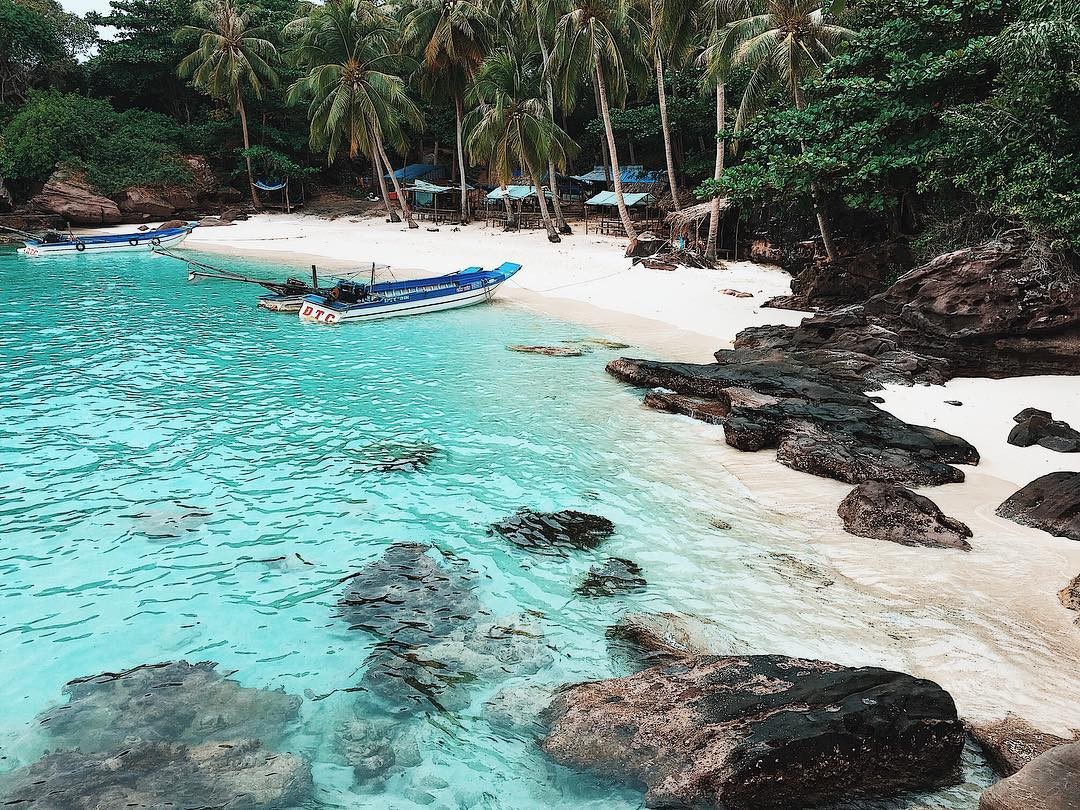 Photo: Danatravel
You can drop by the Duong Dong market to buy fresh seafood and bring it to the island for a substantial meal. However, recently, tourism services in Mong Tay island have developed significantly, creating an increasing number of restaurants on the island. Therefore, tourists will have a variety of choices when it comes to eating.
4. Gam Ghi island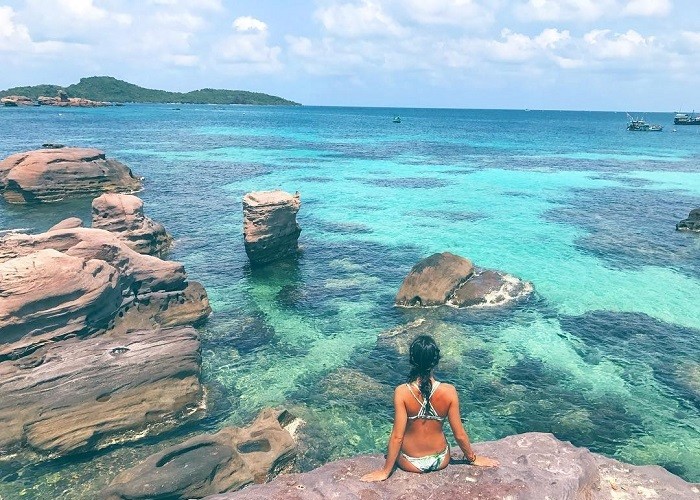 Photo: Lu hanh Viet Nam
Gam Ghi island is located to the south of An Thoi Port and is one of the most popular islands of the An Thoi archipelago, which consists of 17 small islands. This place is largely unspoiled and pristine and is a perfect choice for diving activities.
The island has many beautiful beaches surrounded by coral reefs. The seawater is clear and the coral density here is quite thick, so divers can take gorgeous pictures with them. This is also the place to preserve corals of the southern part of Phu Quoc island.
Autumn is the peak tourism season in Phu Quoc, so people are advised to book early in advance in case the hotels here run out of rooms for tourists.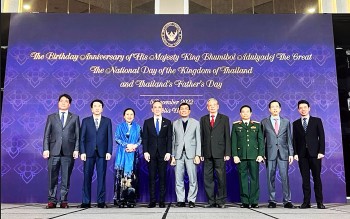 Friendship
The Royal Thai Embassy organises the reception on the occasion of celebration of the Birthday Anniversary of His Majesty King Bhumibol Adulyadej the Great, the National Day of the Kingdom of Thailand and Thailand's Father's Day on 2nd December 2022 in Hanoi.