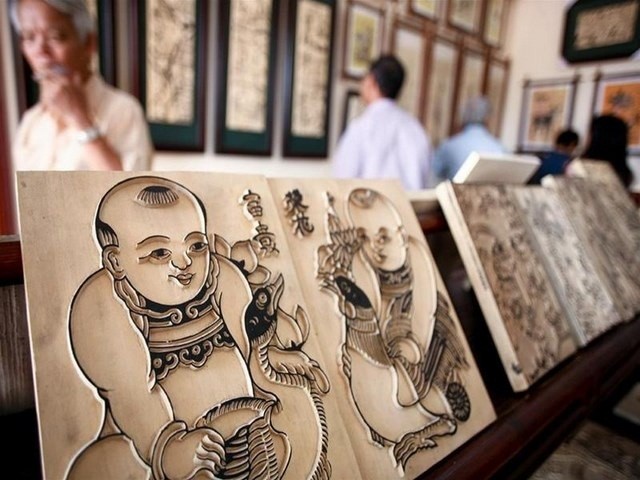 Making Dong Ho folk painting has long been the livelihood of many villagers (Photo: Vietnam Tour)
Accordingly, the Vietnam National Commission for UNESCO was assigned to take prime responsibility, concurrently cooperate with the Ministry of Culture, Sports and Tourism to implement needed procedures and send the dossier to UNESCO before March 31.
The dossier, which was completed on March 3 and sent to the National Cultural Heritage Council's Standing Committee, was previously prepared by Bac Ninh province's Department of Culture, Sports and Tourism and the Vietnam National Institute of Culture and Arts (under the Ministry of Culture, Sports and Tourism), in accordance with the regulation and the guideline of the UNESCO Convention for the Safeguarding of the Intangible Cultural Heritages in 2003.
The application for being included in the list of UNESCO intangible cultural heritage is important to continue preserving and promoting values of craft village culture and raising the awareness of the community of the protection of traditional cultural values.
Dong Ho Village, now known as Song Ho Commune in Thuan Thanh District, the northern province of Bac Ninh, is known as the cradle of one of the most famous folk painting genres in the country. The centuries-old handicraft has long been a livelihood for generations of villagers, as reported by VNA.

The paintings vividly reflect a traditional agricultural society, along with the life and practices of rural Vietnamese people. The genre contains specific painting, printing, colours and themes. People display them on the occasion of the Mid Autumn Festival and Lunar New Year.

Dong Ho folk paintings were firstly included in the list of national intangible cultural heritages by the Ministry of Culture, Sports and Tourism in December 2012. The art has been making a recovery in recent years to match contemporary life.
Jasmine Le