Du Lich Around: Pu Luong at Midsummer
Last month, staff writer Glen MacDonald found himself celebrating a Finnish holiday in the jungles of northern Vietnam; a surprisingly beautiful combination.
Arriving in Paradise
Following the Ho Chi Minh Highway and the setting sun, I arrived in Pu Luong after four hours on the motorbike. For most of the journey, I was alone on the road, navigating the twists and turns as the highway snaked in between forested mountains. Ever so often, a bus or truck would pass by and wave at me... or laugh at my sunburnt face. Two hours in, my nose was as red as a rose. Despite everything, I pressed on, eager to once again explore the deep green valleys of Pu Luong.
Located 91 kilometers away from Hanoi, Pu Luong is a jungle paradise and a popular tourist destination for Hanoians. As for myself, I have made a pilgramage to Pu Luong every year since living in the capital city. The pristine landscape and majestic blue sky juxtaposes life in Hanoi, instantly erasing any big city blues.
Rice terraces, baking in the summer sun. Photo by Glen MacDonald.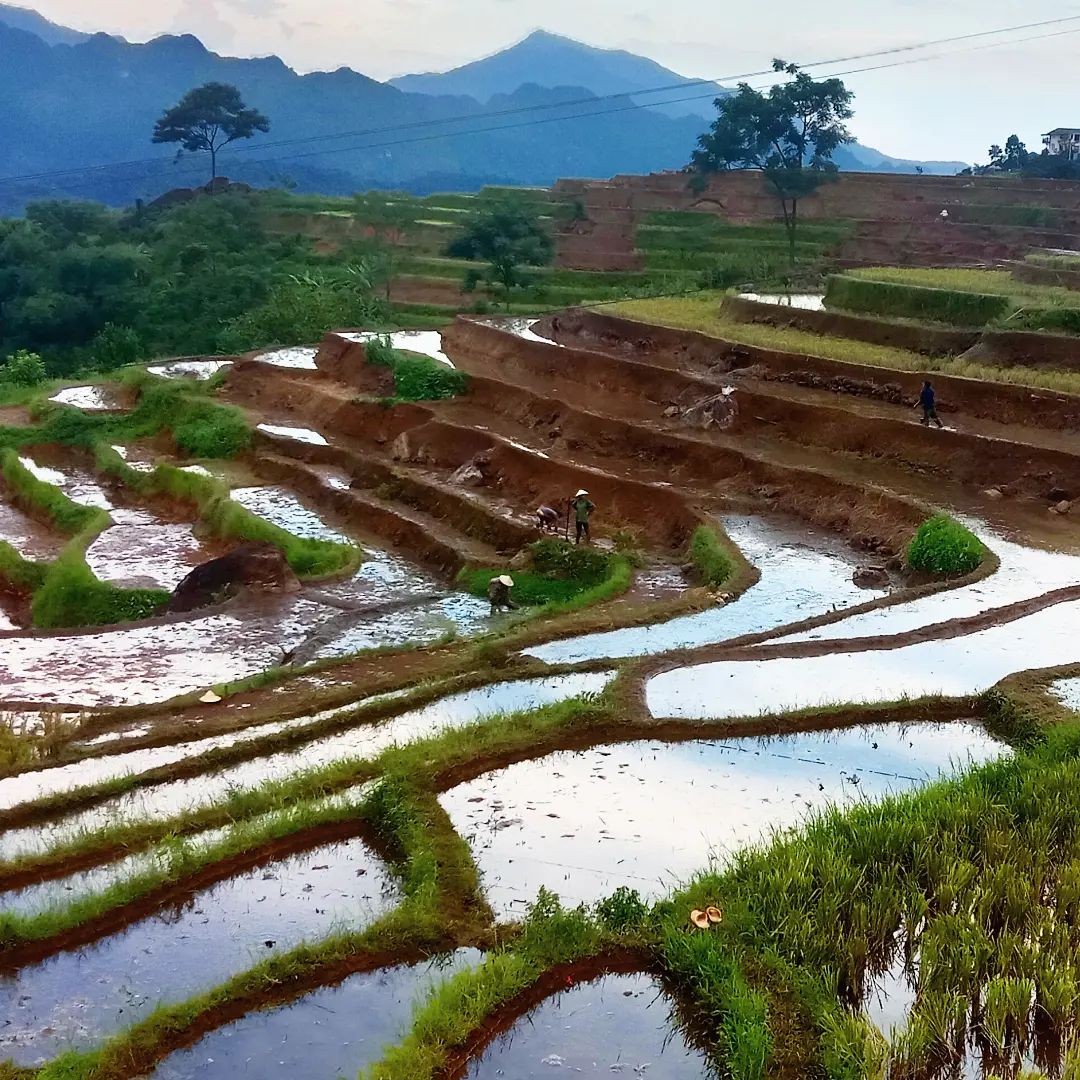 Pu Luong farmers constructing rice terraces. Photo by Glen MacDonald.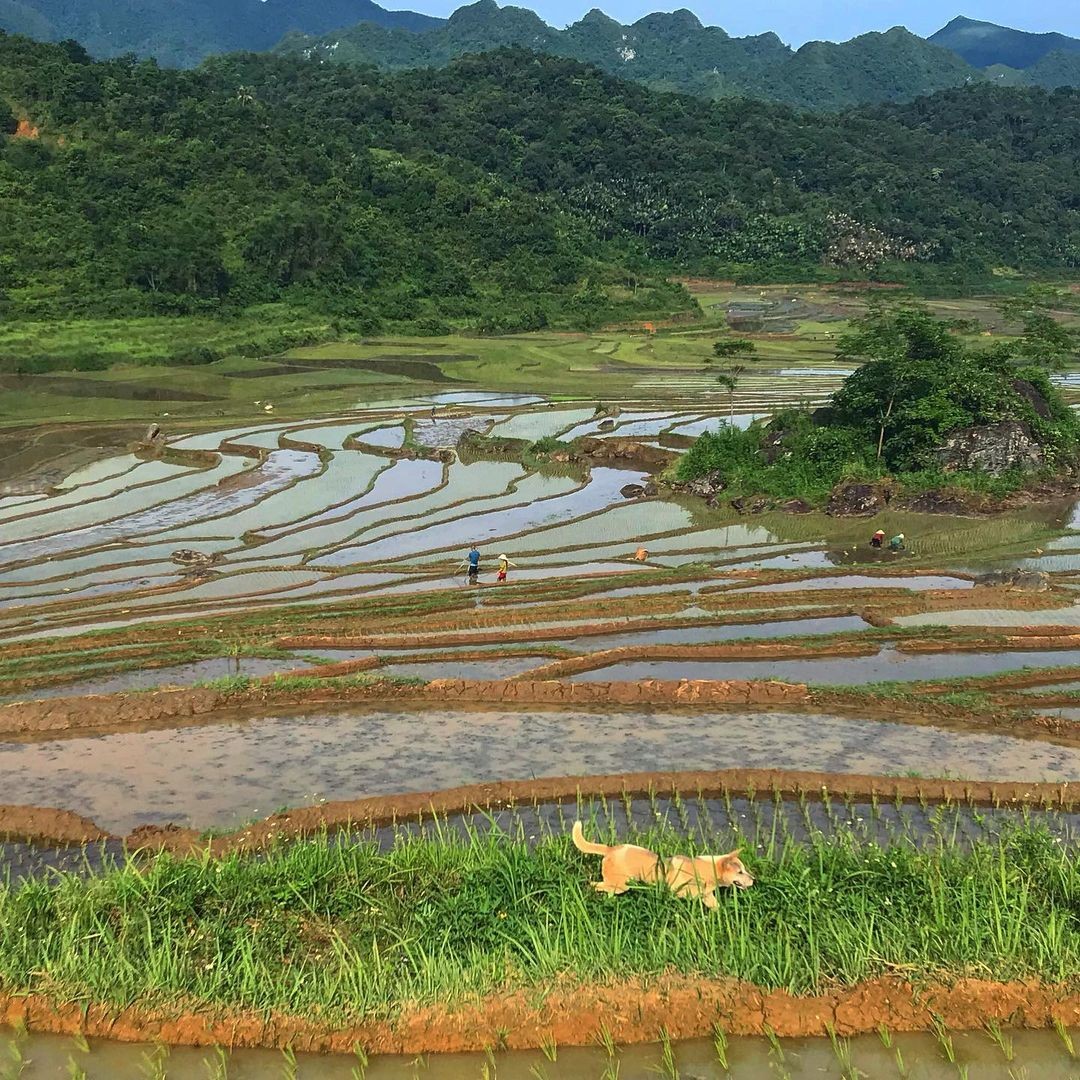 A happy dog ​​running through the tall grass. Photo by Glen MacDonald.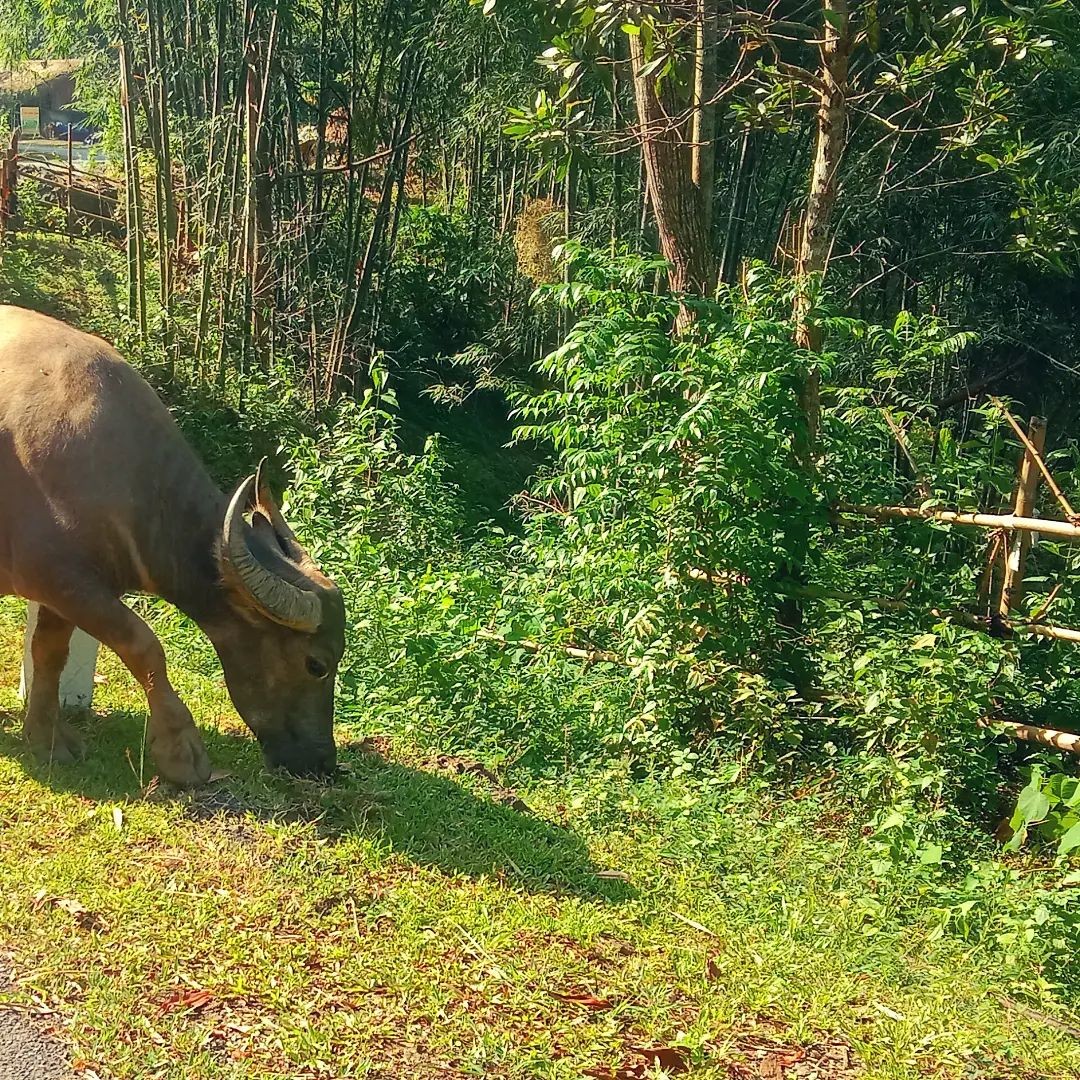 A buffalo, grazing beside a mountain road. Photo by Glen MacDonald.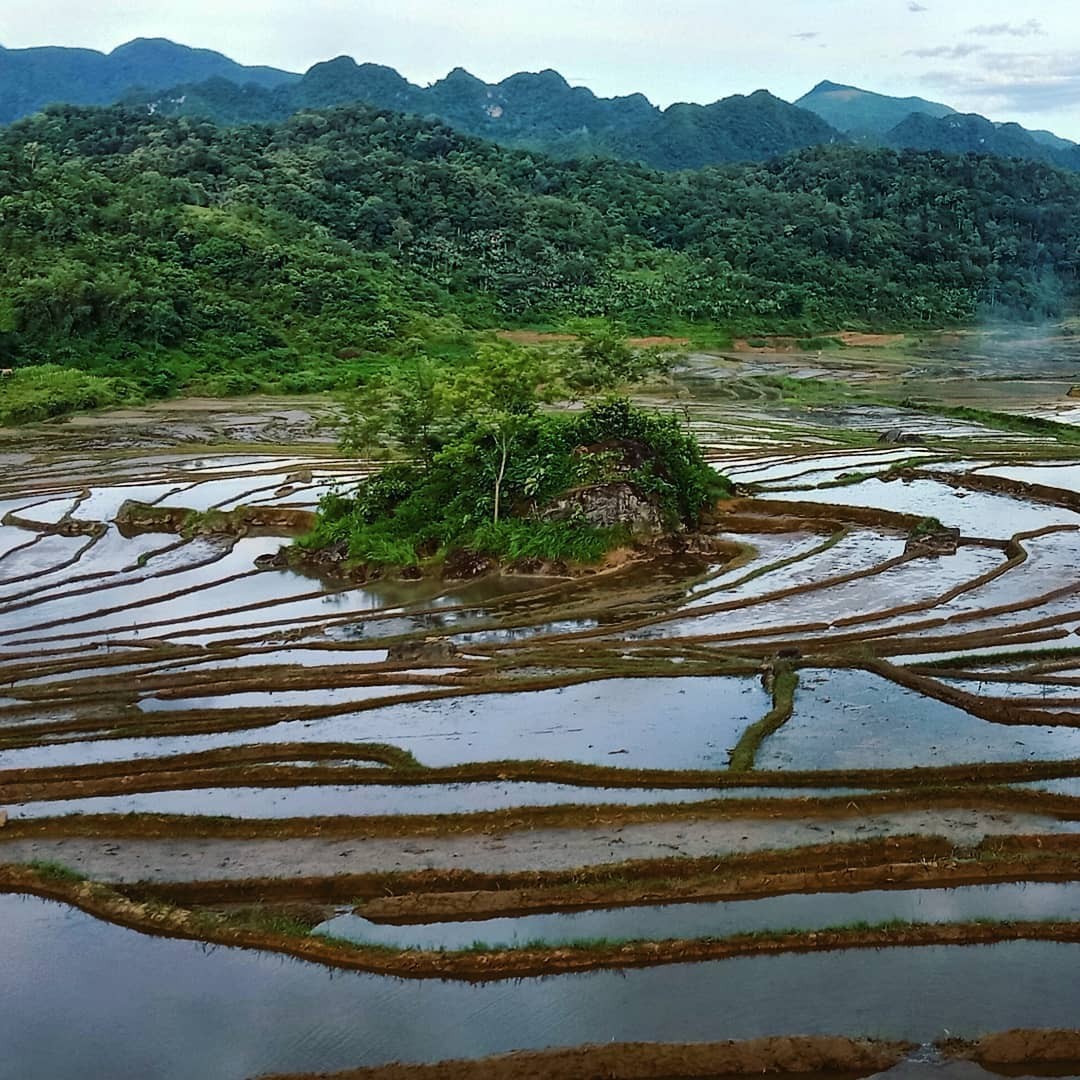 A jungly boulder in the middle of a wet rice field. Photo by Glen MacDonald.
The name Pu Luong comes from the native Thai people, a Vietnamese ethnic minority. "Pu Luong" means "the highest mountain in the land," referring to impressive peaks that are coated in thick, tropical rainforest. The people of this region can fearlessly shift into first gear and race up the steepest of mountains, outpacing an incoming summer storm or a runaway buffalo.
A gentle twilight watched over me as I descended into the darkening valley. I was keen on meeting some friends from Finland who arrived in Pu Luong by bus hours ago. They spent the day splashing and relaxing at the pool of the Pu Luong Bocbandi Resort, an elegant accommodation masterfully carved into a stunning rice terrace. As Pu Luong is still mostly undeveloped, there is little infrastructure like street lamps or smooth roads, meaning driving at night is a bit of an adventure. Fortunately, the warm lights of homestays and resorts lit the way as night fell over Pu Luong.
I met my friends at the Pu Luong Treehouse, a must-see for fans of "glamping" (ie glamorous camping). While more rustic than the resorts, the Treehouse is an eco-friendly establishment that offers one of the best views in Pu Luong, as is rests on a hill above a spiraling collection of rice terraces.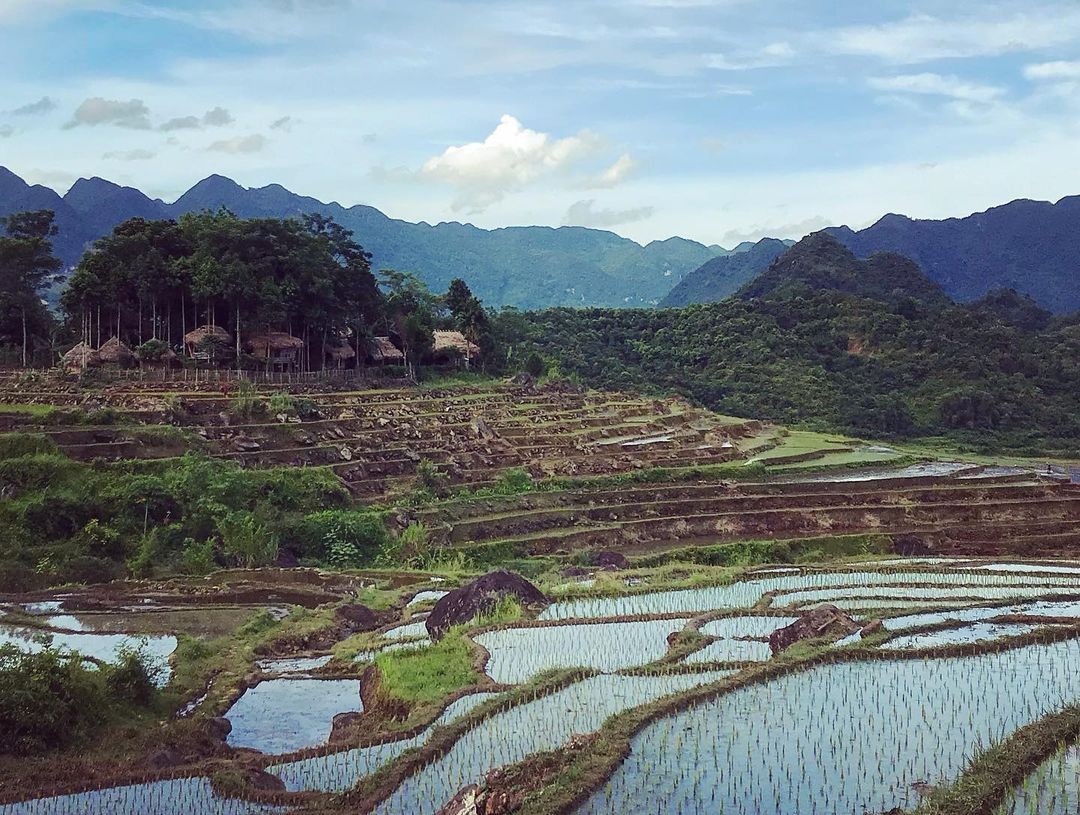 Pu Luong Treehouse from afar. Photo by Glen MacDonald.
The night I arrived, the kitchen staff pumpkin cooked up a wonderful spread, including pumpkin soup, sweet pork, and other Pu Luong delicacies. My Finnish friends, Salla, Caroline, and Kalle, were happy to see me and offered a refreshing can of Thanh Hoa Beer, the local brew.
Over the course of our meal, the Finnish threesome began planning for Midsummer. Salla, a friend I met in Con Dao, explained the traditions of her homeland.
"It is mostly about love and fertility," she said, her face beaming with Midsummer memories. As a celebration of the summer solstice, Finnish friends and families would gather together and enjoy twenty-four hours of daylight, a pleasant respite from months of wintry darkness. In ancient times, lovesick Finns would cast love spells or perform rituals to attract their significant other.
"I know of one tradition where if you sleep with flowers under your pillow, you will dream of your true love," said Salla. "Here's another; if you want to make someone fall in love with you, you undress yourself and roll on their lawn on the morning of Midsummer."
Now, that will certainly get anyone's attention.
After dinner, we returned to our rooms at the Bocbandi Resort and sank into our soft, cozy beds. Exhausted after the drive, I expected to drift into a dreamless sleep. Yet, miraculously, I saw visions of past girlfriends and high school crushes as I slept. There were no flowers under my pillow but perhaps that is just the magic of Pu Luong in full bloom.
Celebrating Midsummer in Pu Luong
We didn't spend the morning of Midsummer rolling around naked in the grass. Instead, we spent it rolling around half-naked under refreshing waterfalls. Rushing down from the limestone mountains, the Hieu Waterfall is almost ice-cold, even in the hottest part of the day.
A photoshoot in the falls. Photo by Salla Kivekäs.
Energetic Vietnamese children jumped from boulders into the natural pools as their parents leisurely sipped coffee on the balcony of a nearby stilt house. A kaleidoscope of butterflies fluttered around us, as if they were also celebrating Midsummer.
The waterfall is popular among the local Thai people of Hieu Village. Unlike the tourists, who cautiously step through the shallows, the locals calmly march over waterfalls and through strong currents, looking for tranquil spots further along the river, away from the crowds of tourists.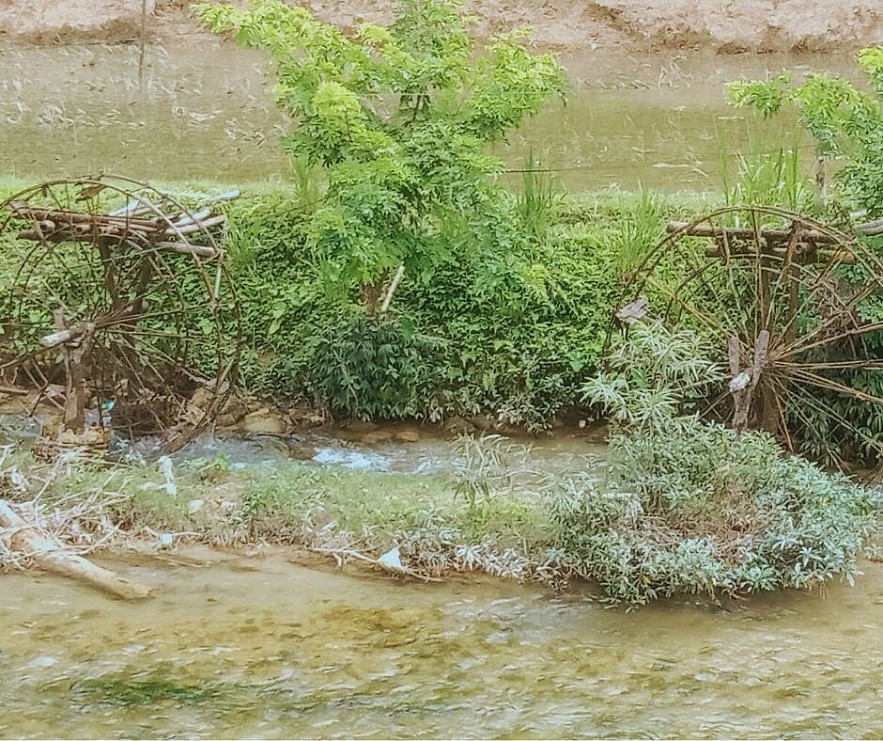 Pu Luong's iconic water wheels. Photo by Glen MacDonald.
As we left Hieu Waterfall, we saw some of the handiwork of the Thai and Muong people; a series of ingeniously designed water wheels rotating beside the river. In order to properly water their crops, the locals constructed large wooden wheels, self-powered by the river's everflowing current. The wheels would scoop the water and pour it into a series of bamboo tubes, delivering water to the rice terraces. The wonderful climate and well-crafted irrigation system give Pu Luong its appealing, green atmosphere.
In addition to maintaining scores of rice, Pu Luong is also home to many flowers with vibrant colors. This was a happy coincidence as flowers are vital to the Midsummer celebration. Symbolizing beauty and fertility, Finns create flower crowns to be worn during the solstice.
Luckily, Pu Luong boasts a large collection of wild flowers. Along the roads grew tiny daisies with strong roots. We harvested a few before getting ready for our Midsummer feast.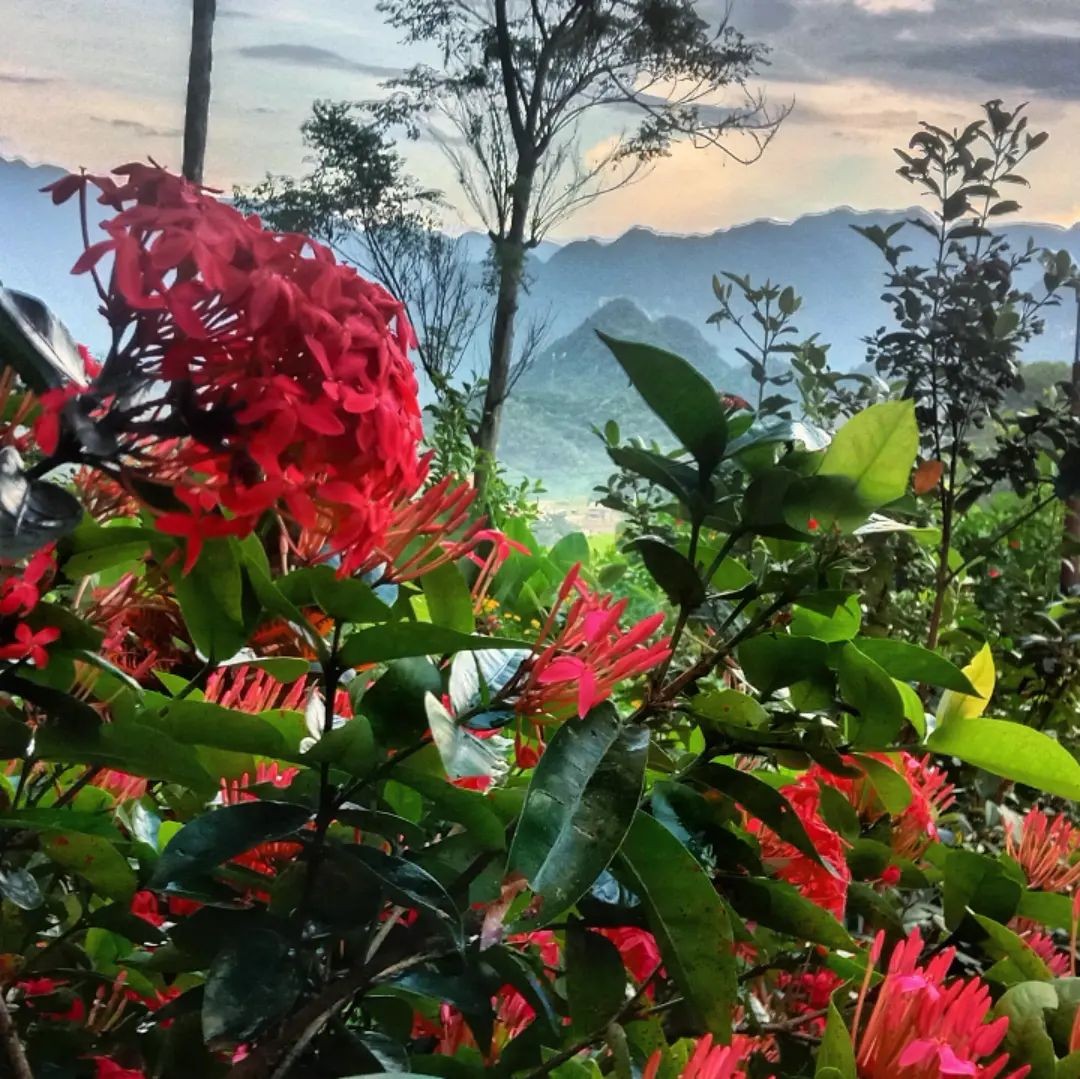 Vibrant flowers with the mountains of Pu Luong in the distance. Photo by Glen MacDonald.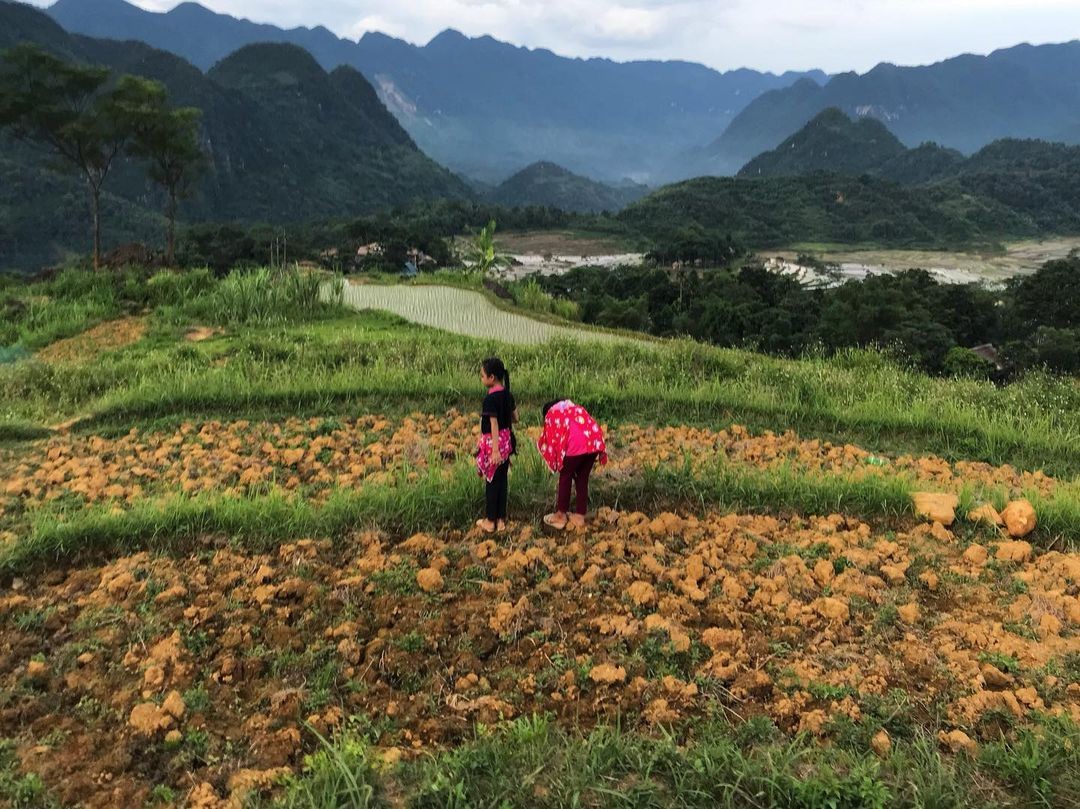 Local children, supporting our flower harvest. Photo by Glen MacDonald.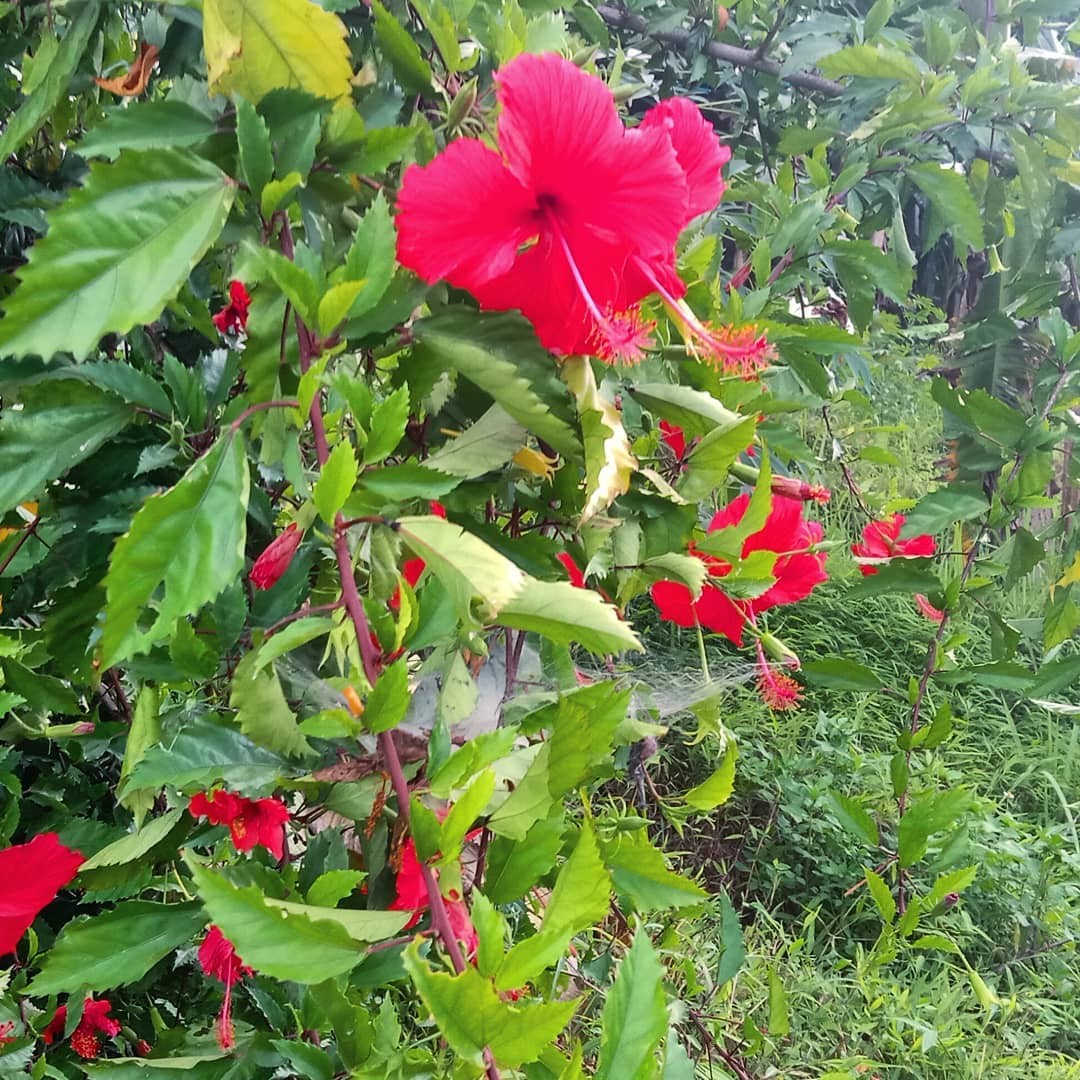 Flowers watered by the wet rice fields. Photo by Glen MacDonald.
A typical feast in Finland consists of pickled herring, grilled sausage, vegetable skewers, and sponge cake with strawberries and cream. However, we substituted those foods with traditional Vietnamese dishes; fried rice, fried corn, tofu bathed in juicy tomatoes, and many cans of beer.
We ordered from a small restaurant we found along the mountain road. The Vietnamese staff was surprised to see so many foreigners with bouquets of wild flowers. Around this time, other friends from Hanoi met us. Knowing about the holiday, they were nice enough to bring with them a bouquet of their own flowers from a fancy Hanoian florist.
To the surprise of the Vietnamese staff and customers, we began wringing the flowers, shaping them into a circle. While my Finnish friends did it with ease, my clumsy American fingers were not delicate enough to shape the flowers without breaking them.
Kalle, noticing my frustration, was happy to help. As a Finnish-Vietnamese, the young man was happy to celebrate his homeland's holiday in the nation of his ancestors. I asked Kalle, a child of two cultures, how it felt to celebrate a Finnish holiday in a Vietnamese jungle. While he misses celebrating Midsummer at home, Kalle is happy to enjoy the holiday with those who understand him.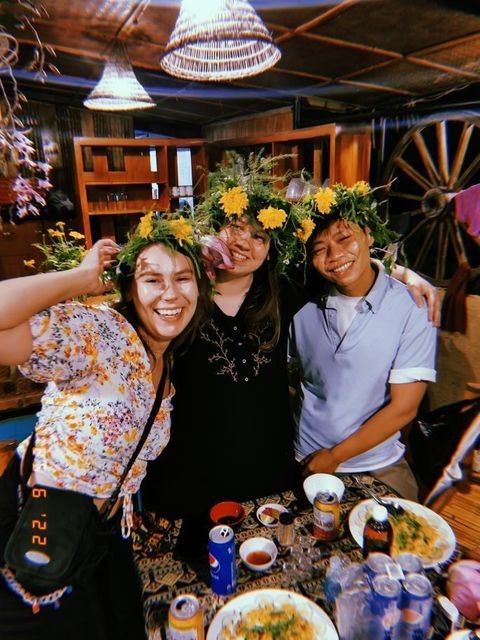 The "Finnish threesome" posing with their flower crowns. Photo by Kalle In Do.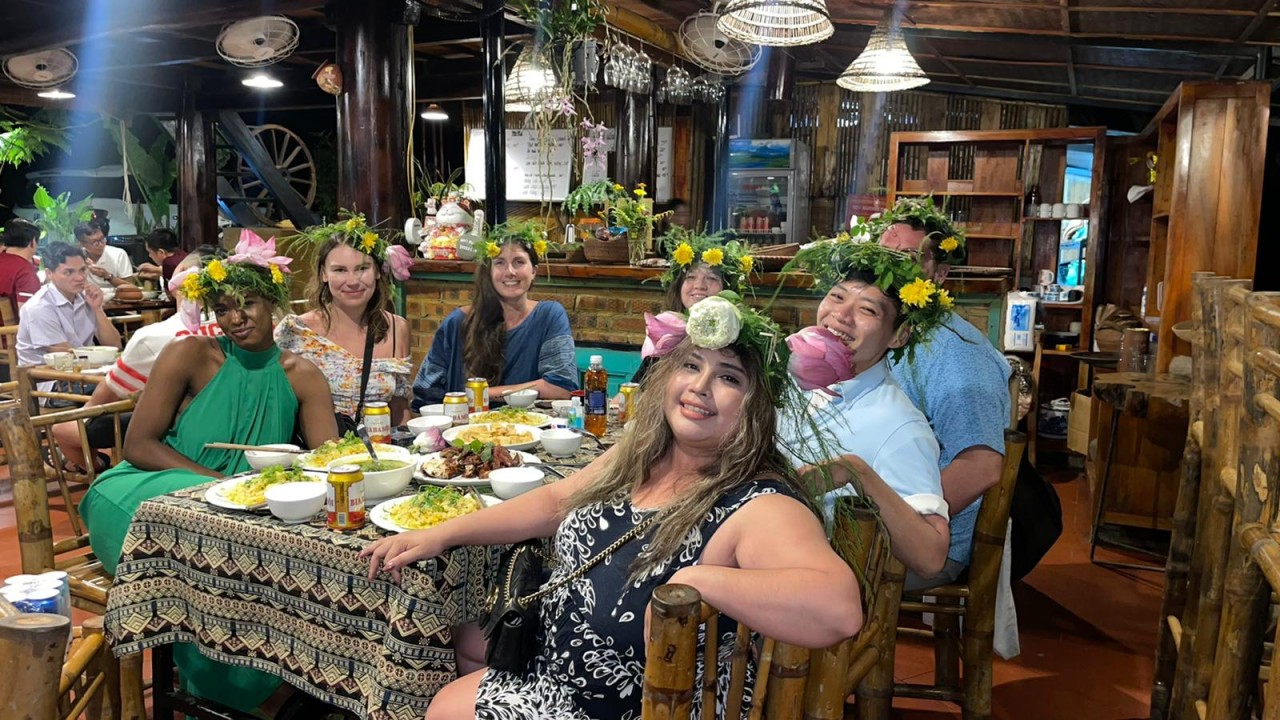 Flower-filled bliss. Photo by Salla Kivekäs.
"I'm lucky to have such friends," said Kalle. "They've accepted me as I am and never question if I'm a Finn or Vietnamese or something in between. I think all my friends know I am Vietnamese-Finnish and I embody both cultures."
As he spoke, my crown was almost complete. His skilled hands worked quickly. We continued to speak about the similarities between the Vietnamese and the Finns. In addition to preserving tradition and valuing education, Kalle said the biggest similarity between his two countries is the love of family.
"Both Finns and Vietnamese like to sit with their families and enjoy dinner. While Vietnamese met for Tet Holiday, the Finnish have celebrations called 'sukukokous,' meaning meeting with relatives."
At this point, I looked around the cramped table, littered with petals, stems, and empty beer cans. I watched smiling faces from Finland show their flower crowns to a nearby Vietnamese patron, amused by the craft. We dined with fellow expats from Nigeria, the Philippines, England, and South Africa, all of us enjoying the food and flowers. The small Vietnamese restaurant became a site of worldly affairs. We dined together, as a temporary family, enchanted by the beauty of the flowers, Pu Luong, and each other.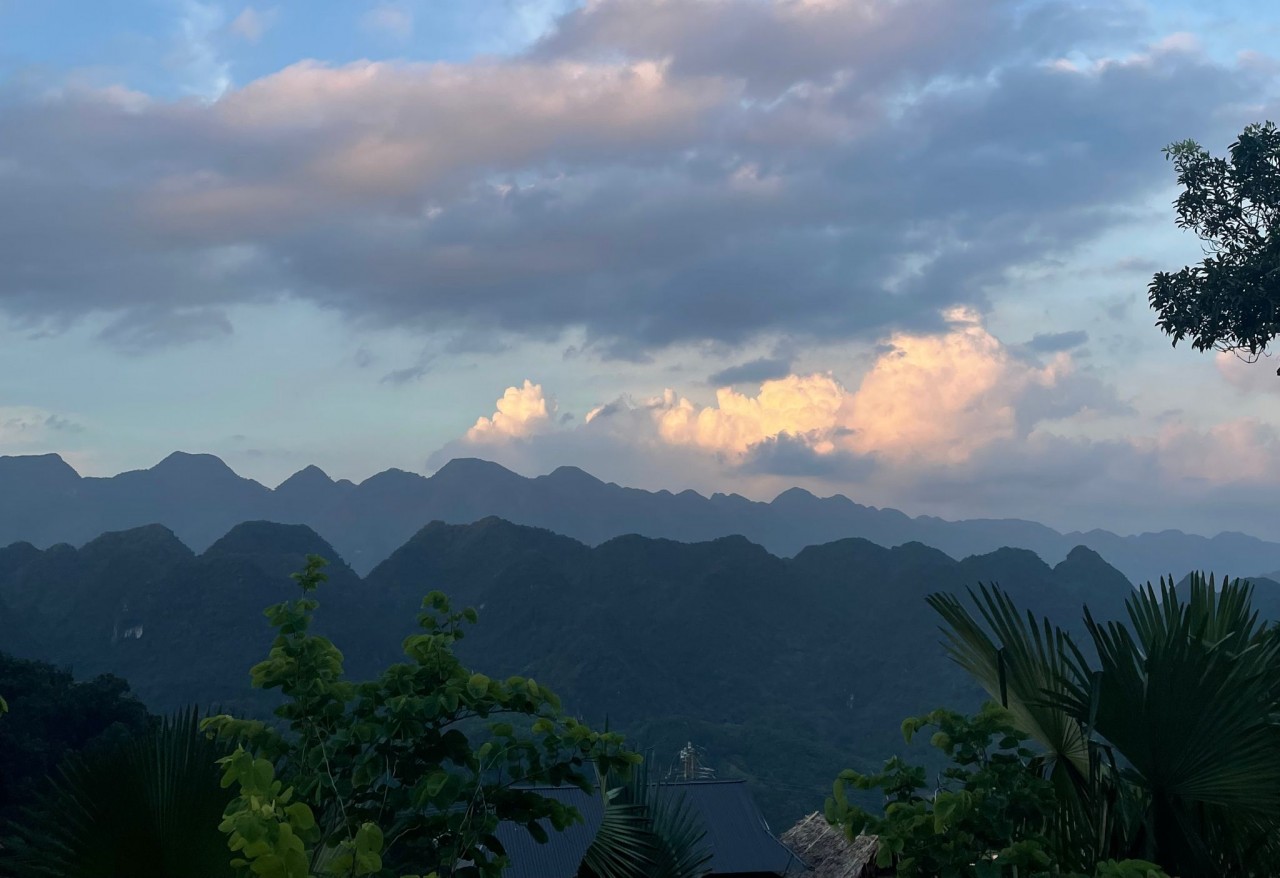 Pu Luong's gorgeous skyline during a cool evening. Photo by Salla Kivekäs.
Pu Luong Travel Guide
For the best Pu Luong experience, the Vietnam Times has compiled a list of travel and accommodation suggestions.
Getting there: From Hanoi, there are two ways to arrive in Pu Luong. The most adventurous is by motorbike, although the long journey might be uncomfortable for novice drivers. You can either follow the Ho Chi Minh Highway, which is a stunning stretch of road with very little traffic, or you can take the backroads through Hoa Binh. The latter includes a very steep, serpentine mountain road so make sure your breaks are in good condition! Both routes take around four hours.
Another way is by bus. The My Dinh Bus Station can take you to Mai Chau and a local taxi will take you the rest of the way, through the twists and turns of the mountains. This route should take four to five hours. Travel agents in Hanoi's Old Quarter can help you set up your trip.
Accommodation: There are plenty of amazing homestays and resorts in Pu Luong. The Vietnam Times places it down to our three favorites to stay.
1. Pu Luong Bocbandi Resort - this is accommodation is where we stayed for Midsummer. Although more expensive than most other places, the resort's amenities justify the high price. A bedroom is around VND 2,000,000 (USD 87) per night while a villa is around VND 3,750,000 (USD 163) per night.
2. Pu Luong Treehouse - this is one of the most picturesque places I stayed in Vietnam. The location offers beds in treehouses, stilt houses, bungalows, and a family room. The Treehouse is one of the most popular accommodations in Pu Luong. To get prices and availability, message the owners through their Facebook page.
3. Pu Luong Home - This is probably the cheapest location in Pu Luong but also has a fantastic view of the rice terraces from its pristine infinity pool. Prices range from VND 680,000 (USD 31) to VND 1,150.00 (USD 52).
Travel Around: Mysterious Knife

These tiny Vietnamese islands are a crucial waypoint in time; their harsh, colonial past overlaps with a hopeful, green future.
Rice season on Pu Luong Peak

In the October rice season, Pu Luong Peak in the central province of Thanh Hoa looks as though it is wearing a yellow carpet, attracting ...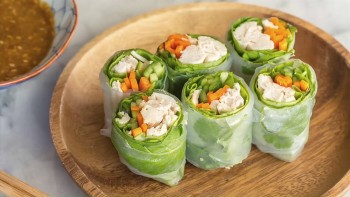 Travel
Rolls are a easy-to-make dish that is loved by many Vietnamese diners as well as Korean stars.