The artistry of Mui Ne's dunes at sunset
Inspired by artist Le Huy Tiep's breathtaking oil-painting, Mien Trung, a foreigner attempts to recreate the stunning piece during his recent trip to Mui Ne.
"My hometown is the sea," explains artist Le Huy Tiep. With a career spanning fifty years, the talented painter's work often features various beachscapes from across Vietnam. One of his paintings, set amongst iconic sand dunes, is a stunning depiction of Mui Ne's exquisite landscape. This painting inspired me to travel to the beach town of Mui Ne so I could witness the beautiful view for myself.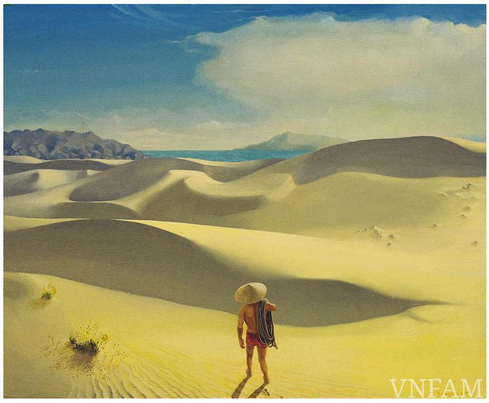 Le's fantastic landscape is seen at the Vietnam Fine Arts Museum. Source: VNFAM
Entitled Mien Trung, Le's painting is named after Vietnam's central region but celebrates all of the nation's idyllic 3,260-kilometer coastline. The piece perfectly encapsulates the thrill of walking towards the Pacific Ocean from Mui Ne's mountainous dunes.
In the center of the painting is a broad-shouldered Vietnamese man, donning red swimsuit and a traditional nón lá, shielding him from Mui Ne's blazing, unforgiving sun. Coils of heavy rope hang on his right shoulder imbue the man with a sense of adventure. He is taking his first steps on virgin sand dunes, undaunted by the tricky terrain.
"In my opinion, the piece expresses the harshness of the central land," Le explained to me via email. "Meanwhile, the man expresses the industriousness of the people in that region. I wanted my work to discuss the condition of a lonely person who dares fight nature to survive."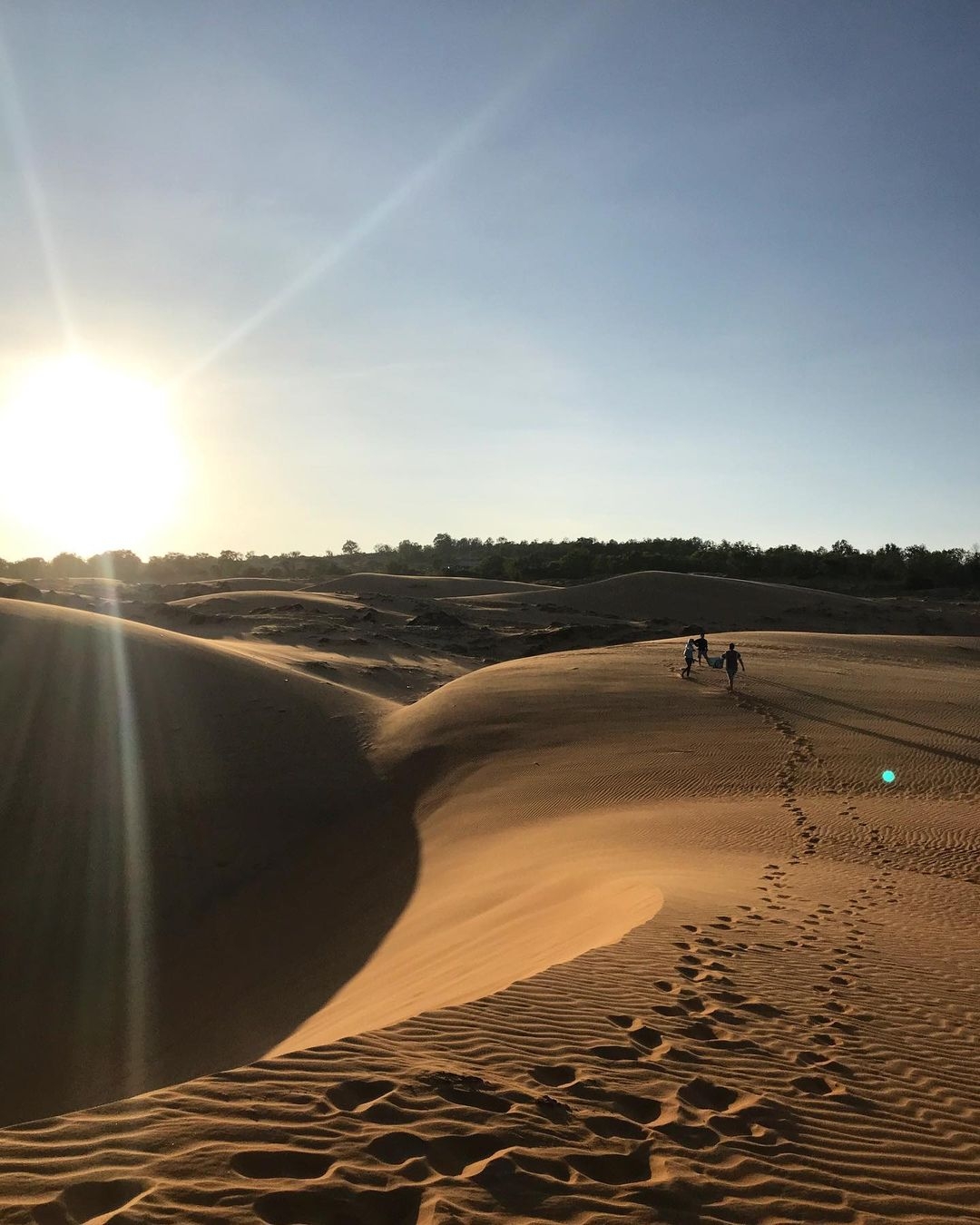 While Vietnam's coastline is gorgeous, it comes with its own set of unique challenges. Photo by Nick Russell.
The rest of the painting details the gorgeous landscape of Mui Ne. Despite the seemingly empty space, Le includes a subtle balance in his work. A clear blue sky in the upper left corner mirrors a calm, white cloudbank. The shadows of one of the dunes parallels the jagged, dark rocks further down the coast. A scrubby bush sticks out of the textured sand in the foreground. In the background, we glimpse a clear, blue ocean and a green, faraway mountain. Every time I view this piece, I can almost hear the gentle crashing of waves and my mind is instantly put at ease.
On every beach I visit in Vietnam, I look for the same magnificent view shaped by Le's paintbrush. My sundrenched days on the beaches of Dang Nang, Hoi An, Phu Quoc, and Cat Ba were certainly memorable but I still desperately wanted to stare across breathtaking dunes. Eventually, I decided to travel to Mui Ne and recapture Le's stunning painting. Even though I lack Le's skills, I had a camera and some friends willing to help me out.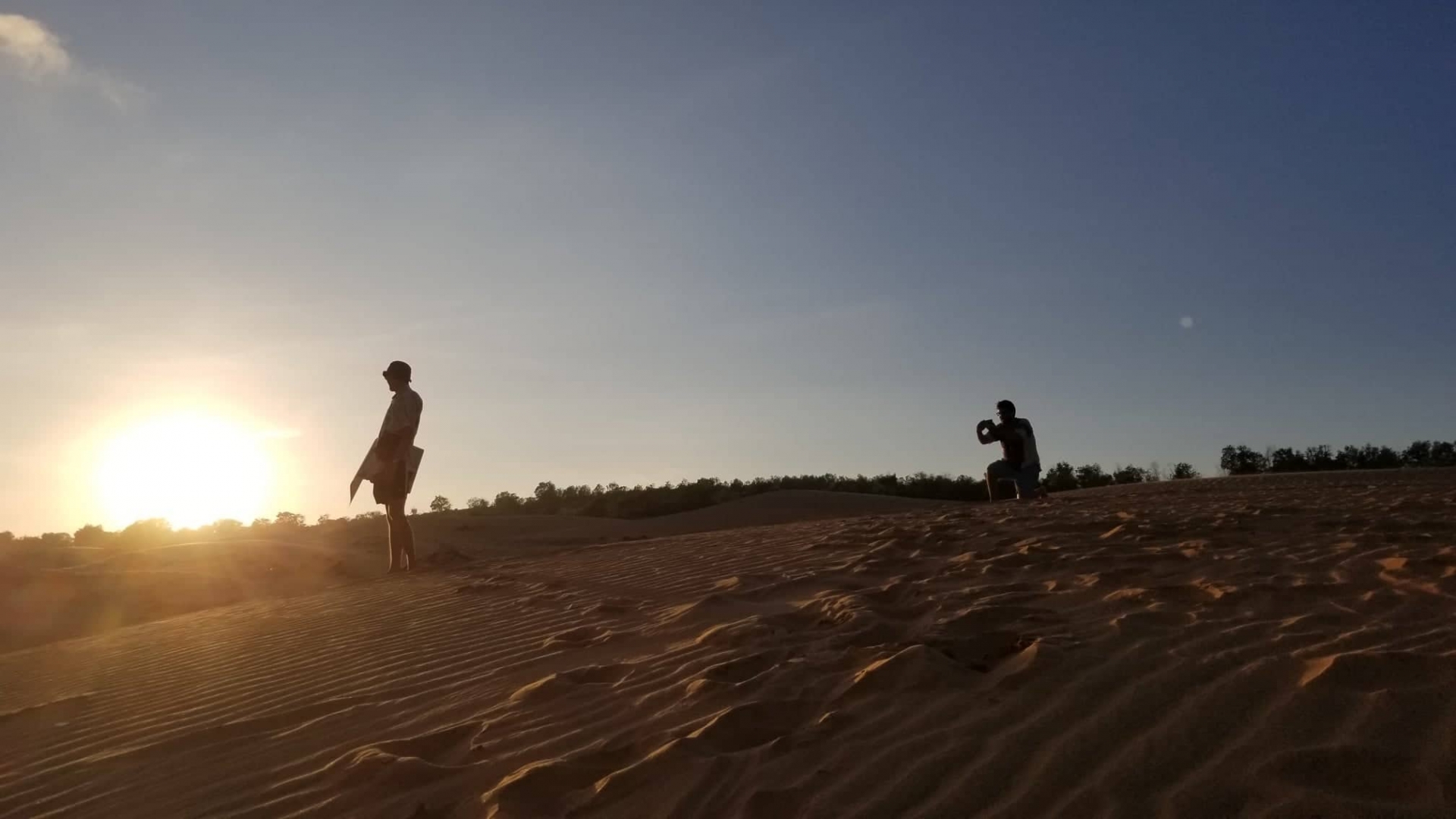 Trying to get the perfect shot at sunset. Photo by Annie Blackburn.
Unfortunately, we did not give ourselves a lot of time for our mission. Most of our time in Mui Ne was spent appropriating the beach bum lifestyle. During the day, we rested in hammocks and drank beer and coconuts while at night we danced on the beach and chatted endlessly about nothing by a bonfire. Only four hours away from Ho Chi Minh City, Mui Ne is the perfect town to escape to if one desires clean beaches, epic sunsets, and dunes that rival the Sahara.
The intricate pattern of sand dunes. Photo by Annie Blackburn.
Additionally, Mui Ne has plenty of enticing options for foodies. Plenty of eateries serve dishes inspired by the bounty of the Vietnamese coastline and the town's large European and Russian populations. The Yo-Yo Beach Cafe, located a few meters from the sea, is a delicious, vegetarian option. I started each day there, sipping cà phê sữa and enjoying some quality ratatouille. In the evenings, young couples and cheery families would gather further down the beach at Glamour Coffee. Illuminated by Christmas lights, the aptly named restaurant whip ups savory pasta, fruity cocktails, and live music from local talents. For travelers with more high-priced tastes, the Cargo Remote resort offers an appetizing menu nearby a splendid freshwater pool.
On our last day in Mui Ne, we finally set out to see the dunes on rented motorbikes. Driving alongside the coast, past an armada of fishing boats, my friends and I excitedly sped towards Mui Ne's iconic Red Sand Dunes. After arriving around 5pm, we began to trek across the miniature desert. Thankfully, the evening air was much cooler and the nearby ocean provided a refreshing breeze. The sun began to set behind the dunes, illuminating the red sand into shades of hot pink. We scurried to find a good place to take our photo before nightfall.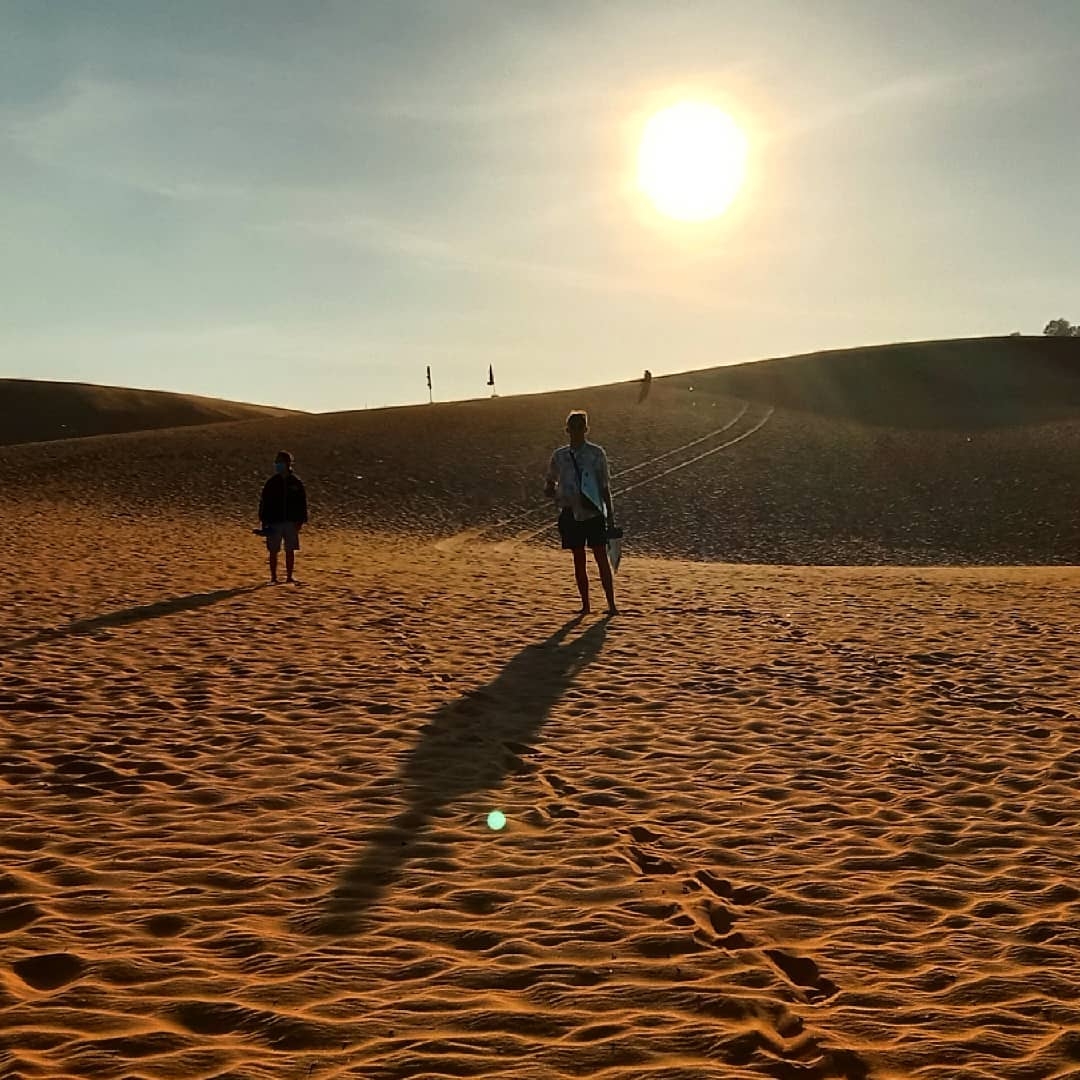 Stepping onto an otherworldly terrian. Photo by Glen MacDonald
While breathtaking, the dunes have a strange atmosphere about them. We felt as we were walking on the moon. The silky sand, while fun to play in, it is a bit of a workout to climb over. At one point I kicked off my sandals to more easily maneuver around the dunes. Sand stuck to our sweaty skin as we collapsed on the peak of the tallest dune.
When our impromptu photoshoot began, I realized some obvious errors with our recreation. For one, our model was not Vietnamese but British. For another, I had him wear his girlfriend's bucket hat in lieu of an nón lá. Instead of coils of heavy rope, he held a plastic sled which we later used to slide down the impressive dunes.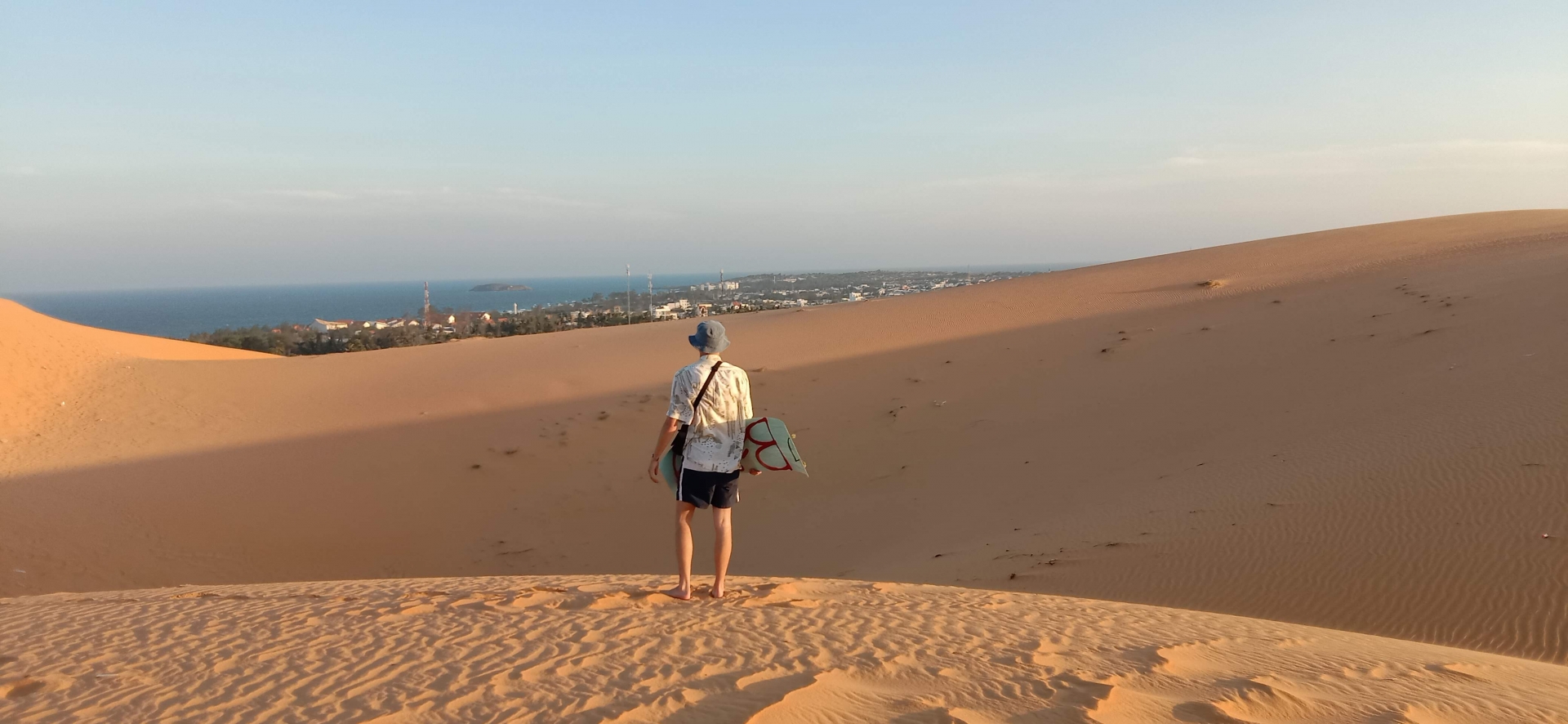 A poor recreation of Le's amazing work. Photo by Glen MacDonald
My photo comes nowhere close to Le's painting, rich in colors and well-balanced details. As his painting is a profound testament to the hardworking Vietnamese people in a relentless climate, my photo simply showcases the laid-back bliss of any backpacker lucky enough to visit Mui Ne. Despite this, the sublime beauty of Vietnam's coastline is still present in both pieces. As I directed my friend to stare into the deep blue horizon, Le's words come to mind.
"I love the sea because standing in front of it always makes me free, especially in Vietnam. The beaches here are all beautiful, be they yellow, white, or gray, flat, sandy, or gravelly; all are beautiful and attractive to me," writes the artist.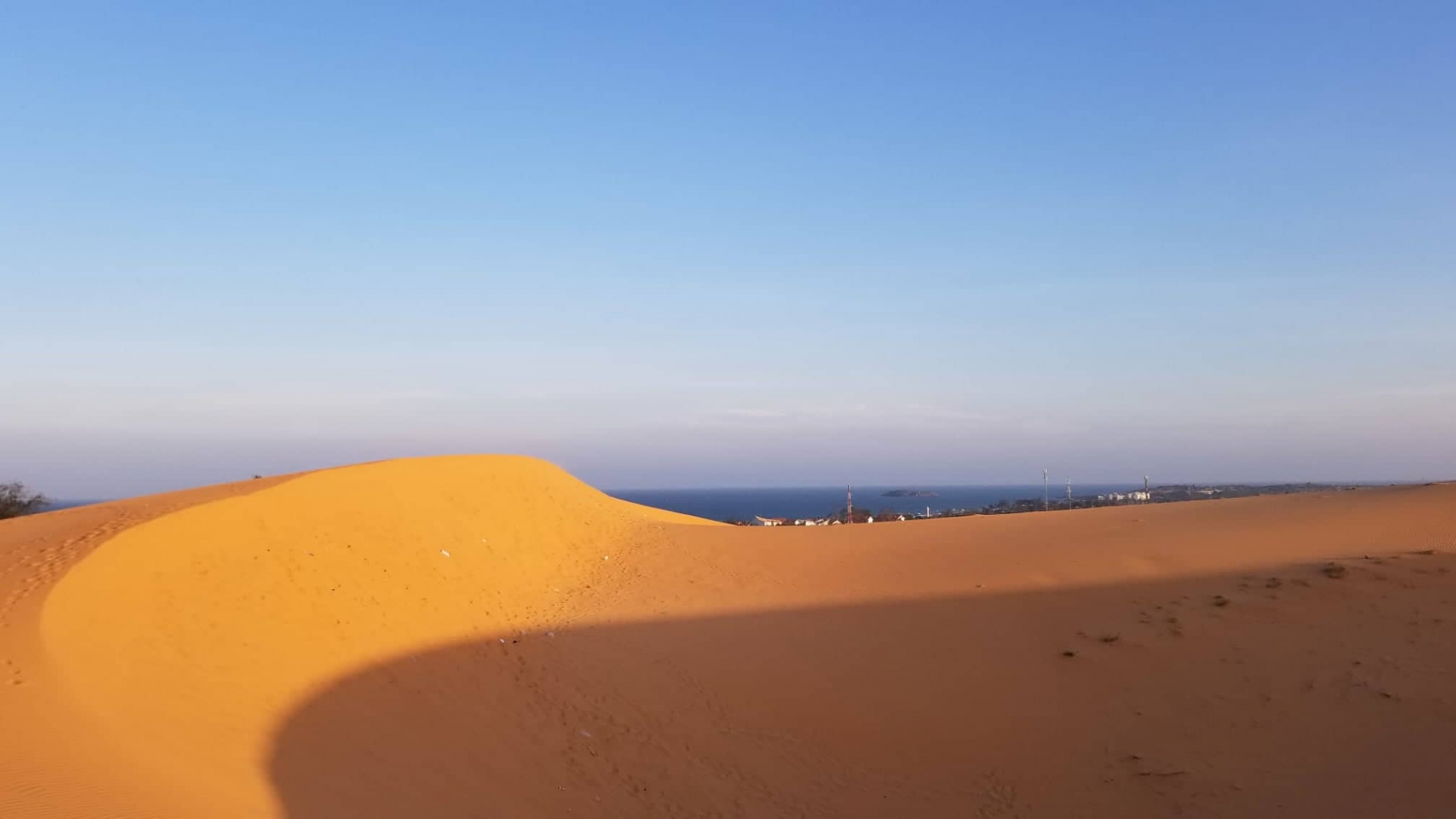 Mui Ne's beauitful sun, sea, sand, shadow, and sky. Photo by Annie Blackburn.
Later, we drove back to town and shared our photos with each other over a seafood dinner. We gasped at the vibrancy of the sand and sky. #nofilter, indeed. Even though only an hour passed, our trip to the dunes already felt like a distant dream.
After dinner, we went for drinks at a nearby beach bar. As I conversed with my friends, I brushed off some sand clinging to the back of my knees. The red sand from the dunes mixed with the alabaster sand from Mui Ne's sunkissed beach, like an artist mixing paint before a waiting canvas.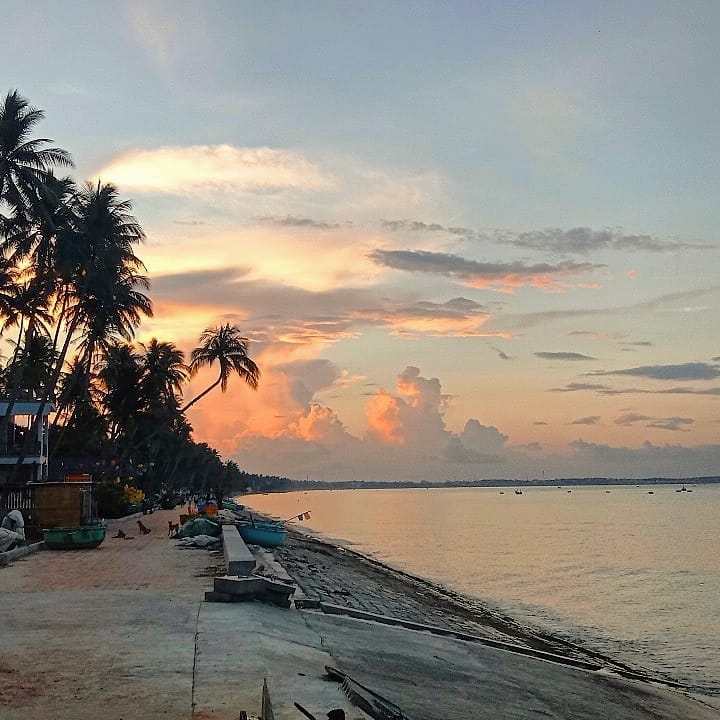 Watching the sunrise after a fun night on Mui Ne's lush beaches. Photo by Glen MacDonald.