Du Lich Around: Mysterious Con Dao
These tiny Vietnamese islands are a crucial waypoint in time; their harsh, colonial past overlaps with a hopeful, green future.
We easily burn through the day on Con Dao's Nhat Beach. Drops of saltwater land in our beer cans but we don't notice the taste. We were too preoccupied watching a blazing yellow sun slowly crash into the rolling sea. Our voices were quite hoarse; we had been shouting over the endless roar of waves and laughing for several hours. Now, as evening arrives, a serene hush came over us as wethe glorious sun hid behind Con Son's rocky western peninsula. Other beachgoers sat beside us, wordlessly, enjoy the final rays of a fun day.
Above us, in the gathering twilight, sits a memorial dedicated to the Vietnamese slaves who died at sea, in a desperate escape from their French captors. The monument almost feels out of place... How could such a sunny location have such dark memories?
Watching the sunset on Con Dao's Nhat Beach. Photo by Glen MacDonald.
Only a one-hour flight from Ho Chi Minh City, the Con Dao archipelago sadly doesn't get much as love from international tourists as other islands in Southeast Asia. Even most Vietnamese travelers will prefer the thrills of Phu Quoc, an island in the southwest that is far bigger and offers more late-night vibes than Con Dao. However, Con Dao offers an interesting perspective to tourists; showing the horrors of war and colonialism of years past while also being an important environmental refuge, conserving a dense primeval forest for future generations.
I only knew about Con Dao thanks to Bamboo Airways. The company has been recently tempting Hanoians with direct flights to the archipelago's biggest island, Con Son. During the hectic holiday season, a one-way ticket to Con Son costs $111 USD. It is a hefty bill for an overworked, underpaid ESL teacher but the island's clean beaches and other ecological wonders were calling me. I packed my bags and set out for unknown shores.
My flight landed at Con Dao Airport, mere inches away from the heavenly Dam Trau Beach. Photo by Glen MacDonald.
First Impressions of Con Dao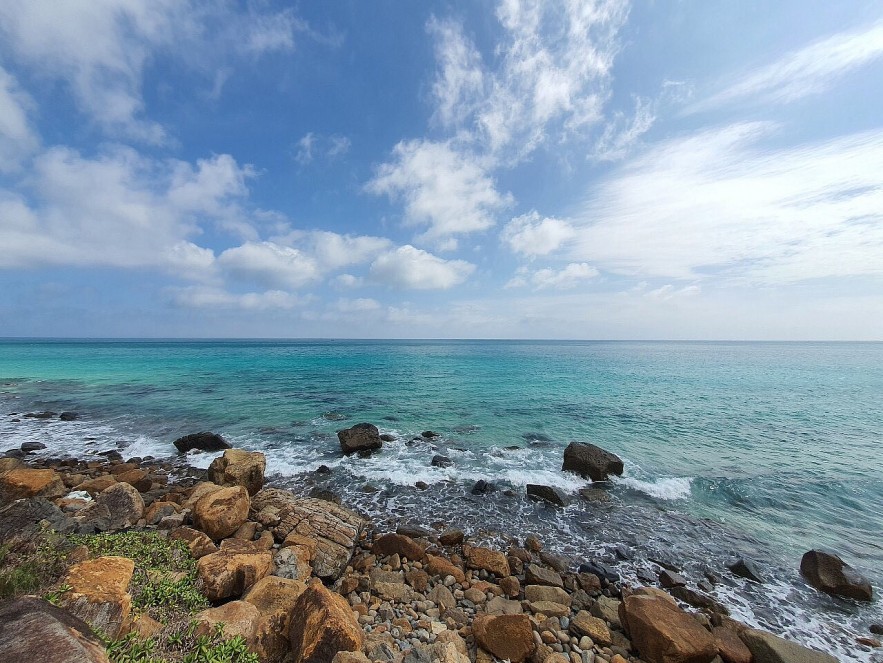 Impressive Con Dao. Photo by Thuy Hang
I arrived on Con Dao by myself and was greeted by a cheery man in a plastic hazmat suit who drove me to the main town. Since the pandemic, the residents of Con Dao have been militant in keeping the deadly disease from entering their happy island home. This is made easier by the large military base on the island, which is a huge benefit for the island. Patriotic soldiers smiled at me as we drove pass them, their hands full of flowers. In anticipation of the Lunar New Year, the young soldiers have been decorating the streets with fiery bouquets of stunning orange flowers.
In addition to their anti-Covid efforts, the people and military of Con Dao also take pride in keeping their town and beaches pristine. Along the main streets, several large trash cans could easily be spotted - a rarity in most Vietnamese locales. Unlike Phu Quoc that churns out a lot of trash, the beaches of Con Son are spotless. This is all thanks to the dedicated military and Con Daoians who work hard to keep their island home nice and tidy.
Too tired to fully explore, I quickly checked into my hotel then enjoyed a quiet, curbside dinner of banh da cua. During my solo feast, I did a cursory Google search about the history of the island and I was shocked to learn about how this tropical paradise was once hell on earth for the Vietnamese.
The Tragic History of Con Dao
A statue in Hang Duong Cemetery, remembering the tortured lives of Con Dao's prisoners. Photo by Thuy Hang.
During French colonial rule, the archipelago was known as Poulo Condore and home to several infamous prisons for Vietnamese revolutionaries. As dissent against the colonizers increased and the warfare continued, both French and American forces built more elaborate prison systems to house the growing number of prisoners. In addition to poor living standards, the Vietnamese were subjected to brutal torture and forced to work on plantation and quarries. Despite the terrible conditions, some scholars argue that the close confines of the immense prison population allowed for Ho Chi Minh's revolutionary ideas to quickly spread among the prisoners, instilling them with hope when they were finally freed in 1975.
Perhaps the most egregious act committed on the shores of Con Dao was the execution of a 19 year old Vietnamese woman, named Vo Thi Sau. The courageous youth acted as a Viet Minh spy for most of her teenage years. For one mission, she threw a bomb at a group of French soldiers, killing 1 and injuring 12. Even though she was a minor, she was killed to death upon her capture in 1949. Despite years of torture, Vo Thi Sau never revealed the secrets of the Viet Minh. Her final words were "Down with the French colonialists, long-lasting independence Vietnam, long-live President Ho!" before being killed by a firing squad.
The tragic-yet-heroic tale has made Vo Thi Sau a martyr for an independent Vietnam. Today, Vietnamese citizens from around the nation travel to Con Dao and visit her grave, honoring her with flowers and gifts. My first morning in Con Dao, I visited her grave alongside several Vietnamese families, silently praying for the fearless heroine. It is a quite memorable experience to be in the spiritual presence of someone younger than you but has demonstrated immense bravery beyond their brief years.
The grave of Vietnam's youngest national hero, Vo Thi Sau. Photo by Thuy Hang.
Exploring the Natural Beauty of Con Dao
In addition to learning about the dark histories of the islands, visitors to Con Dao are also treated to several ecological wonders. I spent most of my holiday driving near the coast on windswept cliffs, immersing myself within the island's undisturbed nature.
Long-tailed macaques were a common sight on these drives; their soft brown fur gently blew in the sea breeze. Several monkey families would often travel in packs on the side of the road, looking for food. I don't advise taking a picture of these animals - they seem to be a bit overnice. The few times I stopped for a picture, the alphas of the group charged at me, baring their sharp teeth, causing me to quickly jump on the motorbike and speed away.
The archipelago is home to some of Vietnam's most rarest creatures. Photo by Glen MacDonald.
Perhaps it is for the best. While there are long-tailed macaques all across Vietnam, the Con Dao long-tailed macaque is a rare subspecies, only find on the archipelago. It is estimated there is only 2,000 Con Dao long-tailed macaques. In order for these vulnerable creatures to survive, please leave them alone.
Later in the year, another special animal takes a holiday on the beaches of Con Dao. During nights in June and July, expecting sea turtle mothers ascend the quiet shores and give birth to hundreds of little eggs. Unfortunately, I did not come during the turtle season but many Con Daoians insisted I come back in the summer to witness the tiny hatchlings make their way back to the sea.
Marveling at Con Dao's dense forests. Photo by Glen MacDonald.
The locals deeply proud of their home's natural beauty due to many successful conservational efforts on Con Dao. Possibly the most famous example is the island's sea turtle conservation service. Since 1984, Con Dao has paid special attention to the endangered animal by researching its ecological habits, protecting nesting grounds, and building hatcheries.
The Con Dao community also tries to help the ocean's most vital organism; coral reefs. In 2019, local marine experts began transplanting coral beds to better, safer locations on the ocean floor. A few months after the transplant, the coral reefs grew two centimeters, proof of the project's success. Since then, local fishermen have been trained to also protect and transplant various coral reefs around the islands.
Enjoying the serenity of quiet lagoon on Con Son island. Photo by Salla Kivekas.
With such a massive national park, Con Dao attracts many nature lovers and experienced trekkers. My friend and I went on two separate hikes; one uphill, one downhill, both exhausting.
The first trek was down to the shady shoreline of Ông Đụng Beach. As we descended into the dark forest, teeming with buzzing insects, giant billboards stood alongside the trail, teaching visitors about the delicate ecosystem of Con Dao. In addition to conservation, environmental education is another value of the Con Dao people. We followed the cement path to the lonely beach, with only the sound of waves to greet us.
Our second trek took us far above Con Son town, to old French ruins. The route is quite steep and nears the Sở Rẫy plantation, where enslaved Vietnamese were forced to work. The stone buildings that once housed the French upper class are now giant homes for monkeys and geckos.
If you rather not sweat on your vacation, never fear. There are plenty of relaxing beaches just on Con Son Island. Nhat Beach is probably the best place to view the sunset but be aware of the little shade. For an amazing photo op, try Dam Trau Beach, located near the airport. As the plane lands near the beach, Instagrammers and influencers pose as a jet engine soars above them. Lò Vôi Beach is the main beach near Con Son town. Even though this is the most visited beach, it is still kept beautiful and clean. For adventure seekers, secret beaches can be find along the coast for those bold enough to look.
Glorious, sunny isles off the coast of Con Son island. Photo by Glen MacDonald.
My biggest regret was not chartering a boat to visit the other islands of Con Dao. Unfortunately, the Tet season made it very difficult to schedule anything. If I would ever return to Con Dao, I would go with a bigger group to reduce the overall price and enjoy a day sailing around the archipelago's ecologically-diverse isles.
A Brief Guide to Con Dao's Hotels, Bars, and Restaurants
A stunning view from The Secret Con Dao. Photo by Salla Kivekas.
While Con Dao is not as touristy as Phu Quoc, there are many great resorts on the island. I spent many evenings enjoying sunsets and cocktails in the barroom of The Secret Con Dao, an elegant hotel near Lò Vôi Beach. The world-class kitchen and elegant spa entice many tourists. There are similar resorts such as Six Senses Con Dao and Poulo Condor Boutique Resort but they all cost quite a bit. For a cheaper stay, consider An Phat Hotel. At only $14 USD a night, the hotel is a great option for those vacationing on a budget. The establishment is run by a lovely family. The father gave me some "lucky money" and several shots of rice wine so I could celebrate the Tet season with him.
The Covid-19 pandemic and lack of tourism has seen to the closure of many beloved restaurants. However, there is still hope for Con Dao cuisine as new culinary talents flock to the island, eager to set up their new business. I had the pleasure of meeting Lao, a young chef and owner of The Beach House, my favorite restaurant in Con Dao.
Although a few miles for the beach, the Beach House is a must-try when visiting Con Dao. Photo by Lao Lao.
Every evening, Lao would greet my sunburnt friend and I and ask us about our day. As we spoke, refreshing cocktails seem to magically appear in our hands. Homemade pastas and delicious sandwiches are Lao's speciality. By the end of our two weeks in Con Dao, we must have eaten there almost every night.
Although not a native of Con Dao, Lao shares the same environmental values of the Con Dao's community; "I love the nature here, it is also perfect to visit after work. The people here are truly good and helpful. The main reason I stay here is because the people care about the environment and are willing to fight for a better life."
The tide coming in on Lò Vôi Beach. Photo by Glen MacDonald.
On my final night on Con Dao, I drove across the island's northern costal road, one final time. Once again, I watched the sunset crash into the ocean. Instead of heading back to my hotel, I kept driving northward, watching the orange skies melt into a deep purple haze. The sea sparkled in the twilight.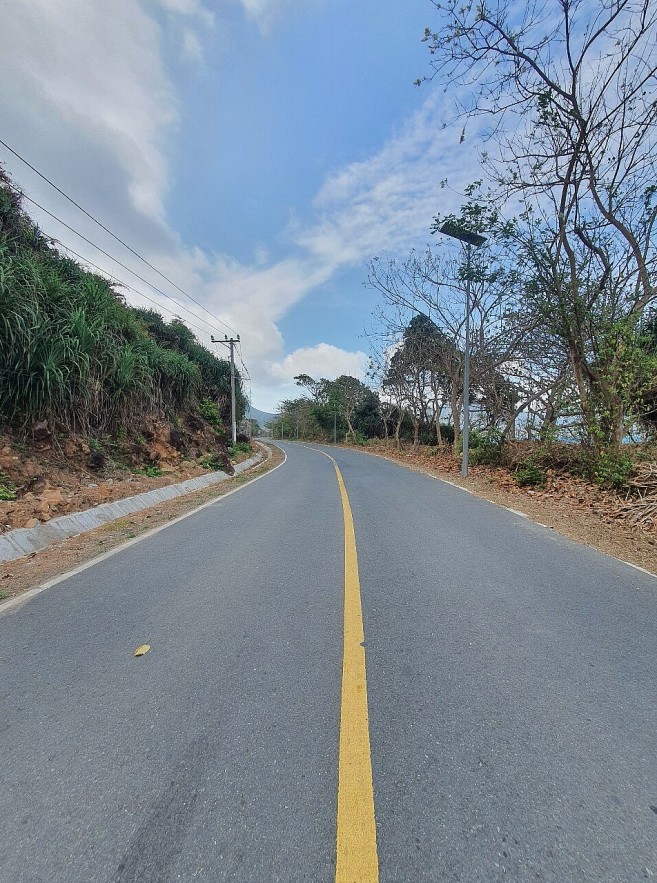 Very quiet costal roads. Photo by Thuy Hang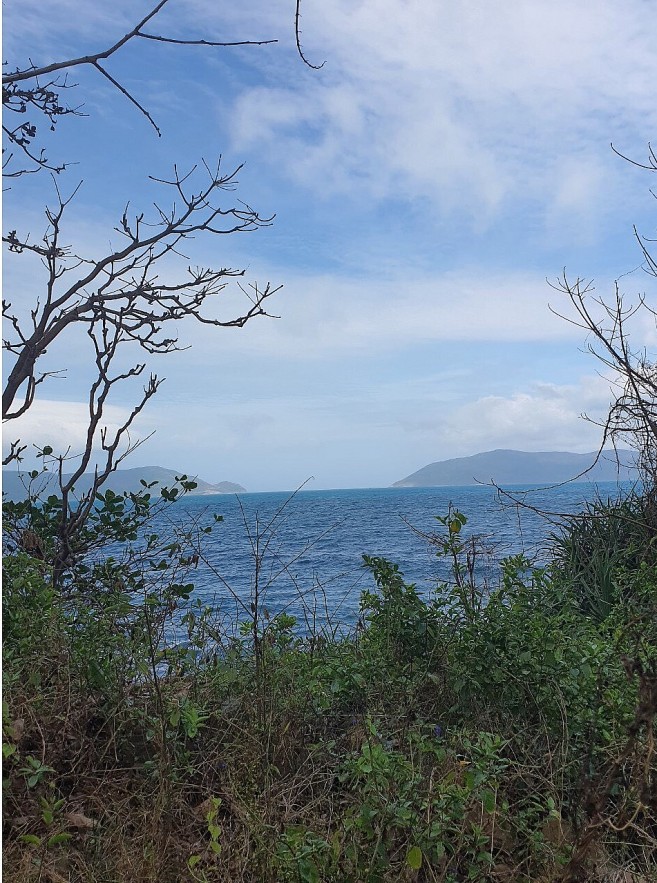 Photo by Thuy Hang.
A peaceful night blankets my temporary island home. Looping back into town, my motorbike plunges downhill into the island's deep forests. In the corners of my eye, the ghosts of Con Dao whisper and giggle with each other, rooted to this island like the great trees. While a spooky sight, they aren't harmful. The phantoms are impressed with how their stories, and the island's beauty, have been preserved for generations to come.
(To be continued)
Seven Knife Retreats For All Budgets

If you are contemplating where to stay during your trip to Con Dao Archipelago in southern Vietnam, below are recommendations for resorts of all costs.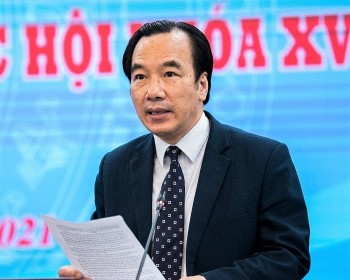 Focus
Consolidation of personnel; building and expanding the network of Malaysian partners; strengthening communication, and contributing to introducing to the people, especially the young generations of the two countries about the country and people of each side... are the focus of the Vietnam-Malaysia Friendship Association in the coming time. Chairman of the Association, Ngo Sach Thuc hopes that "people-to-people diplomacy will continue to be a pioneer in bringing the two countries and cultures closer to the goal of cooperation and integration".