Duong Lam Ancient Village's Cuisine Attracts International Tourists
Duong Lam ancient village is not only known for its works on religion and beliefs, relics and ancient houses, but also for its traditional and tasty cuisine.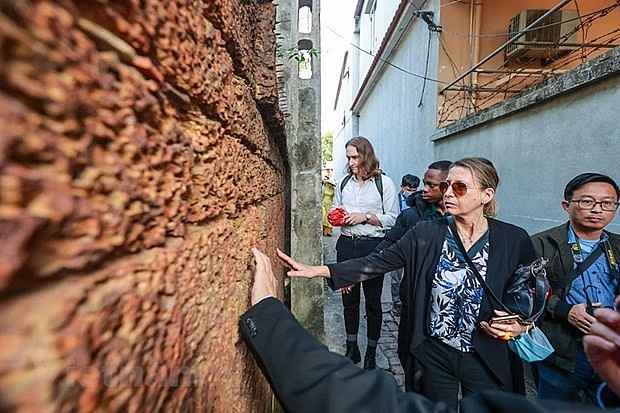 Tourists visit the old houses in Duong Lam. Photo: VNP
Located 45km from the center of Hanoi, Duong Lam ancient village in Son Tay town, Hanoi, still retains the rustic and simple beauty with the customs and habits of a Vietnamese ancient village.
For a long time, enjoying traditional cuisine is one of the valuable experiences of visitors when coming to Duong Lam ancient village. It also creates the attraction and unforgettable impression of visitors about Duong Lam.
Cuisine of Duong Lam ancient village
Rarely anywhere in the Northern Delta possesses many traditional specialties associated with the village name like Duong Lam.
Referring to Duong Lam, people remember Mong Phu sauce, roast pork, local chicken, steamed rice cake, and nut candy.
All of these food are made from ingredients available in a traditional rural village with an agricultural lifestyle, inherited and passed on from generations to generations. These are the precious folk knowledge that Duong Lam people cherish and preserve.
Coming to Duong Lam ancient village, people can see jars containing soy sauce in front of the yards of hundreds of years old houses.
Ha Huu The's family in Sui hamlet, Mong Phu village, Duong Lam commune, has been famous for making soy sauce for many generations.
"My family produces 5,000-7,000 liters of soy sauce each year to supply agents and tourists. In order to have delicious batches of soy sauce, it is necessary to have quality ingredients first, then favorable weather conditions and experiences accumulated over many generations. It is this experience that helped us to preserve the Mong Phu soy sauce brand for many years".
Traveling to Duong Lam ancient village, people cannot miss the delicious and attractive local chicken. This is not only a precious food but also a delicious specialty that was once only reserved for kings. This type of chicken is raised with corn, rice, and cassava. It has a small shape, red skin, and when it weighs about 2kg, its skin will turn yellow.
Up to now, Duong Lam's local chicken is a dish symbolizing fullness, often offered to ancestors when Tet comes, in spring or festivals.
Although it is no longer as rare as it used to be, this nutritious dish is still popular with diners thanks to its own delicious and rich flavor.
The reason why Duong Lam ancient village becomes one of the interesting destinations near Hanoi for all families is partly because of its rustic and unique cuisine. Duong Lam is also famous for its roasted pork with its characteristic aroma and delicious taste.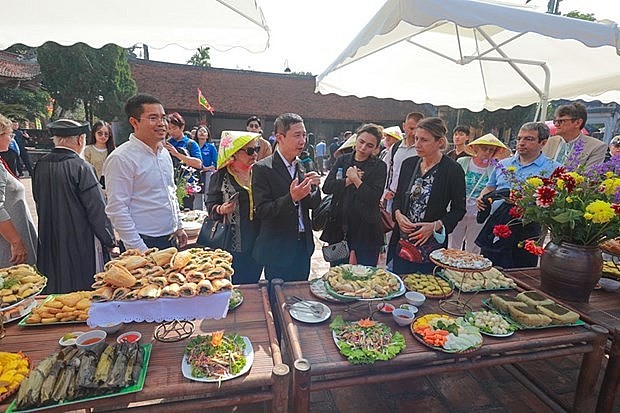 Visitors can fully enjoy the traditional Tet atmosphere through typical local specialties such as the local chicken, roast pork. Photo: VNP
The dishes in Duong Lam ancient village still tend to favor traditional manual methods. Although nowadays, some households also use machines.
However, there are products that still require manual methods, such as the way to cook nut candy, which requires concentration and high precision.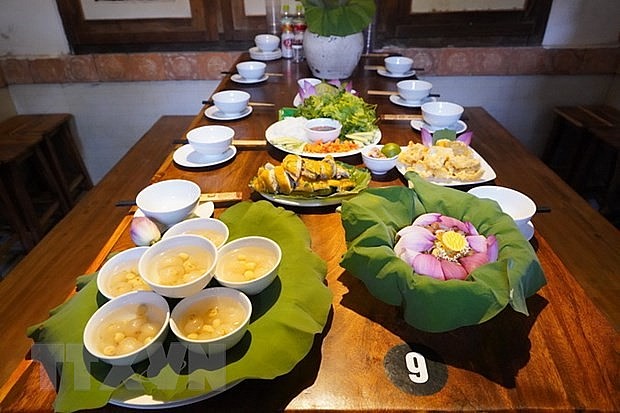 Lotus products, attractive tourist product in Duong Lam ancient village, Hanoi. Photo: VNA
Fascinating experience tours
The need to enjoy tourism products today is increasingly consolidated. Visitors are not only interested in the finished products, but also want to see the process of making the products, from the selection of ingredients, the tools used for processing, the packaging.
To meet this demand of visitors, Duong Lam has put into operation experience tours including making all kinds of candies (nut candy, sesame candy), and some other specialties. This form attracts the participation of both domestic and international guests.
In addition to the above products, the type of tourism to collect agricultural products, vegetables, go to the market is also built by tours.
This tour also attracts international tourists, who can experience cooking specialties here.
As more and more tourists come to Duong Lam ancient village, the demand for experiencing and enjoying the cuisine here is increasing. Many households organized the service to enjoy food at home, attracting a large number of tourists.
Each year, Duong Lam ancient village welcomes about 13,000-14,000 visitors (before the Covid-19 pandemic). This number increases when tourism is recovering. The people of the ancient village are diversifying products and service quality, promoting tourism here.
Duong Lam ancient village and its cuisine also have many opportunities to reach tourists, introduce unique culture to a large number of domestic and foreign tourists.