Dust & Metal - Symphony of Vietnamese Life through Eyes of British Director
"97 million people, 45 million motorbikes" - the documentary film titlted Dust & Metal by British female director Esther Johnson is a record of motorbike culture - a lively symphony of Vietnamese life.
Telling stories of past and present "freedom" in Vietnam through the lens of its most popular means of transportation: the two-wheeled vehicle, DUST & METAL honors and shares cultural heritage of Vietnam – UK, brings to the audience a unique archival film that illuminates a period of Vietnamese history.
DUST & METAL is a creative documentary feature film by British director Esther Johnson, produced by Johnson and Live Cinema UK and funded by the British Council.
The project was created through a unique partnership with Hanoi-based Vietnam Film Institute and the TPD Centre for Assistance and Development of Movie Talents (TPD).
The film was supported by the British Council as part of the UK/Vietnam Session 2023, which celebrates the 50th anniversary of diplomatic relations between the two countries.
"Walking is too slow. Driving a car is too fast and restrictive. Only the rhythm of motorbikes and bicycles delivers a feeling of dreaminess and freedom," – the first lines pull the audience into English director Esther Johnson's documentary film Dust and Metal.
"Driving on a motorbike is a voyage that is always alive and moving. To me, the significance of the two-wheeled vehicle in Vietnamese history is a story that few people are aware of, therefore I decided to discover it," Johnson shared.
DUST & METAL presents stories of 'freedom' in Vietnam past and present told through the lens of the country's ubiquitous mode of transport: the motorbike. Through a unique partnership with the Vietnam Film Institute, as part of the British Council Vietnam's FAMLAB programme, to digitize and use video and audio footage from a number of existing works spanning multiple genres (fiction, documentary, newsreels) and time periods.
Johnson employed hundreds of different clips, using old footage from other films in inventive ways as well as her own footage, according to VNS.
The most recent footage was filmed in 2020, the oldest was drawn from films in the 1950s. Notably, DUST & METAL employed familiar footage from renowned films representing Vietnam cinema including The Little Girl of Hanoi by director Hai Ninh, and When October Comes by director Dang Nhat Minh.
Esther Johnson works at the intersection of artist moving image and documentary. She is a former recipient of the Philip Leverhulme Prize in Performing & Visual Arts, and is Professor of Film and Media Arts at Sheffield Hallam University, in Yorkshire in the UK.
DUST & METAL repositions archive film, contemporary footage with a live score composed and performed by San Francisco-based Vietnamese artist Xo Xinh and sound design by Hanoi-based artist Nhung Nguyen.
The script integrates extracts from oral history interviews Johnson made with eminent Vietnamese filmmaker Tran Van Thuy, and with painter Dang Ai Viet.
Recently, the film was introduced to Vietnamese audiences through small-scale screenings in Hanoi, Ho Chi Minh City, Da Nang and Hai Phong with the live performance of artist Xinh Xo.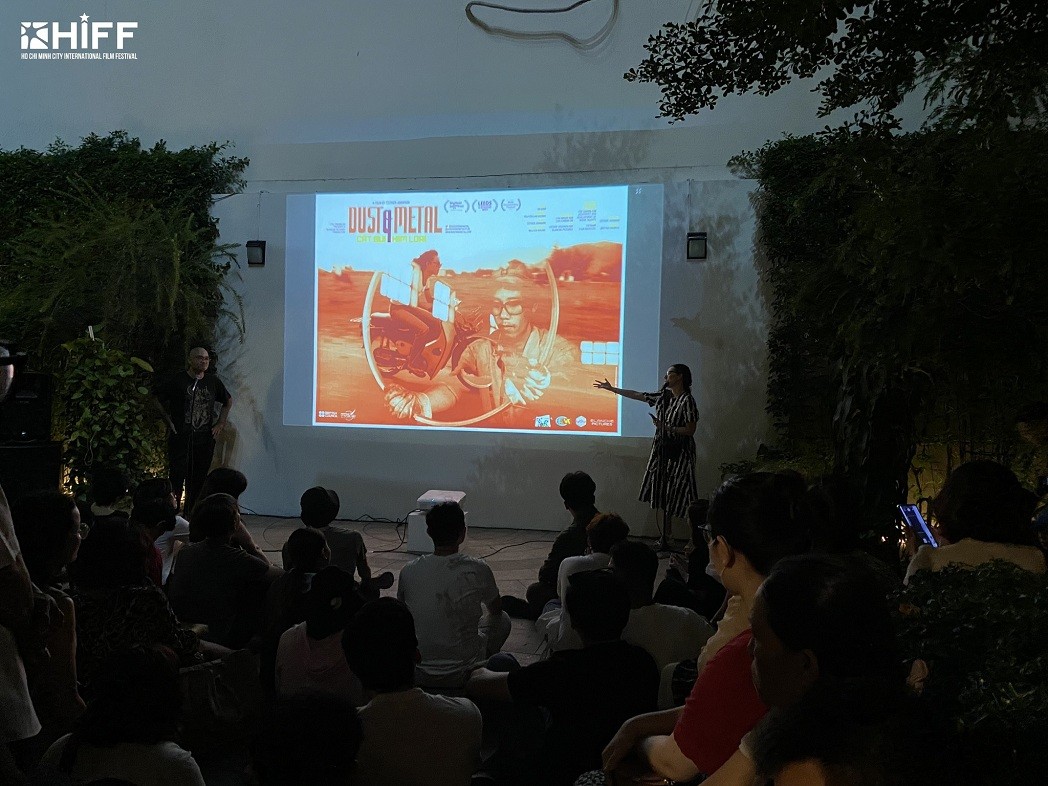 At a screening in Ho Chi Minh City. Source: HIFF - Ho Chi Minh City International Film Festival
Vietnamese-born, American-based electronic music composer and performer Xo Xinh embarked on his journey into the realm of music at the age of four and spent two decades after that immersed in the world of the classical violin.
With an open mind, fierce curiosity, and a passion for sound, he has spent another decade delving into the captivating allure of experimental and electroacoustic music, exploring sonic spectrums ranging from ethereal silence to the cacophony of brutal noises. His current music encapsulates his undying love for classical music and his unbridled passion for experimental sound. Amidst this sonic journey, one can feel the subtle pulse of Vietnam's traditional musical essence.
DUST & METAL also participated in international film festivals including the Sheffield Documentary Film Festival 2022, Da Nang Asian Film Festival in May, and HCM City International Film Festival in October.
"Esther Johnson's film brings together a trove of archive and contemporary footage, set to a live score by Xinh Xo, for a thrilling, unorthodox portrait of Vietnam," DocFest noted in the film's introduction for the Sheffield Documentary Film Festival 2022.