Editor's Pick: Introducing SVART, Hanoi's Newest Art Collective
To say SVART is an international organization is an understatement. It is, in a sense, the entire point of the project.
In popular expat neighborhoods like Hanoi's Tay Ho district, it is quite easy to find a cheap bar, fancy restaurant, or a groovy nightclub that is happy to cater to foreigners. However, finding an art gallery filled with expat art is quite a challenge. In theory, it should be quite easy to find; creative expats from across the world come to Hanoi to teach ESL while pursuing their artistic passions. As an expat myself, I know I can find a handful of foreign creatives at any bia hoi. They either have their nose in a sketchbook or are enwrapped in deep conversations about past and future projects.
No doubt there is creative energy amongst Hanoi's expats but until now, no one has been able to harness that energy into a close network for artistic collaboration. Fortunately, SVART has recently come into existence, answering Hanoi's need for to further showcase expat art.
SVART is an art collective set up by Italian expat Patrizio Mancuso and South African expat Marijke Tymbios. Their international partnership extends to the artists within their collective, consisting of both local Vietnamese and expat artists from around the world. As their organization grows, there is more work to be done but they wouldn't have it any other way.
I met Patrizio and Marijke at the Hanoi Social Club, in the midst of preparing for SVART's launch party. As we sit down for the interview, I see dozens of different art pieces surrounding us like a colorful audience. Next to the pieces are the names of creators from distant lands, amongst young Vietnamese talents. They are not grouped together by nationality but by aesthetics. As my eyes scan across the room, each piece seems to continue a multilingual conversation, depicting the wonderful diversity of Hanoi's art world.
"My mind is more active by when I'm surrounded by other artists," says Patritzio, commenting on SVART's many international members.
"You get to meet people from Vietnam, Morocco, Lebanon," adds Marijke. "All these different schools of thought."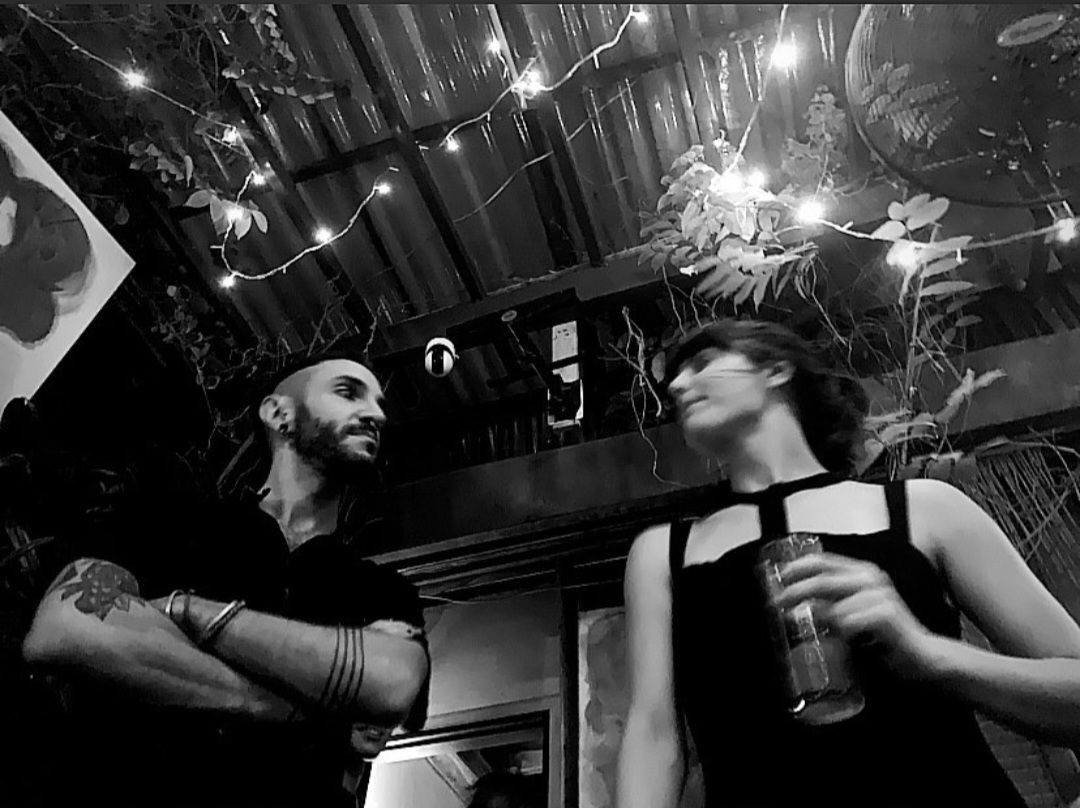 Patrizio and Marijke reflect on their work over beers. Photo courtesy of Patrizio Mancuso.
It's 11 pm and both Patrizio and Marijke are exhausted. They've just spent the whole day collecting and organizing art pieces for SVART's launch party. At a previous exhibition in Ho Chi Minh City, the two curators took over one hundred submissions from twenty-five different artists.
The upcoming launch party at the Hanoi Social Club won't feature as many pieces but the workload involved in setting the event up is still immense. One of the goals of SVART in choosing these locations is to create an environment that is friendlier to upcoming artists.
"Galleries have curators, directors, commissions," says Marijke. "It's sad to see your friends make really good art and half the money goes to the gallery."
As people with a lot of experience in the art world themselves, Marijke and Patrizio want to help talented young artists find their footing.
"I think of young Vietnamese artists especially," says Marijke. "So many of my friends and students are so good at drawing."
The artsy duo wants to show these new artists the value of their work by helping them start to make a profit from their art.
"Selling your work really is the driving force," says Marijke.
"The imposter syndrome goes away," nods Patrizio in agreement.
Moving forward, the pair aims to host special talks where successful artists discuss how to make it in today's art world. By uplifting each other, SVART hopes to act as a vibrant nucleus for Hanoi's art community.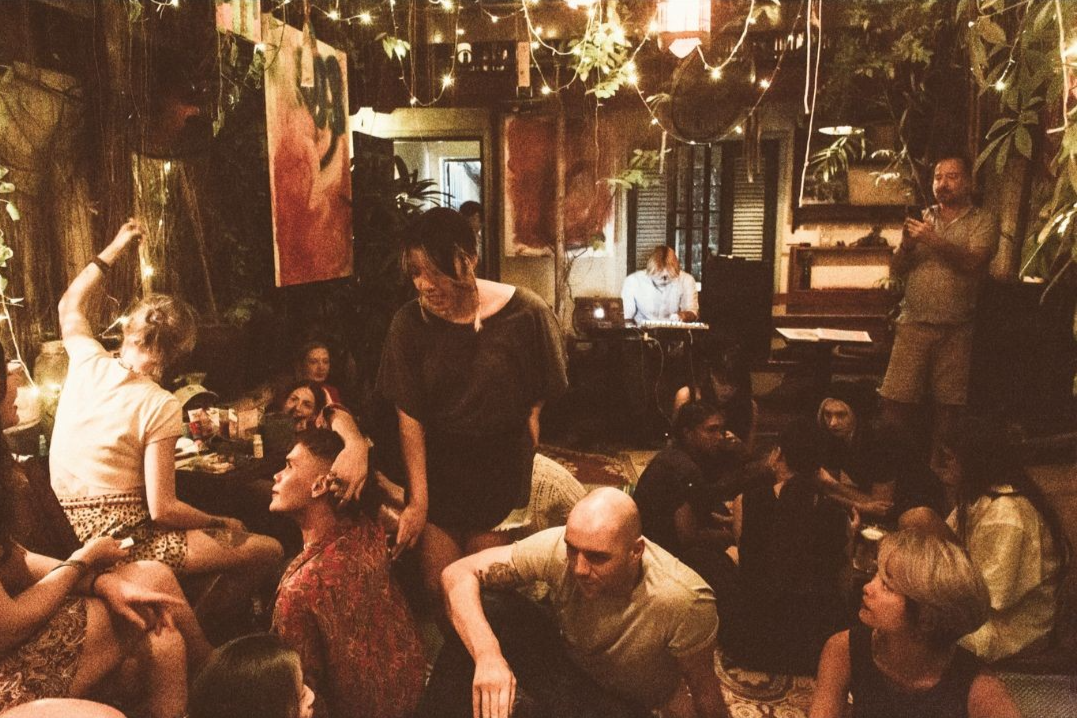 Multilingual chatter is heard at SVART's opening event. Photo courtesy of Patrizio Mancuso.
This focus on today's art world is another part of what makes SVART interesting. The collective aims to move away from the solemnity of traditional art galleries. Instead, Marijke and Patrizio want to create a more laid-back atmosphere, one where artists feel comfortable coming together with an intense enthusiasm for experimentation.
"Artists see each other's work at the events and think, 'Hey, I could do that,'" says Marijke.
Before ending the interview and parting ways, Patrizio and Marijke invite me to SVART's launch party, to see the collaborative magic of Hanoi's creatives for myself.
I arrive at the launch party at 6 pm the following day, in the last of the daylight. Patrizio is working on the decks on the top floor of the Hanoi Social Club. People sit cross-legged in circles on matted floors. Vaporwave paintings hang from the vined trellis. At the far end of the room, an artist works on a canvas with spray paint. The fairy lights flicker with the beat as another artist, Livy Nelson, paints lighters and other small objects in a corner.
"I have seen Marijke and Patrizio develop as a team, so I was excited when they decided to make it official with SVART," says Livy, briefly looking up from her sketchbook. "I was then thrilled to be asked to be part of their launch party. I am very grateful to have such a creative, thoughtful, powerful team in Hanoi, and very much look forward to what they have in store. They are another mark in the rich tapestry of Hanoi's underground art scene that is slowly but surely reaching the surface with help from minds like theirs."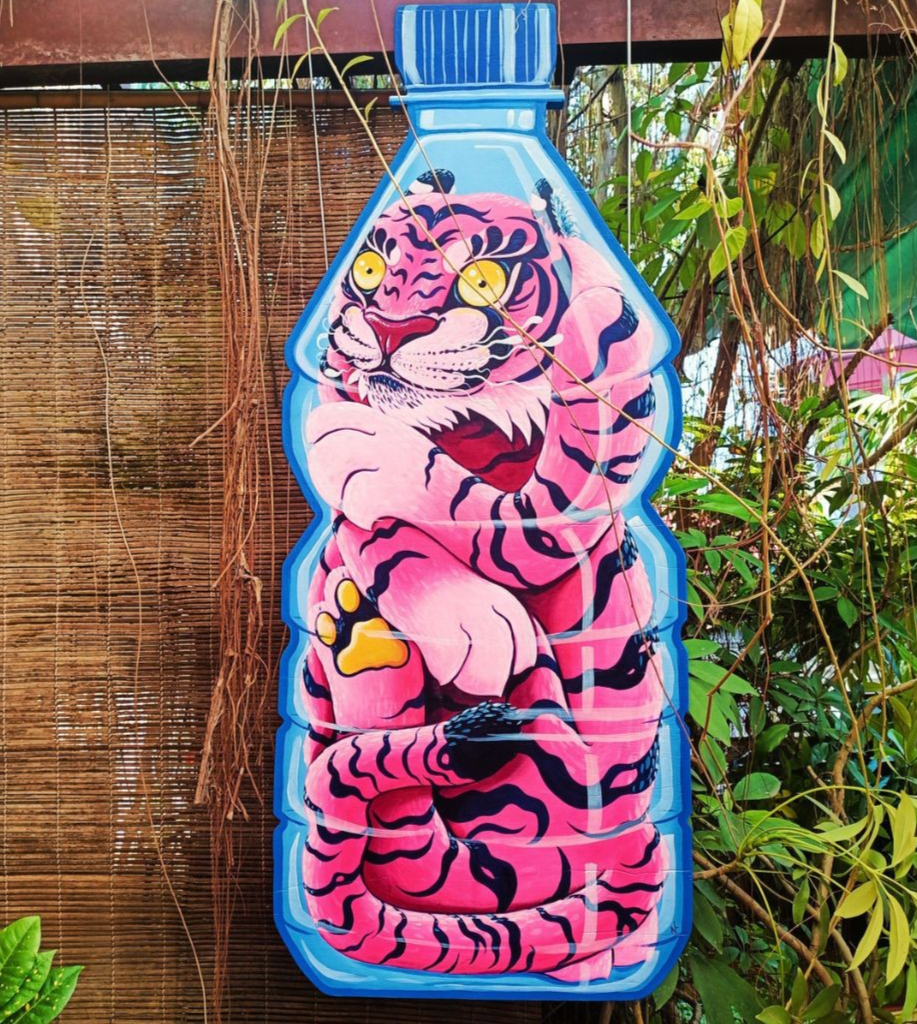 Neon colors are a signature feature for Livy Nelson, a British expat and artist. Photo courtesy of Livy Nelson.
Marijke moves between the clusters of people, shaking hands, making sure everyone is enjoying themselves. I smell incensed in the air as I look at the paintings. A fluorescent pink tiger trapped inside a plastic bottle (the painted wood cut to the bottle's curves). A triptych of neon-colored Venus Di Milos. Detailed sketches, abstract designs, and more can be found throughout the space.
The room hits a lull; the track changes to a slow, building piano. It's started to get dark. The lights blink in and out as hanging windchimes and tendrils of tobacco smoke drift with the breeze. The beat changes. The energy picks back up again, and I understand what Patrizio and Marijke meant; that the atmosphere, the gathering of like-minded artists, and the community spirit are what distinguishes SVART from the traditional gallery experience. We are not in some haughty art gallery, but simply in a cozy room, full of creative friends.
SVART's next art exhibition is on Saturday, November 19th at 4 pm. Taking place at the Hanoi Social Club, the event showcases photography by expats across Vietnam. Through their work, photographers show the wonders and charms of the S-Shaped Land. More information is available on SVART's Facebook page.
About the Author - John Creevy is an Irish expat, ESL teacher, and the newest writer at the Vietnam Times. Since graduating Trinity College, one of the most prestigious colleges in Ireland, John developed passion for exploring new things. He has been living and working in Hanoi since 2018. Interested in Vietnam's art, history, and culture, John hopes to explore these concepts and more in future articles for the Vietnam Times.
Editor's Pick: EARTH BODY BLOOD WATER

In the latest installment of Editor's Pick, VNT Staff Writer Zoey Nguyen braves portals to the underworld to interview the international artists featured at the ...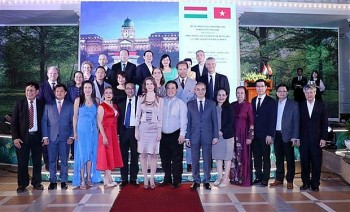 Viet's Home
Saigontourist Group in coordination with the Hungarian Consulate General held a series of events within the framework of the Hungarian Food and Culture Festival 2022 in Ho Chi Minh City