Editor's Pick: EARTH BODY BLOOD WATER
In the latest installment of Editor's Pick, VNT Staff Writer Zoey Nguyen braves portals to the underworld to interview the international artists featured at the Nhà sống Project.
Within the past few years, the world has seen a sharp increase in environmental destruction. Concurrently, women across the globe have become more vocal against sexual violence and demand a better future for themselves and their daughters. While these issues may seem unrelated, a new exhibition in Hanoi challenges this perception.
50 artists from 12 different countries came together at Nhà sống Project, with art examining the link violence against women and environmental destruction. From March 19 to April 2, the capital's art lovers can engage in plenty of complex discussion while enjoying the free-spirited atmosphere made possible by Hanoi's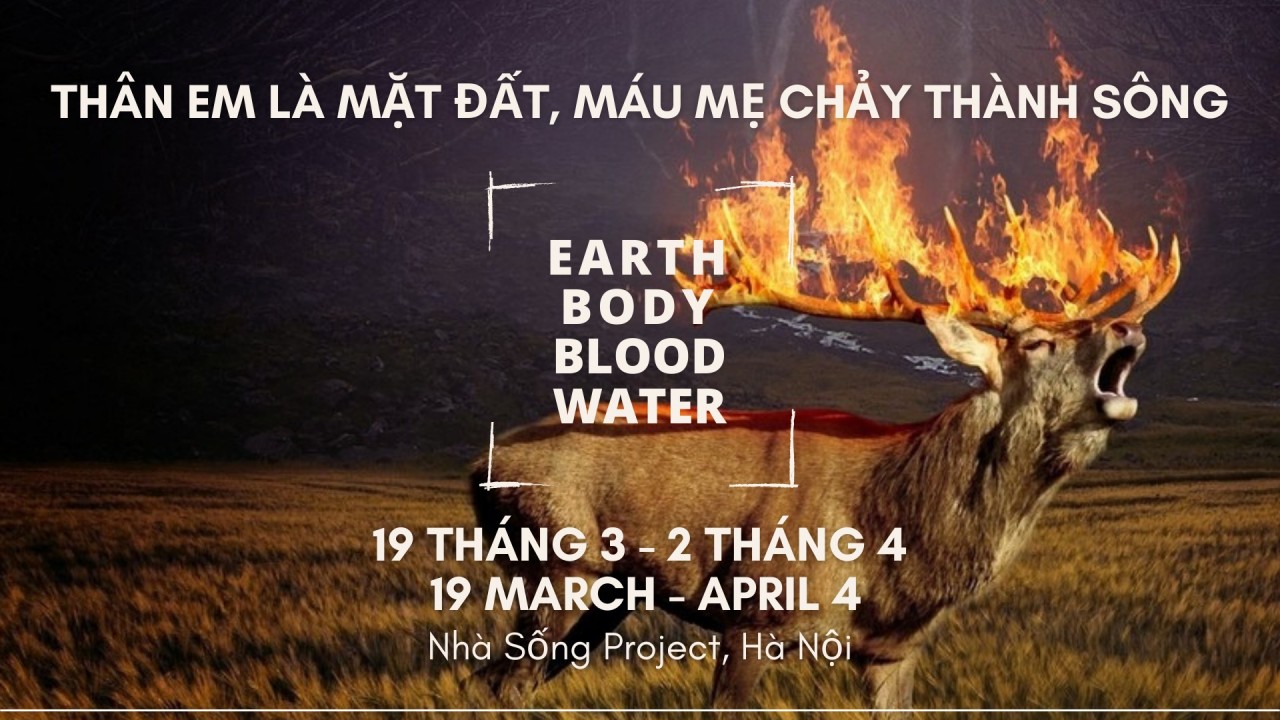 Photo: Nha Song Project
The Vietnam Times had the pleasure of joining the curator and artists of Nhà sống project at the opening event. We spoke with the creative minds before the work as well as the visitors to ask them about the unique experiences.
Understanding the Changing World via Art
EARTH BODY BLOOD WATER is an educational art exhibition. Known as "Thân em là mặt đất máu me chảy thành sông" in Vietnamese, the event features expat and Vietnamese artwork, amongst the natural beauty of a secluded Hanoian oasis.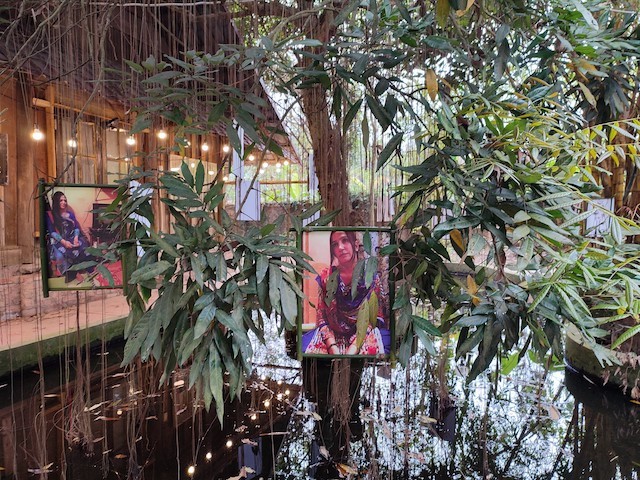 Photo: Ollie Nguyễn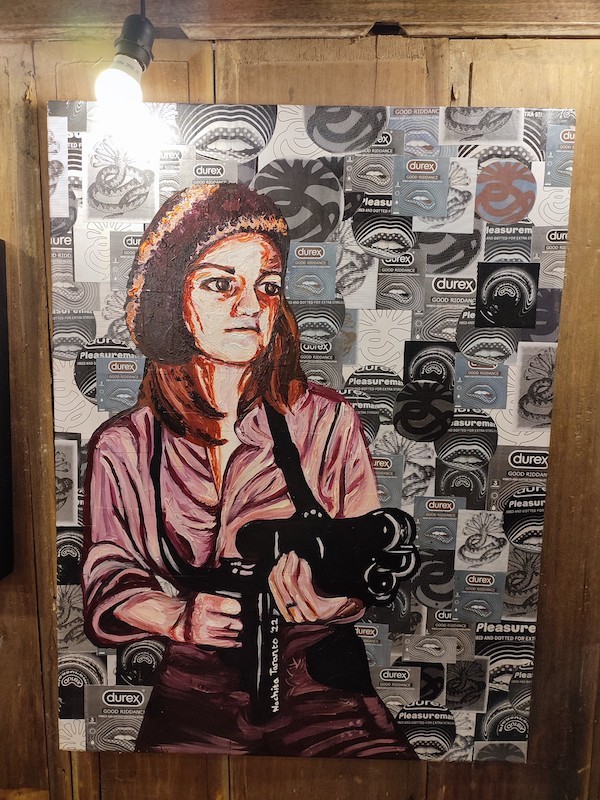 Photo: Ollie Nguyễn
Tyler Rose, curator of of the Nhà Sống project, the reason behind the exhibition.
"It's about the link between violence against women and environmental destruction. The thesis is that the root cause is the same. When you approach the world with an attitude of greed, ownership, exploitation, domination, or violence, the result will be the same. You kill women and murder the environment. And the result will be the same. You cannot kill what gives life without consequence. If you murder the life-givers, we're all going to die. This is a problem that affects all of humanity if we don't figure this out."
The profundity of Rose's ideas allows us to mull over grim themes that affect people, especially women, in every nation. However, it cannot be said the exhibition is depressing.
"The concept wants to send an encouraging message to those who search to make a change in the world they live in. We can not make any significant behavior changes until we negotiate with trauma and grief. And so I'm trying to facilitate a space that forces people to engage with their grief in a way that can also cushion the landing."
Explaining the multi-sensory exhibition, the host added that Nhà sống project wants to provide a safe space for people to properly confront negative emotions such as anger or grief.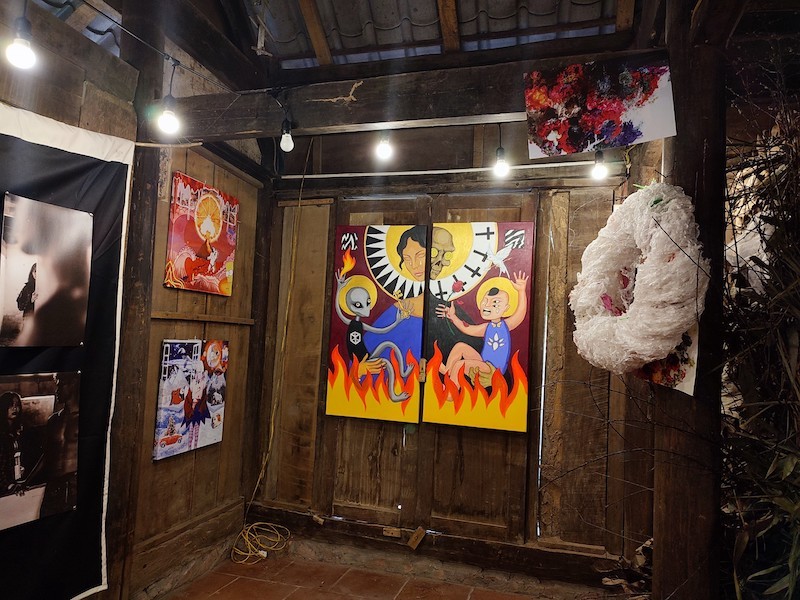 Art works of over 50 artists are displayed at the exhibition, both indoor and outdoor. Photo: Ollie Nguyễn
"This is an immersive multi-sensory exhibition so there's gonna be layers of art. It takes place in two spaces: the world of the dead and the world of the living. "In the world of the dead, we're trying to make space for grief. We've had this pandemic that's still happening. We've all lost so much, whether it's human life or connection to our friends, or dreams, or businesses, we've all lost so much. And we're all being pushed into a new normal and getting back to work. But also we're human and we want to go back to our lives. I feel really distressed that we don't make space for grief. Whether it's climate grief… grief for sexual violence we've endured or know about… or pandemic grief."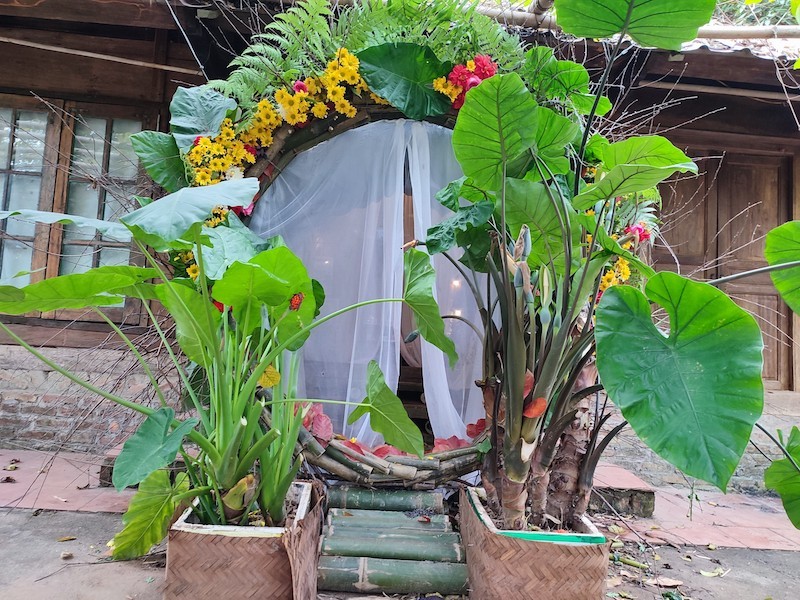 The green and flowery portal leading the visitors into a different world. Photo: Ollie Nguyễn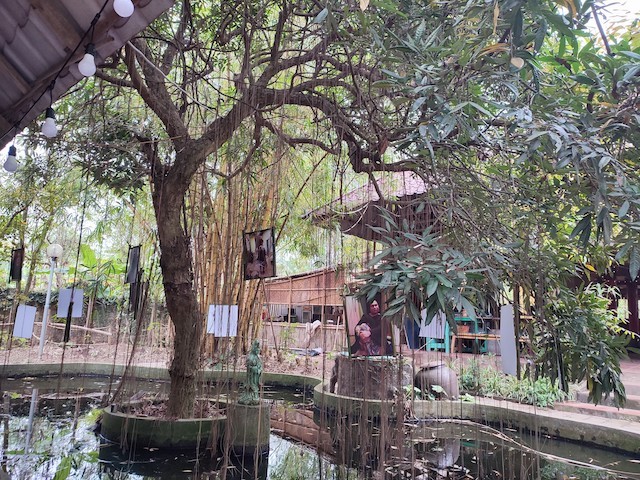 Photo: Ollie Nguyễn
"The highlight of the event is the audience participation element," explains Rose. "In order to cross the portal from the world of the living to the world of the dead you must cut and kill something that's growing in the garden. When you leave, you must plant a seed in the place where you've taken a life."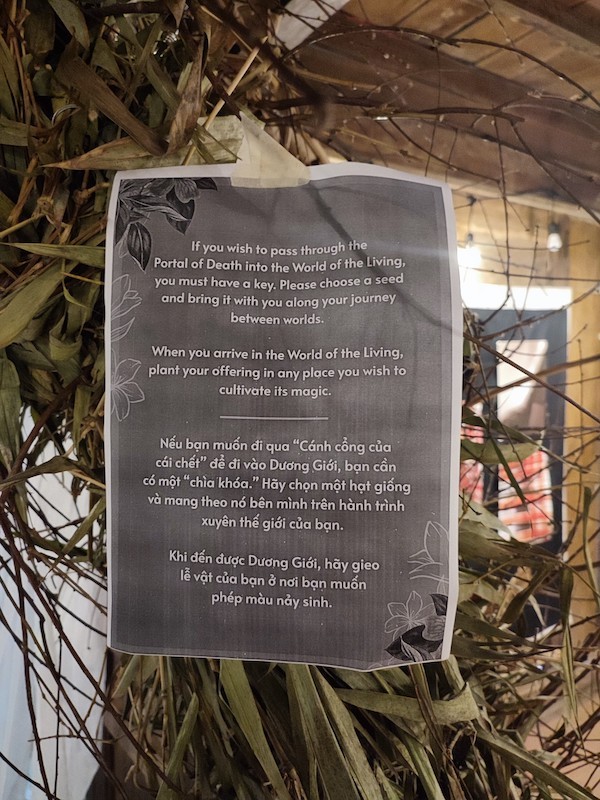 Photo: Ollie Nguyễn
This entering/exiting ritual helps emphasizes the close relationship between life and death. While it is easy to destroy, it takes a lot of time and effort for life to sprout again.
"Nobody is an observer. We are all participants," said Rose. "If you are not participating in creation you are participating in destruction. To destroy is immediate. But to plant seeds for the future, the decisions we're making now, we won't see the results of those instantly. People forget that they want solutions that are as fast as destruction. But you have to plant seeds that maybe your grandkids are going to see the results of."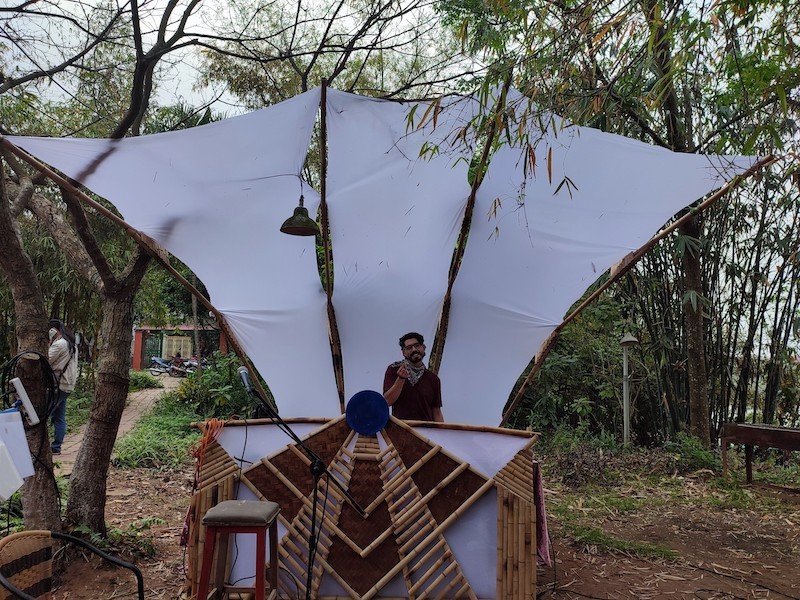 One of the music performer of the opening gig - Diego. Photo: Ollie Nguyễn
On opening night, visitors enjoyed an open and engaging space while artists practiced painting, fire performances, music, etc in front of them. People share casual yet intimate conversation about their feelings, thoughts on feminism, relationship between humans and nature, etc. Everyone can voice their opinion and be heard.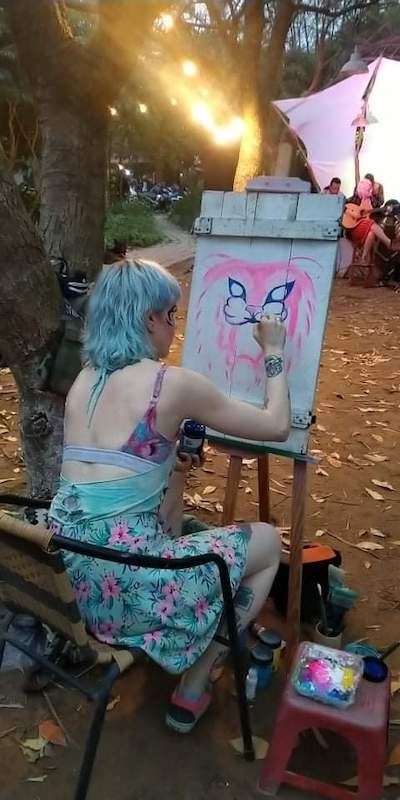 Artist Liv drawing live at the opening event. Photo: Ollie Nguyễn
Other visitors enjoy their quiet time and simply talking among their small circle. No need much interaction, they enjoy the event in their own ways.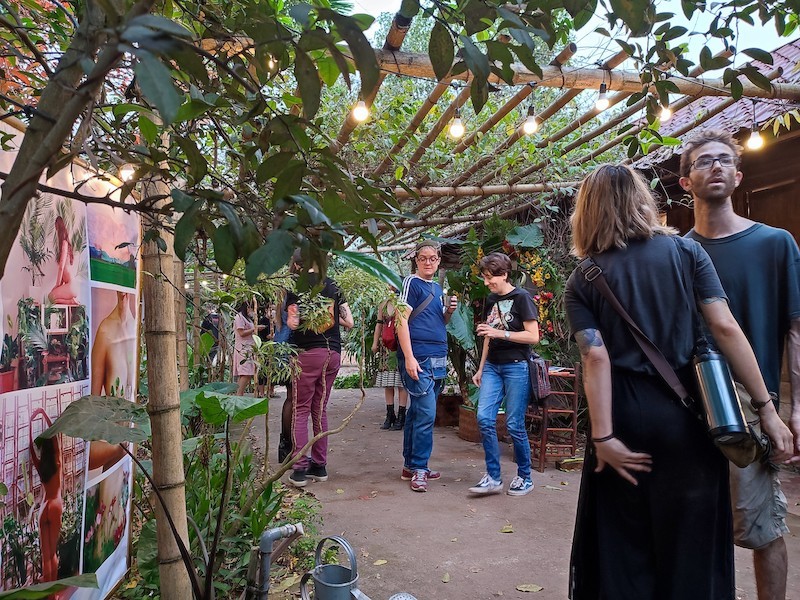 The exhibition opens until April 2, you can visit anytime from 10AM to late afternoon. Photo: Ollie Nguyễn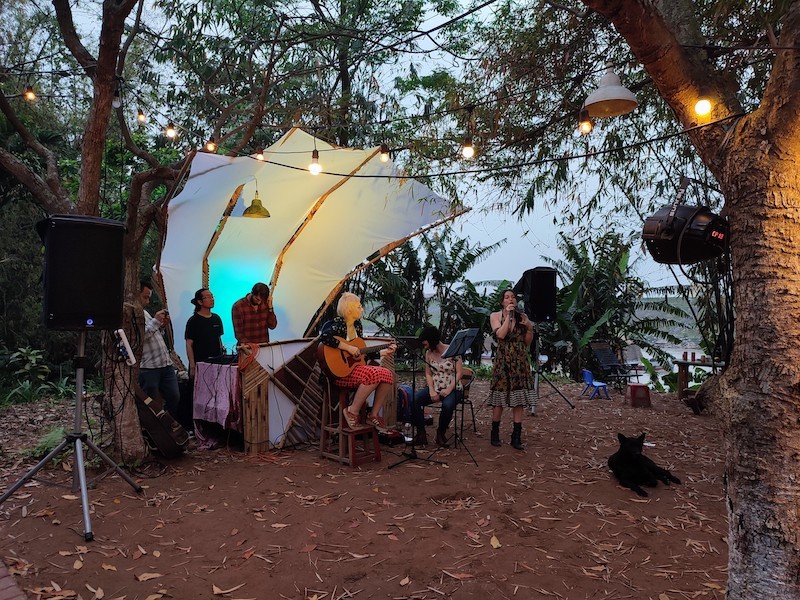 Music performance will be scheduled at the closing evening and will be annouced on the Facebook page of Nha Song Project. Photo: Ollie Nguyễn
"I am telling the story of progression of man in relationship to both nature and women. Through the performance today, we want to describe the destructive dominating aggressive forcce of the system we live in and the way we typically interact with our natural world we live in. It is for all of us to explore the harm, desvatation, also the growing and fixing the damages, and then come back to a more harmonious relationship with nature." said Adin when asked about how he contributed to the exhibition.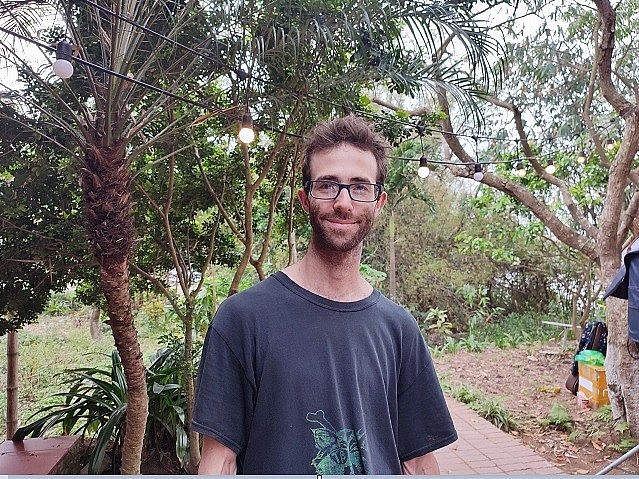 Adin - An artist at the exhibition, performing spoken words poetry and music, fire performance. Photo: Ollie Nguyễn
More information about Nhà Sống Project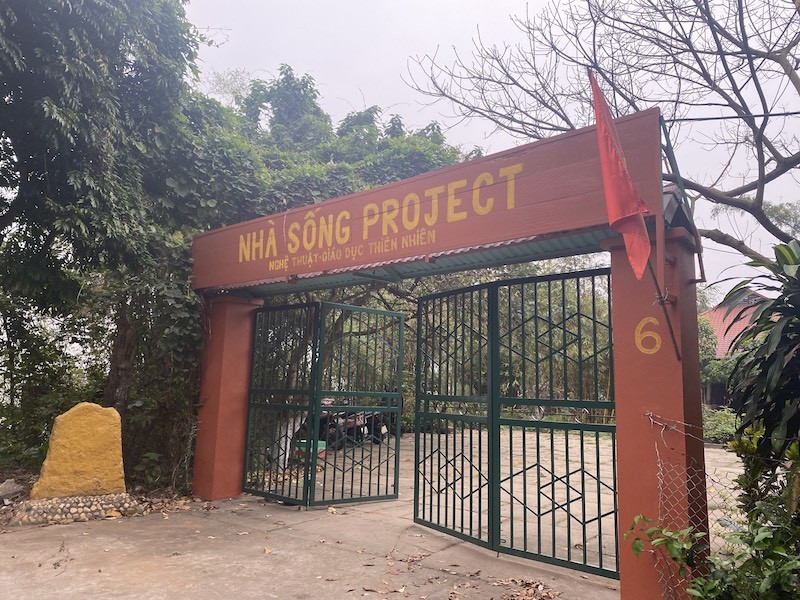 Photo: Zoey Nguyễn
Location: No 6, Lane 404, Bắc Cầu Street, Ngọc Thuỵ Ward, Long Biên, Hanoi
Nhà Sống means "living house" or "house of life." The Nhà Sống Project is on 4000 square meters of land in the Long Bien neighborhood of Hanoi, Vietnam. The central space is a nhà san, a traditional style of Vietnamese house, which consists of a building on stilts that have a communal space downstairs and a residential space on top where key community members live.
EARTH BODY BLOOD WATER: ART FOR WOMEN AND THE WORLD exhibition is the first major project hosted by Nhà sống Project and also one chapter of a global exhibition series called Dia de las Muertas (English translation: Day of the Deads). While this exhibition is occurring in Vietnam, echo exhibitions have been happening in Mexico, France, Argentina, and Brazil. The upcoming exhibition in March is the second one Rose has hosted with the Dia de las Muertas global project.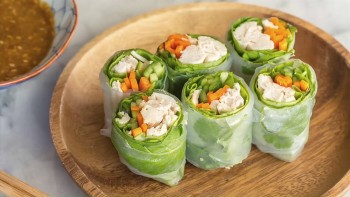 Travel
Rolls are a easy-to-make dish that is loved by many Vietnamese diners as well as Korean stars.