Ensuring Privacy and Security for Young People in Cyberspace
The online discussion "Healthy digital life" within the framework of the "Digital vaccine" campaign was held, discussing the importance of privacy and security for teenagers.
The guests discussed the topic "Healthy digital life".
The development of the Internet is a double-edged sword
At the discussion, journalist Hoang Anh Tu said: "Today's Internet helps people to bridge the gap, when each of us can connect with each other and with the world faster. With just a phone, a person at home can access an endless source of information. However, because of that, the Internet also leads to unverified fake news."
Nguyen Lam Thanh, representative of TikTok Vietnam said: "I do not deny the great advantages of the Internet, but it is impossible not to note the downsides. In addition to fake news and negative information, users are also vulnerable to invasion of privacy and security such as information theft, smearing, and online fraud. For minors, it is even more dangerous because they do not have enough awareness. That's why parents, teachers, society as a whole, and platforms are constantly making efforts to support, protect and educate them."
Nguyen Lam Thanh, representative of TikTok Vietnam emphasized the importance of protecting teenagers in cyberspace
Nguyen Phuong Linh, executive director of the Management and Sustainable Development Institute, said: "Teenagers are the age when they can easily access the Internet, but they are also the most vulnerable and negatively affected. Invasion of children's privacy and security can lead to physical and mental consequences such as low self-esteem, insecurity, fatigue."
Nguyen Thi Nga and Nguyen Phuong Linh said that the support of parents and teachers will be a strong shield for children when developing in cyberspace
Nguyen Thi Nga, deputy director general of the Department of Child Affairs under the Ministry of Labour, Invalids and Social Affairs, said that teenagers, parents, teachers and other stakeholders need to be aware of the importance of privacy and security in cyberspace. "In the 4.0 era, all information children post online is easy to save and spread by bad people, so it is necessary to set privacy carefully. In addition, children under 18 years of age cannot be held responsible for their own behavior and do not have enough knowledge about these issues, so they need the help of parents and teachers."
Supporting young people in cyberspace
As a father of 3 children, journalist Hoang Anh Tu used to have many views around raising children in a civilized and open manner. However, in terms of security and privacy in the digital space, he believes that parents need to have ingenious methods: "Making friends with children on social networks is something that requires subtlety and moderation, so that your child can see you as a 'friend' who can easily confide and rely on, not 'being afraid'.
Journalist Hoang Anh Tu and TikTok content creator Nguyen Hai Ninh share practical experiences to protect children and themselves online
TikTok content creator Nguyen Hai Ninh, who had unforgettable experiences with privacy and security when using social networks, said: "In one time posting a video, I accidentally revealed my address information and license plate number on the Internet, then strangers came to bother me. Fortunately, I had parents to protect me at that time, but it was still a memorable lesson. Since then, I always advise friends and followers to protect themselves and be careful when sharing information."
Hai Ninh also shared that in special cases, parents, teachers and teenagers can contact support networks such as: National telephone exchange for child protection 111; Report to police agencies at all levels or call the Police Hotline 113; Contact the Peace House Shelter of the Vietnam Women's Union 1900.969.680; Contact the Department of Labor - Invalids and Social Affairs.
Nguyen Phuong Linh further emphasized the role of teachers in cyberspace: "Teachers have a significant role in educating and orienting adolescents' personality. Teachers can also take action to help students, such as advising them to protect their own accounts, introducing a timetable for using the Internet, being ready to listen and confide in them. In addition, Linh also called for awareness from Internet users: "Not only teenagers, parents, teachers but all Internet users need to 'Think before you do' - that is to have careful consideration before any any words, pictures, actions on the internet. When you clearly define your limits and sharing audience, you take privacy and security to a higher level."
Summarizing the discussion, Nguyen Lam Thanh, representative of TikTok Vietnam, shared about TikTok's commitments and efforts in ensuring a "healthy digital life" in cyberspace for all users, especially teenagers: "TikTok has introduced a number of safety features, empowering users to control their own accounts and content. In this way, users can have control over privacy and security. With accounts set to private, only approved user accounts can follow, watch videos, and send direct messages."
Through the episode 1 of the Digital vaccine campaign - "Healthy digital life", the guests and viewers were equipped with knowledge in the journey to protect children's "healthy digital life". It's time for "Digital vaccines" to help make children "immune" to the potential risks in the digital world.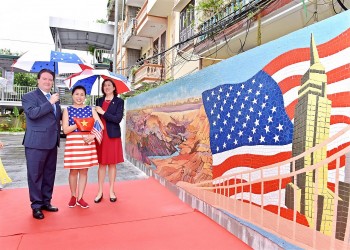 Multimedia
A ceramic mosaic mural named "Vietnam - US friendship" depicting the natural and cultural heritages of the two countries, was just revealed in Hanoi