Russia Disconnected Itself From The Internet, Sparking Fears Of Free Speech Control
On Thursday, Russia managed to disconnect itself from the Internet in June and July, according to RBC daily.
Russia managed to disconnect itself from the global internet during tests in June and July, the RBC daily reported on Thursday, citing documents from the working group tasked with improving Russia's internet security.
Russia adopted legislation, known as the "sovereign internet" law, in late 2019 that seeks to shield the country from being cut off from foreign infrastructure, in answer to what Russia called the "aggressive nature" of the United States' national cyber security strategy, according to Reuters.
The legislation caused consternation among free speech activists, who feared the move would strengthen government oversight of cyberspace.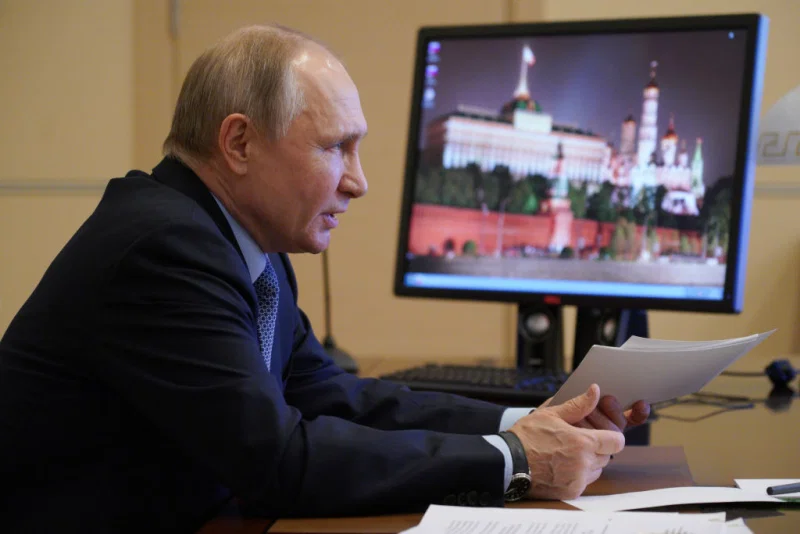 Russias President Vladimir Putin is seen in his office in Novo-Ogaryovo during a video-conference meeting of Russias Council for Interethnic Relations on March 30, 2021. Alexei Druzhinin —TASS via Getty Images
'The purpose of the tests is to determine the ability of the "Runet" to work in case of external distortions, blocks and other threats,' the source said.
Another RBC source said the capability of physically disconnecting the Russian part of the internet was tested.
It was not immediately clear how long the disconnection lasted or whether there were any noticeable disruptions to internet traffic.
The law stipulates that tests be carried out every year, but operations were called off in 2020 due to complications with the Covid-19 pandemic, RBC said.
The Kremlin was aware of the tests, spokesman Dmitry Peskov said, describing them as timely and saying that Russia had to be ready for anything.
The legislation seeks to route Russian web traffic and data through points controlled by state authorities and build a national Domain Name System to allow the internet to continue working even if Russia is cut off, Daily Mai reported.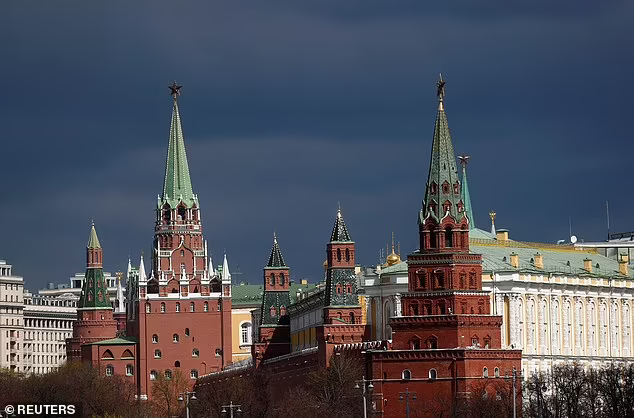 The Kremlin (pictured) was aware of the tests, spokesman Dmitry Peskov said, describing them as timely and saying that Russia had to be ready for anything. Photo: Reuters
In June 2019, Putin said Moscow had to ensure that the 'Runet' could function in a reliable way to guard against servers outside of Russia's control in other countries being switched off and their operations compromised.
State communications regulator Roskomnadzor said the tests were aimed at improving the integrity, stability and security of Russia's internet infrastructure, RBC reported.
It said the equipment installed as part of the tests had been used by Roskomnadzor to slow down the speed of social network Twitter since March over a failure to delete content Moscow deems illegal.
Ten years of attempting to take control
For activists, this year looks like history repeating itself. Since mass demonstrations against electoral fraud began a decade ago—also organized by opposition figures using Facebook and VKontakte—the state has been developing a legal and technological toolkit to regulate online information, introducing content filters, block lists and fining or even jailing people for what they post online.
Photo: Vladislav Shatilo / RBC / TASS
In 2012, Russia began blacklisting and forcing offline websites with the purported goal of protecting minors from harmful sites, including those that give details about how to commit suicide. In 2014 a law allowed Roskomnadzor to block access to media that calls for mass riots, extremist activities, or participation in unsanctioned mass public events. Government critics have been targeted; Navalny's Live Journal blog, which published investigations about corruption in Russian politics, and other political opposition sites were blocked. (Roskomnadzor said they were banned for calling on people to illegally participate in mass events).
More recently, Russia has initiated regional network blackouts. In October 2018, the Russian government cut mobile data service in the Ingushetia region in southwestern Russia during political protests—the first such Internet outage in the country. In August 2019, the government blocked mobile Internet during protests in Moscow in what the Internet Protection Society, a digital rights group, said was the first state-mandated shutdown of this kind in the capital.
Then, in November 2019, the Kremlin made its most controversial move yet toward controlling the country's Internet infrastructure with the so-called "sovereign Internet" law. A series of amendments to existing laws theoretically enabled the Russian authorities to isolate "RuNet"—the unofficial name for websites hosted in Russia and sites on Russian domain names— from the global web in vaguely defined times of crisis, giving the Russian authorities control over flows of data coming in and out of the country.
In an explanatory note about the new law, the Russian legislature said that it was created in light of the "aggressive nature of the U.S. National Cyber Security Strategy", in which the U.S. threatened to punish countries including Russia, China, Iran and North Korea if they used cyber tools to "undermine" its economy and democracy, and steal its intellectual property. The Russia legislature claimed that Russia needs to take "protective measures to ensure the long term and stable operation of the Internet in Russia, and to increase the reliability of Russian internet resources."
The "sovereign Internet" law required Internet Service Providers (ISPs) to install Deep Packet Inspection (DPI) equipment, which has been used by some countries, like China, for censorship. DPI equipment enables Russia to circumvent providers, automatically block content the government has banned and reroute internet traffic.
Russia's major ISPs have now installed DPI equipment, according to Alena Epifanova, a researcher at the German Council on Foreign Relations. But no one knows if or when Russia will be able to cut off its Internet from the global web. "The information about its implementation process and its scope is kept under wraps," says Treyak. What's certain is that Russia does not yet have the technological capacity to create a Chinese-style Great Firewall. Unlike China, which brought ISPs under state control early on, Russia is deeply integrated in the global web having enjoyed a largely free Internet for decades.
As the government has attempted to control information emerging from Russia, so has it tried to limit what is accessible in Russia from abroad. It has required search engines, including Google, to delete some results and social networks to store their user data on servers within Russia. Roskomnadzor hit Google with a fine of three million rubles ($41,000) for not removing content banned by the authorities in 2020. Roskomnadzor blocked LinkedIn in 2016 and fined Twitter and Facebook 4 million rubles ($53,000) in 2020 for failing to store user data in Russia.