Enthusiastic response to Friendship Association's fundraiser for Covid-relief in India
Vietnamese organizations and individuals responded enthusiastically to the Vietnam-India Friendship Association's appeal to raise fund for India's fight against the Covid-19 pandemic.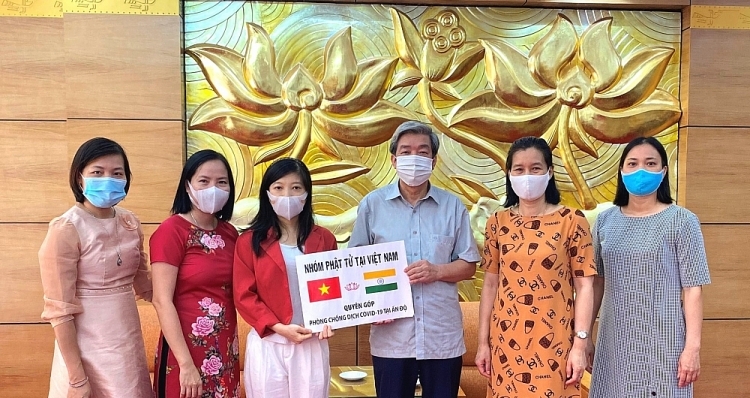 The Vietnam - India Friendship Association received donations from Vietnamese Buddhists supporting the Indian people in the fight against Covid-19.
On May 13, in Hanoi, the Vietnam - India Friendship Association under the Vietnam Union of Friendship Organizations (VUFO), received donations from individuals and units supporting the Indian people in the fight against Covid-19.
In the face of the widespread Covid-19 pandemic and complicated developments in India, on May 6, the Vietnam - India Friendship Association encouraged people to donate and support the Indian people nationwide.
The campaign received enthusiastic responses from many organizations and individuals who have studied, worked, traveled in India and loved the country. On the morning of May 13, representatives of individuals and organizations participating in the donation handed over an amount of 86 million VND (3.700 US dollars) to the friendship association.
On behalf of the association, its Standing Vice President Ha Minh Hue thanked the benefactors, saying this is a very timely support and help in the time when India is experiencing the world's worst Covid-19 outbreak, with new cases surging past 400,000 per day and breaking the record for the highest single-day figure globally.
Hue also said that the donation and support activities launched by the Vietnam - India Friendship Association have received enthusiastic responses from Vietnamese organizations, individuals and businesses.
"What makes me really touched is that there are an elderly woman with no monthly pension, still try to collect and save a sum of 3 million VND (130 US dollars) and bring it to the association's headquarters," Hue shared.
Hue also said that the Vietnam - India Friendship Association will continue receive the support of the Indian people until the end of May 14 and will try to transfer all the donations in cash and in kind to India peers as soon as possible.
Organizations and individuals can send cash to the association's headquarters (No. 105A Quan Thanh str., Ba Dinh dist., Hanoi) or their bank account.
Support account for India: Vietnam-India Friendship Association, account number: 016313850001, DongA Joint Stock Commercial Bank, Hanoi Branch, Nguyen Bieu Transaction Office.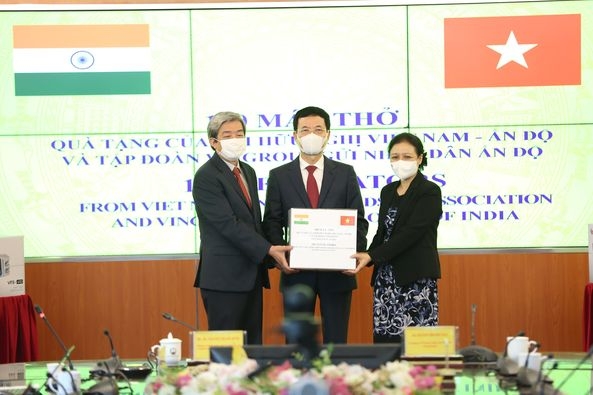 The Vietnam-India Friendship Association symbolically presented 100 ventilators to the Indian Ambassador in Vietnam, Pranay Verma.
Earlier, Minister of Information and Communications and Chairman of the Vietnam – India Friendship Association (VIFA) Nguyen Manh Hung presented 100 ventilators, funded by Vingroup, to help Indian people fight the Covid-19 pandemic during his virtual meeting with Indian Ambassador to Vietnam Pranay Verma on May 11.
On May 12, the Vietnam Buddhist Sangha (VBS) also donated 100 ventilators and 50 oxygen concentrators worth nearly 14 billion VND (606,000 US dollars) in order to share difficulties, timely encourage and express solidarity with Indian people in a time of emergency.
Addressing the virtual handover ceremony in Hanoi on May 12, Most Venerable Thich Duc Thien, Vice Chairman and General Secretary of the VBS's Executive Council, emphasised the long-standing friendship between Vietnam and India.
Thousands of Vietnamese Buddhists visit religious sites in India and hundreds of Vietnamese monks and nuns study at universities in the country each year, according to Thien, who is also Vice President of the Vietnam-India Friendship Association.
Deputy Minister of Foreign Affairs Nguyen Quoc Dung told the ceremony that the aid demonstrates the sentiment and solidarity between the two peoples and contributes to enhancing the friendship.
The Vietnamese Government presented medical supplies worth 70,000 US dollars to India.
With 1,85,190 new Covid-19 cases reported as of 11.15 p.m. IST on April 13, India registered its highest single-day spike since the beginning of the pandemic. As many as 1,026 deaths were also recorded on the day. The number of daily deaths surged to its highest in nearly six months.
The data is sourced from covid19india.org, an independent aggregator of daily Covid-19 figures.
The country has so far reported a total of 1,38,52,599 cases and 1,71,929 deaths.
On April 11, India surpassed Brazil in the cumulative number confirmed of Covid-19 cases.
10,85,33,085 vaccine doses had been administered in India as of 7 a.m. on April 13, according to the Union Health Ministry. On April 12, day 87 of the vaccination drive, 40,04,521 doses had been given. An average of 33.09 lakh doses have been administered daily between April 1 to April 12.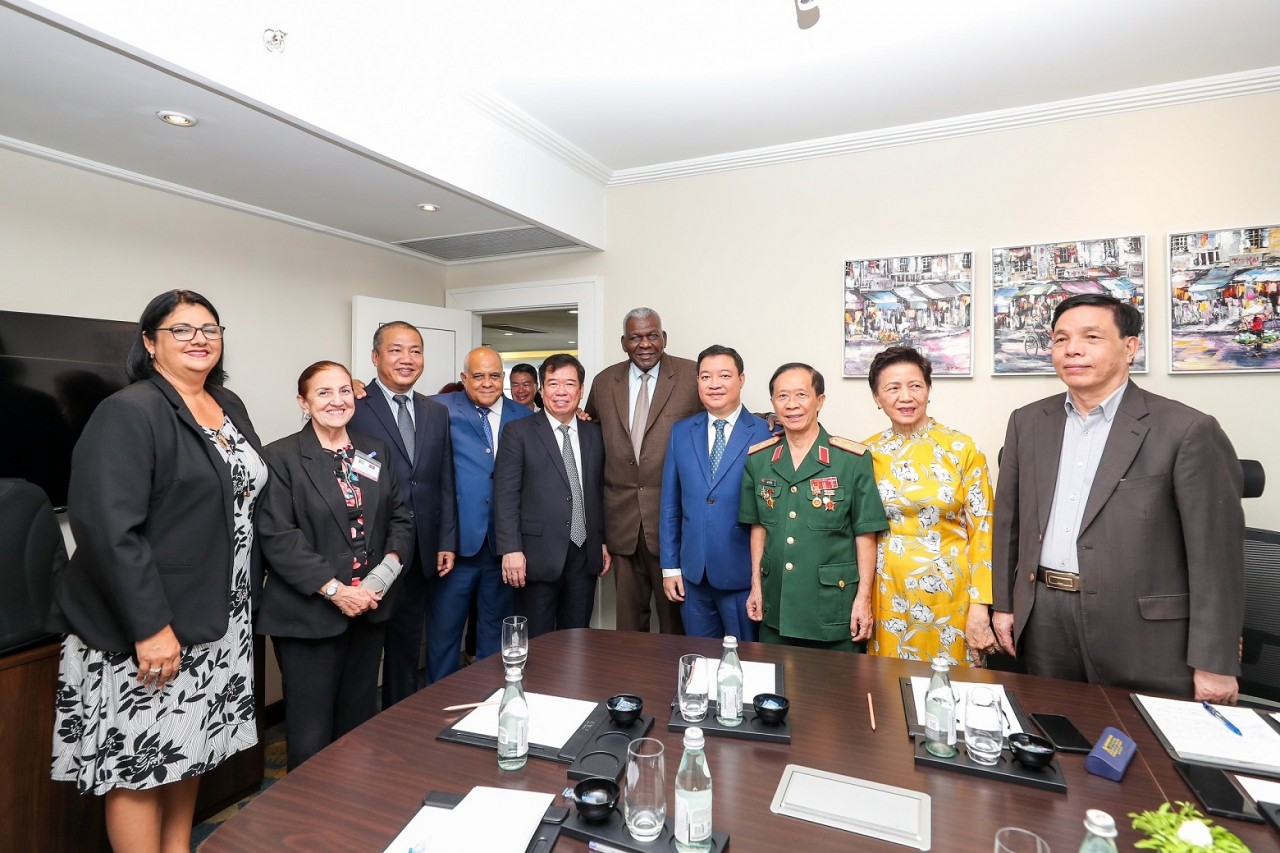 Friendship
President of the National Assembly of People's Power of Cuba Esteban Lazo Hernandez emphasized that Vietnam - Cuba is always united and faithful because they are one family.
September 27, 2023 | 15:11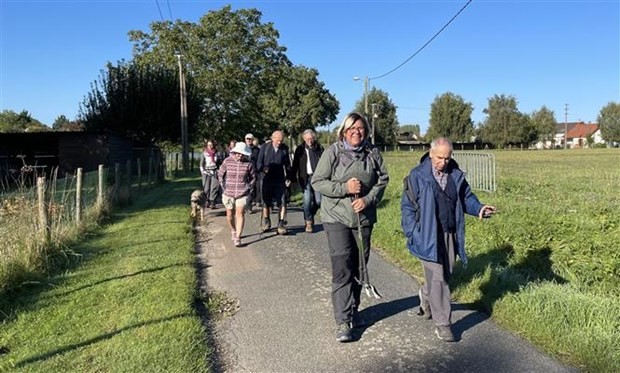 Friendship
The Children's Walk For Hope is a virtual event that will be held globally recently.
September 27, 2023 | 14:54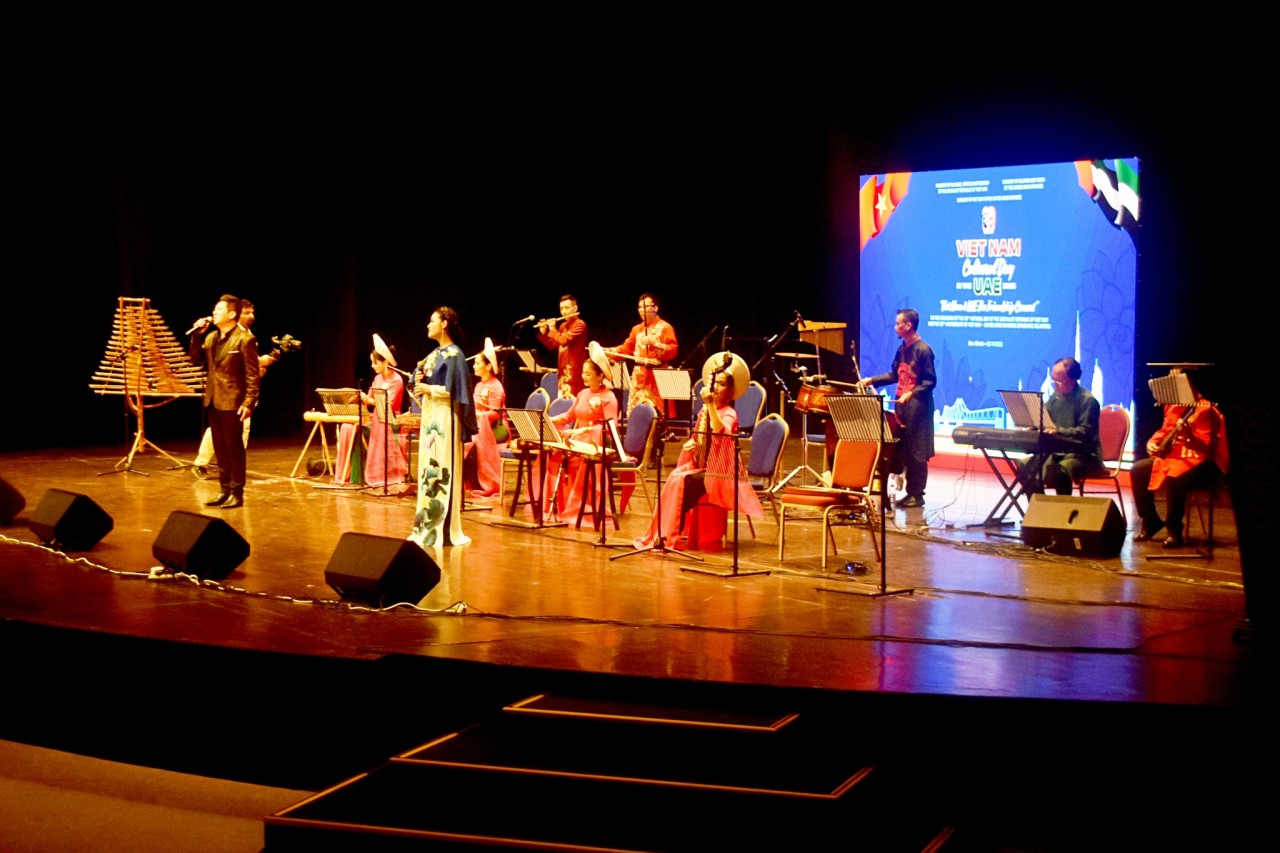 Friendship
A special art performance was held in the capital Abu Dhabi, gathering leading artists from Vietnam and the United Arab Emirates (UAE).
September 27, 2023 | 14:01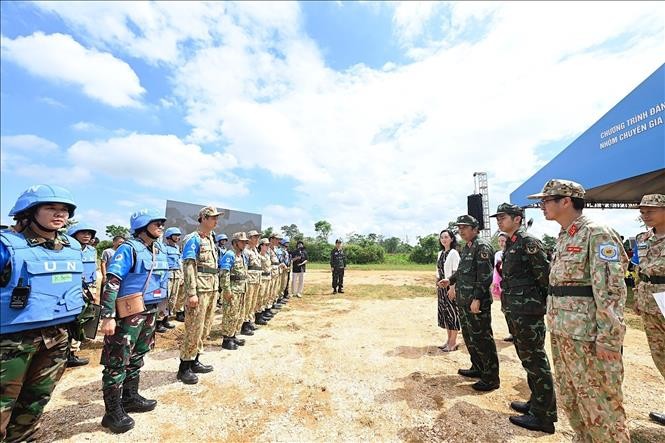 Friendship
Japan and representatives of State members of ASEAN Defence Ministers' Meeting Plus (ADMM-Plus) valued the preparations of Vietnam in hosting the Competency Evaluation Program for Prospective UN Peacekeepers (CEPPP) as well as outcomes of the program.
September 27, 2023 | 07:53