Made-in-Vietnam test kit detects different coronavirus variants
Based on cutting-edge technology from Vietnam university, the test kit is able to detect most of the mutated coronavirus variants.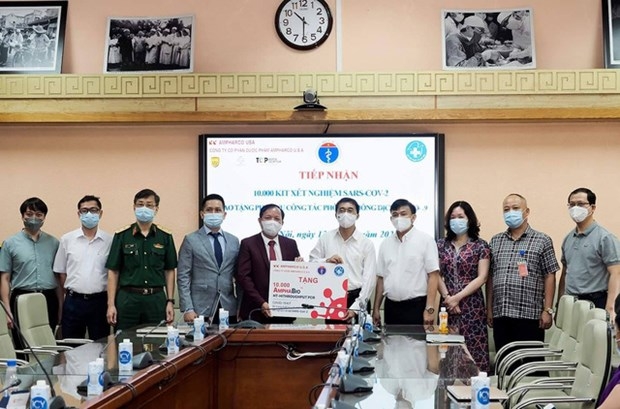 The Ministry of Health receiving 10,000 test kits from Ampharco U.S.A. pharmaceutical company (Photo: VNA)
The AmphaBio HT- Hithroughput PCR COVID-19 kit is shown to return accurate clinical test results for over 2,000 patient samples. New variants of nCoV are also detected.
The medical device is a joint product between the Military Medical Academy and the Ampharco U.S.A. pharmaceutical company. It got the license from the Ministry of Health to circulate under Decision No. 2263/QD-BYT issued on May 7.
"In face of the tremendous impacts the pandemic is having on different aspects of life, having Ampharco U.S.A accompanying the health ministry is very meaningful. It shows its social responsibility in the Covid-19 battle," Deputy Health Minister Tran Van Thuan said.
Thuan also received 10,000 sets of COVID-19 testing kits donated by Ampharco U.S.A. He lauded the company's success in using the technology from the Vietnam Military Medical University to produce the 'made in Vietnam' kits.
Under the Prime Minister's direction, the ministry set up a board for the mobilisation and coordination of resources for COVID-19 prevention and control in March. The freshly received test kits will be stored at the company's warehouse to ensure preservation conditions and be distributed to localities in need following real-life situations.
The military university had earlier partnered with the Viet A Technologies firm to produce another Covid-19 test kit. The kit, which utilizes molecular biology techniques, including reverse transcription-polymerase chain reaction (RT-PCR), can detect the new coronavirus in specimens of droplets obtained from the respiratory tract and blood samples, VNE reported.
Pham Cong Tac, Deputy Minister of Science and Technology commented in March, 2020 that Vietnam can rely on its own kits to perform tests, even if the epidemic spreads widely in the country.
The science ministry said the Vietnamese test kits provide quicker results and are easier to use than those used by the U.S. Center for Disease Control and the World Health Organization.
20 countries and territories have negotiated purchase of the kits.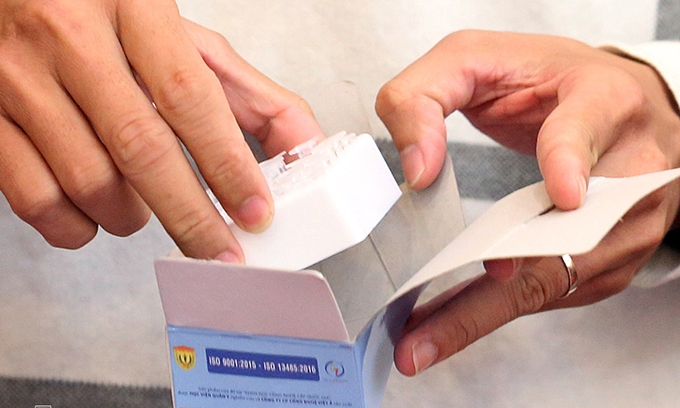 A professor of the Vietnam Military Medical University holds a Covid-19 test kit it helped develop (Photo: VNE)
Vietnam is expecting nearly 1.7 million AstraZeneca doses, supplied by COVAX Facility via the UN Children's Fund, this Sunday. The move will speed up vaccination programs and increase coverage nationwide.
"We are continuing to accelerate the search, access and negotiation for vaccine sources in a bid to make sure there is enough vaccine availability and safety for all residents," Deputy Health Minister Nguyen Thanh Long said.
Vietnam kicked off its national vaccination program on March 8. So far, the UK's AstraZeneca vaccine is the only coronavirus vaccine injected in Vietnam. In late February, the health ministry purchased over 117,000 doses via Vietnam Vaccine JSC. Over 800,000 doses supplied by COVAX Facility arrived in March. All the doses have been administered to prioritized individuals in 62 provinces and cities, including frontline medical personnel, Steering Committee for Covid-19 Prevention and Control members, police and military forces.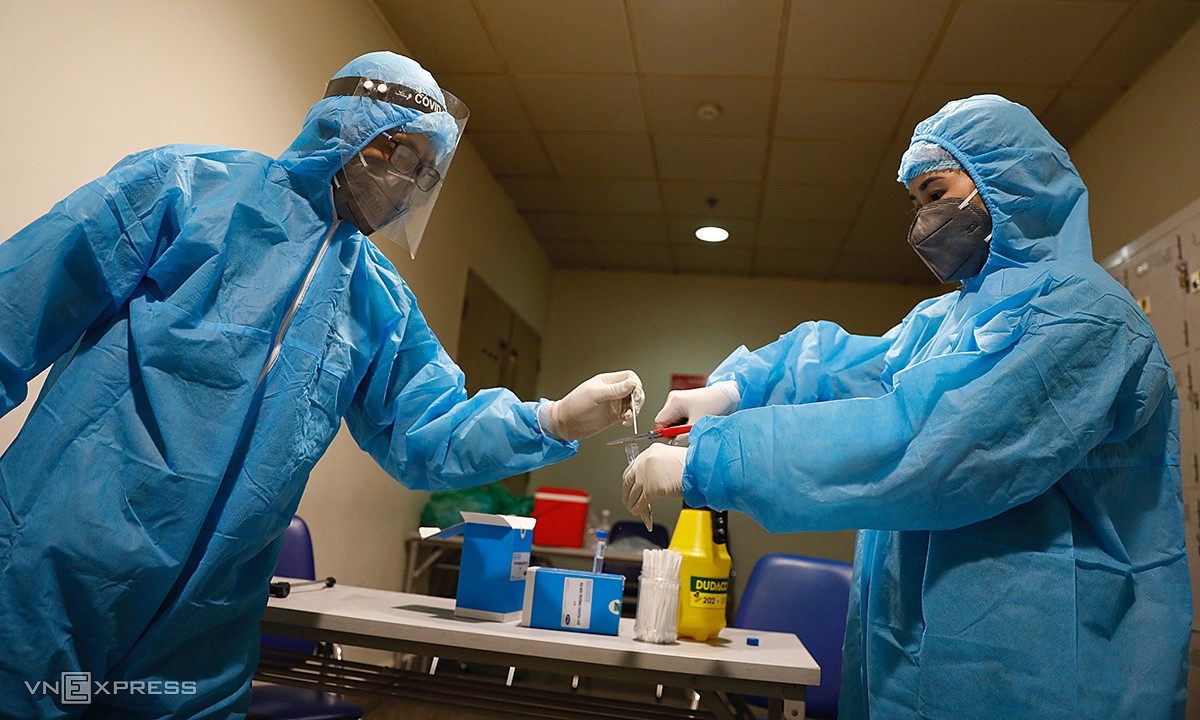 Medic collect samples taken for coronavirus tests at HCMC's Tan Son Nhat International Airport, May 2021. (Photo: VNE)
As of May 6, more than 600,000 people have been given the vaccine. A total of 16% of the recipients experienced post-inoculation reactions, all symptoms wore off within 24 hours. The rate, according to Long, is lower than in other countries. Those having more severe side effects were given prompt treatment and are now in stable condition. A 35-year-old female medical staff has been the only coronavirus vaccine recipient to die of post-injection shock in Vietnam so far.
The country aims to secure 150 million doses to cover 70% of its population by next year.
Vietnam is grappling with the fourth wave of the novel coronavirus, which started on April 27 and has been the country's most challenging by far. To date, 644 infections have been recorded in 26 cities and provinces.
The domestic Covid-19 tally was up by 33 on Thursday morning, including 30 who have been quarantined following contact tracing.
Since the disease appeared in the country early last year, Vietnam has had 3,658 Covid-19 cases, including 2,213 domestic cases and the rest imported.
More than 942,000 people, or 1% of the country's population, have been vaccinated against Covid-19.