Essex Lorry Tragedy Film Selected for Pune Int'l Film Festival
The short film "One year on the Essex lorry tragedy" about the 39 Vietnamese people who died in a container in Essex (UK), made by Viet Nam News, has recently entered the official selection round for screening at the Pune International Film Festival in India.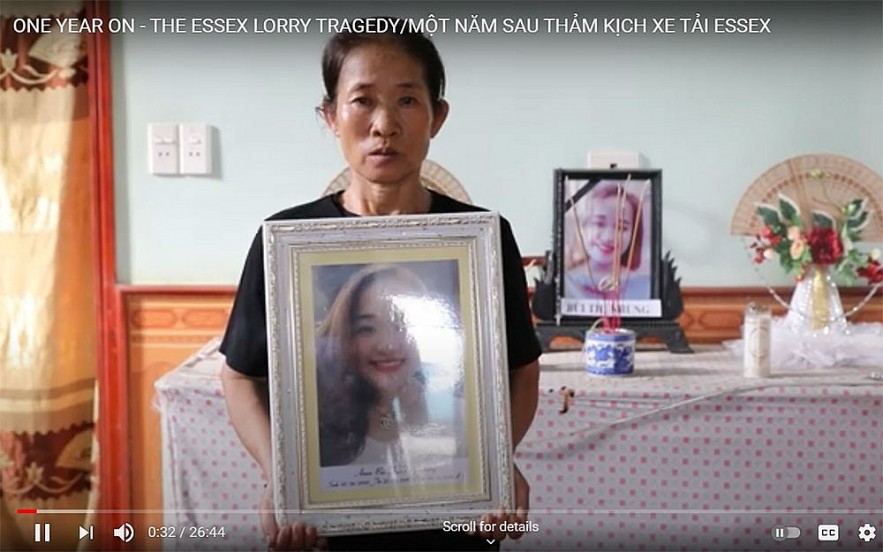 Image from the movie "One year on the Essex lorry tragedy". Photo: NDO
The Pune International Film Festival has been held annually in Pune city, Maharashtra, India since 2002. The film "One year on the Essex lorry tragedy," by journalists Paul Kennedy (video journalist/copy editor) from the UK, and Ho Hoang from Vietnam, has entered the official selection for the Pune Film Festival 2021, which will take place around Oct, 9-10.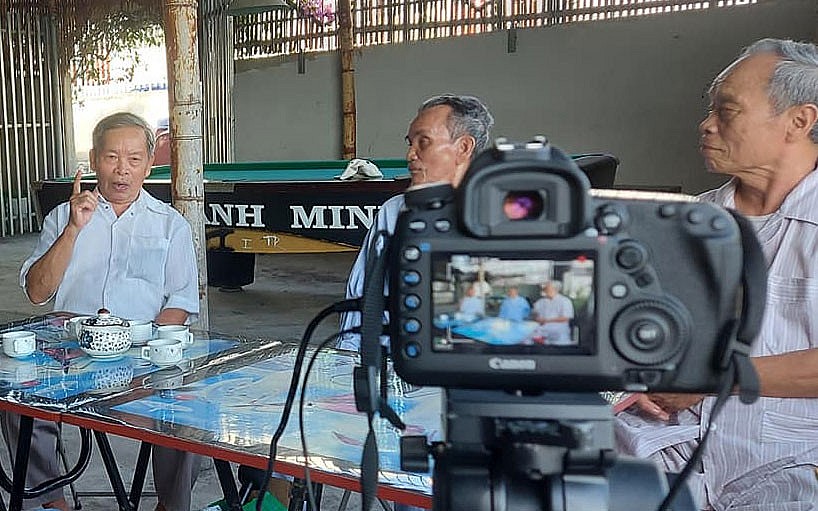 The filmmaker meets local characters. Photo: Ho Hoang
Journalist Ho Hoang said: "The film's participation at the Pune Film Festival proves that it has a certain pervasive power. We hope that through the film, many people will realize and change their perception about hot issues related to life, such as illegal settlement."
"One year on the Essex lorry tragedy" was made a year after 39 bodies were found in a container in Essex county, North East London, England (October 10, 2019).
All victims were Vietnamese citizens from localities such as Hai Phong, Hai Duong, Nghe An, Ha Tinh, Quang Binh, and Thua Thien Hue.
The film crew consisted of two journalists Paul Kennedy (editor, production director) and Ho Hoang (producer). The movie is about 30 minutes long.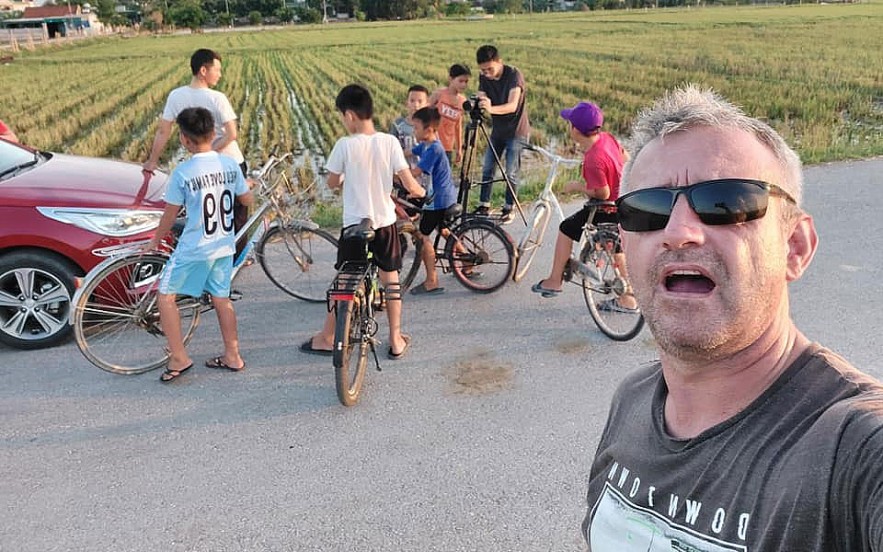 Production Director Paul Kennedy. Photo: Ho Hoang
This film tackles illegal immigration, a problem along with poverty that is still persistent and needs regular attention. The film aims to commemorate the victims of this tragedy and warn those who intend to migrate illegally.
The film was made in two weeks in Yen Thanh (Nghe An), during which the two journalists filmed members of the victim's family, as well as local people and local authorities.
The journalists also spoke with also a person who had fled to England and was fortunate enough to be reunited with his family.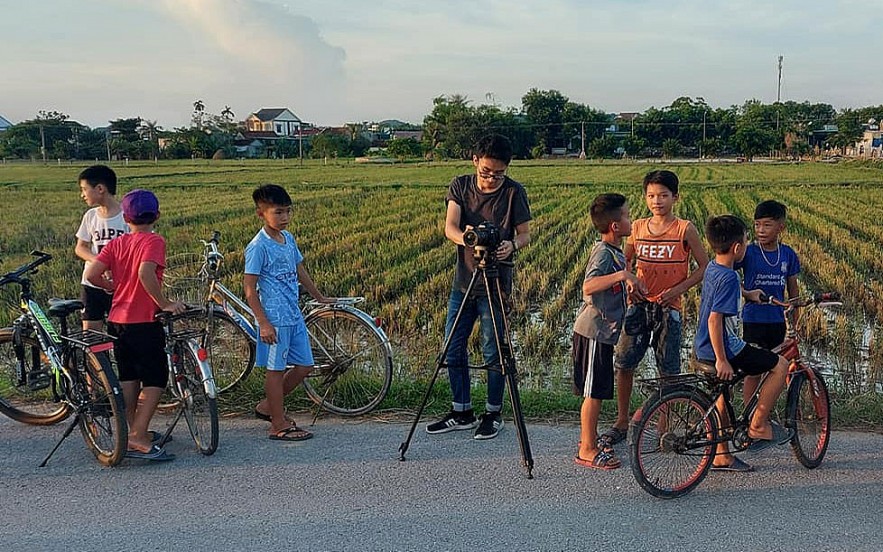 Journalist Ho Hoang recorded locally. Photo: Ho Hoang
Ho Hoang said that at Kennedy's insistence, the film has absolutely no narration, but is built on the sharing of insiders, from families of victims, neighbors, to someone who has experienced migration and was lucky to return.
"I am proud to be working directly with an experienced journalist like Paul Kennedy, who has pushed me to the limit, and allowed me to reach my full potential in new ways of expression, and given me real modern journalistic skills," Ho Hoang said.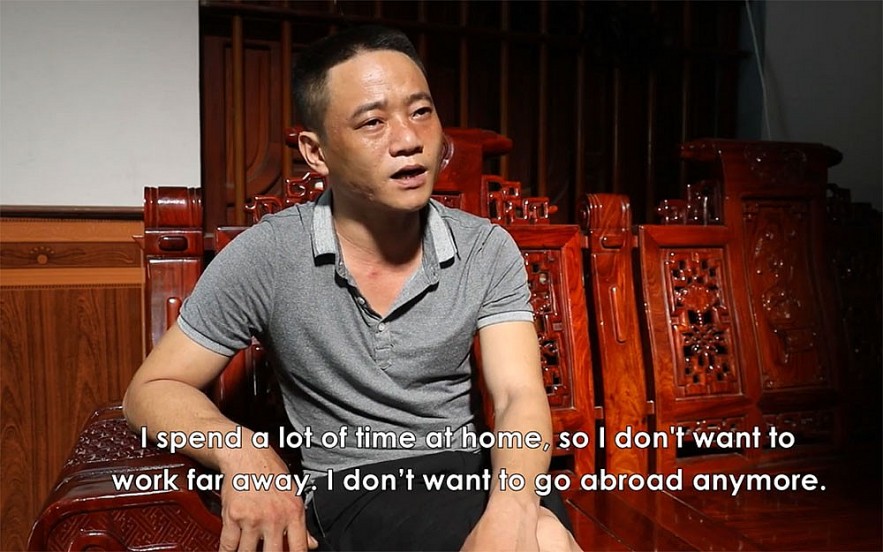 A screenshot from the film
On Oct. 18, 2020, the film was broadcast on YouTube and posted on Viet Nam News. In addition to the audience in Vietnam, the film has attracted the attention of viewers from the UK, the United States, Canada, Thailand, Malaysia, Australia, France and the Cayman Islands.
The film also won an award from the Southeast Asian Short Film Festival, with a special comment from the organizing committee: "Our judges think this film has much to be admired, so we will awarded the film a "Special Laurel." Only a handful of films participating in the festival have received this honor."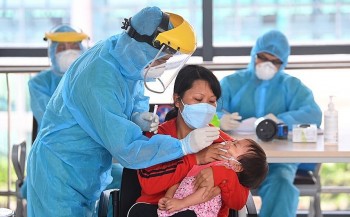 National
Nearly 72 million vaccine doses have been administered nationwide, with 20.7 million people getting their second shot.