Ethnic minority youth inspired by Israeli farms
Giang A Day, a youth from Sơn La province, plans to team up with a number of households in the village to establish a co-operative specialising in planting organic vegetables and fruit in the near future. (Photo langvietonline.vn)
A young man from the northern mountainous province of Son La has travelled to Israel to learn modern farming techniques and apply them to his homeland.
When he saw local residents destroyed forest to reclaim land for cultivation, 24-year-old Giang A Day became very upset.

"I always wondered how to change the way they did on farming and how to cultivate in areas short of water," he said.

In September 2015, Day was a final-year student at Tay Bac University when he heard about a training programme in Israel. He immediately decided to apply for it.

He had even persuaded his parents to borrow 30 million VND (1,320 USD) from their relatives to buy an air ticket.

"I admired Israel for its creativity when I was at high school. Although it's a small country with about eight million people, Israel is known as a leading startup country in hi-tech agriculture," he said.

"The water shortage in my village is another matter, making it impossible for villagers to raise plants in the dry season. As a result, local residents have to rely on corn," he added.

Day said he found out that he made the right decision when he arrived in Israel.

"In fact, 11 months of hard work in a foreign country has totally changed my thinking about agricultural production," he said.

Day started working at a nursery for Israel's third largest seed company as soon as he arrived. He became involved in all processes from seed preservation and nursing to taking care of seedlings.

He saw that the Israelis had to remove rock and filled the gap with a 30-40cm layer of sand or buy soil from other places in order to plant crops.

It was there, he found out that water overflow or waste water did not occur in this country. People used drip irrigation technique to save water.

With strong desire to learn, Day asked a farm owner to let him use a 100sq.m of land for experiment.

He applied the knowledge he earned on the garden, including ideas he thought would fit conditions in his homeland.

"The plot of land helps me understand more about organic farming, cultivating without the use of fertiliser. All the difficulties I faced were solved with the support of Israeli experts. The lessons were really precious," Day told the Tien Phong (Vanguard) newspaper.

Returning to Vietnam in August last year, he did not go home immediately but spent a week in Hanoi to explore market consumption of clean vegetables and get in touch with a number of vegetable suppliers.

Back home, with 100 million VND (4,400 USD) accumulated during his time abroad, Day paid back the debt and bought a pumping machine. He also invested in setting up a water pipeline connecting his garden with the local stream and a drip irrigation system.

His efforts have been paid off in just four months. Day's vegetables grow very well, even in the dry season.

His action suprised villagers as they couldn't grow any vegetable from November to February for years.

The fact that Day posts seedlings on Facebook and uses motorbike to transport them was unprecedented in the locality.

Many Mong people came to Day's house to learn about his techniques and he, of course, was willing to share his experience.

"Once dripping irrigation was applied, local residents can cultivate up to three crops a year instead of one crop currently," he told the villagers.

In addition, they can plant grass on barren hills to feed buffaloes and cows.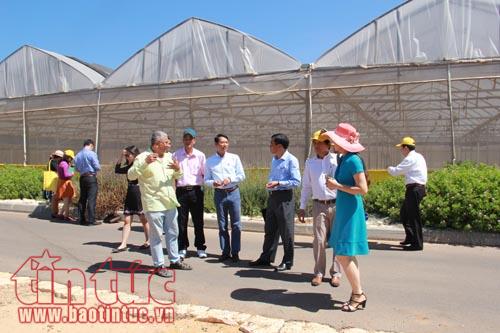 Vietnamese students learn about farming in Israel (source: tintuc.vn)

Now, his dream of building a nursery farm and growing organic vegetables in his own garden has been realised. His vegetables are on sale at a number of vegetable shops in Son La city and supplied to a food company in HCM City.

Day said that with the price of 3,000 VND (0.12 USD) per one kilo and productivity of 25 tonnes per crop, he could earn over 200 million VND (8,800 USD) from cultivating 1.5ha of pumpkins.

However, he admitted that he still faced a lot of challenges.

As vegetables are organic cultivated, in order to prevent pest and diseases, Day does not use pesticides or plant protection products but a mixture of garlic, ginger, chilli and white wine to spray the plants. This mixture helps prevent pests and is not harmful to people's health.

According to him, the price of seeds and seedlings raised by him is higher than popular ones on the market. Therefore, it has not been easy to encourage local residents to use them.

As the head of the village's youth union, Day convinced youth members to apply drip irrigation on their gardens. He believed that the success of youth members would be an effective way to inspire local residents.

"The application of scientific and technical progress, drip irrigation technology, net houses and agricultural production on the hills of Giang A Day is a bold start-up model," said Vang A La, Secretary of the provincial Youth Union

His economic model has changed the farming methods of young people from mountainous regions and provided an opportunity for farmers to access new scientific and technological advances.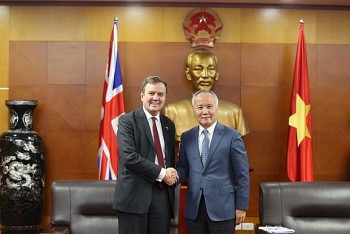 Economy
UK ready to boost CPTPP's economic firepower, said the Trade Minister on Vietnam visit