EU leaders agree on Belarus sanctions over jetliner 'state piracy'
Belarus is set to bear sanctions imposed by the European Union amid fury over the forced diversion of a passenger jet to arrest an opposition journalist
Reacting to what EU leaders called a brazen "hijacking" of a Ryanair jetliner flying from Greece to Lithuania on Sunday, they also demanded the immediate release of the journalist, Raman Pratasevich, a key foe of authoritarian Belarusian President Alexander Lukashenko, according to the Washington Post,
"We won't tolerate that one can try to play Russian roulette with the lives of innocent civilians,"said EU Council chief Charles Michel, who presided over the EU meeting.
"This was effectively aviation piracy, state sponsored,"said Ireland's Foreign Minister Simon Coveney, using language echoed by a number of other countries.
Swedish Foreign Minister Ann Linde said: "It is dangerous, reckless, and naturally the EU is going to act."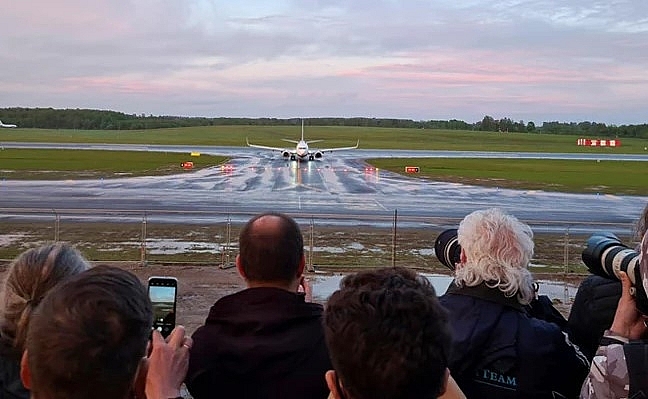 Belarus forced a Ryanair plane carrying an opposition activist to land in the capital Minsk on Sunday. Photo: NDTV.
The French presidency said a request had been sent to the International Civil Aviation Organization (ICAO) to suspend international overflights over Belarusian air space. Banning the Belarusian state carrier Belavia from European airport was also being discussed, as were ground transport links.
Some airlines and countries did not wait for guidance on how to respond to the diversion of the Ryanair flight.
Britain said it was instructing British airlines to cease flights over Belarus and that it would suspend the air permit for Belarus's national carrier Belavia with immediate effect. KLM, the Dutch arm of carrier Air France KLM, will temporarily halt flights, Dutch news agency ANP reported.
According to CNBC, U.S. President Joe Biden was briefed on the incident and National Security adviser Jake Sullivan raised the issue in his call with the secretary of the Russian Security Council, said White House press secretary Jen Psaki. She added the administration condemned what she called the "shocking act" of diverting a flight to detain a journalist.
"It constitutes a brazen affront to international peace and security by the regime. We demand an immediate international, transparent and credible investigation of this incident," she said, adding the United States was in touch with NATO, the EU, the Organization for Security and Cooperation in Europe, among others about next steps.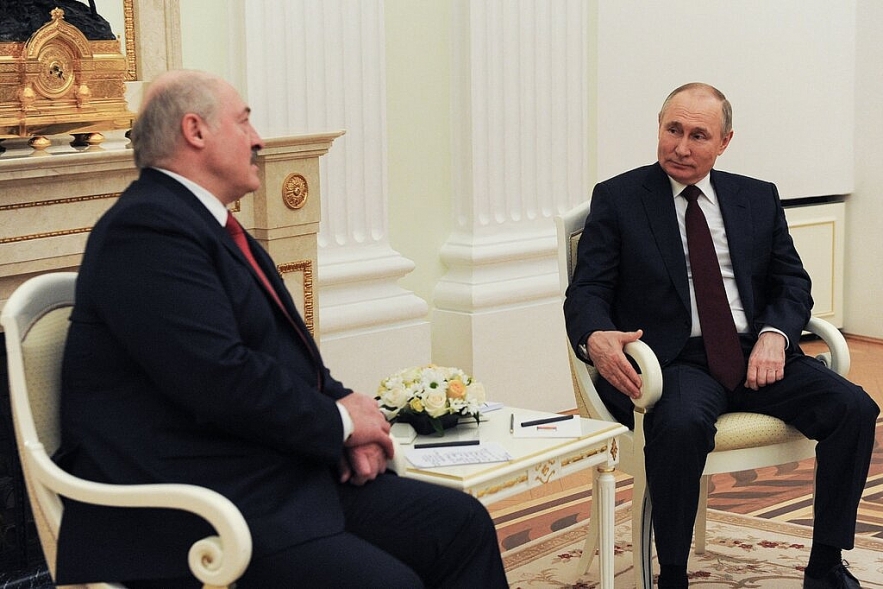 Lukashenko meeting with President Vladimir V. Putin of Russia in Moscow last month.Credit...Mikhail Klimentyev/Sputnik, via Agence France-Presse — Getty Images.
Still, as NDTV reported, the options for Western retaliation appear limited. The Montreal-based ICAO has no regulatory power, and the EU has no authority over flights taking off and landing in Belarus or flying over its air space, apart from direct flights that originate or land in Europe. Belarus has shrugged off previous rounds of EU and US financial sanctions.
NEXTA, a news service where Protasevich worked before setting up his own widely followed blog, ran an interview with his mother, who said that as soon as she heard reports of a bomb scare on a flight, she knew it was a plot to capture him.
"I just want to say that my son is simply a hero, simply a hero," Natalia Protasevich said, weeping. "I truly hope that the international community will wake up for him."
His father, Dzmitry Protasevich, told Reuters: "This is total insanity, what is going on."
Inevitable confrontation expected with West
As reported by Reuters, Belarus says it acted in response to a false bomb threat written in the name of the Palestinian militant group Hamas. Hamas spokesman Fawzi Barhoum denied his group had any knowledge or connection to the matter.
Belarus said its ground controllers had given guidance to the flight but had not ordered it to land. State media said the intervention was ordered personally by Lukashenko.
"We believe there were some K.G.B. agents offloaded at the airport as well," Michael O'Leary, CEO of Ireland-based Ryanair, told Irish radio Monday. "This was a case of state-sponsored hijacking."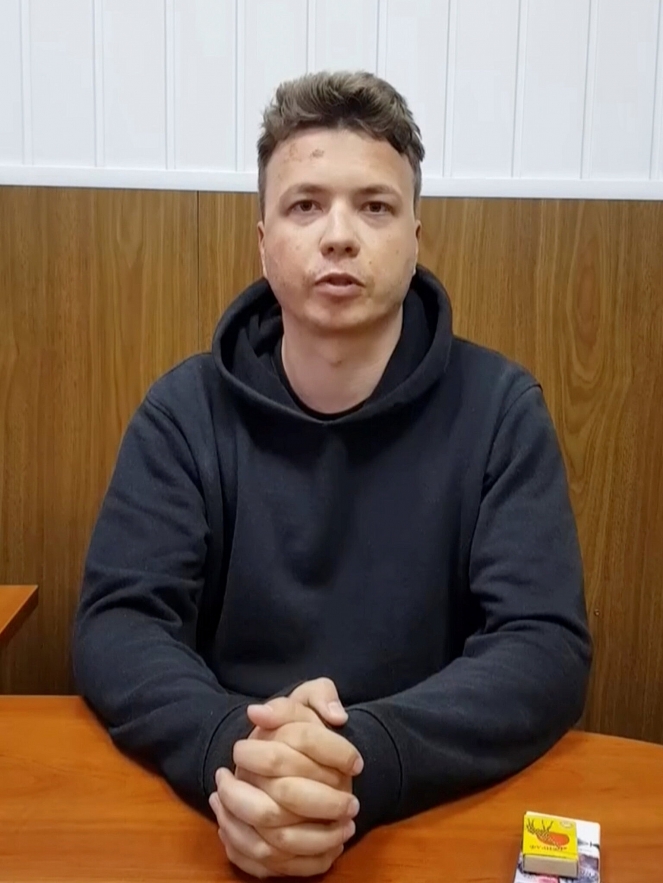 An image posted by a pro-Lukashenko account on Monday, in which Protasevich said he was being treated with "maximum correctness." Credit...Telegram@Zheltyeslivy, via Reuters.
Belarusian state television broadcast a report rejecting the idea there were KGB. agents on the plane, instead showing three people who said on camera that they had decided to stay in Minsk by their own choosing. They included a Greek man who said he had been traveling to Vilnius on his way to visit his wife in Minsk.
Belarus' Interior Ministry said Protasevich was being held in jail and had not complained of ill health, Reuters reported.
A pro-Lukashenko Telegram account posted a 29-second video of Protasevich late Monday evening. It showed him sitting with arms folded at a wooden desk, telling the camera that he is in Minsk's central Detention Center No. 1 and being treated "with maximum correctness." It was reminiscent of other confessional videos that critics of Lukashenko have been forced to record while in jail.
"I continue to cooperate with the investigation and am giving confessional testimony on charges of organizing mass unrest in the city of Minsk," Protasevich said.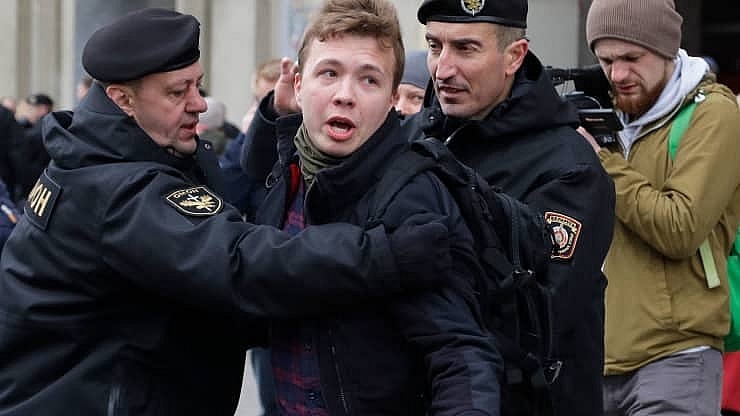 In this March 017 file photo, Belarus police detain journalist Raman Pratasevich, center, in Minsk, Belarus. Sergei Grits | AP
According to The New York Times, the video was the latest sign that Lukashenko, who has ruled for 26 years, did not intend to shirk from confrontation with the West. An official in the Belarus Transportation Ministry, Artyom Sikorsky, on Monday doubled down on Minsk's official version of events: that the plane had been diverted because of a bomb threat. He read out an email that he said had been sent to the Minsk airport from someone who claimed to be representing Hamas — the Palestinian militant group — threatening to punish the European Union for supporting Israel in the recent war. (Hamas denied any connection to the incident, Reuters reported.)
By the end of the day, Lukashenko had plunged headfirst into yet another diplomatic showdown. He expelled the ambassador and the entire diplomatic staff of neighboring Latvia from Minsk in response to the mayor of Riga, Latvia, hoisting the white-red-white flag of the Belarusian opposition.
Protasevich is a former editor of Nexta, a media operation with a Telegram channel. He left Belarus in 2019 to live in exile in Lithuania. From there he covered the events of the 2020 presidential election, after which he was charged with terrorism and inciting riots, the BBC has reported.
Nexta played a key role for the opposition during the vote, which was won by Lukashenko and is widely regarded as rigged. It has continued to do so in its aftermath, particularly with the government imposing news blackouts.
But he first attracted the attention of the authorities as a teenager, when he was expelled from school after taking part in a protest in 2011.
Protasevich now works for a different Telegram channel, Belamova. He stepped in to write after blogger Igor Losik was arrested by the Belarusian authorities in June last year.