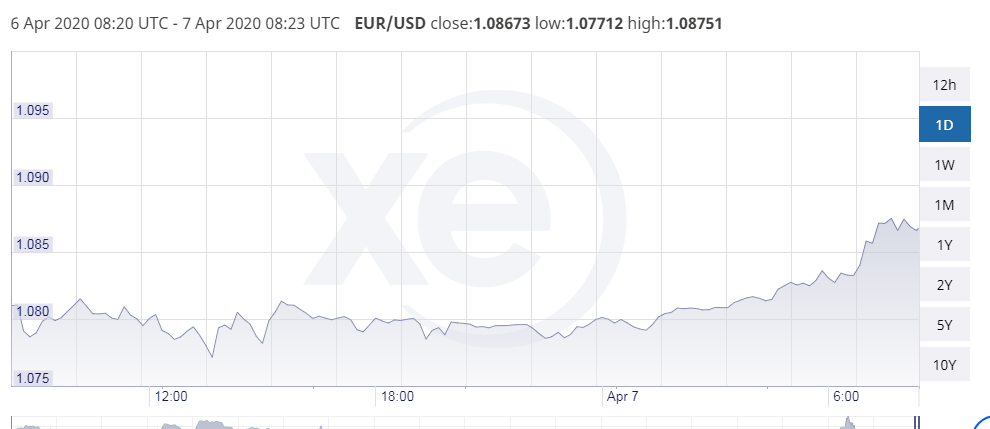 Photo source: XE.com
The Euro-to-dollar exchange rate is seen trading 0.7pct higher on the day, quoted at around 1.09 on Tuesday, April 7.
According to Marc-André Fongern from Fongern Global Forex, "The USD is losing ground again as demand for safe-haven currencies is declining for the time being. Markets are expecting the virus to spread at a noticeably slower pace, so the focus is gradually shifting towards finding any glimmer of hope. Currently, the focus is on the spread of the virus and the death rate, i.e. any decline in the numbers increases the willingness to take risks. However, excessive optimism would be entirely inappropriate as the peak of abysmally poor economic data is far from being reached."
Photo source: Tradingview
The Pound to Euro (GBP / EUR) exchange rate edged higher today, with the pairing currently trading around € 1.13, and 1 EUR = 0.88 GBP.
The Euro (EUR) has continued to struggle this week.The single currency is also suffering from rising divisions within the European Union, with Germany and the Netherlands - along with other northern states - rejected Italy and Spain's request for 'coronabonds', a joint debt system to help aid Europe's most heavily hit nations.
The Pound (GBP) edged higher against the Euro (EUR) today after Prime Minister Boris Johnson, who was recently admitted to hospital to recover from a coronavirus diagnosis, has been said to be in a 'comfortable' state and is soon set to return to Downing Street.
Initially the Pound fell after the news of the PM's rush to hospital, but with the diagnosis being mild and things set to return to normal in the near-term, the GBP / EUR exchange rate has edged higher.

Photo source: XE.com
The EUR to AUD exchange rate saw a decline on 7 April, closed at 1 EUR = 1.75643 AUD. The Australian Dollar is seen gaining in value at the start of the new week. This is coming amidst an ongoing improvement in global stock markets, but innovated at a leading European investment bank remain bearish on the currency's outlook noting the current improvement in sentiment is potentially conscious to last. Such pressures should translate into EUR/AUD.
Today, Euro exchange rate against VND listed at banks continues to decrease compared to yesterday.
BIDV decreased VND 47/purchase price and decreased VND 49/EUR selling price, at 25,122 - 25,955 VND/EUR. Vietcombank decreased by 40.41 VND/EUR purchase price and decreased 42.33 VND/EUR selling price, at 24,791.61 - 25,976.62 VND/EUR.
Candy Lee
Exchange Rate/Vinanet