Grab and other ride-hailing platforms in Vietnam can now operate as legal businesses
From April 1, Decree No.10/2020/ND-CP is officially in effect, replacing Decree No.86/2014/ND-CP. This means that the government has decided to legalise Grab and other ride-hailing services in Vietnam.
Vietnam embraces new and disruptive businesses
Vietnam's ride-hailing market came to the fore with the arrival of Grab. In 2014, Grab made its debut in Vietnam by launching the GrabTaxi service. The firm also continued to roll out the GrabBike service in October 2014. In 2015, the Ministry of Transport approved Grab's pilot e-hailing project in Hanoi, Ho Chi Minh City, and Danang.
Grab's new on-demand ride-hailing service was quite new to customers at the time. As of present, GrabTaxi and GrabBike have become popular in Vietnam, making the everyday lives of all Vietnamese easier.
Meanwhile, Uber entered Vietnam in July 2014. As a new business model, Uber was also greenlighted to join the e-hailing pilot project.
The likes of Grab and Uber have taken Vietnam by storm with their ride-hailing services. Meanwhile, their rapid expansion has eaten up the market share of traditional taxi firms. The competition between ride-hailing apps and traditional taxi operators has been growing fiercer in the course of the years, leading to big controversy about whether Vietnam should continue the pilot programme.
Vietnam formalises ride-hailing services
Pilot programmes are essential for the government to assess the pros and cons of new and disruptive business models in the market. Following the success of the pilot programme under Decision No.24/QD-BGTVT, the promulgation of Decree No.10/2020/ND-CP clearly demonstrates the government's consistent support for the application of technology within the transportation sector to further build Vietnam's digital economy and drive the Fourth Industrial Revolution.
The Vietnamese government has officially formalised ride-hailing services under Decree 10, effective from April 1, 2020. It is worth noting that the new decree does not differentiate between technological and transport taxi businesses. Businesses providing ride-hailing platforms could be considered as conducting business in passenger transportation by taxi; doing business in contract-based non-fixed course passenger transportation, or providing software application to assist connection in transport. The decree also gives the official mandate for ride-hailing platforms to operate nationwide.
Grab is set up in line with Vietnamese regulations to pilot its services in Vietnam. Following the pilot programme, Grab continues to work closely with the Ministry of Transport and local Departments of Transport to ensure that Grab and its transportation partners fully comply with Decree 10.
Official playground for ride-hailing apps
The promulgation of Decree 10 comes after long and detailed discussions among relevant stakeholders to regulate disruptive business models. From April 1, 2020, the Vietnamese government recognises the application of technology within the transportation sector. By creating an equal and fair playground for all players, Decree 10 is expected to facilitate businesses in the transportation sector to constantly improve the quality of transportation services to serve the commuting needs of all Vietnamese users.
Applying for a transportation business license under Decree 10 will not cause any significant disruption to ride-hailing services or Grab's operations. Grab is operating in passenger transportation with fewer than nine-seat vehicles through its GrabCar services using electronic contracts. Therefore, the vehicles are required to affix a contract car badge on the front windshield, the logo of the transport co-operative on the car door, and the GrabCar stamp inside the front windshield. Thus, GrabCar vehicles only need to affix badges and stamps to meet the new regulations.
As the pilot stage is completed, not only Grab but other ride-hailing companies can now operate in Vietnam with more progressive and updated regulations. Thanks to the government's decision to legalise ride-hailing services, these companies can affirm their commitment to long-term investment in Vietnam.
VIR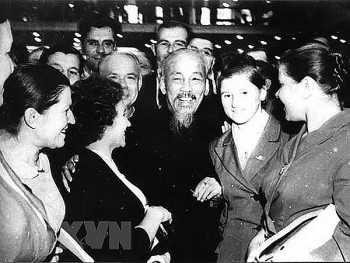 National
Throughout its history Vietnam has come into contact and exchanged with many cultures and civilizations.