Euro To Dollar Exchange Rate Today: At its highest in a week
The Euro To Dollar Exchange Rate Today April 10 closed at its highest in a week, while the coronavirus continues to develop with no economic comeback at sight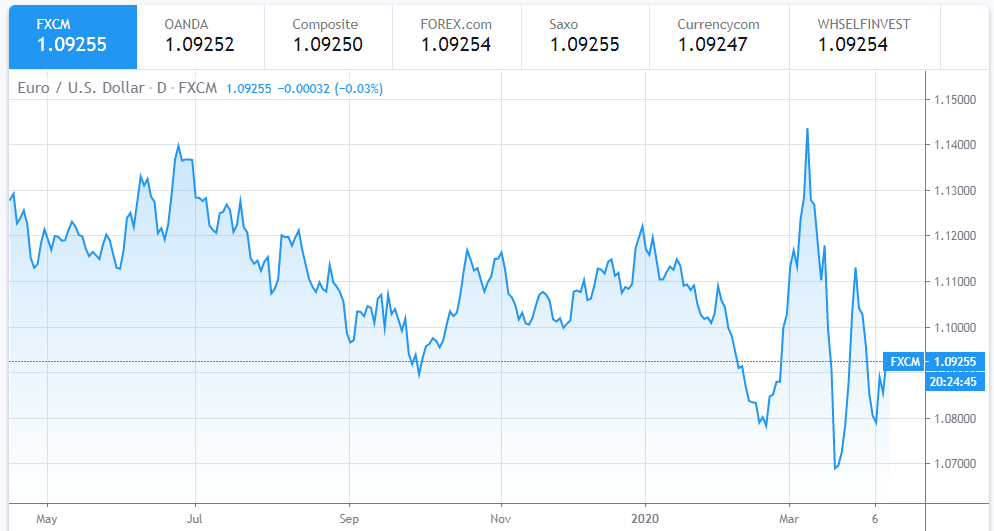 EUR to USD chart (Photo source: Trading View)
The euro to dollar exchange rate today closed at 1.09, its highest in a week. The American dollar tumbled this Thursday, as investors rushed into high-yielding equities. The euro vs dollar finally woke up and advanced to 1.09 after the US Federal Reserve announced it had taken additional easing measures through a plan to provide $2.3 trillion in loans to support the economy. Following Initial Jobless Claims soaring to 6606K in the week ended March 3, Powell said that the speed towards very high unemployment is "alarming," although he added it will be temporary. He then added that the economic rebound after the ongoing coronavirus crisis "can be robust.", reported by Benzinga.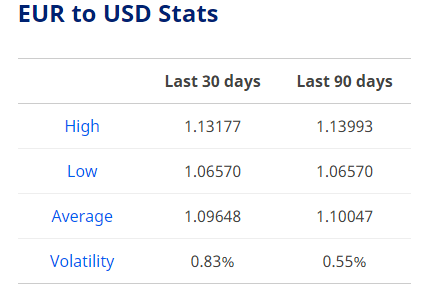 EUR to USD stats (Photo source: XE.com)
The euro to dollar neared the 38.2% retracement of its latest daily advance at 1.09, the immediate resistance. The bullish potential seems limited, as the market has no real reasons to buy the shared currency, with gains always related to the dollar's weakness. In the 4-hour chart, the pair offers a neutral-to-bullish stance.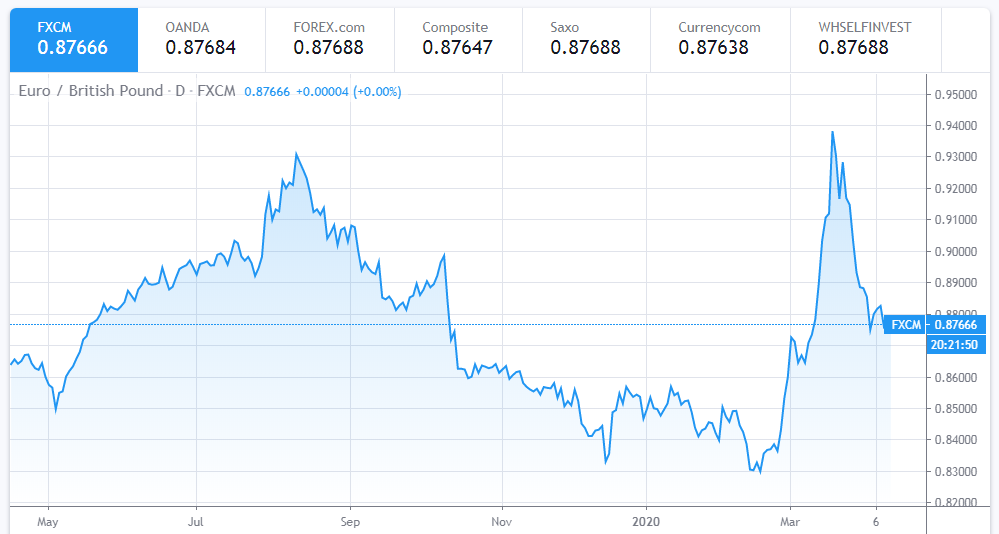 EUR to GBP chart (Photo source: Trading View)
The EUR to GBP exchange rate closed at 0.88 today. The pound is vulnerable during crisis times. The sharp fall in GBP vs. the EUR in March indicates that the pound is vulnerable to a drop of investment flows during crisis times, according to economists at Rabobank.. For many overseas investors the risk of disorder at UK borders next year could threaten to lengthen what is likely to be a sharp UK recession this year on the back of the crisis lockdowns.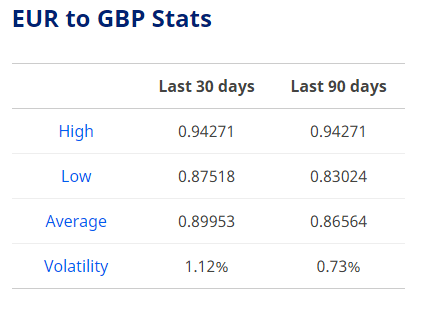 EUR to GBP stats (Photo source: XE.com)
The UK maintains a current account deficit while the Eurozone has a healthy surplus. The EUR, however, is far from immune to political uncertainty. Disagreements on the topic of debt mutualization threaten to re-open cracks in the bloc's fragile coherence on fiscal issues." On balance, we see EUR/GBP trading around 0.88 on a 3 month view, analyzed by FX Street.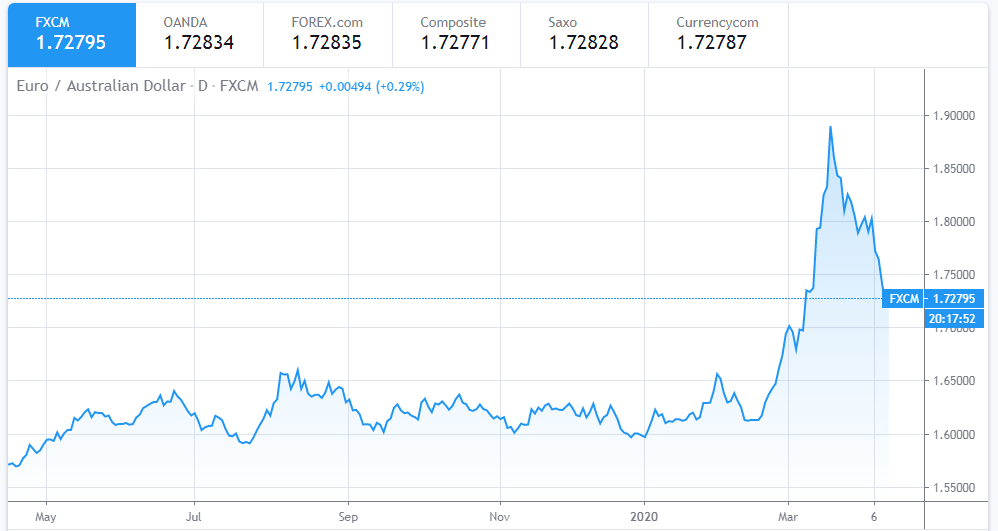 EUR to AUD chart (Photo source: Trading View)
The EUR to AUD exchange rate closed at 1.73 today. EUR/AUD declined on Thursday as riskier currencies like Australian dollar continued to gain on cautious hopes that coronavirus pandemic is peaking. On top of hopes of a peak in the epidemic, commodity-linked currencies like Australian dollar got additional boost from hopes that major oil producing countries could agree to cut output. Selling pressure will remain in the short-term, only a move above 1.7641 strong resistance would indicate the weakness in the pair has run out. It is good to sell on rally around 1.74, with stop loss of 1.76 and target price of 1.70, reported by Econotimes.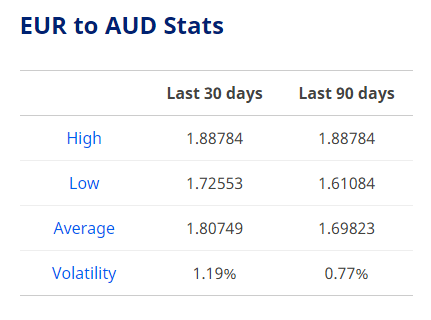 EUR to AUD stats (Photo source: XE.com)
More Euro exchange rate today for reference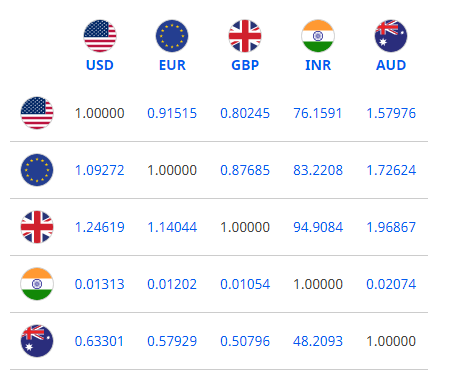 Exchange rate today on April 10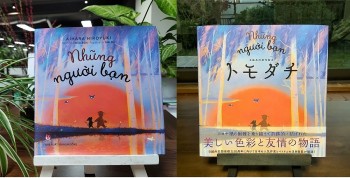 Viet's Home
The comic book Ehon "Friends" illustrated by local female artist Dom Dom has just been published by Japan's Sunny Side Publishing House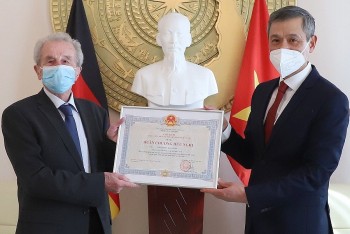 Friendship
The Vietnam-Germany relationship goes from strength to strength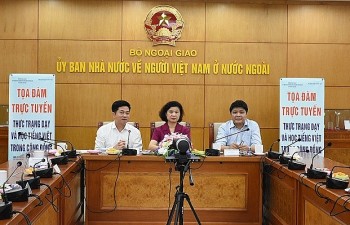 Overseas Vietnamese
The teaching of Vietnamese abroad continues to be strengthened despite the Covid-19 pandemic.