Events Bring Vietnam, France Closer in Hanoi
Balade en France, also known as Walk in France, is Vietnam's largest French food festival, is ongoing at the King Ly Thai To Monument near Hoan Kiem Lake in Hanoi.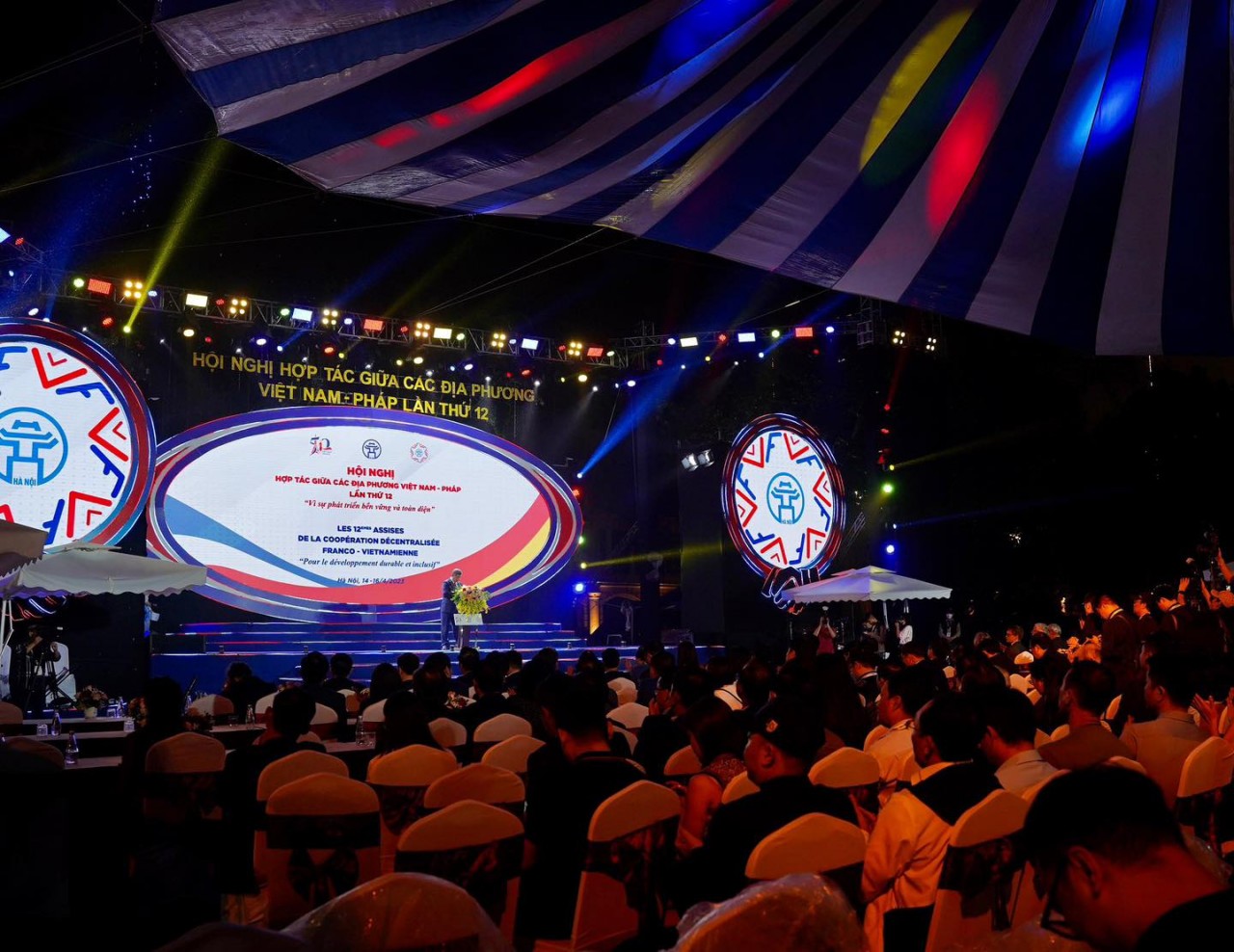 At the opening ceremony. Photo: French embassy in Vietnam
An art performance celebrating the ongoing 12th Vietnam-France decentralised cooperation conference was held at the pedestrian spaces in Hanoi's Hoan Kiem district on April 14 night, VOV reported.
Two other events with pavilions featuring the two countries also took place.
The occasion is part of celebrations being held for the 50th anniversary of French-Vietnamese diplomatic relations and 10 years of the joint Strategic Partnership, highlighting the excellence, responsibility, enjoyment, authenticity, and innovation of French gastronomic products under the aegis of "Taste France".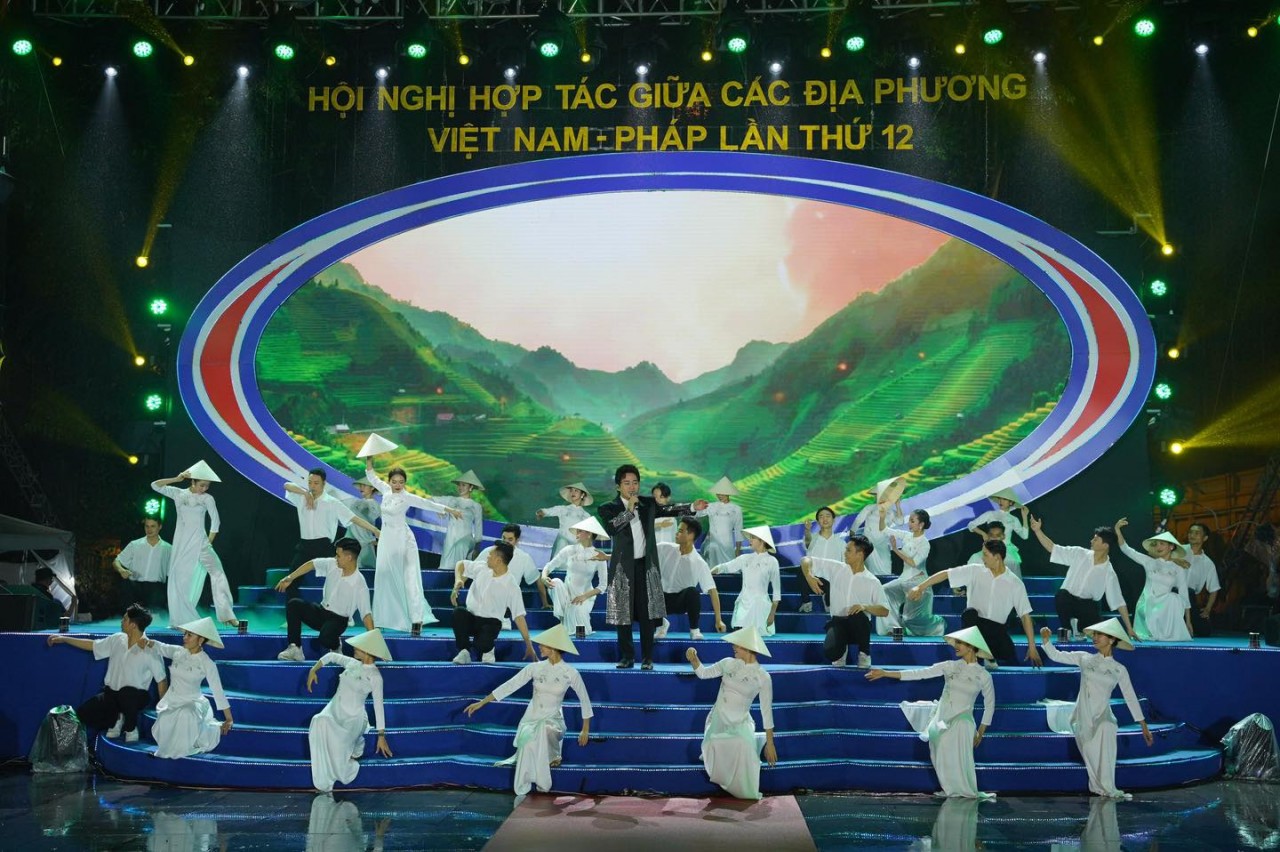 An art performance at the event. Photo: French embassy in Vietnam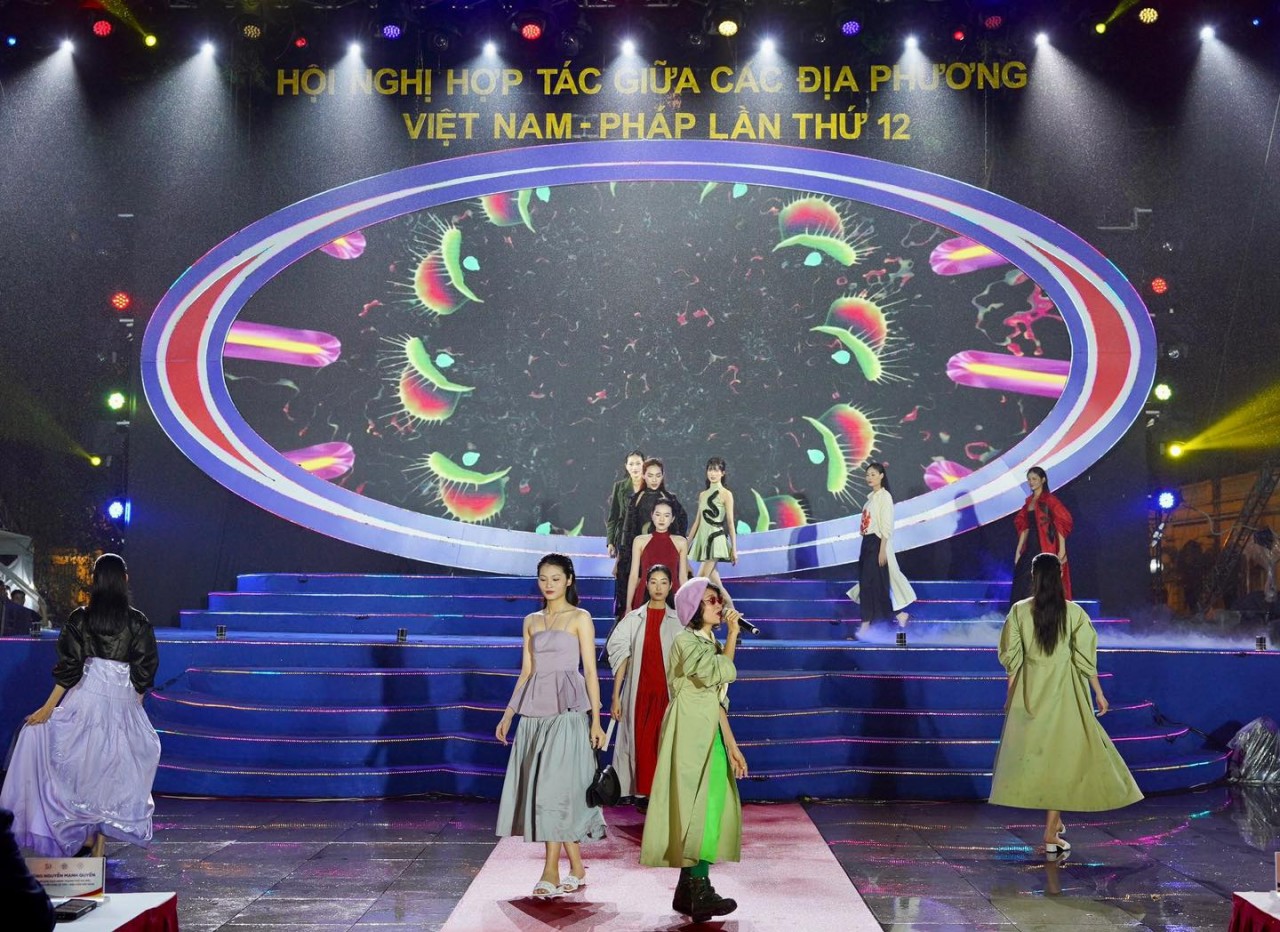 The art performance sees the participation of 150 artists. Photo: French embassy in Vietnam
Speaking at the opening ceremony, French Ambassador to Vietnam Nicolas Warnery noted that this year the festival has attracted the participation of 50 stands from famous restaurants, importers, and brands representing a range of French gastronomy, such as Paysan Breton, Métropole, Red Apron, Marou, Saint Honoré, La Table Hanoia, French fruit and ham suppliers, and France 24.
Most notably, the diplomat stated that about 100kg of fresh apples are being brought in daily during the course of festival as a means of introducing this famous French fruit to Vietnamese consumers.
Along with the culinary area, Balade en France also features a variety of stands introducing French tourism, hotels, and other related products.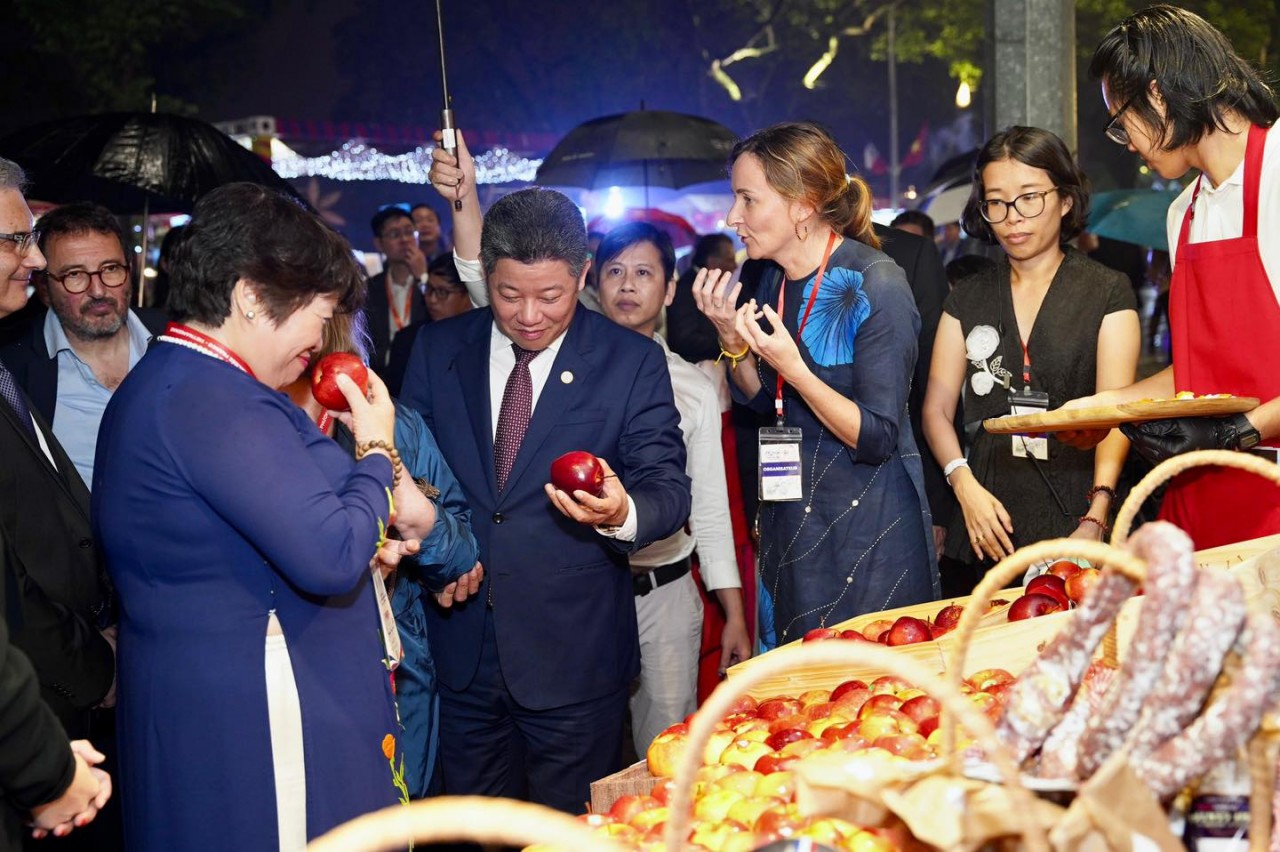 Delegates visited the booths capturing culture, tourism and products of Vietnam, as well as cooperation between the two countries, along with France's restaurants, hotels, agriculture and food. Photo: French embassy in Vietnam
Nguyen Manh Quyen, vice chairman of the Hanoi People's Committee, highlighted the three-day event as a contribution to promoting cultural and people-to-people exchanges between the two countries, while creating a warm space of friendship, mutual trust and understanding between France and the Vietnamese capital.
Cooperation between Vietnamese and French communities date back to the 1990s. The above-said conference has been held every two or three years since 1996, with Vietnamese and French localities taking turns to host the event. It is a chance for both sides to discuss difficulties, evaluate the results in bilateral relations, and deliver feasible solutions to foster their partnerships, thus strengthening the diplomatic ties between the two countries, according to VNA.
Along with Balade en France, the same day also saw the opening ceremony of an art performance and installation programme called "Colors of Vietnam" held by the city's People's Committee on Dinh Tien Hoang street and in the pedestrian area around Hoan Kiem lake.
The event have 80 booths, displaying cultural, cuisine and tourism products of Hanoi and other localities. The event includes promotion space of provinces and cities; exhibition space for craft village products; culinary introduction space; and common space introducing the Vietnam-France cooperation relationship.
The event will be an opportunity for people and visitors to experience the cultural quintessence, and attractive and unique tourism products of Hanoi and other provinces and cities. At the same time, it is expected to promote and introduce cultural tradition, potential and socio-economic achievements of Hanoi capital and localities of Vietnam.
It is hoped to promote the image of Vietnam, a safe, attractive and quality tourism destination, thereby contributing to communicating and affirming Vietnam's commitment to creating a favorable investment and business environment, effectively attracting foreign investment cooperation.
In parallel with the two events, visitors have the chance to enjoy a rich arts and culture programme performed by local and French singers, French film screenings, art classes, and hip-hop dancing.
Visitors will have a chance to taste high-quality products such as milk, chocolate, bread, cheese, jambon, fruits, wine and spirits.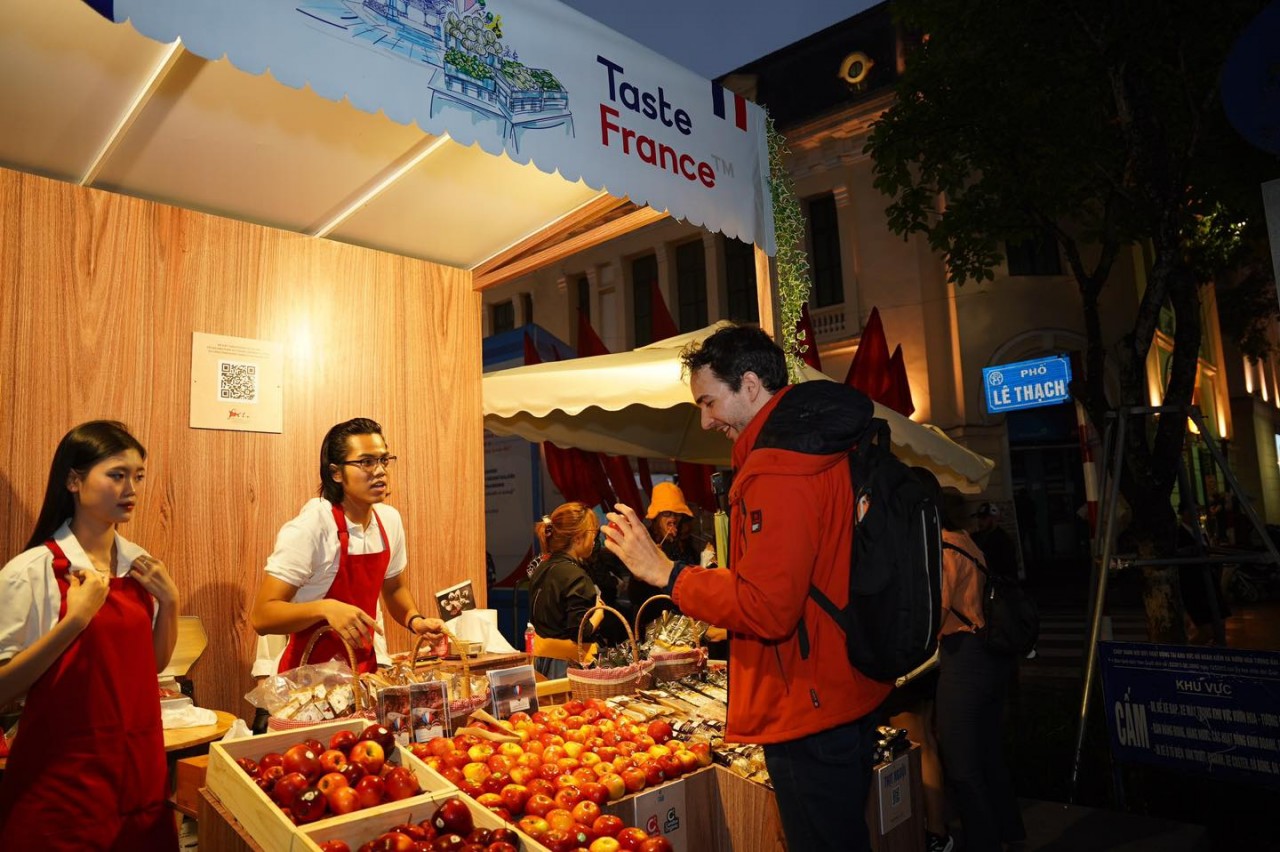 A booth sells fresh fruits at the event. Photo: French embassy in Vietnam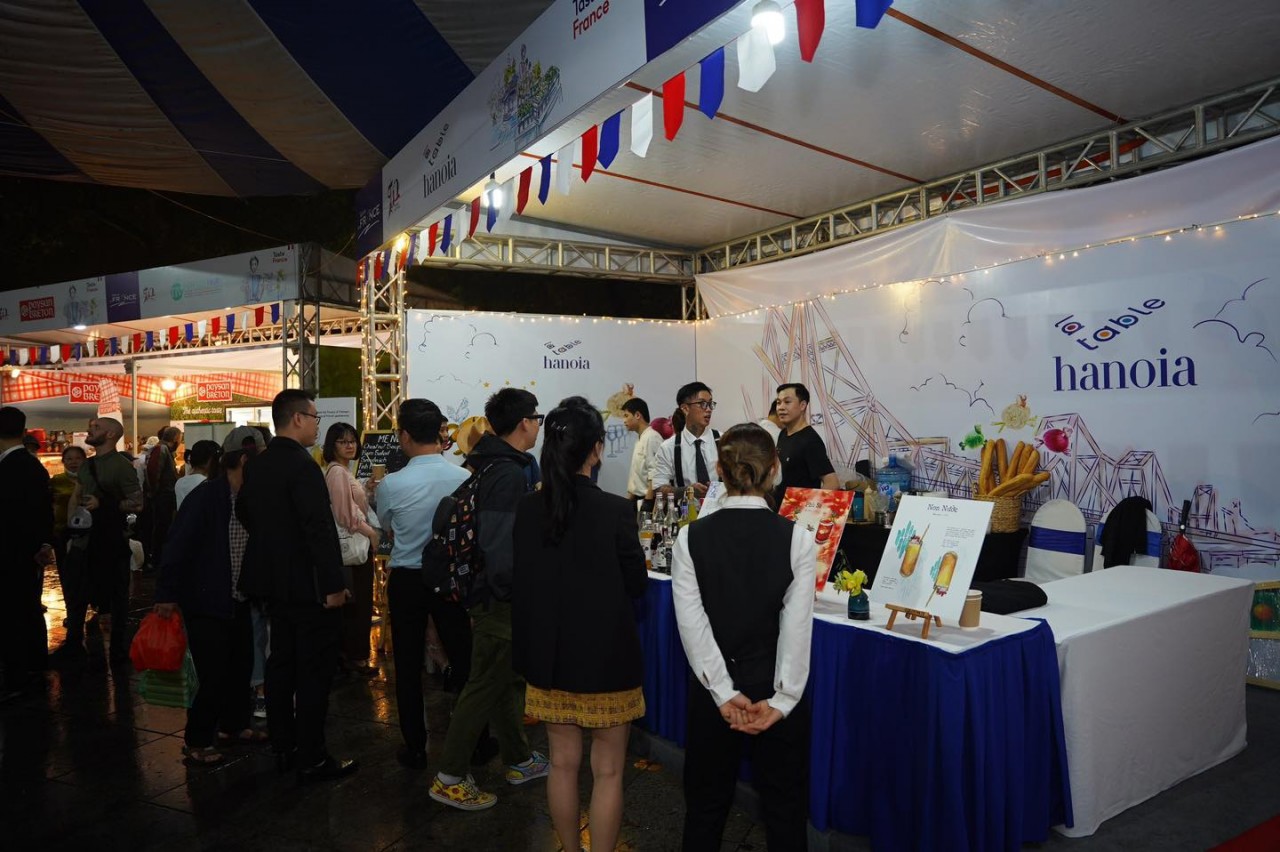 Visitors at a booth of France's drinks. Photo: French embassy in Vietnam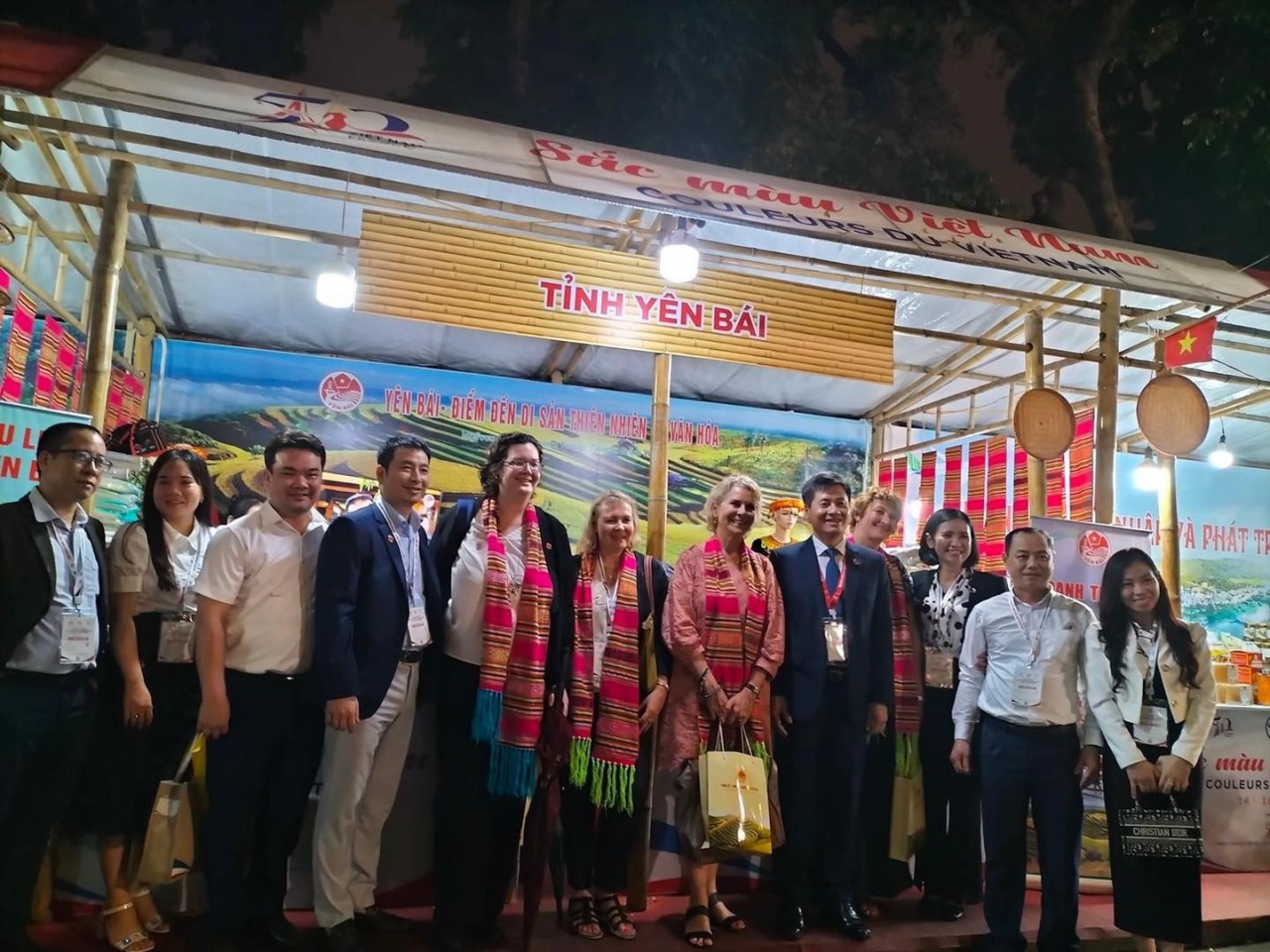 Visitors visit booth of Yen Bai province.