Réhahn's Stunning Vietnam Photography Displayed at French Hometown
These portraits of Vietnam's diverse people are the pièce de résistance for Réhahn, a world-class French photographer.
Participants at the opening of the exhibition. Photo: VNA
In the coastal city of Honfleur in northwestern France, within the framework of a series of activities to celebrate the 50th anniversary of Vietnam-France diplomatic relations and the 10th anniversary of the strategic partnership between the two countries, a ceremony took place on April 9, opening the exhibition space of art photos about Vietnam by French photographer Réhahn Croquevielle.
Led by his love of travelling and meeting people, Réhahn visited more than 35 countries before making his home Hoi An.
He is renowned for his images of Vietnam, Cuba and India, with some citing him as a photographer who captures the souls of his models.
His famous portraits of young children and old women from across Vietnam represent both large and small ethnic groups, from communities that have hundreds of thousands of members to just a few hundreds like the O Du and Ro Mam.
Speaking at the opening ceremony, Honfleur Mayor Michel Lamarrre highly appreciated the initiative to organize an event to celebrate the friendly relationship between Vietnam and France.
He commented that Réhahn's beautiful photographs are displayed in the public, where the sea, sky and light harmonise, reminiscent of his predecessors - famous painters such as Claude Monnet, Eugène Boudin, who inspired him from the special light of this place to create impressionism.
Honfleur always wishes to further promote friendly and cooperative relations with not only Hoi An city, but also other localities of Vietnam in the coming time, Lamarrre said.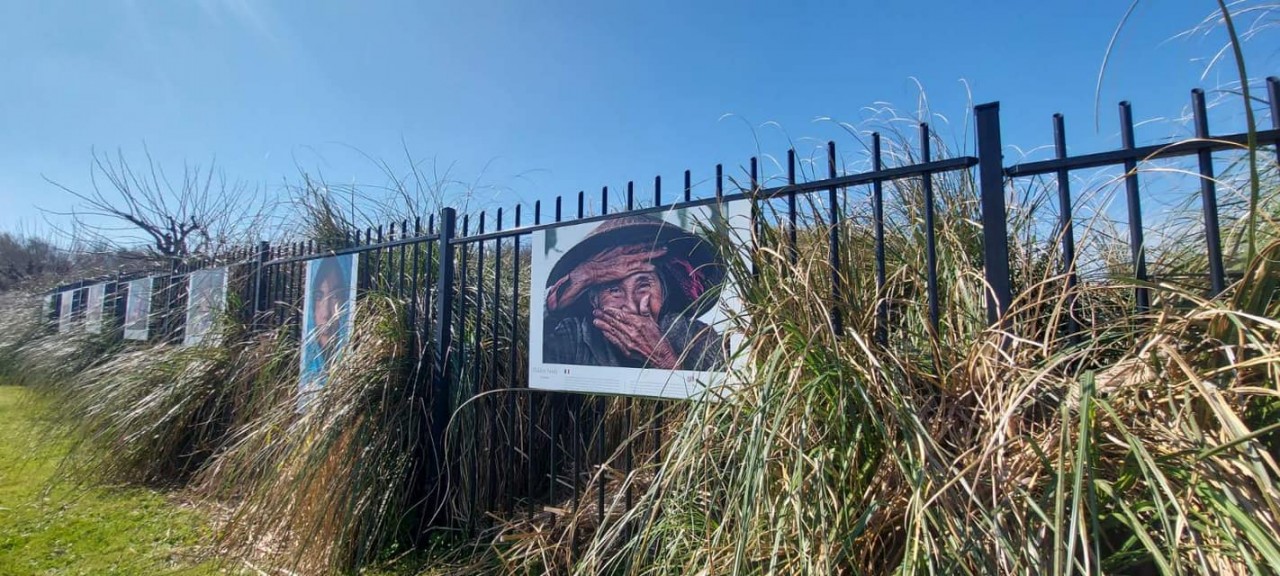 Réhahn, who is residing in Hoi An city, has been named among 10 best portrait photographers in the world. His photos are a unique combination of art and photography, frequently appearing in famous international media such as Condé Nast Traveler, The New York Times, National Geographic. Photo: VNA
Christophe Blanchet, vice president of the France-Vietnam Friendship Parliamentarians' Group, stressed that the photos taken by Réhahn, especially the portraits of Vietnamese women, exude courage and kindness. When he went to Da Nang and Hoi An, Blanchet saw the sincerity in these faces, in their smiles, exuded in them the joy of living, through the works of Réhahn, who has always wanted to help people discover the beauties of Vietnam today.
Ambassador Dinh Toan Thang emphasised the exhibition is special because its author, photographer Réhahn, is French, but has chosen Vietnam as his second home, and organising this event is a great dedication to the friendship that unites France and Vietnam.
"Réhahn is an excellent photographer who has created many famous works not only in Vietnam, but also around the world. In particular, his 'Hidden Smile' photo featuring an old woman named Xong, a boat rower on the Hoai River in Hoi An city of central Quang Nam province, has become a gift from General Secretary Nguyen Phu Trong to President Emmanuel Macron on the occasion of his visit to France in 2018," Ambassador Thang added.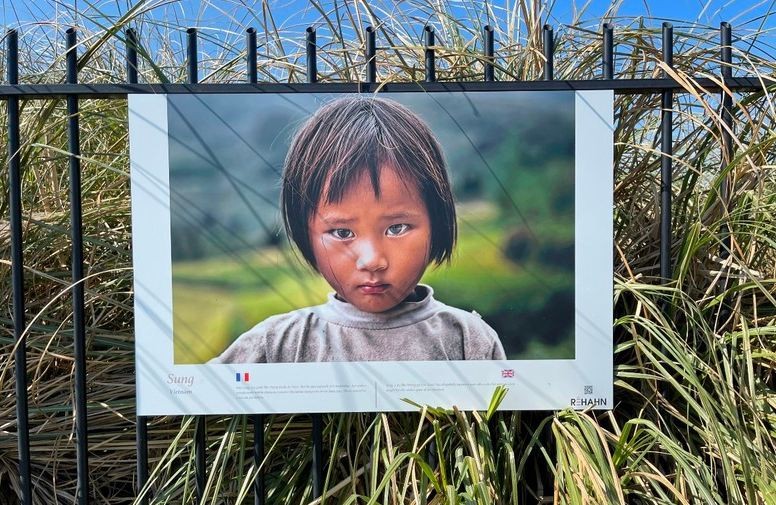 "Sung", the photo leaves many impressions for visitors. Photo: NDO
Sharing the same impressions when visiting the exhibition, Francois Clay and Barbara Le Breton, tourists traveling from Paris to Honfleur during the weekend, said that the portraits of Vietnamese people were taken by Réhahn makes viewers unable to take their eyes off.
"The pictures of Vietnamese villages and people are really impressive. But we were especially attracted by the photo of Sung - a girl from the H'Mong ethnic group living in Sa Pa town. Her eyes seem to have a lot to say," said Barbara Le Breton.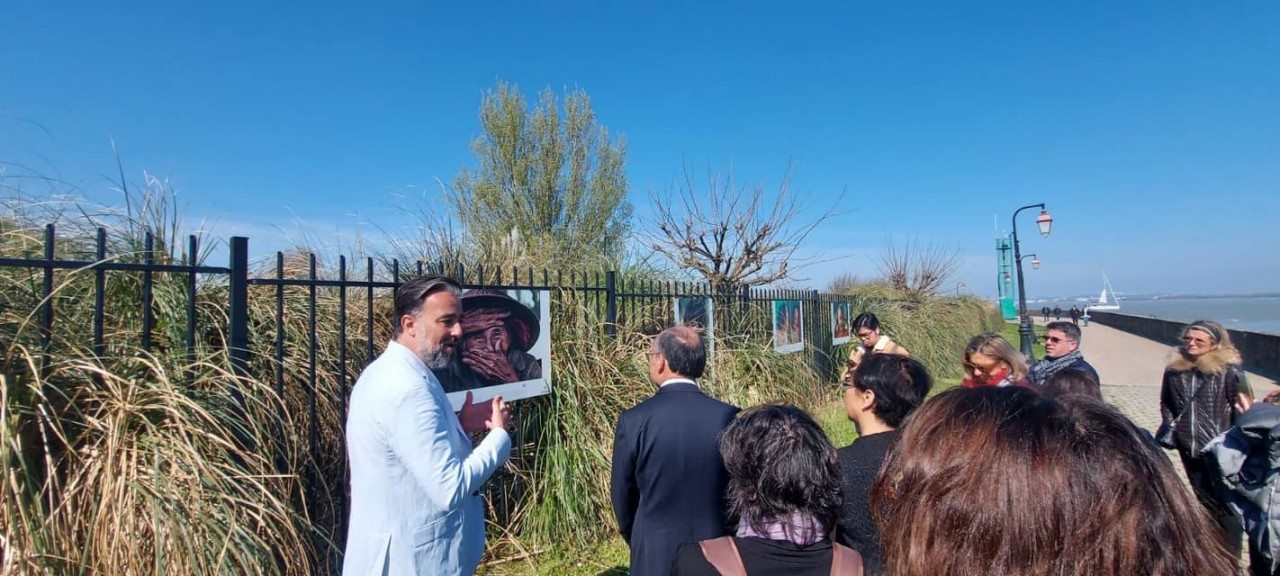 Impressionist photographer Réhahn introduces his works to audience at the exhibition. Photo: Ha Nguyen
Réhahn said that Honfleur is where he grew up, but he has been living in Vietnam for 12 years, and Hoi An is where his career shines. With all his love for both Vietnam and France, he decided to choose 44 photos to display in his homeland on this occasion.
44 portraits and landscapes are on display for the first time at the Park of Fame, along the coastal road of Honfleur, which attracts crowds of locals and tourists alike. The exhibition will run throughout this year.
On this occasion, Réhahn thanked the local authorities and Vietnamese friends for their enthusiastic support during the implementation of his photography projects.
Not too strange to photography fans, Réhahn's photos also regularly appear in international press publications. Since his trip to Vietnam in 2011, Réhahn has been fascinated by the ancient, poetic and traditional city of Hoi An. Since then, he chose to stick with this place, carrying out projects around the provinces and cities in Vietnam.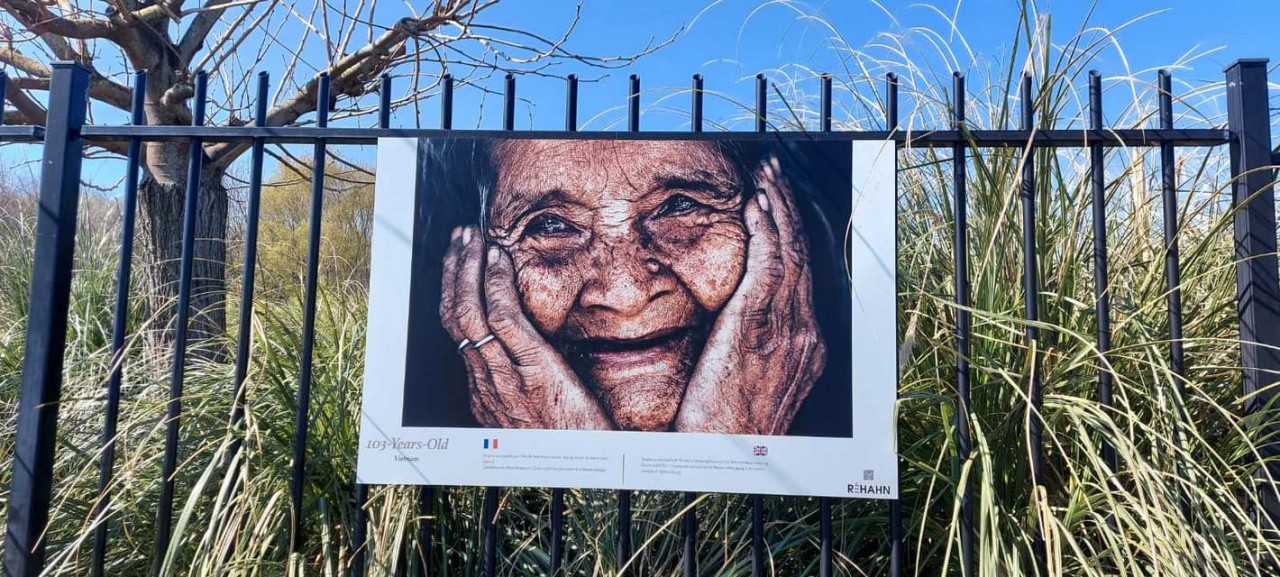 A photo by Réhahn Croquevielle. Photo: Ha Nguyen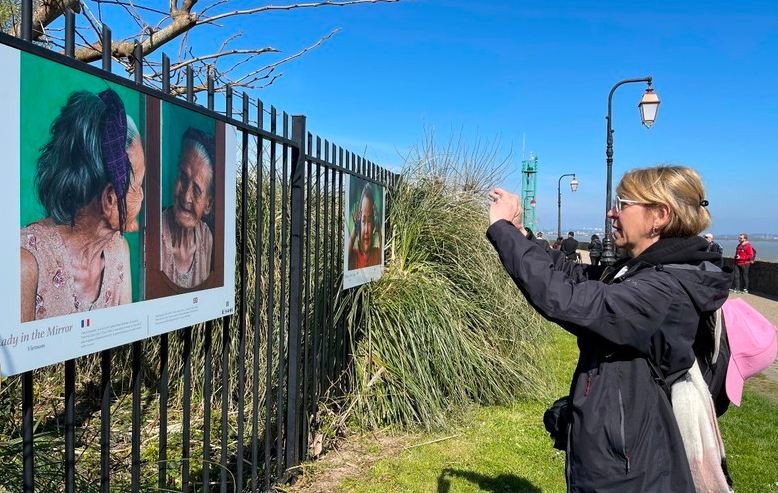 Local tourists and from many places in France to the resort city of Honfleur have expressed interest in the space of art exhibitions about Vietnam along the coast. Photo: NDO