Vietnamese and French Localities Seek Opportunities to Cooperate
The 12th Vietnam-France cooperation conference takes place from April 13 to 16 as the two countries celebrate the 50th anniversary of diplomatic relations and the 10th anniversary of the strategic partnership.
Titled "Localilities Cooperation: Driving force for post-Covid sustainable and comprehensive recovery and development," the conference opens up opportunities to evaluate the ongoing cooperation between Vietnamese and French localities. It also addresses difficulties and proposes solutions to strengthen policy implementation on cooperation among localities, contributing to consolidating the relations between Vietnam and France.
The event featured four seminars on: Sustainable cities; Environment, water and water treatment; Culture, heritage and tourism; Smart city and digitization.
The conference is expected to welcome 50 Vietnamese and 12 French localities, with over 800 delegates from both countries who are leaders of ministries, local authorities, friendship organizations and cooperation projects, overseas, Vietnamese in France and vice versa, experts and businessmen of both countries.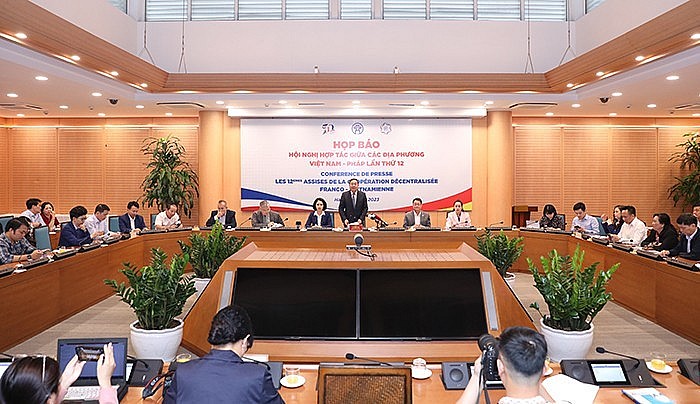 The 12th Vietnam-France cooperation conference takes place from April 13 to 16.
Many sideline activities were held to tighten the solidarity among localities and partners of the two countries, including "Colors of Vietnam" - an exhibition of 80 booths to promote typical products, culture, and tourist attractions of Vietnamese localities.
Local cooperation, also known as decentralized cooperation between Vietnam and France started in 1989 with the establishment of Hanoi and Ile-de-France partnership. In 1996, Hanoi partnered with Toulouse. Over the past 30 years, this form of cooperation has constantly developed to become a model for the friendly, traditional, and multifaceted cooperation between the localities of the two countries.
Over 33 provinces and cities in Vietnam and 24 localities in France have so far cooperated through 55 projects and local cooperation agreements. The projects focus on areas suitable to the needs of Vietnamese localities and the strengths of France such as culture, language, tourism, heritage conservation, museum, water, environmental sanitation, urban planning, education, training, research, vocational training, health, sustainable development, environment, agricultural and rural development.