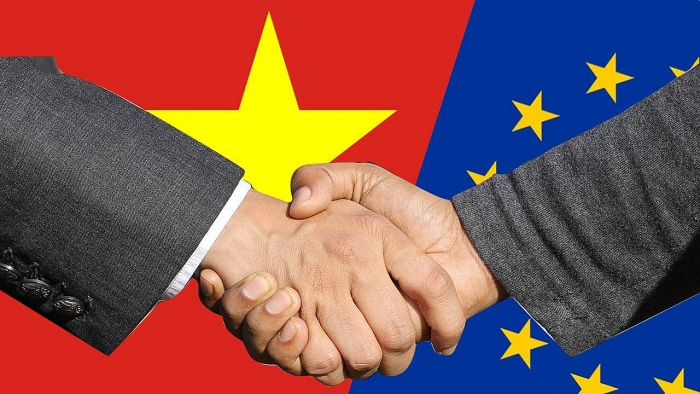 Illustrative photo bu Baoquocte.
The proposal was discussed by the NA Standing Committee on April 28 before the committee wrapped up its 44th session.
The NA Standing Committee expressed approval of the assessment on the two agreements' impacts presented in report of relevant agencies at the session.
However, Vice NA Chairwoman Tong Thi Phong requested more evaluation be made about the deals' impacts after the COVID-19 pandemic, especially after the UK left the EU, as well as about the new challenges after the two deals take effect along with opportunities.
The NA Standing Committee asked the Government and relevant agencies to continue review laws related to the two agreements for adjustment so as to ensure the consistency of the legal system and the observance of the Constitution.
The committee and the Government will hold a regular meeting on May 6 to review the issues to be submitted to the NA.
EVFTA will officially take effect for both the EU and Vietnam after Vietnam National Assembly ratifies and the two sides complete the notification procedures under the agreement.
On February 12, the EP voted to approve EVFTA with 63.35 percent of the votes in favor. According to the Ministry of Industry and Trade, on March 30, the European Council also approved the Vietnam - EU Free Trade Agreement (EVFTA), completing the final legal procedure according to the internal approval process of the EU.
The EVFTA provides for the almost complete (99%) elimination of customs duties between the two blocks. 65% of duties on EU exports to Vietnam will be eliminated as soon as the FTA enters into force, while the remainder will be phased out gradually over a period of up to 10 years, Hanoitimes reported.
As regards Vietnamese exports to the EU, 71% of duties will disappear upon entry into force, the remainder being phased out over a period of up to seven years. The EVFTA will also reduce many of the existing non-tariff barriers to trade with Vietnam and open up Vietnamese services and public procurement markets to EU companies.
Additionally, the trade deal contains important provisions on intellectual property protection, labor rights and sustainable development. The EVFTA includes commitments to implement International Labor Organization core standards and UN conventions relating for example to the fight against climate change or the protection of biodiversity.
VNT/VNA