Exciting local beach cleaning event in Son Tra Peninsula joined by expats
On 22 April, hundreds of tourists, expats, visitors and local residents joined together for the regular beach cleaning event in Da Nang, from the Nam (South) Beach on the Son Tra Peninsula.
Hundreds of volunteers who are local residents, tourists and expats in Da Nang joined a beach clean event on Wednesday morning. They actively got involved in picking up litter and trash from the Nam (South) Beach on the Son Tra Peninsula in an effort to help keep the beach clean and protect marine life here.
The move aimed to inspire the public across Da Nang to contribute to a greener and cleaner environment on World Earth Day (April 22), and raise funds for the GreenViet Biodiversity Conservation Centre –launched campaign to grow 1 million trees in urban areas in order to make the environment more beautiful. In addition, the intention is to inspire the public across Da Nang to keep the Son Tra Peninsula, and Da Nang at large, clean and green.
The event was jointly organised by the Management Board of the Son Tra Peninsula and Da Nang Tourism Beaches, the GreenViet Biodiversity Conservation Centre, Da Nang Go, Green Run and Section 30.
In June 2015, Da Nang launched an education and communication program for environment and tourism after pictures of two tourists, cleaning up the beaches, made it into the media. The decision to impose penalties fell on the 15th of July. The focus of Da Nang's clean up program lies on the major tourist areas Ngu Hanh Son and Son Tra.
Tran Chi Cuong, Da Nang City's vice director of the Culture, Sports and Tourism Department announced in that context:
"We educate local people in these districts to set a good example of tidiness. First we warn local residents, restaurant owners and tourists and then fine if them if they continue littering."
The campaign will run until September 30th and attempts to instill civic behavior in residents and tourists alike, as well as creating a safe and tidy environment for touristic development. If the program turns out to be successful, it will be reviewed for permanent implementation.
The biggest city of the Center attracted two million tourists during the first half of the year, of which 600,000 were foreigners. A 25% growth compared to past years, especially important since tourism in the rest of Vietnam is doing not too well.
The fines for littering on the beach lie between VND 50,000 and VND 100,000. Residents throwing their trash on the street are fined VND 200,000 and urinating in public places costs VND 300,000.
An officer who wants to remain anonymous, said:
"We want to raise people's awareness of keeping the environment clean.
The punishment will be enforced thoroughly to deter violations."
The program was welcomed with open arms by Vietnamese and foreigners alike, and the general consensus was that other cities in Vietnam should follow Da Nang's pioneering example.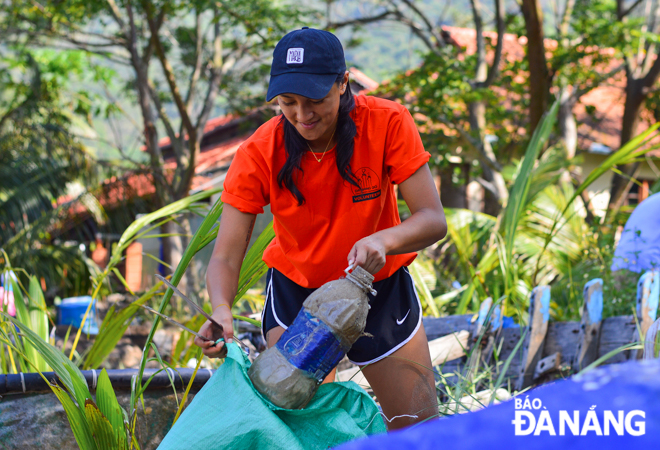 Isis Mok – a member of Da Nang Go at the Nam Beach (Photo: Da Nang Newspaper)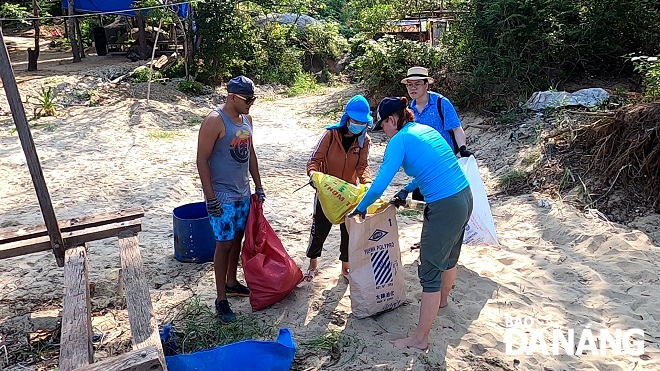 Expats in Da Nang cleaning trash on the Nam Beach (Photo: Baodanang)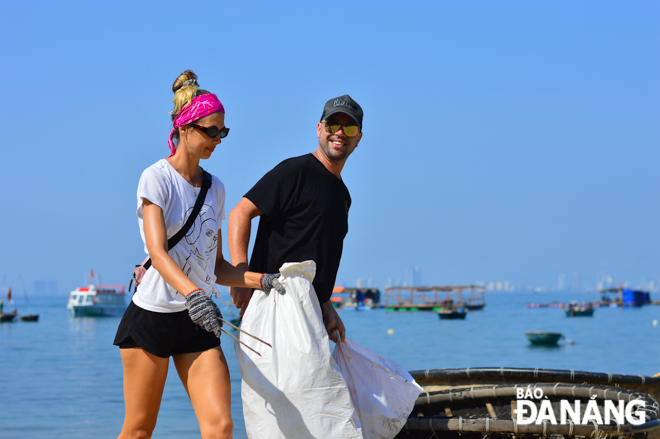 Joy and happiness on the faces of foreign volunteers (Photo: Baodanang)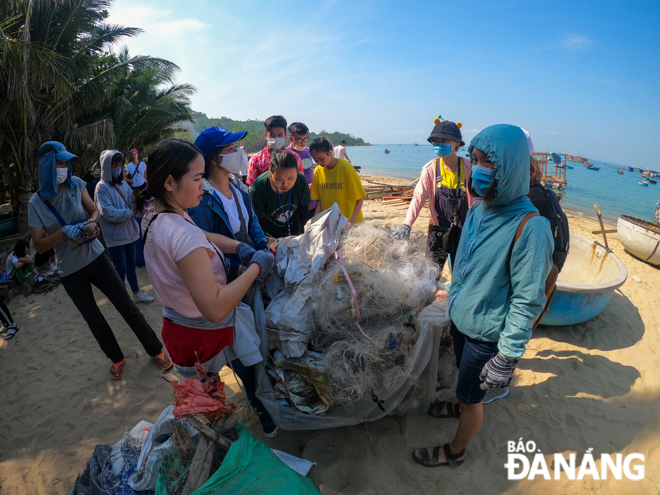 The beach clean event sees the active involvement of Da Nang people (Photo: Baodanang)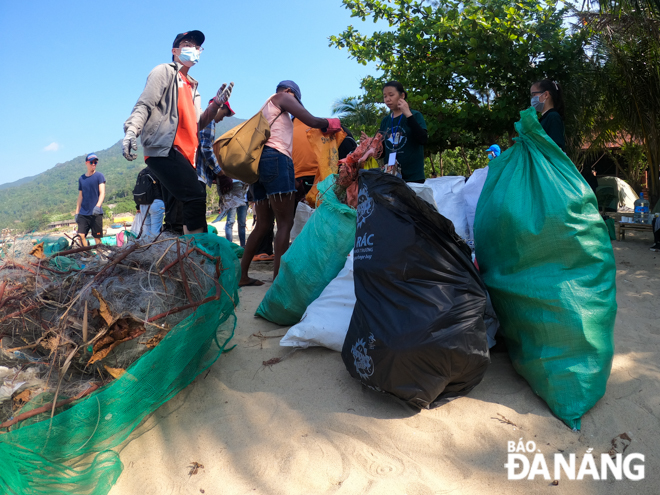 Trash is placed in a collection area before being sent to an appropriate sorting or treatment site. (Photo: Baodanang)
Da Nang - The perfect destination for a holiday
Da Nang marks the halfway point between the capital in the north, Hanoi, and Ho Chi Minh City in the south. It's the fourth largest city in Vietnam. Apart from some shopping highlights and historical sights, the main reason for most travellers staying here is its proximity to the well-known My Khe Beach, Lang Co Beach, Hoi An and My Son.
Lang Co Beach is lined with palm trees, the water of the nearby ocean crystal-clear and enticing, lapping onto white sand. It is a peninsula with a sparkling lagoon on one side, and the beach on the other. The area is fairly under-developed, although recent years have seen many new hotels opening. My Khe Beach is more developed, since it was a popular spot for American soldiers seeking R&R during the Vietnam-US War. Water sport activities here are in abundance, and it can get very crowded over weekends and holidays. Da Nang's coastline stretches 30 kilometres, renowned for calm, cool waters and also popular for fishing, water-skiing, diving, and yachting.
Things to do in Da Nang
Enjoy the beach
In the early morning there is a palpable sense of positive energy in Da Nang. It's impossible not to feel the buzz of Da Nang life and be swept along with it, so be sure to set the alarm clock early at least once on your stay. Along the shore, fishermen sell the day's catch, football and volleyball matches spring up all around, and people jog, stroll or simply relax as the morning breeze kicks up and waves wash the sands.
See the Son Tra Peninsula
The Son Tra Peninsula strikes out into the ocean, its densely forested hillsides are home to rhesus macaques, long-tailed macaques, pygmy lorises, and the endangered red shanked douc langur -- one of the world's most striking primates. Grab some binoculars, hire a motorbike, and head out for a day of wildlife spotting.
Learn about Cham culture
A couple of hours outside of Da Nang lies My Son Sanctuary, a UNESCO-listed complex of abandoned temples dating from the 4th to the 14th century. Hidden among the jungle, some towers are overgrown and many are in ruin, but enough remains to whisk you back in time. To learn more about Cham culture, visit the superb Cham Museum of Sculpture in Da Nang, home to the largest collection of Cham sculpture in the world.
Dine on street food
Da Nang is a dream destination for foodies, with scores of seafront eateries serving every night of the week. Banh mi—the Vietnamese baguette—is taken to a new level here. Mi Quang is another delight and every Da Nang local will offer an opinion on where to find the best. Each bowl features yellow rice noodles, pork, shrimp, and a flavour-infused broth topped off with chopped peanuts, quail eggs and plenty of fresh herbs.
Plan a daytrip
Marble Mountains, a collection of five outcrops topped with atmospheric pagodas, is a rewarding daytrip from Da Nang. Not far away, Ba Na Hills has made a comeback in recent years thanks to a record-breaking 5km cable car that rises almost 1,300m from sea level. The view across the mountain and jungles from the cable car is spectacular, but the fun begins at the top with an alpine coaster, funicular railway, 18-hole golf course and more.
Drive the Hai Van Pass
Hai Van Pass is one of the finest stretches of coastal road anywhere in Vietnam. Climbing for 9km out of Danang, you'll be rewarded by views of deserted beaches and jungle-clad slopes. The descent on the other side leads to the Lang Co lagoon, where floating restaurants will be happy to serve you a fresh seafood lunch.