Exhibition on Soviet Union's support for Vietnam held in St. Petersburg
An exhibition is being held at the Russian Museum of Military Medicine in Saint Petersburg to give visitors an insight into the assistance of the former Soviet Union's army for Vietnam.
Some of the items displayed at the exhibition in Saint Petersburg. (Photo: VNA)
The exhibition is organised with the support of Saint Petersburg's authorities, the museum's leaders, the Vietnamese Embassy in Russia and businesses.
It showcases photos and objects reflecting the wars' destructive consequences in Vietnam and the Soviet Union-Vietnam cooperation in post-war reconstruction.
The event displays proofs of least-known inhumane treatment against Vietnamese people, violations of international human rights law, and the use of chemical toxics against civilians in the war.
It also features medical tools the Soviet Union provided for Vietnam and personal belongings of Vietnamese soldiers. Additionally, rare videos and photos also give visitors a vivid look at the war in Vietnam.
Among the exhibits, there is a comb made from debris of a US aircraft shot down in Vietnam that was presented as a gift to heroine Irina Levchenko of the Soviet Union. They also include reports, personal documents and photos of Matvey Voitenko, who led a group of Soviet military experts sent to Hanoi in 1969.
Vyacheslav Kalganov, deputy head of Saint Petersburg's external relations committee, said the exhibition is part of a project jointly carried out by the city and Ho Chi Minh City to mark the 50th death anniversary of Vietnamese President Ho Chi Minh.
It is also among a series of activities during the Vietnam Year in Russia and will remain open throughout 2019./.
VNF/VNA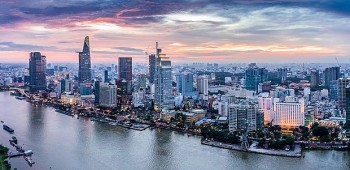 Economy
Japanese investors have been interested in the property market in Vietnam.