Exhibition to Celebrate 50 years of Japan - Vietnam Relations
As part of the programs in celebrating the 50th Anniversary of the Establishment of Diplomatic Relations between Japan and Vietnam, The Japan Foundation Center for Cultural Exchange in Vietnam presents the lacquer painting exhibition "Moon" by Saeko Ando, opening on September 8 in Hanoi.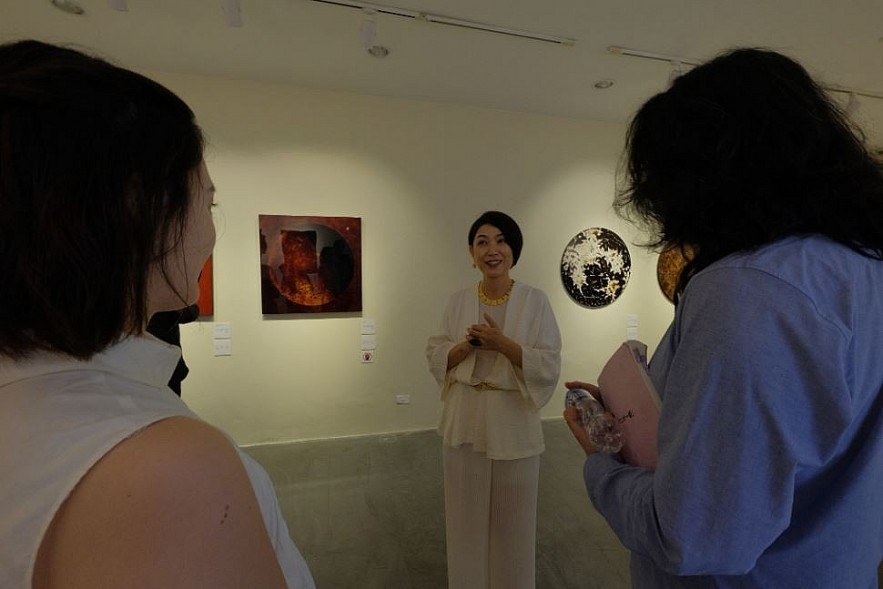 Japanese artist Saeko Ando (middle) talks to the audience at the opening ceremony of her exhibition, "Moon", on September 8 in Hanoi.
The opening ceremony was warmly welcomed by more than 100 audiences, including distinguished guests from the Embassy of Japan in Vietnam, Vietnam-based Japanese artists, as well as Japanese artists featured in the opera "Princess Anio."
All the artworks displayed at this exhibition depict the moon in various phases, seasons, weather, time of day, and shades of color. And they are displayed alongside waka poems that Saeko chose for them.
Japanese artist Saeko Ando, who has lived in Vietnam since 1995, has gained international renown as a contemporary artist, who merges traditional Vietnamese lacquer-craft skills and son mai painting techniques learned from past generations of lacquer masters with original methods she developed through decades of experimentation.