Vivid 3D Images of The Homeland's Sea and Islands Showed to Khanh Hoa Students
3D films recreating ship model, ambulance stretcher, sovereignty milestone, Hoang Sa Flotilla ship in virtual space will be introduced to students of Khanh Hoa province through an exhibition.
The exhibition titled "Hoang Sa and Truong Sa of Vietnam – Historical and Legal Evidence" aims to enhance the public's awareness of and responsibility for protecting the country's sovereignty over sacred seas and islands, while recalling the sacrifice of generations to guard those seas and islands, and confirming the Vietnamese Party, State and people's determination to firmly safeguard the nation as well as its sea and island sovereignty.
A digital exhibit started from September 18 at Vo Van Ky secondary school in the central province Khanh Hoa province, to offer students an insight into the historical and legal evidence proving the nation's sovereignty over Hoang Sa (Paracel) and Truong Sa (Spratly) archipelagos, VOV reported.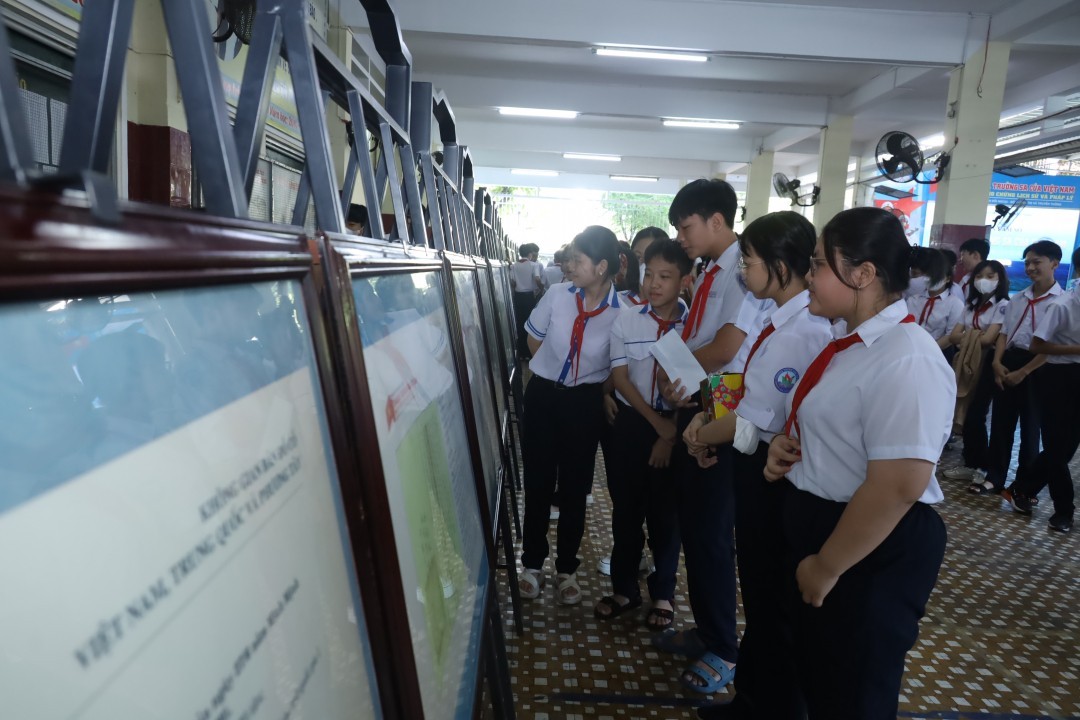 Students of secondary schools in Nha Trang see documents about the Hoang Sa and Truong Sa archipelagos displayed directly on the school campus. Photo: Khanh Hoa Newspaper
During the three-day event, all students and teachers have the chance to watch 3D films that feature Vietnamese sovereignty over the two groups of island in the South China Sea in accordance with international law.
Furthermore, various photos and documents about the country's sea and islands which have been collected by both domestic and foreign researchers and scholars are also on display.
Some photos capturing the daily life of soldiers and people on Hoang Sa and Truong Sa are also being exhibited at the event.
Notably, students are encouraged to participate in contests on the two archipelagos, helping to raise their awareness and responsibility for the cause of national construction and defense.
The exhibition is scheduled to take place in nine schools across Nha Trang city up to October 21 as part of a public communication campaign to assert Vietnamese sovereignty over Hoang Sa and Truong Sa.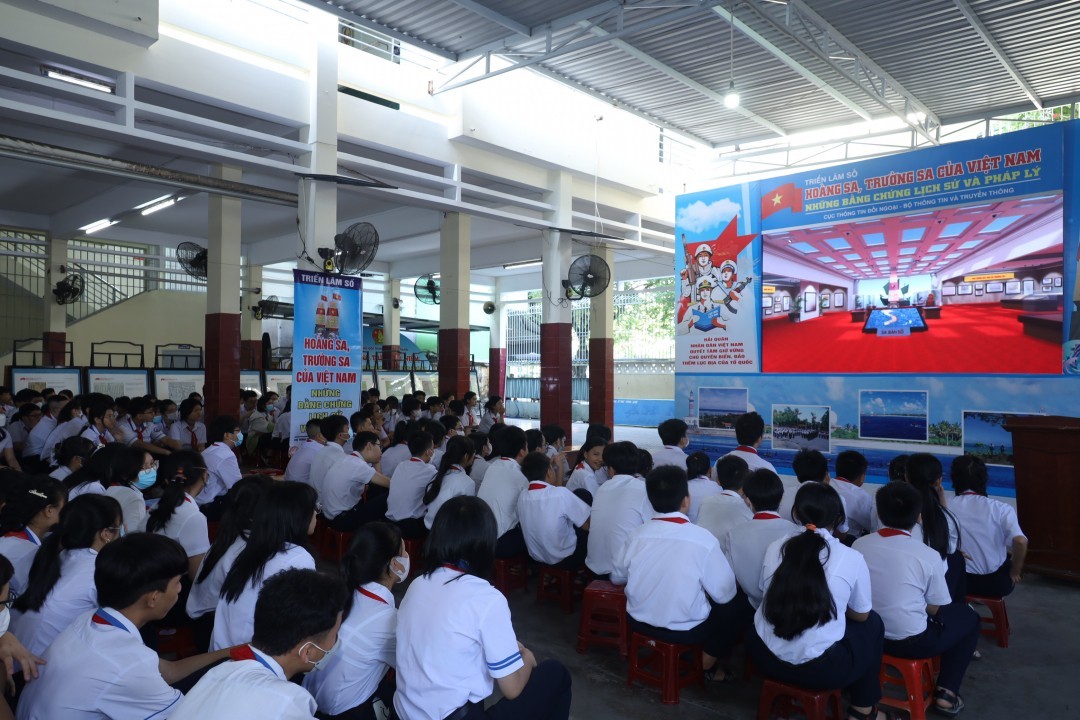 Students at Vo Van Ky Secondary School watch a 3D movie introducing Vietnam's sovereignty over Hoang Sa and Truong Sa. Photo: Khanh Hoa Newspaper
Bringing a digital exhibition about Hoang Sa - Truong Sa to schools is an opportunity for teachers and students to remember and pay tribute to the contributions and sacrifices of generations of ancestors to protect sovereignty over the two archipelagos.
In June, an exhibition entitled "Youth with the Homeland's sea and islands" was opened in Tam Ky city of the central province of Quang Nam, introducing 152 documents and photos featuring the history of exercising Vietnam's sovereignty over Hoang Sa, activities to protect Vietnam's sovereignty over seas and islands in the current period, and the sentiments of youth in Quang Nam and Da Nang towards the homeland's sea and islands.
Vietnam has over 3,200 km of coastline and about 1 million sq.m of exclusive economic zones. It houses over 40 bays, 2,773 coastal islands, and various archipelagos including Hoang Sa and Truong Sa.