Expat Artist Inspired by Vietnam's Woodcut Printmaking
Woodblock prints of Vietnam images reflect artist Jack Clayton's travels in the S-shape land.
For centuries, dedicated Vietnamese artisans practiced the craft of woodblock printing in the Ho Village, located on the outskirts of Hanoi. Now, a young creative pursues the ancient art form yet he differs from his predecessors; he lives in Saigon and he was born in London, England. Despite coming from a different culture, artist Jack Clayton has spent the past seven years drawing, carving, and making woodcut prints that combine Western and Eastern styles. He learned this craft whilst in the UK starting back in 2009 and has combined his early inspiration of Japanese and European woodcut printmaking with the Vietnamese art of Dong Ho Painting.
As a staple of Saigon's expat art scene, Jack encourages others to try their hand at woodcut relief printmaking. He believes that the only tools an artist needs are their hands, imagination, and a lot of practice.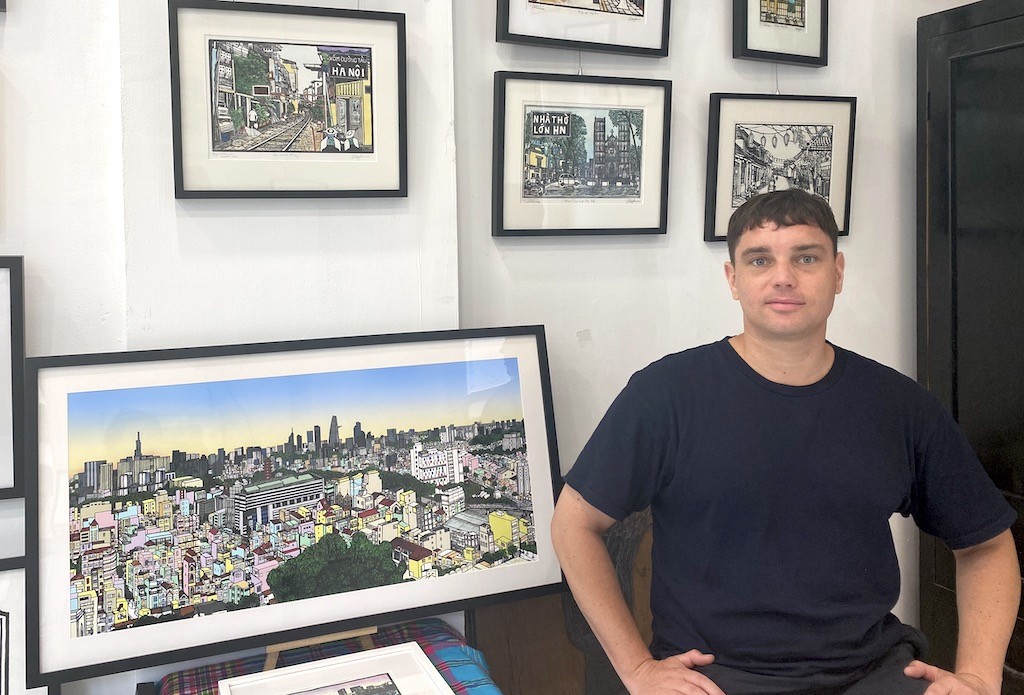 Jack Clayton, born and raised in London, England, is now a Saigon-based artist living in District 4. Photo: Zoey Nguyen
In the cozy space of his studio in District 4 (HCMC), Jack began his interview with the Vietnam Times reminiscing about his years of exploring the world. The expat artist explained that this impulse to explore and experiment has guided his quest for professional printmaking.
"I studied for my degree in graphic arts and design in Leeds after moving outside of London. For two years I was working and traveling around Australia and after I graduated, I did not have much opportunity to create art and only had the chance to exhibit once. Then I decided to travel around Southeast Asia and I stayed in Vietnam for its own strong identity and it seemed, in a strange way, similar to London."
His art is influenced by the busy streets of Vietnam. According to Jack, at every corner, in every person, regardless of the time and place, there is a unique story. These stories turn to visuals that he puts down into pieces of wood.
Displayed on the first floor of his studio, Jack's collection demonstrates how the rush of the metropolis's streets, intersect with tiny shops and cozy alleyways.
This crafty artist can make the smallest, most mundane details into a highlight in a painting. His works are vibrant in color and give a glimpse of Vietnamese lifestyles, including portraits of many characters like shop owners, cyclo drivers, and mostly locals doing their daily activities.
Showcasing his love of different cities and provinces across the nation in different parts of his studio, Jack turned his small shop into a cultural festival with a Hanoi corner, a Saigon wall and a Hoi An wall to view.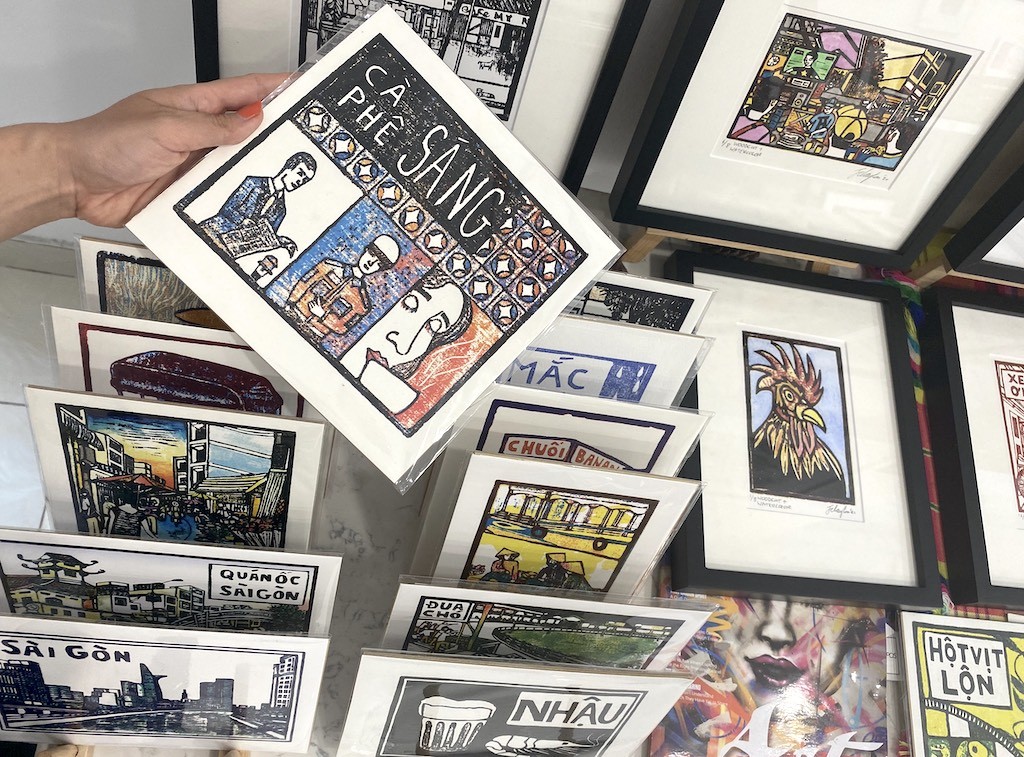 Photo: Zoey Nguyen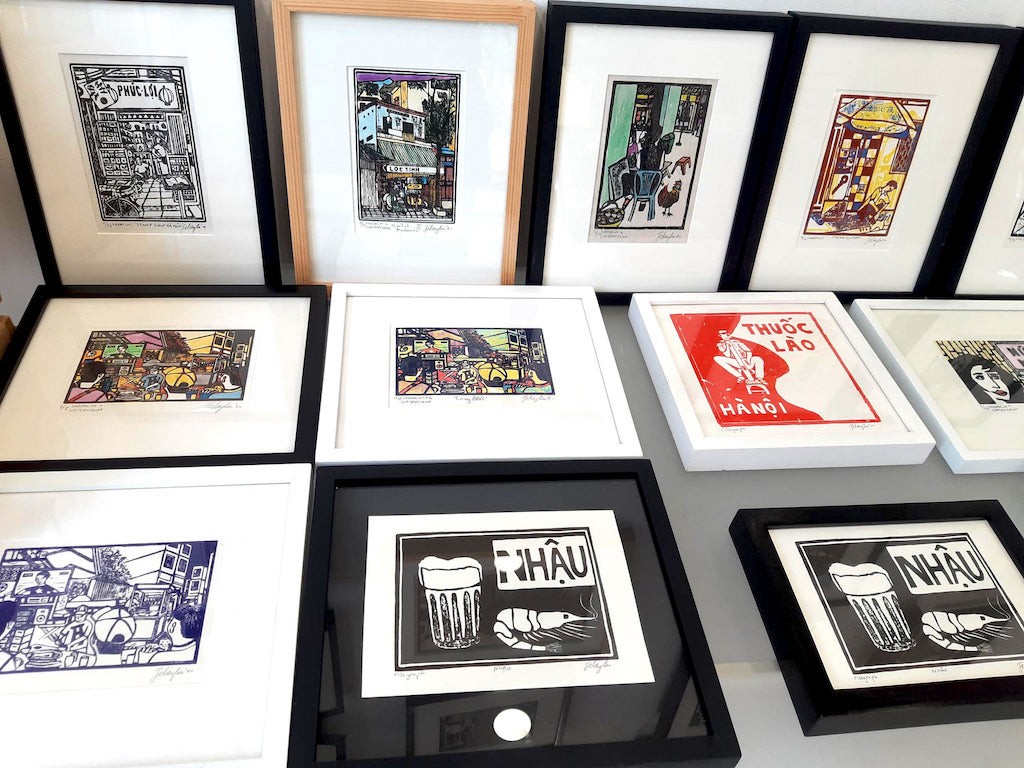 Photo: Saigon Print Shop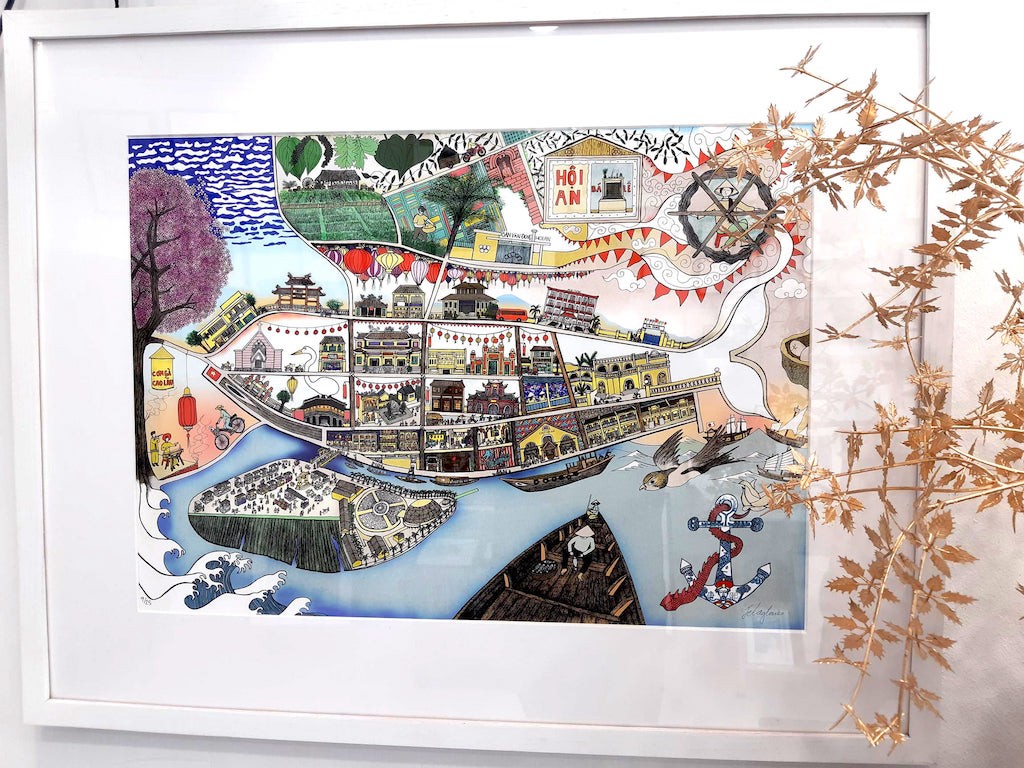 Photo: Saigon Print Shop
The western artist is fascinated by many unique Eastern cultural characteristics, especially the designs of bronze Dong Son drums.
Using his imagination, Jack combined the traditional patterns of the drum with symbols of Vietnam localities. Small details of the landscape, the tourism destination, and the faces come together in a circle to describe the beauty of Vietnam.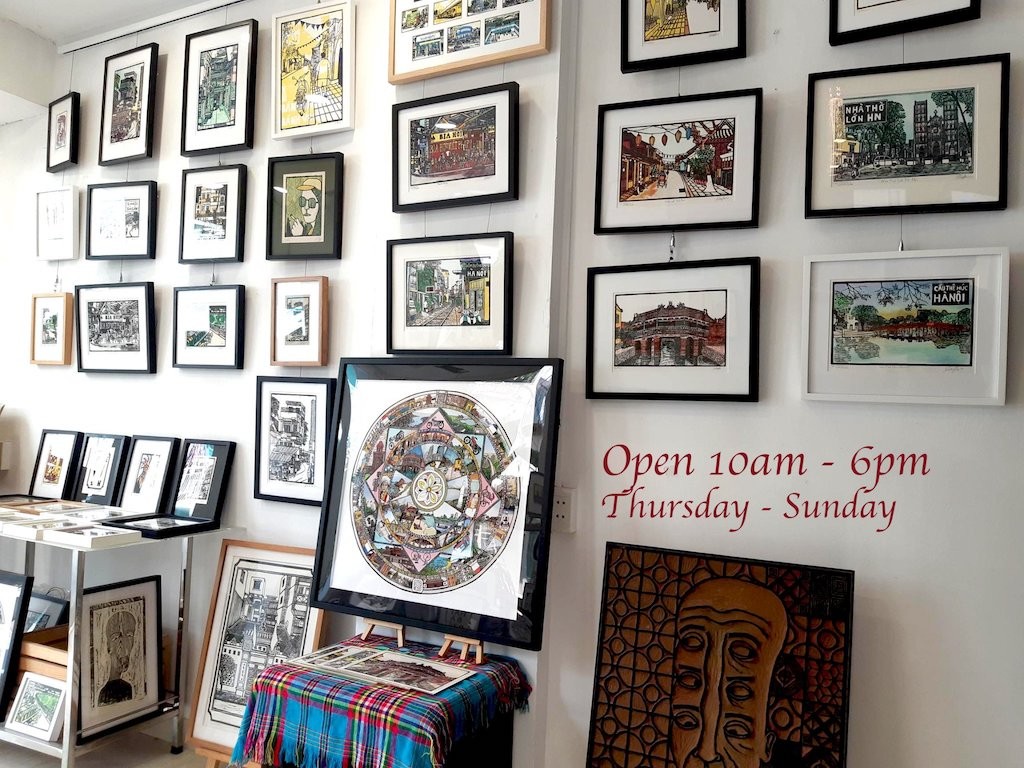 One of his most well-known works are of the Dong Son drum. Photo: Saigon Print Shop
The emotional ride of contemporary printmaking
Saigon is the ideal destination where Jack can freely express himself as an artist. For the first few years in Vietnam, Jack was an English teacher full-time and an artist part-time. While he enjoyed teaching, opening a woodblock printmaking studio is his passion.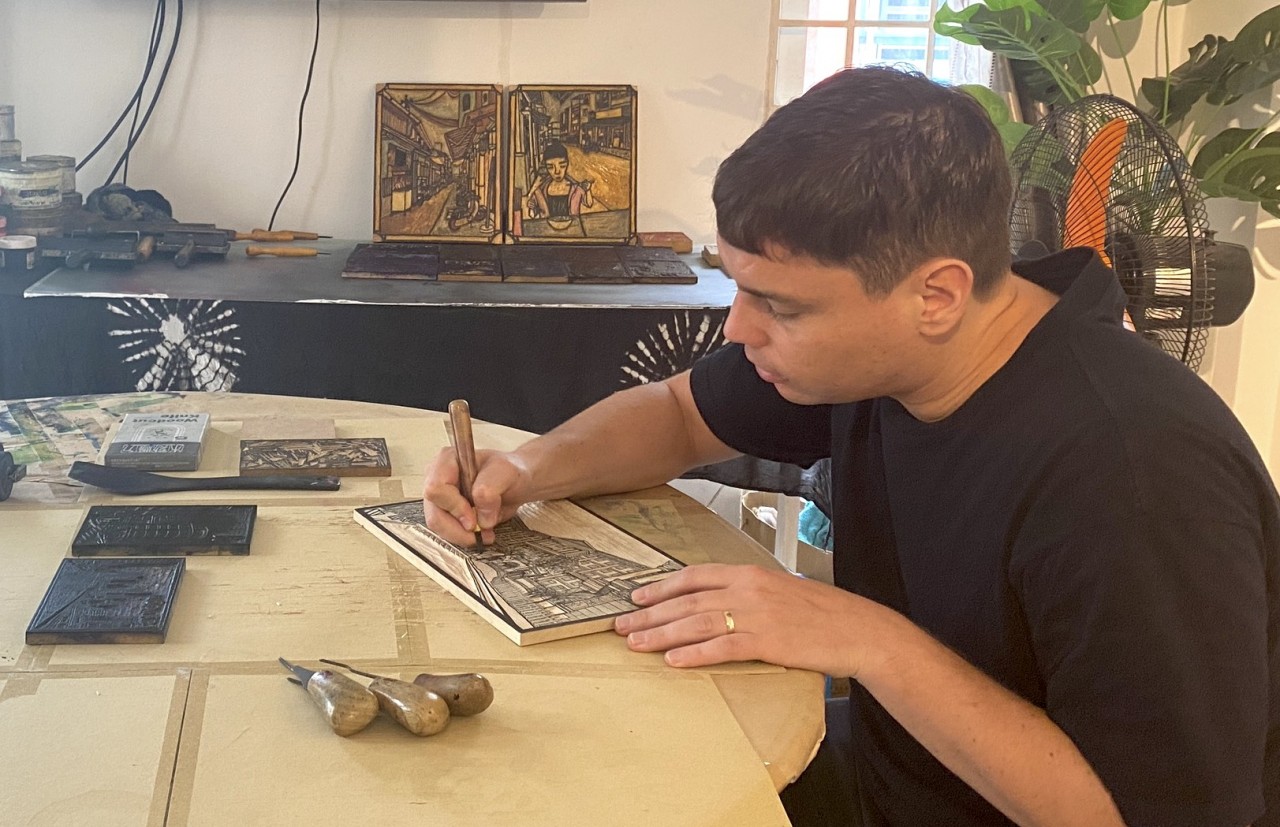 As he carves, draws, and paints, the woodblock no longer a mere object. It became a representation of Jack's love for Vietnam. Photo: Zoey Nguyen
Finally, in 2020, Jack's dream came true when Saigon Print Shop was established. The new business owner was happy that for the last 2 years, he was able to hold up and prosper despite the complicated situation of the pandemic. In 2021, Saigon going into a strict Covid-19 lockdown was a big challenge for Jack.
"The old Saigon Print Shop was near the Seafood area on Vinh Khanh street, District 4. Tourism was booming, so we thought we would attach ourselves more to the tourist market and reach out to people who visit the Seafood street area. As soon as we opened the studio, tourism shut down. We never experienced the luxury of having the tourist trade. So we moved to a new location, I had lots of ideas and make lots of different artwork. I thought that when the lockdown happened, we were actually quite fortunate we've got into this new place and a chance to refresh our business."
During the lockdown, the artist brainstormed how to take his vision into the art of the woodblock medium, then carried out the entire process over several weeks. He is proud of having all his works on the wall as a miniature catalog which now tells an intimate story of the area he calls home.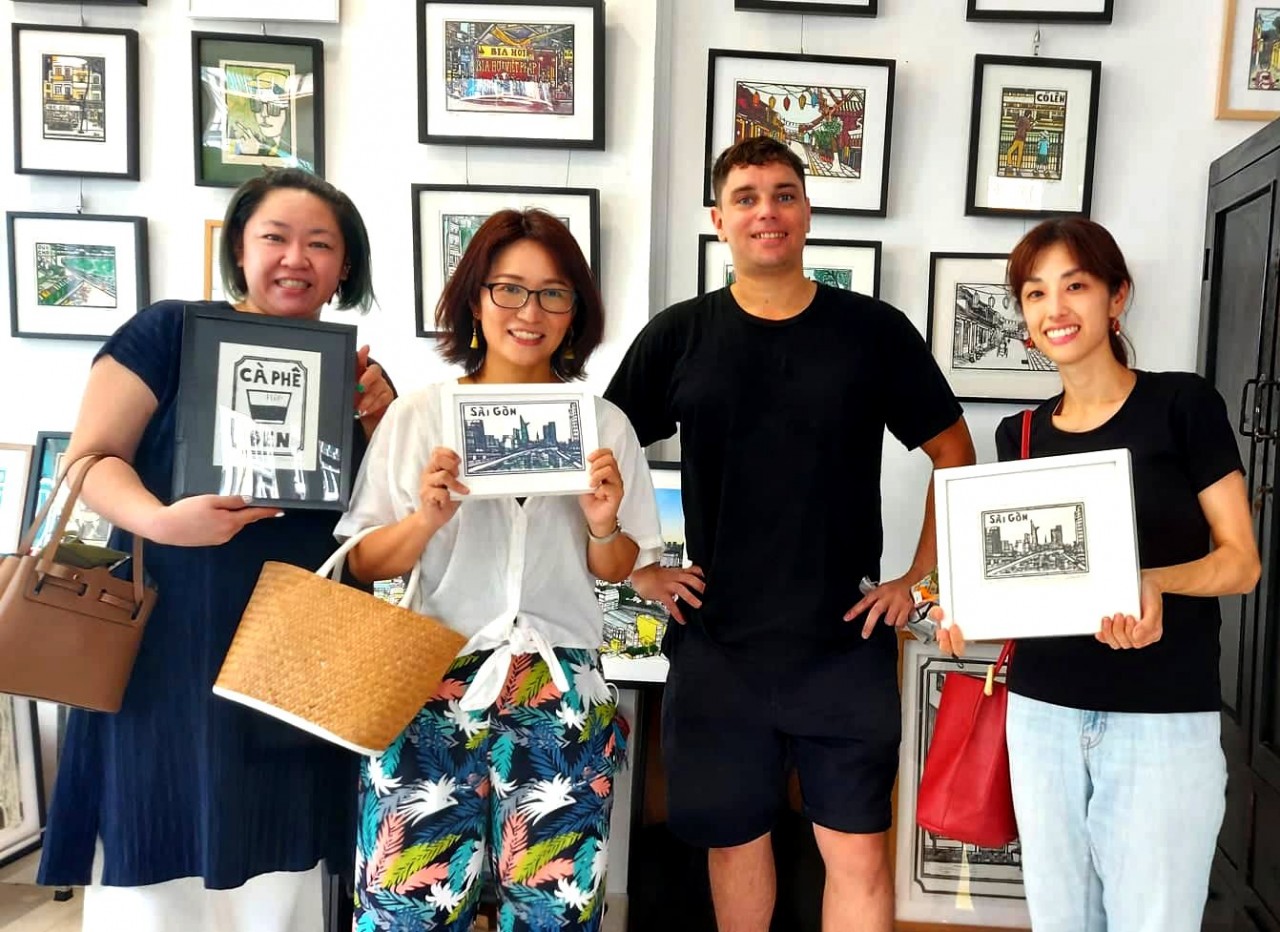 Jack (second from right) with customers. Photo: Saigon Print Shop
Jack's studio is also where he teaches art classes for both locals and expats.
His students will learn basic printmaking skills and more importantly, how to express themselves through art. He explained that he has followed this principle since college to find his own artistic voice.
"In university, I liked record cover album art, so I wanted to make cool artwork on record sleeves. But my professor advised me: "Why don't you look at the artists who make that and then see what inspired them. Go back before to see what they're inspired by rather than just making exactly the same work as someone else." So my advice for aspiring artists is: Don't just copy or imitate. Have a perspective because if you want to find what inspired your heroes, there's a story behind their success. Don't just be inspired by people you admire or your heroes. Look at what inspired them."
Since January, Jack has been busy with many projects, from hosting workshops to collaborating with international schools. His future plans in 2022 include a city walk art class. Jack's idea is to combine tourism and art to give tourists a unique Saigon experience. The route will feature iconic destinations around the city for participants to illustrate under Jack's instructions. The final product will be a memorable handmade souvenir that reminds tourists about Saigon from their own perspectives.
"It [the city walk art class] is something that I'm interested in, and gives me happiness to envision the end product and what it could be for the students," said the expat artist. Check out his workshop available on the website jackclaytonart.com and the Saigon Print Shop Facebook page.
Art brings people together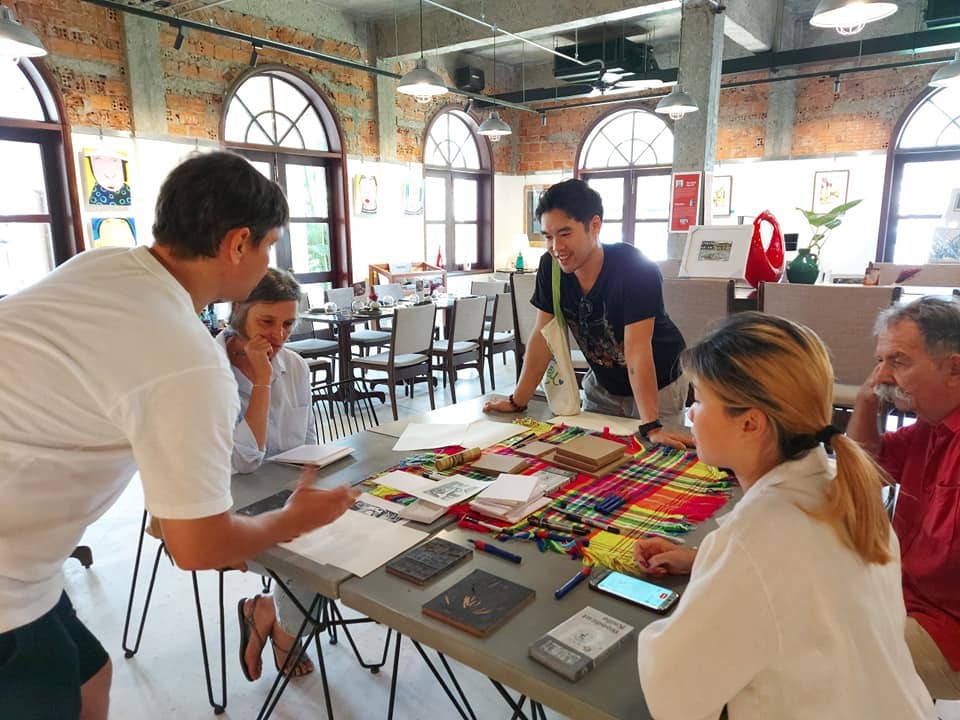 In his school workshops, he introduced woodblock printing art to children while his studio workshop is available for all ages. Photo: Jack Clayton
Jack talked about the different types and techniques of wood carving with great enthusiasm. He loves that each technique creates different visual effects and he is a big fan of Dong Ho woodblock paintings. The first time he visited the craft village, Jack did not expect to find one of the masters had just passed away.
"It was fascinating to see traditional Dong Ho printmaking. I had a once-in-a-lifetime experience while in Dong Ho village in 2016. When I went to the house of the famous printmaker Nguyen Huu Sam, it was 10 days after he passed away. And a few years later, I went back with my family and this time the son [of Nguyen Huu Sam] was there and it was a surprise that he remembered me."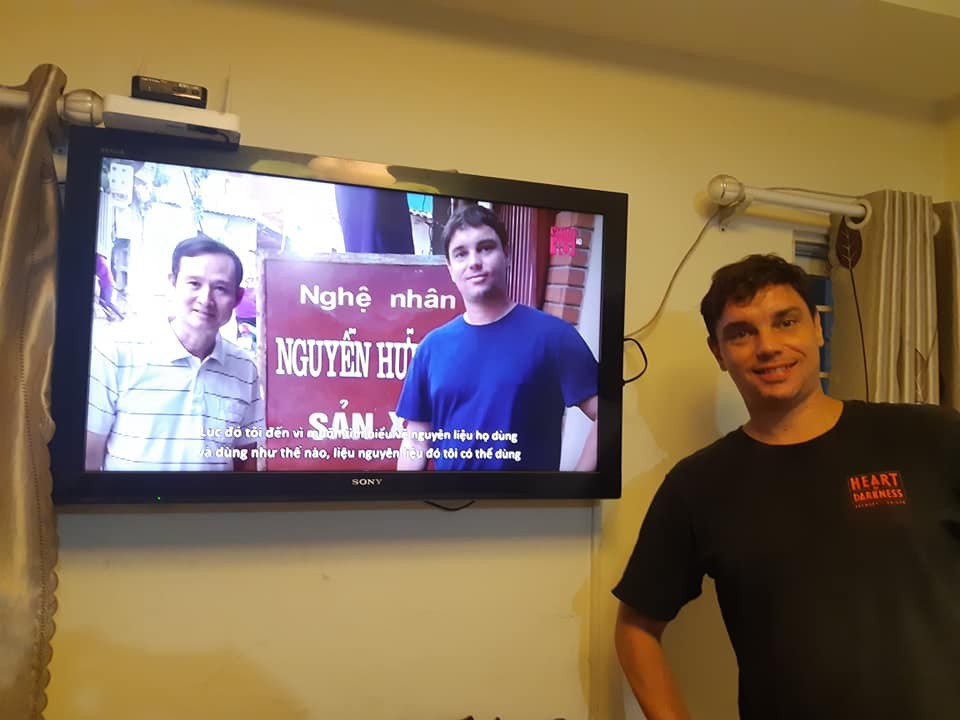 Jack visited Dong Ho village twice and met with Vietnamese woodblock printmakers to gain knowledge about the local traditional art. Photo: Jack Clayton
The young artist admired the work of the late artist and also learned new things from the craft legacy he left behind.
Jack's process is called woodcut reduction as he carves on only one solid wood block, the process will destroy or change the block's surface to build layers. The image in the carving of the block completely disappears as he goes. It is different from Vietnamese folk painting in the layering process as Vietnamese Dong Ho painting techniques use multiple blocks for the different colors.
The layers will be printed on top of each other many times using the same wood block. After each layer, some parts of the block will be engraved to print over the previous layer. So if the process fails at any point, Jack will have to start over. The used wood block would also be damaged and could not be reused.
As for coloring, the expat artist noticed the use of paintbrushes in the finishing process of Dong Ho painting. It was something he practiced in his art school and as soon as he tried it, he realized the big difference that it made.
Jack claimed that as much as Western style and Eastern style techniques are different from each other, there is always new knowledge that he can learn from and improve himself as an artist.
He believes that arts bring people together. The British artist cherishes the times when people in Vietnam started to recognize and appreciate his works.
For him, creative work is not about gaining popularity but about making a connection with people who share the love that he has for Vietnam.
He loves talking to the visitors of the shop, asking them about places they traveled to then showing them the painting he made of that destination. That sparks the conversation between them, and a special bond is formed thanks to the love they all have for Vietnam.
What tourists love more than buying souvenirs that capture the city they know and love is making their own souvenirs in the city that they know and love. With Jack as their instructor, tourists can get in touch with their artistic side, no matter their ages or backgrounds.
"Many people think that being able to make art is all about learning these techniques and different drawing skills that you have to study to be able to do. I work with students of all ages and you can show them that art is just so much more than that! It is about making new things out of your own ideas" said Jack. He claimed his background in illustration help students with making art with only a few simple tools and steps.
His quest to uncover more of Vietnam's fascinating culture with woodblock printing has just begun after a long break. The British talent treasures every encounter that he gets to interact with Vietnamese people through art.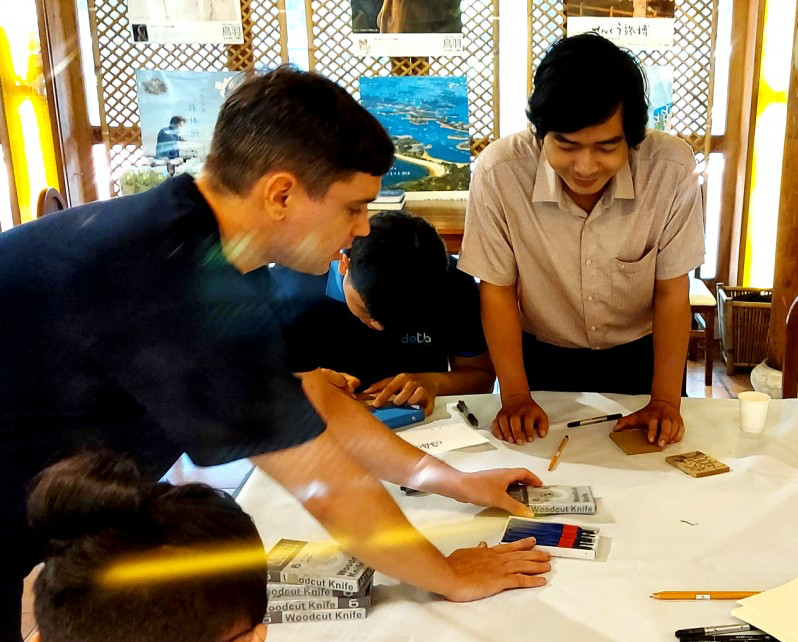 Photo: Saigon Print Shop
Artist Jack Clayton and Saigon Print Shop
Address: Saigon Print Shop - No. 10, Number 7 street, Ward 4, District 4, HCMC.
Opening hour: From 10AM to 6PM, Thursday to Sunday or upon reservation.
(Appointments booked 1 day in advance will be guaranteed and same day bookings, Saigon Print Shop will try their best to accommodate.)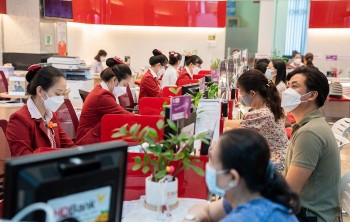 Economy
Vietnam Business & Weather Briefing (August 12): Air passengers reach a record number in July, seafood exports expected to reach 3 billion USD in Q3