Expat Spotlight: Niall Mackay - Podcasting In The Heart Of Ho Chi Minh City
With over 500 episodes, Scotsman Niall Mackay and his captivating guests share interesting stories of Ho Chi Minh City and its colorful inhabitants.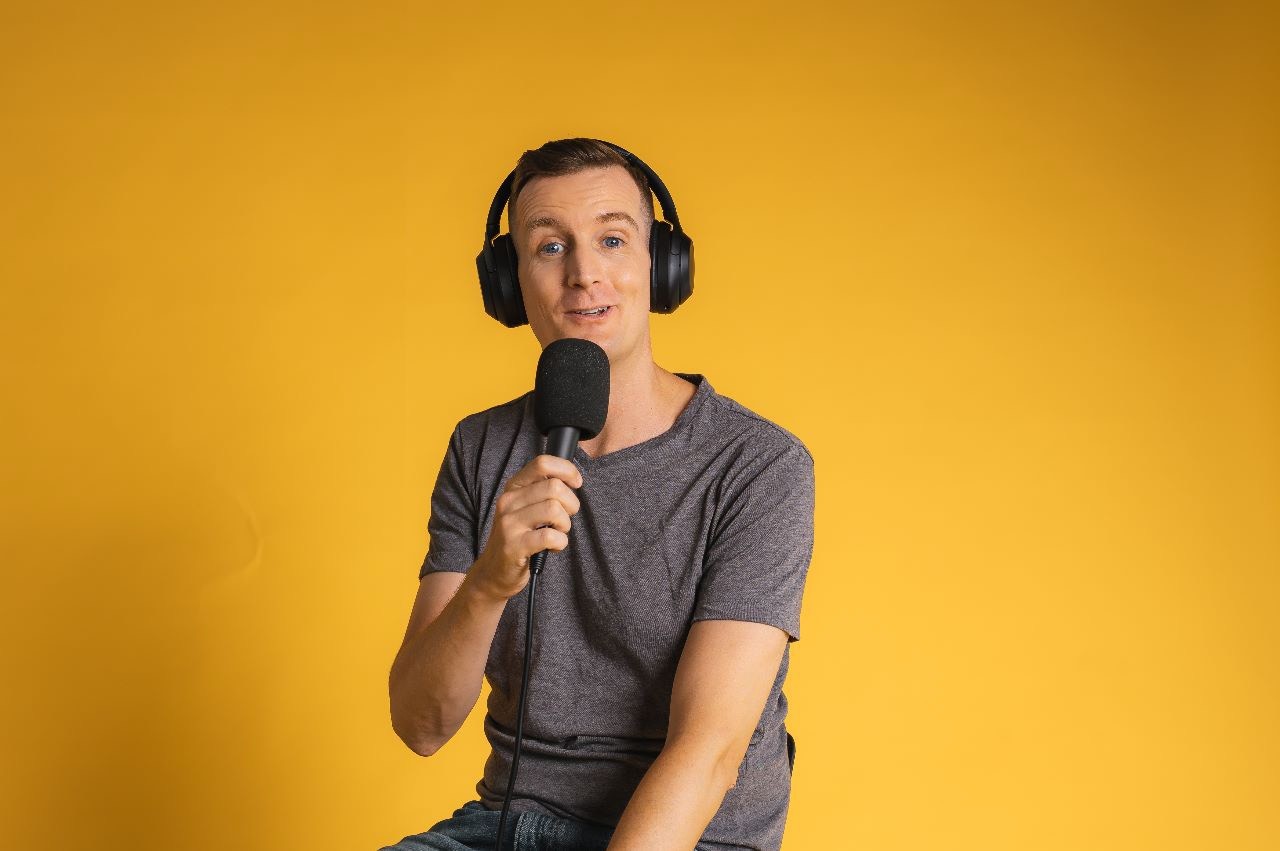 Niall Mackay (Scotland, living in HCMC since 2016) is the creator of Seven Million Bikes Podcasts (Photo courtesy by Niall Mackay).
With ten thousands of worldwide listeners, Seven Million Bikes Podcasts by Niall Mackay has created a community of Vietnam enthusiasts by telling wild Saigonese stories and promoting the southern city as a great place for expats.
While already living in HCMC for 3 years, in 2019, Niall felt like he had collected a great amount of interesting expat stories and began exploring them via podcasting. He named it "Seven Millions Bikes" after the number of motorbikes at HCMC at that time. The hustle and bustle of the Ho Chi Minh City's streets is a thrilling site to the Glasglow native.
"The podcast was called 7 million bikes, because at that time there was 7 million motorbikes with almost 10 million people in Saigon and is just crazy for me. [It changed] from "A Saigon Podcast" to "A Vietnam Podcast" then Seven Million Bikes became the overall brand," said the Scottish host.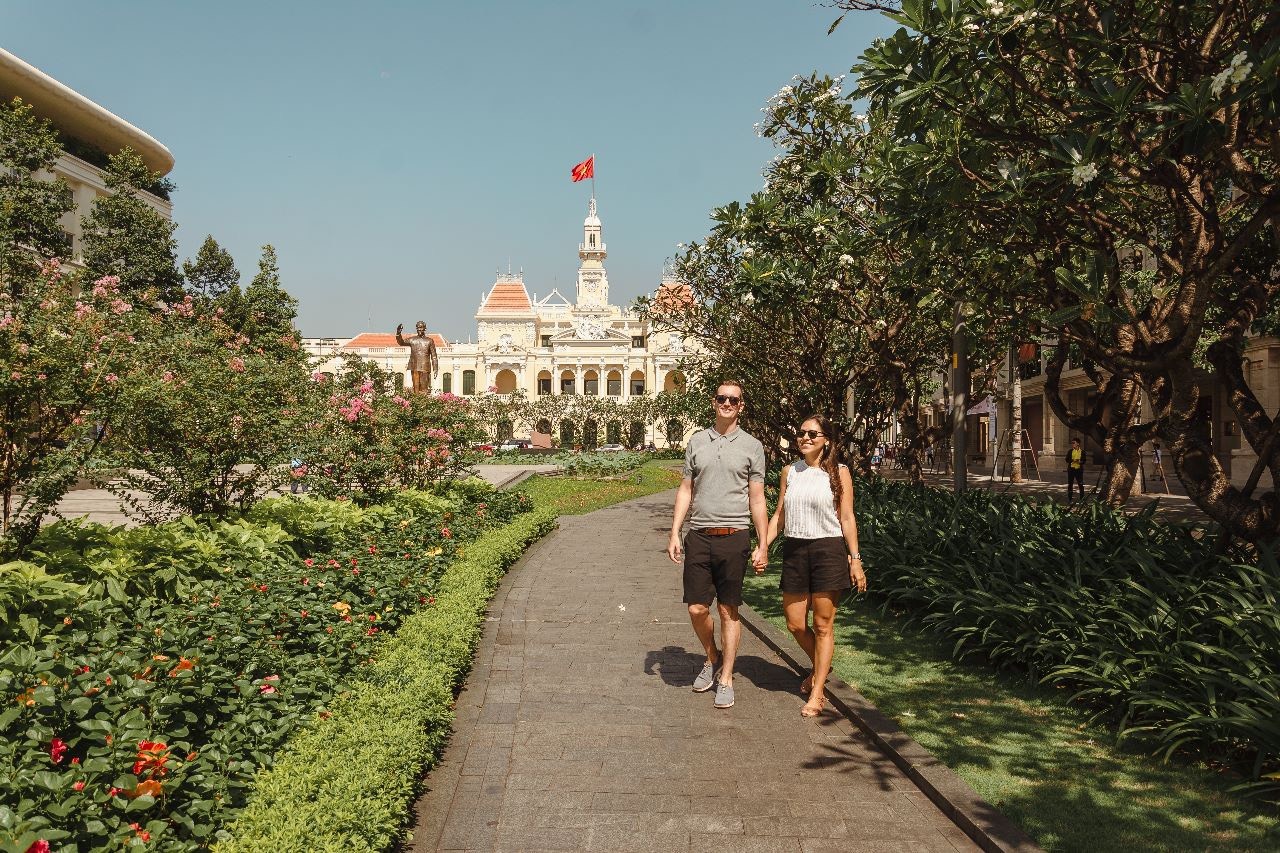 Niall and his beloved wife, Adrie Lopez Mackay (Photo courtesy by Niall Mackay).
One of Niall's longest running show, "A Vietnam Podcast," reached its 9th season in 2022. Niall shared that the podcast is about to hit 50,000 downloads, from not only Asian countries but also different part of the world such as North America, Europe, and New Zealand.
At the 3rd birthday party of A Vietnam Podcast, full of former guests and listeners. They are all members of the Seven Million Bikes Podcasts Community, an online community created by Niall (Photo courtesy by Niall Mackay).
Prior to all of these milestones, Niall's expectation for the podcast was mainly about Saigon and its expat community, especially with each episode of "A Vietnam Podcast" being a success beyond expectation.
The episodes features people from all walks of life so there's always something unique and interesting from all guests.
He described the process of inviting guests relies entirely on their connection with Vietnam, regardless their age, color, or background. The more diverse the guests are, the better, in his opinions. Jokingly describing podcast as "his obssesion," Niall never misses a chance to invite people to join the show, as soon as he has a feeling they can help listeners to understand Vietnam on a deep level.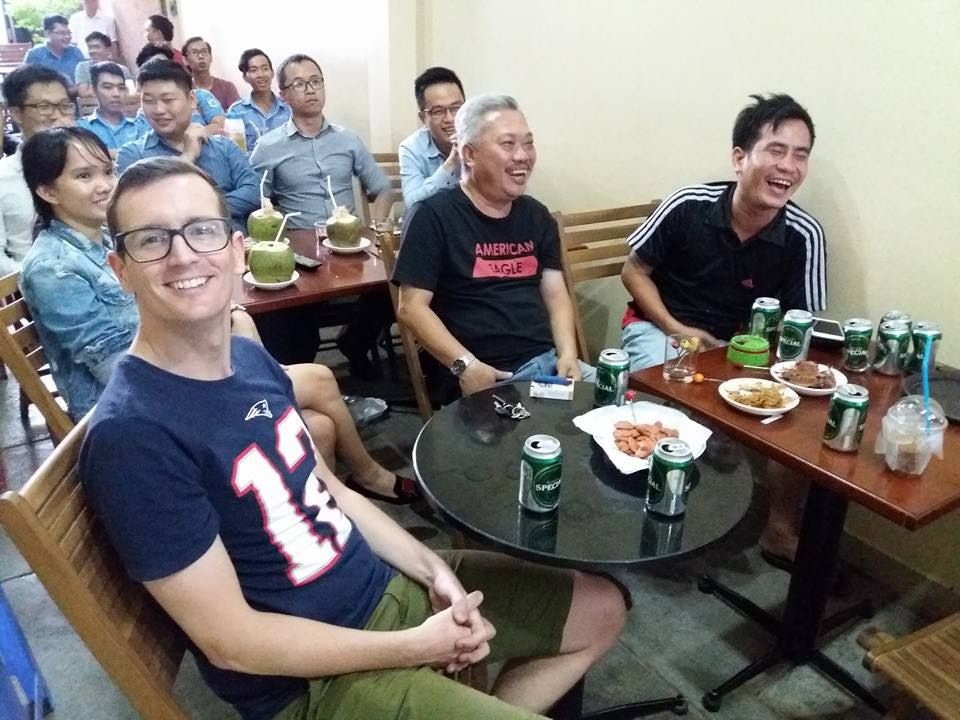 Niall enjoying football game at a cafe in District 4, HCMC in 2017 (Photo courtesy by Niall Mackay).
"I tried to not interviewing the same type of people but to share lots of different voices. Through that [the show] kind of grew. I started to interview people Canadian-Vietnamese or Swiss-Vietnamese, Vietnamese, and so on. I interviewed Sahra Nguyen (Season 6, episode 7), a Viet in New York who successfully imports Vietnamese coffee beans to America.
"Another guest, one of the most favorite guest, AJ Miller (Season 4, episode 3), I invited her on the podcast to talk about comedy and I didn't realize that she came to Vietnam was because her father had served in the American military in the Vietnam War and she'd come back to retrace his steps. It was very emotional," says Niall.
Although priorly to each show, he did background research on the guests, the show is never about only what is on the script. Most of the time, there is no script at all. Over its average runtime of 60 minutes, each episode leads listeners to deeper understanding about Vietnam in genuine and friendly conversation-style podcast.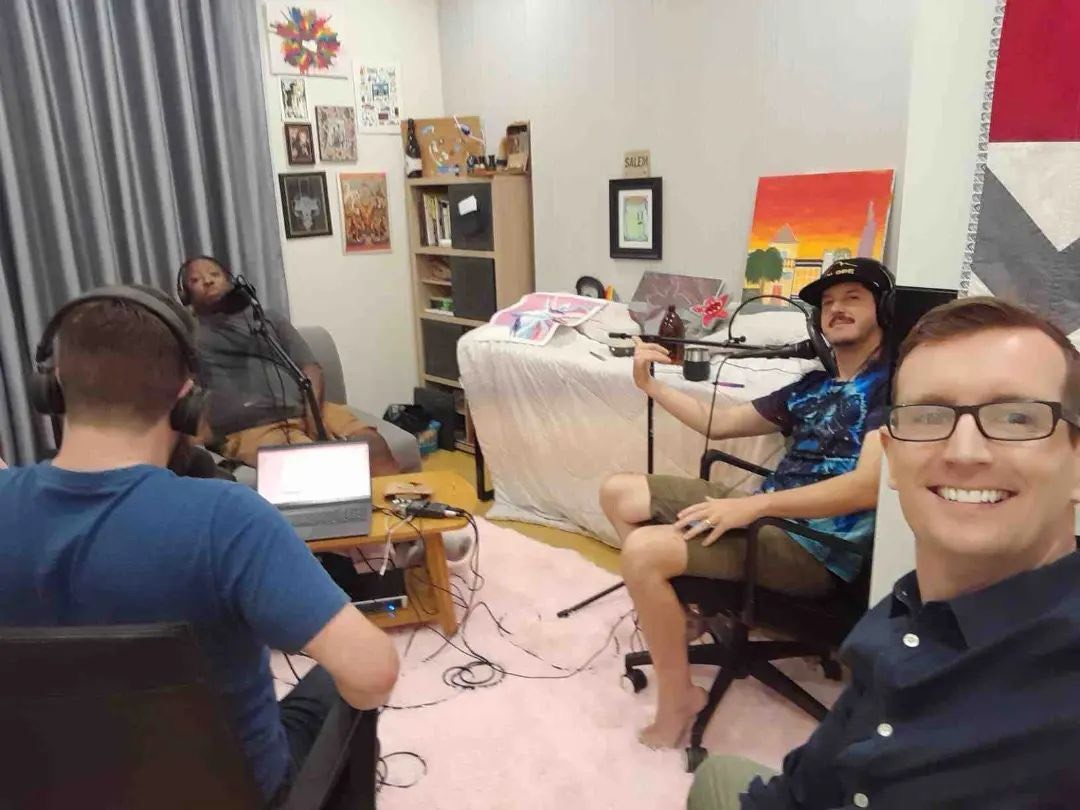 Nial (first from right) recording a podcast episode (Photo courtesy by Niall Mackay).
As for now, Niall expirements with present stories in a different way. The Scotsman let the guests host or letting different podcaster to take over.
For example, Hanoi-based basketball coach Paul Villanova hosted the 4th episode of season 9 with special guest Justin Young, captain of the Vietnam National Basketball Team, examining athletics in Vietnam. Another must-listen story is from season 8, episode 10 where guest Zion Johnson compares trans acceptance in Vietnam versus the USA.
When not hosting, Niall stirred the focus of the business to podcast producing and coaching. The popularity of Seven Million Bikes Podcasts has let Niall to great opportuntities to work as podcast producer with both local and foreign clients as well as podcasting coach.
His most anticipating projects at the moment is the "Vietnam is Awesome Podcast," in which he works as a producer, joining the team at the reputed English-speaking travel agency Vietnam Is Awesome to promote travel destinations across the country. Its latest episode follows Mischa Smith, brand ambassador of Saigon-based Pasteur Brewing Company, to discover little-known HCMC bars, unique drinking customs, and the craftsmanship of brewing.
He enthusiastly said the he is learning about Vietnam while producing and coaching just as much as he has done hosting. The goals of coaching in particular, is so that other people can also realize the goals in their podcasting journeys and offering support to young, inexperienced hosts that already started.
"Podcasting changed my life. I was also able to grow my business by podcasting. I have seen businesses I worked with can grow, they get clients when having their own podcasts. With that, I think its my mission to help other [podcastes] well because I know it would change their lives," said Niall.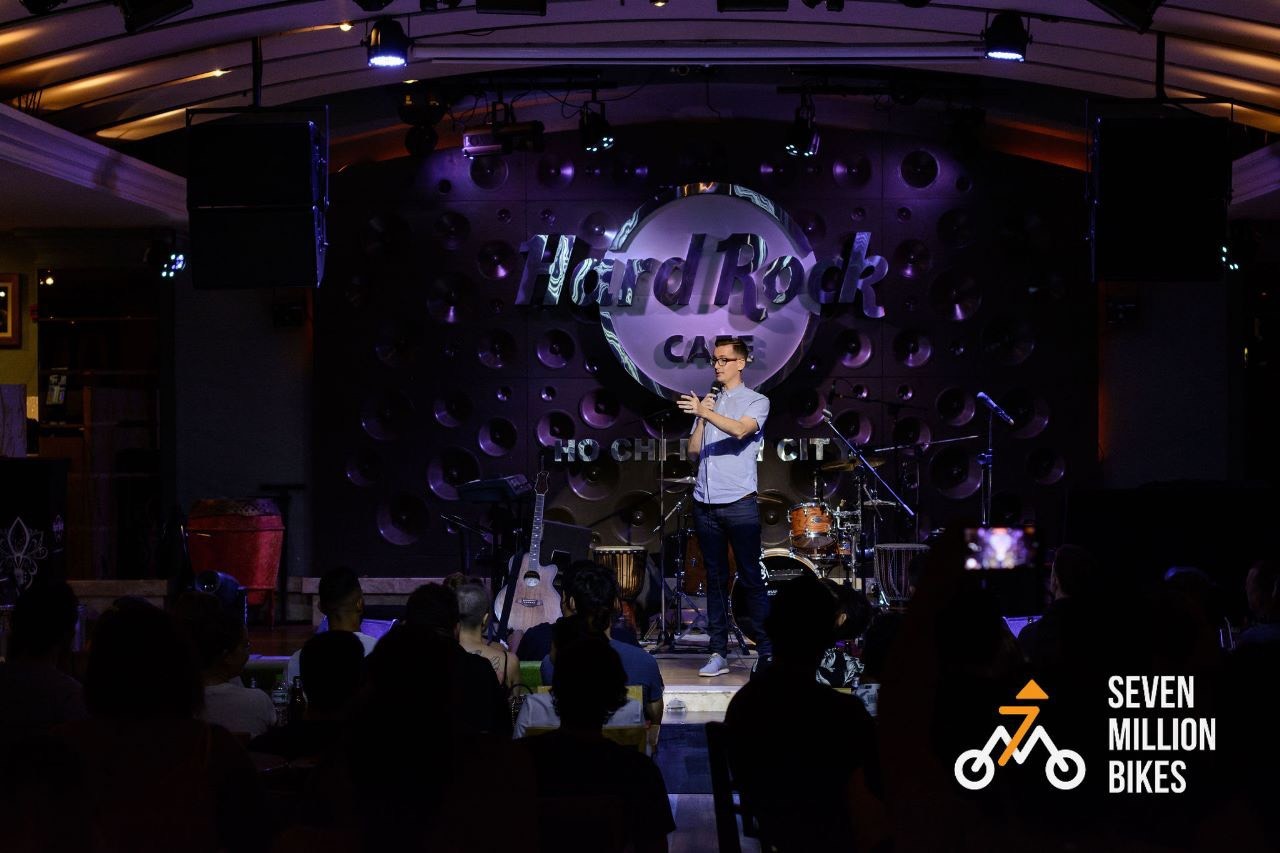 Niall is also a reputed stand-up comedian in Saigon. Photo: Niall spoket at a comedy show he organized at Hard Rock Cafe, taken in 2020 (Photo courtesy by Niall Mackay).
As a monthly series for the Vietnam Times, the Expat Spotlight aims to highlight interesting members from Vietnam's diverse expat community. Be it through travel, charity, business, or diplomatic works, these expats have a deep love for Vietnam and wish to see it progress. Stay tuned to learn about the other expats and their various projects. If you would like to nominate someone for a future feature, please message the Vietnam Times via Facebook.