Expat Spotlight: Tuấn Jeon - A Language Master with a Deep Love for Vietnam
Jeon Hyong Jun (Tuấn Jeon) has used his communication skills to narrow the gap between Vietnamese and Korean people for more than a decade.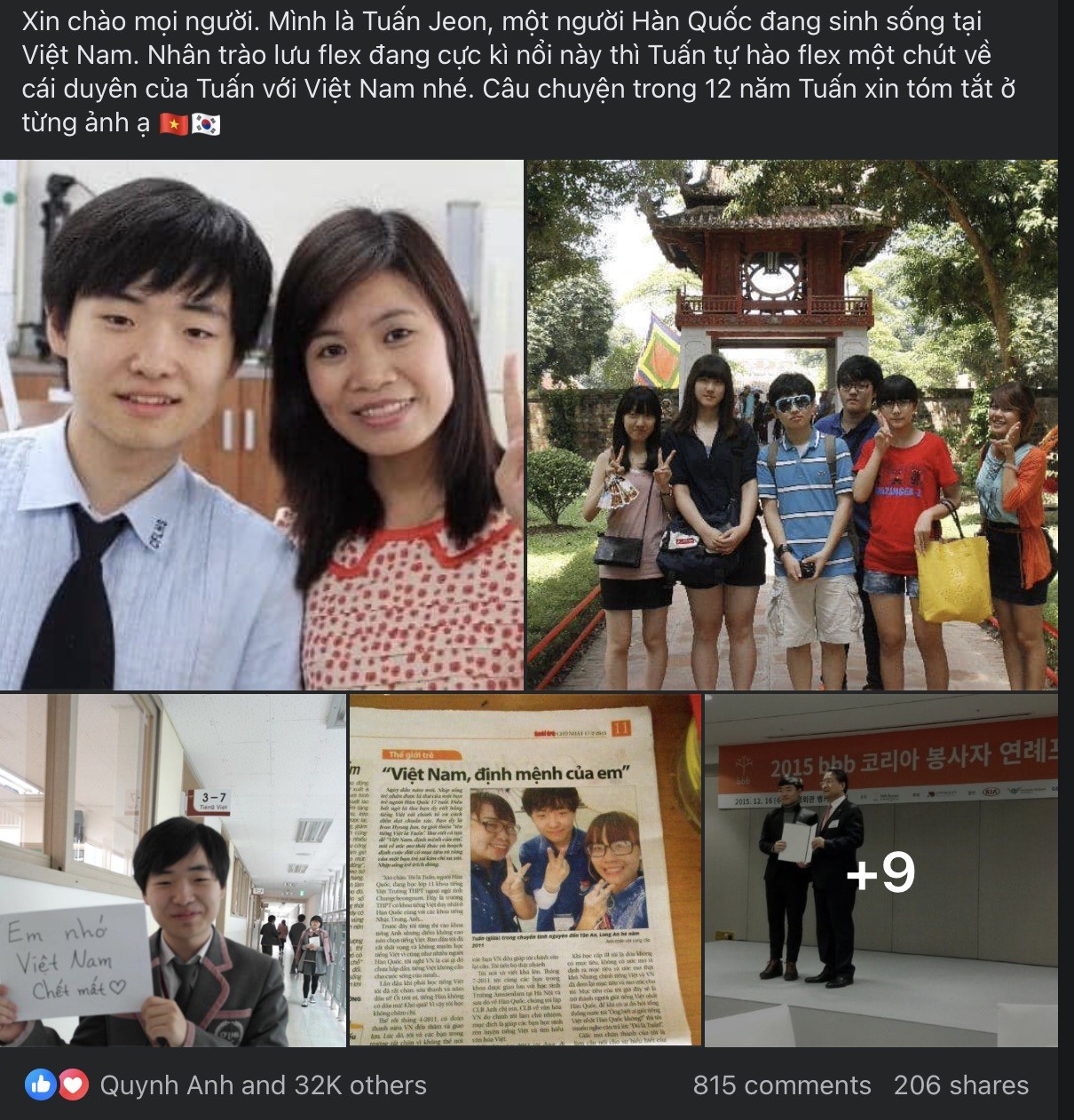 Tuấn recently shared on social media about his destined journey with Vietnam for the past 12 years (Photo: Tuấn Jeon's Facebook).
Twice a week on Vietnam's national TV, an energetic young man appears on screen as a host of a Korean language program. He switches between Vietnamese and Korean seamlessly in his speech because he used Vietnamese for almost half of his life. His name is Joen Hyong Jun but he goes by Tuấn Jeon.
"I am Korean but I am also Vietnamese. My home is both in Seoul and here too," the 28-year-old Korean man explained why he prefers the name "Tuấn Jeon".
When joining a special exchange program high school, Tuấn interacted with Vietnamese friends for the first time. He dreamed of living in Vietnam ever since. As Tuấn realized he would make this dream come true faster by knowing how to speak the language, he put his best effort in studying Vietnamese.
"In 2011, a group of Vietnamese young people came to my high school for an exchange program and it was impossible for me to talk to them and help them because I couldn't speak Vietnamese. I went from thinking there is no use of learning the language to being determined to become fluent," he said.
Eager to communicate in Vietnamese whenever he can, Tuấn started volunteer tele-interpreter work at an organization called BBB Korea. Out of thousands of calls he received as a telephone interpreter, he often recalled one fateful encounter. Night-time calls were especially memorable for the Korean man, said Tuấn, because he must provide support for Vietnamese people in South Korea but was only a high school student.
Tuấn Jeon started working in Hanoi since 2019 as a VOV radio anchor (Photo: Tuấn Jeon's photo).
"Around 11 p.m., they received a call that a Vietnamese – Korean couple was arguing, even though they had only been married for three months. At that time, I was only a student and did not know a lot about marriage. They started to cry and in the end, I almost cried too, because I could feel for myself how difficult it was for the couple in three months, and then through my help, they could understand each other and be happy," said Tuấn.
Another reason why that call was special to Tuan is that he realized being fluent is not enough to communicate well in a foreign country. It takes great effort and the will to take risk.
"When I started living and working in Vietnam (in Hanoi from 2019), I did not live in My Dinh district or the Korean area. I really like and want to live in a true Vietnamese way, to really understand the people, culture and country. For me, it is a way of respecting and expressing the desire to integrate into Vietnam. So I live here now, and no one thinks that I am a foreigner," said Tuấn.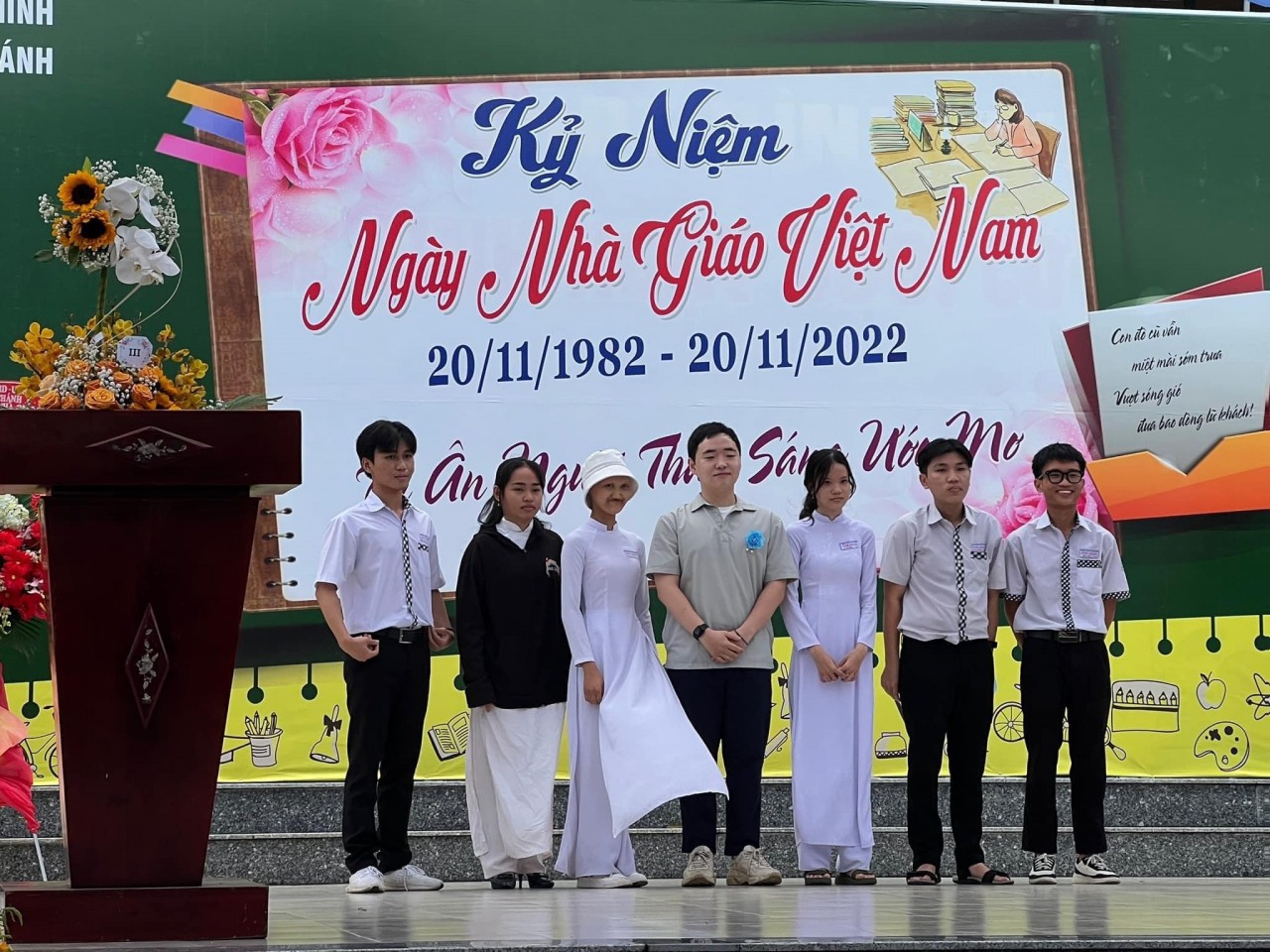 In 2020, Tuấn started a scholarship program called Sowing Seeds and Growing Dreams for six 10th grade students with special circumstances from Binh Chanh High School (HCMC) for 3 consecutive years. It was his way of contributing to people in Vietnam who suffered from the effects of the global pandemic (Photo: Tuấn Jeon's Facebook).
The 28-year-old is juggling many responsibilities at once, like a graduate student, a magazine writer/editor, and a radio anchor. He welcomes any work that could reach many Vietnamese people interested in the Korean country and language like MCing or public speaking.
Tuấn and his students in Korean language class (Photo: Tuấn Jeon's Facebook).
Tuấn's new journey as a TV host is more than just another job. The new gig isn't easy, as he descibes his new position put him "under extreme pressure." But this Korean linguist likes challenges, saying that they are "lucky opportunities".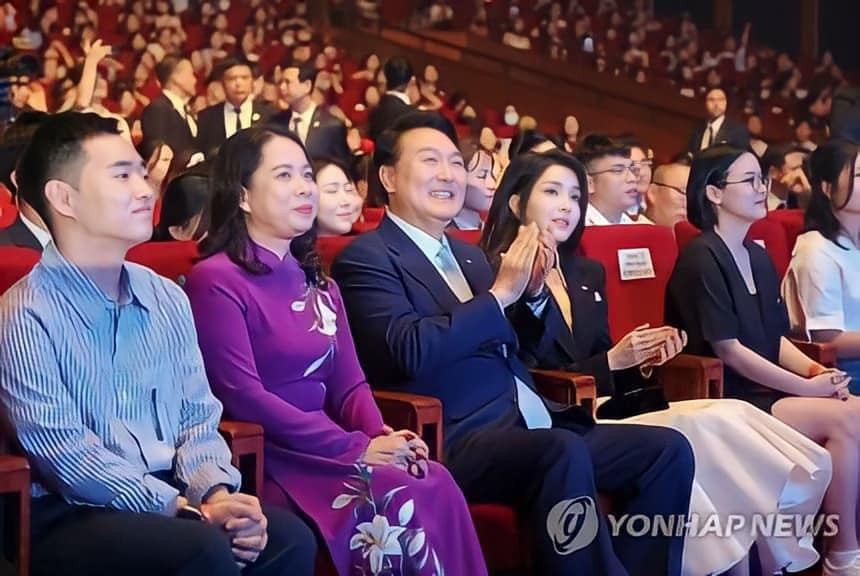 Tuấn Jeon (far left) as an interpreter for the South Korean President Yoon Suk-yeol and his spouse during their state visit to Vietnam (Photo: Yonhap News).
"Having the opportunity to teach Korean [on Vietnam's national TV] to young Vietnamese people interested in Korean and Korean is extremely meaningful. Initially, I participated as a Korean MC, so I thought I would host in Korean. After receiving the script and reading it, it was all in Vietnamese, so it was really a big challenge. I hope for many opportunities to reach many Vietnamese people interested in Korea, and that there will be many Korean language teaching programs for Vietnamese friends to learn this language more easily," exclaimed Tuấn.
Tuấn always knows he has many unique job positions. They allow him to interact with Vietnamese people in an intimate way. So Tuấn actively shares his life in Vietnam on social media to invite more people to embrace the cultural differences we share. That way, we can be more understanding and kind towards differences.
"We must try to understand each other better and help each other. Living abroad is not easy. Although I am good at speaking Vietnamese and driving motorbikes, and understanding many things about Vietnam, however, there are times when without native help, it is impossible to solve the problem. On the contrary, when Vietnamese people living in Korea encounter many difficulties, Koreans help them more properly and quickly," said Tuấn.
As a monthly series for the Vietnam Times, the Expat Spotlight aims to highlight interesting members of Vietnam's diverse expat community. Be it through travel, charity, business, art, or diplomatic works, these expats have a deep love for Vietnam and wish to see it progress. Stay tuned to learn about the other expats and their various projects. If you would like to nominate someone for a future feature, please message the Vietnam Times via Facebook.