Expats' tips: How to be a polite guest in a Vietnamese wedding
Wedding culture varies from country to country. If you are attending a Vietnamese wedding, do as the Vietnamese do.
Wedding culture varies from country to country. So, if you are attending a Vietnamese wedding, try to do what the Vietnamese do.
Wedding, as many tell many others, is the happiest day in the life of any inpidual on earth. And just the way life sentence is reserved only for felonies, when two human beings decide to bind their life together forever, no one can take it lightly.
As with all kinds of social gatherings, attending a Vietnamese wedding requires certain social knowledge to ensure you make it out without becoming the laughingstock of the day.
The wedding politics
Wedding, in the age of materialism and increasing class pide, has evolved to become a political tool that could make or break your relationship with your boss, your childhood friend or even your relatives. So once invited, don't dare to skip it. If you must, make sure your presence is known in other ways. (Hint: pre-wedding gift or cash).
Photo by @ng.viethung/Instagram
You'll receive a delicately designed paper invitation in traditional red or a-la-mode pastel palette. Vietnamese like to deliver their wedding invitations in person to ensure people make the effort to come as the more the guests, the better the fortune. So don't be surprised if one day you get a sudden call from a friend for a meet up after years of no contact.
Outfit of the day
Life is, actually, all about compromises. No matter how much of a fashionista you are, let the couple have their day. However there remains a tip one can take: Black or white tie is only acceptable if the wedding is hosted at places with at least five gold-plated stars under their names. Anywhere else, smart casual would do.
Gift guide
Don't bring a bottle of whatever or anything that is not cash placed inside an evelope.
Weddings in Vietnam are agreed to be reciprocal debts, where people pay back the financial support received at their own or their offsprings' weddings.
Even if you're "forever alone" and struggle to feed yourself, you are not excluded from the cycle once you step through wedding venue's doors. Couples here keep the list of things they want for future life to themselves, so cash is much appreciated.
Heart-shaped box. Photo courtesy of Matt Hunter
There is no decree or circular instructing how much one should put in an envelope, but the unspoken rule dictates it depends on the splendor of the wedding venue and the nature of your relationship with the couple.
If it's under a tent in the couple's neighborhood, spare VND300,000 ($13.4); if an average restaurant, a VND500,000 note ($22.3); if a hotel whose name bears Hilton, InterContinental and the like, VND1 million ($44.6) would be the minimum.
However, money's not everything. Actually it's nothing because that day, you're just one of hundreds of "donors". So remember to describe yourself clearly on the envelope with your name and association with the couple or you'll be marked as "been there but never done that."
Now that you have the money, you have to know where to put it. All weddings in Vietnam boast a check-in counter with two heart-shaped boxes for wedding-goers to post their "envelopes", one for the groom's family, another for the bride's. The rule is, you post the envelope to the side that invited you. If in doubt, just go for the bride's family. Or, just wait until the couple arrive at your table and stuff the envelope in their hands. The materialistic Vietnam doesn't mind it.
How to party
Money deposited, now sit tight and listen carefully. Stand upright at the entrance until you find your gang or somebody who shows you to the right table.
The wedding hall is usually pided into two, with family and friends of the bride on one side and the groom's on the others.
.
Photo by @tharo.tharo/Instagram
The wedding tables are always six, eight or ten seaters. Remember this because some dishes are pided accordingly. Vietnamese love to have shrimp in their wedding partly because shrimps, together with the other must-have, chicken, have become the indicator of prosperity and mostly because of their pisibility. So, eat responsibly, especially when you're seated with a bunch of strangers.
And if on a nice day, you're invited out of your comfort city to the countryside, don't be shocked when they give you a plastic bag as you sit down. Everybody knows you are fine, it's just a habit that refuses to fade in many rural regions in Vietnam: one always has to bring home food from the party he goes to.
Another thing: prepare to have your food picked, or worse, shrimp hand-skinned, by the elderly. Don't worry, that only means they love you. All you can do is accept their love with a smile and pray they'd washed their hands.
A quick reminder for those who love to venture far out of the city for a taste of country life: Take extra good care of yourself or a line of strangers will approach you for the longest toast you have ever got with the kind of moonshine that will either get you high or the worst hangover the morning after./.
( VNF/VNE )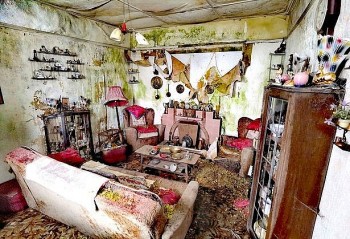 World
An abandoned house from the 1990s, which were pictured by No Limits Urbex, showing the images of furnitures, toys, and other parts of the ruins still remain intact against time and nature.