Video by VNExpress
Every weekend, Nguyen Ngoc Diep, the founder of the Alluvia chocolate brand is excited to take visitors to go around her cocoa garden in Hoa My hamlet, Binh Ninh commune, Cho Gao district (Tien Giang). "Cho Gao cocoa has now become a new specialty alongside the already famous ones such as My Tho noodle soup (Hu Tieu My Tho) or Go Cong shrimp paste", Diep was quoted by VNE as saying.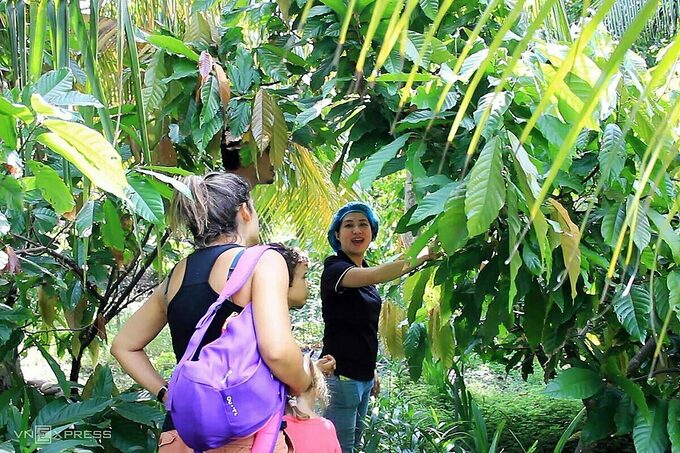 Photo: VNExpress
About 90 km from Ho Chi Minh City, this cocoa garden has been cultivated since the early 2000s by Mr. Xuan Ron, Ngoc Diep's father. Cocoa trees are intercropped with coconut and banana trees, which are also used to make chocolate.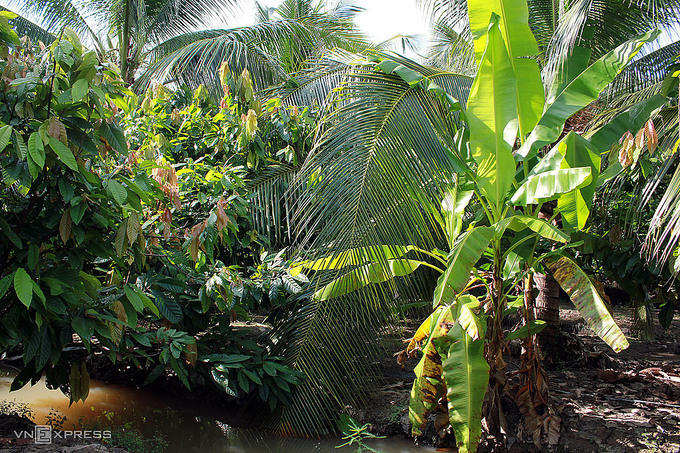 Photo: VNExpress
Chocolates made from cocoa in Western Vietnam own distinguished taste from ones in other regions. Western Vietnamese cocoa is often exported to the world's famous chocolate-producing markets. Seeing the potential, Diep and her husband launch a chocolate factory right at the cocoa garden.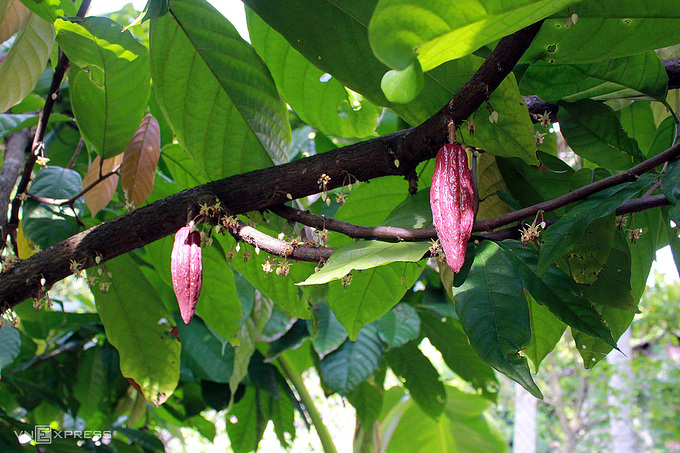 Photo: VNExpress
The ripe cocoa fruits turn yellow and are harvested to produce chocolate. Tourists will have the chance to see with their own eyes cocoa pods.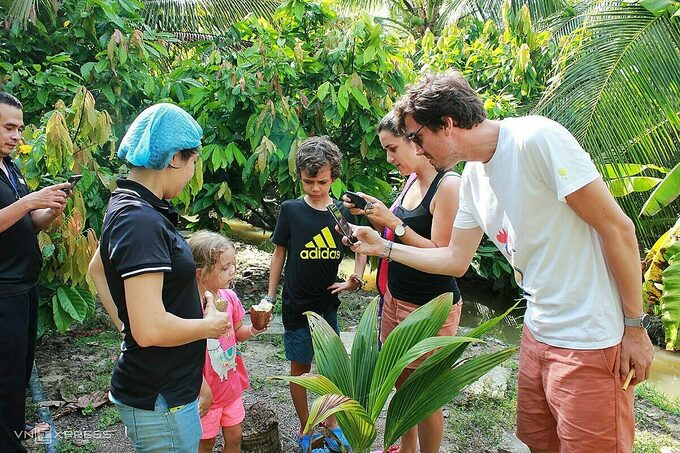 Photo: VNExpress
Tourists can taste cocoa right in the garden. Cocoa fruits are sour and mildly fragrant.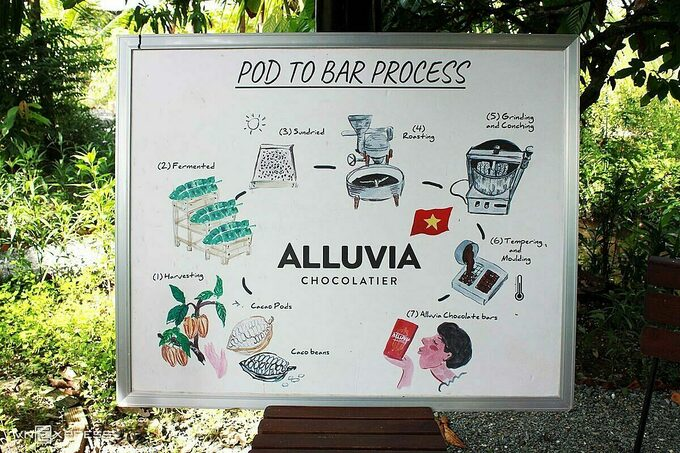 Photo: VNExpress
According to Diep, the "pod to bar" process goes through a total of seven steps namely harvesting, fermenting, sun-drying, roasting, grinding, liquefying and moulding, and finally wrapping. "Only when I witness on my own eyes the chocolate-producing steps can I imagine how they are", a guest said.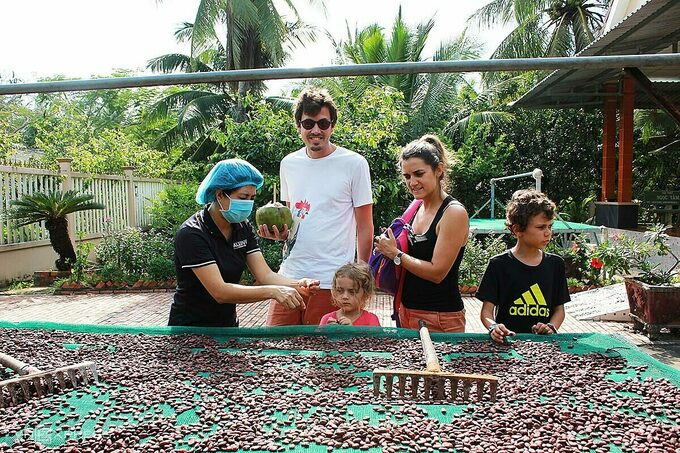 Photo: VNExpress
Kelvin (France nationality, has lived in Ho Chi Minh City for 4 years) said that his family members are so addicted to chocolate. Knowing that there is a chocolate factory in Tien Giang, Kelvin took his family here. "The owner directly tastes the cocoa beans before giving us, so I believe they are clean and safe," said Kelvin.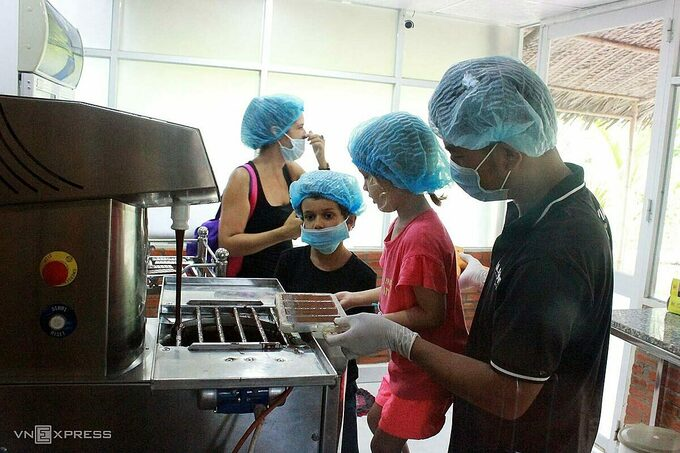 Photo: VNExpress
The factory artisans guide visitors to pour liquid chocolate into moulds. Each tourist then will be given a free bar of chocolate. Many children are incredibly eager about the experience.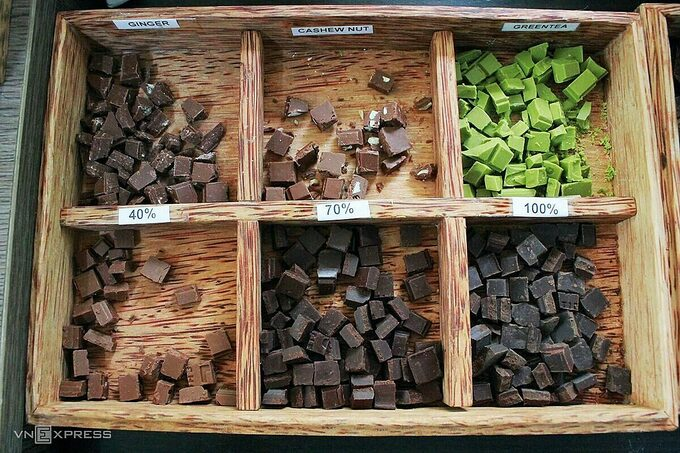 Photo: VNExpress
At the product display area, visitors can sample different flavors of chocolate. Alluvia combines cocoa with homegrown fruits such as coconut, chili, pepper, ginger, cinnamon, and orange.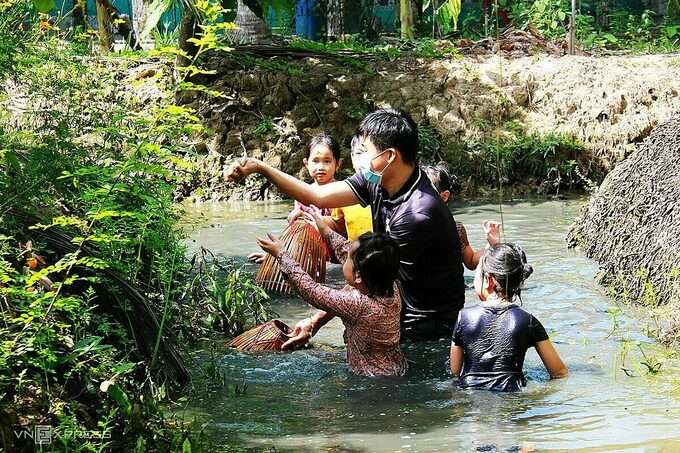 Photo: VNExpress
Besides visiting the cocoa garden, tourists can participate in folk games such as fishing, tug of war, picking fruits, savoring Banh Xeo (pancakes) amidst the green garden.
From Ho Chi Minh City, visitors can reach the Alluvia cocoa garden by motorbikes, private cars, or passenger cars.
The garden is opened on Saturdays and Sundays from 7 am to 5 pm. Groups of more than 20 people can choose a date of their choice provided that they contact the garden owner in advance.
The entrance fee is from 200,000 VND to 350,000 VND (US$ 8.7- US$15) per person depending on each type of service.
Malie Nguyen