Expert: Australia Attaches Importance to Relations with Vietnam
Australian Minister for Foreign Affairs Penny Wong is visiting Vietnam for the second time as Foreign Minister on August 21-24 to further deepen Australia's cooperation with a key ASEAN partner.
The official three-day visit, starting on August 21, to Vietnam by Australian Foreign Minister Penny Wong, to co-chair the 5th Foreign Ministers' Meeting of the two countries, shows that the Oceania nation attaches importance to the strategic partnership with the Southeast Asian country, Nguyen Hong Hai, Senior Lecturer from VinUniversity told VNA.
In an interview granted to the VNA, Hai, who is an adjunct senior lecturer of policy and politics at the Faculty of Creative Industries, Education and Social Justice under Queensland University of Technology's School of Justice, said this is Wong's second official visit to Vietnam and her 4th meeting with Foreign Minister Bui Thanh Son since she became foreign minister in May last year.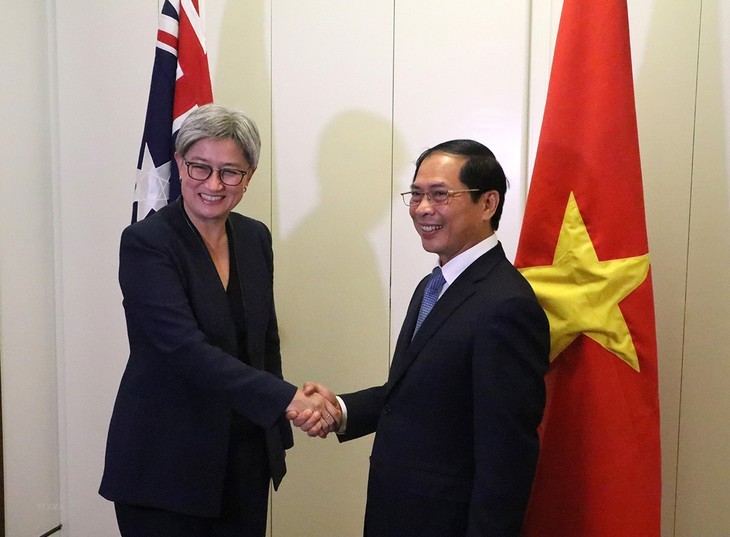 Australian Foreign Minister Penny Wong and Foreign Minister Bui Thanh Son at a meeting in 2022. Photo: Nguyen Minh/VNA
The visit comes as the two countries are celebrating the 50th anniversary of the bilateral diplomatic relations and five years of strategic partnership this year, he added.
Last year, two-way trade turnover between Vietnam and Australia reached a new record of USD 15.7 billion, up 26.91% year-on-year. Vietnam has become Australia's 10th biggest trade partner for the first time, and Australia is currently Vietnam's seventh largest trade partner.
According to the expert, more Vietnamese and Australian visitors are coming in both directions. Statistics from the Ministry of Culture, Sports and Tourism of Vietnam showed that before the outbreak of the Covid-19 pandemic, Vietnam welcomed 300,000 Australian visitors and 125,000 Vietnamese tourists went to Australia.
In the first quarter of this year alone, nearly 82,000 Australian visitors arrived in Vietnam, an increase of 14.4% compared to the figure in 2019, whereas the number of Vietnamese visitors to Australia made up 10% of the outbound visitors, according to the Australian Bureau of Statistics.
To promote trade and investment to a level that matches up with potentials and the strategic partnership, the two countries have signed agreements and founded several mechanisms.
Both Vietnam and Australia are members of the ASEAN-Australia-New Zealand Free Trade Agreement (AANZFTA), the Regional Comprehensive Economic Partnership (RCEP), and the Comprehensive Progressive Trans-Pacific Partnership (CPTPP). However, what has been done thus far is insufficient to accelerate a breakthrough in trade, business, investment, and tourism growth from both sides.
More favorable conditions and simplified customs procedures are required to promote more liberalized flows of trade and to remove barriers that hinder the traveling of the citizens, Hai said.
During talks on her first visit to Vietnam last year, leading officials of the two ministries agreed to step up cooperation in the fields of tourism, education and labor in the post-pandemic era. Currently, the two countries are finding ways to make a speedy recovery for the tourism industry which was severely affected by the pandemic while minimizing the impact of the conflicts in Ukraine on trade.
According to Hai, it was necessary for Vietnam and Australia to strengthen security cooperation and border control with advanced identification technologies, and hold constructive and candid dialogues as trusted strategic partners to address each other's concerns.
He stressed that if the two sides adopt a visa exemption policy for each other's citizens, it will be a real breakthrough, contributing to further strengthening the cooperation relationship in the coming time.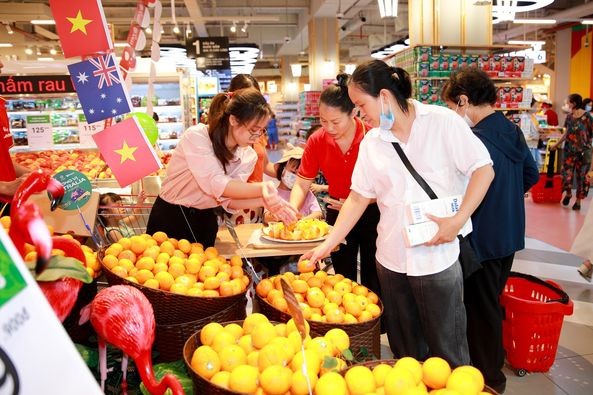 From August 10 to the 23, Taste of Australia 2023 is active across 61 WinMart supermarkets and all WinMart+ stores in Hanoi and Ho Chi Minh City. Source: Taste of Australia/FB
Minister Penny Wong's visit is a clear statement of Prime Minister Anthony Albanese's Government's priorities and an opportunity to further build on the two countries' work to shape the region they want, reported the Australian Embassy in Vietnam.
It follows recent visits to Vietnam by Prime Minister Albanese and Trade and Tourism Minister Farrell.
During the visit to Hanoi, Minister Penny Wong will meet with Prime Minister Pham Minh Chinh, Foreign Minister Bui Thanh Son and other senior leaders to discuss a range of shared interests, including economic and security ties.
Foreign Minister Son and Minister Penny Wong will hold the fifth annual Australia-Vietnam Foreign Ministers' Meeting, where they will discuss regional priorities and how the two countries can expand cooperation, including on climate change, trade and investment, education, and digital delivery of government services.
Minister Penny Wong will also attend the 'Taste of Australia's Big Barbecue' event with Chef Luke Nguyen to showcase Australian cuisine and culture. Vietnam is Australia's fourth-largest agricultural export market and offers increasing opportunities for Australian premium food and wine producers.
For the first time as Foreign Minister, Minister Penny Wong will visit Ho Chi Minh City, Vietnam's economic powerhouse and the hub of Australia's business relationship with Vietnam. She will also meet with Australians of Vietnamese heritage who are driving economic cooperation.